Mexican Shrimp Cocktail starts with a savory tomato sauce made of ketchup. Add in avocado, shrimp and corn and one has the perfect summer food!
Mexican shrimp cocktail is one of my favorite summer foods. It cools you off while satisfying your hunger.
This simple tomato sauce, because honestly that is what it is, is chockful of lots of shrimp, avocado and corn. Seasoned with some salty clam juice, onions and cilantro, this Mexican shrimp cocktail is one way to beat the heat.
Mexican shrimp cocktail is served on the beach. Whenever we are in Mexico we find ourselves sitting under the thatched palapas with open air sides, choosing form the variety of seafood concoctions that line the counter.
Instead of candy in a jar, a variety of seafood cocktails in clear glass containers, is displayed right in front of you.
Served with Saltines, hot sauce and limes, one can basically season to taste your choice of ceviches that sit on the bar.
Mexican shrimp cocktail is not a true ceviche because it begins with cooked shrimp.
Often ceviches, which are really seafood cooked in lime juice, are served with mangoes and those make a great addition, too. Ceviche was born in Peru and there are several great ceviche cookbooks that I would love.
With experimentation I came up with my favorite version. Yes, ketchup is a standard ingredient and from there you add tomato juice, V8 or clamato juice.
I prefer V8 and add in clam juice from the bottles I find at the grocery. This provides some thickness to the tomato sauce which makes it perfect for spooning or slurping!
Mexican Shrimp cocktail is often served in a big ice cream sundae type bowl.
Though some might say that shrimp cocktail is similar to gazpacho, I find them totally different. Check this out and tell me what you think!
And now it's back to 2012, when my boy was still working in Vail. I miss him and the great hotel where he worked. Well, the photos will have to suffice!
(This is an updated post from 2012.)
It's Friday!
I love Fridays. Maybe it is because the weekend is ahead and I love weekends. Not that it matters when everyone is gone- but I still love weekends.
Friday always lets me reflect on the week that has passed and I had a good great, fabulous week. My sister in law came to visit from Chicago.
We went to Vail and spent an awesome weekend at my son's hotel. Well, it's not really his hotel but we can pretend, can't we?
Saturday began with a great breakfast at The Original Pancake House and then a walk through the Paris Flea Market. Alas, it was not in Paris.
We than came home and had a lovely lunch of the basil/cheese bread we bought at the market and this revitalizing Mexican shrimp cocktail. I love this stuff.
Filled with avocados and baby shrimp and of course some summer sweet corn; it takes me back to the beaches of Mexico which unfortunately I haven't been to in a long time. This helped prepare us for a Saturday afternoon nap which we awoke from in time to have St.- Germain cocktails with icy gin and sour lemons. Ahhh.
That relaxed us enough to drive over to Federal Blvd and get cheap massages at Bamboo Forest. Massages on Federal must always be followed up with Vietnamese at New Saigon…which is where we ended our day perfectly sated with Goi Ga (Vietnamese chicken salad) and Pepper Garlic Shrimp and crispy, golden egg rolls.
Sunday found us rising early and driving to Vail for a stay at The Sebastian. We were greeted warmly and I don't think it was just because I was bringing Alex up his stuff! It was so good to see his new room
and meet all his hotel compadres. I'd be hard pressed to meet a nicer group of people and I'm not saying that just because he works there.
There, even housekeeping, goes out of its way to engage and talk with you which helps make your stay so much more memorable. A magnificent, understated art collection, a cushy library with great books,
an intimate bar with a superb cocktail selection, and a restaurant that serves warm donuts (they call them beignets, but they are really just cute little donuts!) with caramel and crème anglaise to dip them into help make this small, comfortable, boutique hotel luxurious. I also got a great tan while drinking a bottle of prosecco that my incredible son sent down to the pool for his aunt and mother to gulp.
And so it continued… Now Diane is gone and I am home again with my two dogs who are always happy to see me.
AND I have leftover Mexican shrimp cocktail to satisfy me while I dream of good times, charming people and beautiful hotels. It could be worse!
If you ever visit The Sebastian, check in with Alex at the front desk and tell him his mom sent you! He won't give you Mexican Shrimp Cocktail, but he does have good cookies!
This post may contain affiliate links. Please see our disclosure policy.
Please Pin and Share: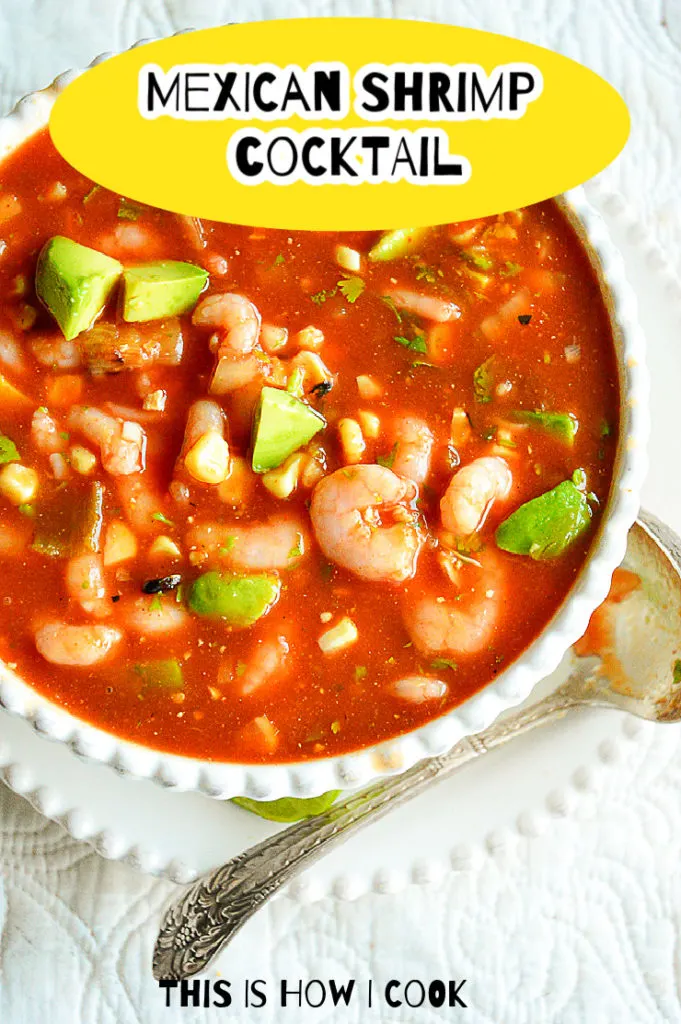 Print
Mexican Shrimp Cocktail
Author:

Abbe Odenwalder

Prep Time:

15 Minutes

Total Time:

15 Minutes

Yield:

4

Servings

1

x

Category:

Main Course/Appetizer

Cuisine:

Mexican
---
Description
Mexican Shrimp Cocktail has the perfect blend of seasonings. This slightly tangy tomato sauce with shrimp, avocado and corn is the perfect summertime food to beat the heat.
---
3/4 lb medium shrimp, peeled, cooked and deveined (I used cooked baby shrimp because I like them!)

1 ½ c chilled Clamato juice OR 1 c chilled V8 plus 1/2 c chilled bottled clam juice

1/4 c ketchup

1/4 c fresh lime juice

1 t hot sauce such as Tabasco

1 t salt or to taste

½ c finely chopped white onion

1/4 c chopped cilantro

1 firm, but ripe avocado, peeled and cut into small chunks

1 ear cooked corn, sliced off the cob
---
Instructions
If your shrimp aren't cooked, poach them in 6 c boiling salted water about two minutes. Do not overcook! Drain and transfer to a bowl of ice water and cool for 3 minutes. Pat dry.
Stir together everything except shrimp, avocado and corn. (This can be made ahead and kept refrigerated until ready to serve.)
When ready to serve stir in shrimp, avocado and corn and spoon into parfait or martini glasses or a giant bowl!
Traditionally this is served with Saltines or oyster crackers.
---
Notes
This is not a true ceviche, because the shrimp does not cook in the lime juice. Feel free to also substitute poached fish.
Keywords: Mexican shrimp cocktail, Mexican shrimp cocktail recipe, recipe for Mexican shrimp cocktail, Mexican shrimp ceviche
And a Few More:
If you don't want a Modelo with your shrimp cocktail, a margarita will always do!
A Root beer float for grown ups? Yummy!