Need some carnitas dinner ideas? Carnitas or Mexican Shredded Pork are a workhorse in the kitchen.
Great dinner ideas abound and they begin with this delicious recipe!
I just made a batch of carnitas and now my mind is overflowing with carnitas dinner ideas.
This braised pork, made with pork shoulder or some may call it a pork butt, is one great recipe.
Carnitas are made with pork with lots of marbling so it becomes nice and tender and roasts in its own juice.
Manservant loved this pork carnitas recipe.
Though these aren't slow cooker pork carnitas, I did slow cook them in my Dutch oven until the large chunks of meat became very tender pork.
And no joke, this shredded pork could really be called Mexican pulled pork.
I have another recipe for carnitas on my blog that I made years ago. That recipe was quite different than this one, in that it was braised with milk.
It was a Saveur recipe and though we enjoyed it, this one is simpler because everything is thrown into the pot.
The browning comes at the end when the shredded pork is cooked in a single layer and tossed and turned until it becomes crispy perfection.
Personally I love the crispy bits and I do like them on the dry side.
However, your taste may differ from mine, in which case feel free to leave them more moist.
I do like to cook the liquid out though, because no one wants soggy tacos.
And speaking of tortillas-corn is the preferred when it comes to carnitas.
This recipe is from the New York Times and is highly rated.
Must say, I have to agree!
Just a few simple ingredients and this easy carnitas recipe becomes the perfect Mexican food.
Carnitas means little meats and all I can say is these little meats pack one powerful punch!
How do you make carnitas?
It's amazing what orange zest and orange juice, bay leaves, and garlic cloves, can do to make this one great Mexican dish.
The first thing this recipe calls for is cutting the pork into chunks. 1″ is the preferred size, though I had no problem leaving them bigger.
The bigger chunks may have to be shredded a bit more, but this really isn't a problem.
The cut pork is covered with water and brought to a boil. Once this happens it is best to skim the scum from the top.
Then it's a matter of adding the above along with some Mexican spices in the form of crushed red pepper, a pinch of cloves, some Mexican cinnamon and oregano and lots of white onion.
Crushed red pepper flakes aren't exactly what Mexicans use and I've looked at many recipes. Many don't contain pepper of any kind.
Chili pepper changes the flavor, though if you want some heat and want to be more traditional with ingredients, I'd suggest some jalapenos. But truthfully, the red pepper flakes were perfect.
Carnitas are not considered a spicy dish though they do have lots of flavor.
This recipe makes great crispy pork carnitas. By boiling away all the liquid that covers the pork, the meat then begins to fry in its own fat which makes this shredded meat one of my favorite things.
You could place the cooked meat on a baking sheet and then broil it to make it golden and crispy, but I'm not one to dirty an extra dish, so I just turned up the heat and let it fry in its own juice and fat while tossing every so often, until it became quite crispy.
There are some recipes that stipulate that the pork shoulder should be cooked in lard and not water. Essentially it is a Mexican confit!
And remember I told you that the original recipe at TIHIC was cooked in milk? Well, some versions even have condensed milk added!
Yes, there is a lot of leeway in this recipe, but this Mexican pork is the gateway to many popular recipes.
Carnitas Dinner Ideas
With some pico de gallo or your favorite homemade salsa, sour cream, pickled red onions and corn tortillas, this tender, crispy meat makes the best pork carnitas tacos.
Or make a carnitas burrito bowl using cilantro rice and black beans.
Besides making the best pork tacos, this meat can be served stuffed into a sweet potato.
It can be used to make nachos with your favorite tortilla chips.
We already said burritos, but I'd love this stuffed into a quesadilla, a tamale or enchiladas.
And hey if you are lucky enough to have leftover carnitas, you could certainly toss it with your favorite bbq sauce and make your own version of pulled pork.
Carnitas meat can be used to make a great Mexican salad.
Throw some into pozole, or make nacho fries, by covering French fries with carnitas and salsa and sour cream and onions – my mouth is watering!
Throw it on pizza. Or into scrambled eggs. Or breakfast burritos. Or make some Mexican sliders. Use it on tortas or shove it into tortillas with a slice of grilled pineapple. Oh my, I'm hungry again!
Once the carnitas are made you are on your way to chef's paradise!
And that's the best part. I love recipes that can be used a zillion ways and this carnitas recipe does just that.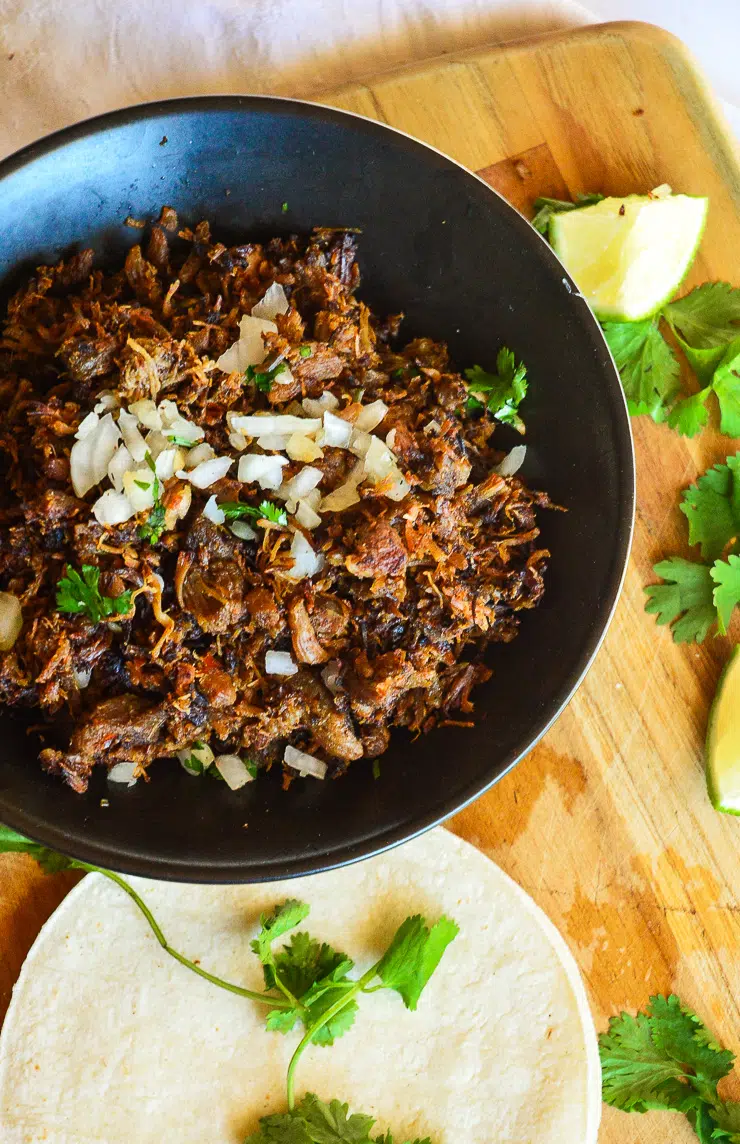 In fact you might even want to double this quantity. You'll be amazed how much it cooks down.
Leftovers can be frozen, so no worries about this going to waste. Really who are we kidding here?
This is one delicious meal, well actually it is a lot of delicious meals and the way you use your carnitas is totally up to you.
I have no doubt you will make the right choice!
Need a Few More?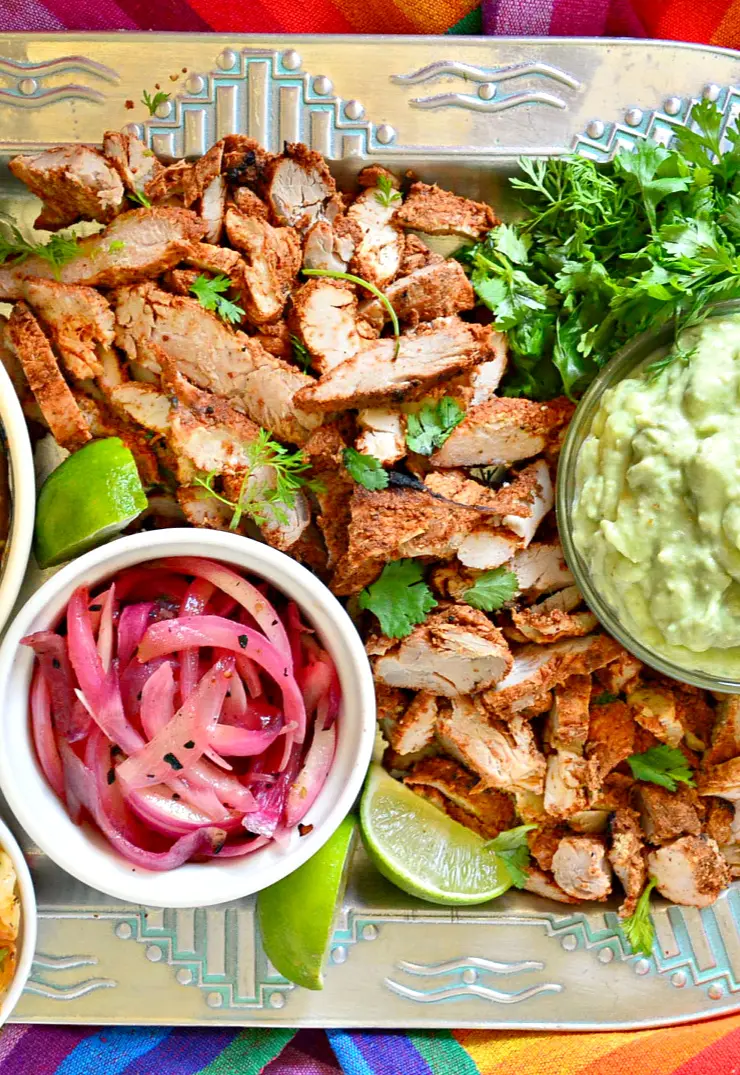 I'd Love it if You'd Follow Me and Pin and Share!
Print
Carnitas
Author:

Abbe Odenwalder

Prep Time:

15 Minutes

Cook Time:

3 hours

Total Time:

3 hours and 15 minutes

Yield:

4

-

6

Servings

1

x

Category:

Main Course

Method:

Stove Top

Cuisine:

Mexican
---
Description
Carnitas are the crispy, shredded pork base that becomes a key ingredient in your favorite meals.
---
3 pounds pork shoulder, either butt or picnic
7 strips orange zest and juice from the orange
5 garlic cloves, minced
1 large onion, chopped, plus finely chopped onion for garnish
1 1/4 teaspoons crushed red pepper flakes
1 cinnamon stick, preferably Mexican canela or 1/2 t cinnamon
1/2 t ground cumin
2 bay leaves
1 1/2 teaspoons crushed dried oregano leaves, preferably Mexican
1 1/2 teaspoons kosher salt, more to taste
1/4 teaspoon ground cloves
To make carnitas tacos:
24 small corn tortillas, warmed, for serving
Chopped cilantro for garnish
Salsa for garnish
---
Instructions
Trim any thick fat from surface of pork. Cut meat into 1-inch cubes, discarding any that are pure fat. Put pork in a large pot. Add enough water to cover by 1 inch and bring to a boil. Skim foam.
Add orange zest, orange juice, garlic, chopped onion, red pepper flakes, cinnamon, bay leaves, oregano, 1 1/2 teaspoons salt and the cloves. Keep at a high simmer. Simmer uncovered for 1 1/2 hours, until pork is very soft; add water if necessary to keep meat submerged. Season with salt, then continue to cook until water has evaporated, about 30 minutes. Cook a little longer to fry meat slightly; cook even longer if you prefer crisper meat. Stir often, flip often and add a bit of water if meat sticks or seems about to burn.
(I did not need to add extra water, though this did take much longer than the recipe called for to simmer the water away, therefore instead of adding 2″ of water over the surface of the meat, I decreased the water volume to 1″ above the meat.)
Remove bay leaves and cinnamon stick, if used. Spoon a few tablespoons of carnitas onto each tortilla. Top each taco with cilantro, finely chopped onion and salsa. Serve.
---
Notes
Carnitas is the gateway to many great Mexican recipes. Make a double batch if you prefer.
Be prepared as this meat will really shrink down when cooking.
Keywords: carnitas, leftover carnitas, recipes with pork carnitas, carnitas tacos recipe, what is carnitas meat,