This marinated grilled pork tenderloin, (Mexican style) is quickly grilled. Great on its own, or perfect for tacos, nachos, quesadillas and even burritos.
Marinated grilled pork tenderloin is so easy to make.
How do you make this simple Mexican Grilled Pork?
Basically this simple spice paste of chile powder, garlic and vinegar is rubbed on sliced and pounded tenderloin slices.
It needs to marinate for about 4-6 hours. Longer though doesn't hurt it a bit, and just adds extra savory flavor.
Grilling season and Cinco de Mayo are right around the corner so I decided to bring back this simple and flavorful recipe so you don't miss out. This chile flavored marinade has lots of garlic, a touch of cinnamon, oregano and cloves. Combined with vinegar, which makes this pork especially tender, is a winning combination.
I'm not sure about you, but sometimes it is good to be different. I know it's easy to go the market (maybe it's not so easy now!) and pick up a package of dogs or some premade burgers, but the truth is it is just as easy to pick up an unadorned pork tenderloin and stick it in a marinade.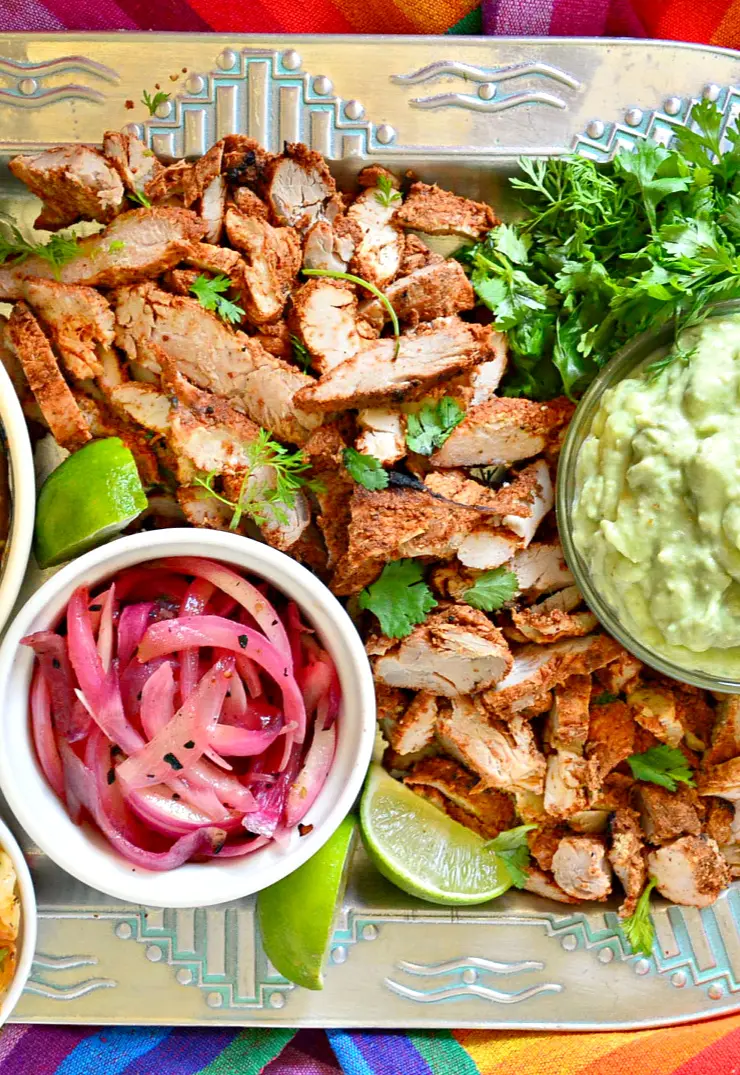 I love bbq chickens and ribs, but I adore great Mexican food and grilled meat is a Mexican specialty. It isn't always about tortillas, though this dish could easily be wrapped in one.
Marinated grilled pork tenderloin is so good. The uses for it are many. Yes, it's great in tortillas or also on top of rice. Perfect for tacos, on salads and even on nachos.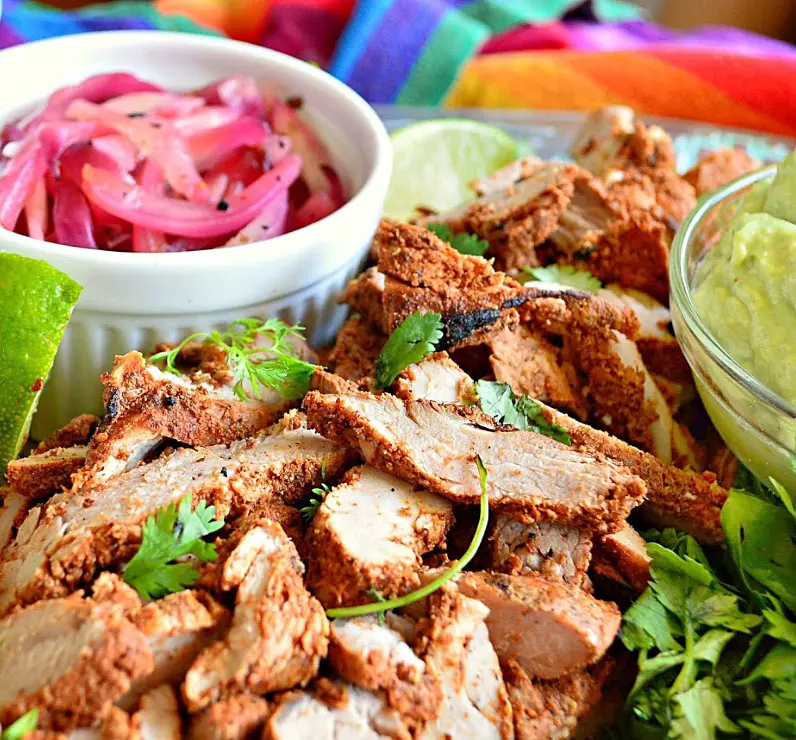 I can already smell the grills smokin' in our neck of the woods. This week is supposed to be gorgeous and very warm which frankly worries me a bit since our sprinkler system is broke.
This morning I looked for someone to help us and so far two of the six I've called don't have appointments until May 20th. My grass can't wait that long!
In my case I may not be smelling freshly mowed grass this weekend, but at least I can fill the neighborhood with the savory scent of this grilled Mexican pork tenderloin. This super easy to prepare pork tenderloin, is tangy and spicy and perfect weekend food.
Topping it with avocado cream and pickled onions sure sounds might good as does my grilled salsa which tastes superb. Adding some elote corn helps round things out. And my favorite grilled tomato salsa is essential.
This grilled and marinated pork tenderloin would be perfect on a rice bowl with lots of cilantro, sour cream and black beans.
Truth be told, I think I've found a new favorite. I keep finding myself heading to the fridge and opening up the zip lock bag and taking a few slices out. It could be worse. I could be taking out chocolate or potato chips or heaven forbid …cookies. No, much better to munch on this, than that!
Now get your tenderloin marinating. So easy to do and such a great change from other marinades. This magical mixture is my cup of tea!
Needing Dessert?
Condiment Ideas:
Please Pin and Share:
Please Pin and Share:
Print
Grilled Mexican Pork (Oaxaca Style)
Author:

Abbe Odenwalder

Prep Time:

4 - 24 hours to marinate

Cook Time:

6 - 10 Minutes

Total Time:

5 Hours

Yield:

4

-

6

Servings

1

x

Category:

Main Course

Method:

Grill

Cuisine:

Mexican
---
Description
This Grilled Mexican Pork is marinated and quickly grilled which makes it perfect for tacos, nachos, quesadillas and even in a burrito. It also is superb with beans and rice on the side!
---
1/4 c pure chile powder (I used ancho and guajillo)

1/2 c white vinegar

4 cloves garlic

1 t salt

1 t freshly ground black pepper

1 t dried oregano

1/2 t cinnamon

1/4 t ground cloves

1 1/2 lbs boneless pork tenderloin
---
Instructions
Combine everything, except the pork, in a blender or use an immersion blender to process this to a smooth wet paste.
Cut the pork loin into 4 broad, thin sheets, about 1/4″ thick. I'm not sure I got mine that thin! Pound to even out the thick pieces! Spread each piece of pork with the seasoning mixture and stack in a non reactive dish, or in my case a big zip lock bag.
Marinate as long as you want, but a minimum of 4- 6 hours in the refrigerator.
Preheat grill to high and while grill is preheating bring pork to room temperature. Oil the grill grate and grill, turning with tongs, until nicely browned and cooked through, about 3 minutes per side. Pork can be served a bit pink in the middle. Do not overcook! Serve with condiments and enjoy!
---
Notes
Actual Prep time is about 20 minutes but does not include time to marinate
From: The BBQ Bible
Keywords: Marinated Grilled Pork Tenderloin, Marinades for Grilled Pork Tenderloin, Mexican Grilled Pork, Mexican Grilled Pork recipe, Mexican grilled meat, Cinco de May recipes, easy Mexican food