This Orange Bitters Margarita is Manservant's best margarita recipe. Made with simple ingredients, this fresh margarita recipe contains no sweet and sour, just a touch of agave, fresh lime juice, tequila and a few drops of orange bitters. Now you know what a real margarita is!
(This is an updated post from 2017)
This is Manservant's best margarita recipe. It is only fair I give him his due. After all, it took years before I told him, I think he got it right!
Margaritas have been a favorite of mine since the day I discovered Mexican food. It would be scandalous to suggest that the two don't go together.
Over the years I've had margaritas made in countless ways. Frozen or blended; salt or no salt; shaken or on ice; but for the record I prefer mine on the rocks with a salted rim. And Manservant's best margarita recipe with all fresh ingredients is the best ever.
Yes, any day is a holiday for me if it contains a margarita! Traditionally Christmas Eve is a time for many Mexicans to make tamales. So I figured there must be lots of margaritas involved too! And if there aren't, there should be!
So I propose margaritas during the holiday season. Want to join me?
And lest we not forget that every year National Margarita Day is celebrated on February 22. Yes, that is George Washington's birthday, in case you have forgotten. I dare say George would have loved this birthday celebration.
As holidays are my specialty, we must not forget Cinco de Mayo on May 5th. And what, you may ask, is Cinco de Mayo? Cinco de Mayo celebrates the Mexican victory over Napoleon in 1862. Now that's a good reason to celebrate, because truly I can not imagine the French in Mexico.
I mean can you imagine no quesadillas or tamales or burritos? Just quiche and French onion soup?
But back to margaritas. Manservant's best margarita recipe includes few ingredients. It has no sweet and sour, which is the kiss of death to me.
I don't know about you, but I've had pitchers of 'ritas with the horrid, fake stuff called sweet and sour, and have woken the next morning holding my head. I don't think it was the tequila, though it could have been, because sweet and sour is the perfect way to disguise bad tequila.
This orange bitters margarita contains primo tequila. No skimping here unless you also want a bad margarita, and a BAD headache. Please skip the sweet and sour route, scope out some good tequila and squeeze lots of limes to make your margarita fresh and addictive.
HOW TO MAKE A GOOD MARGARITA
Use good tequila. (There are so many out there, but if you drink a lot of margaritas, invest in tequila that tastes good. Each tequila has its own nuance, so try some. Our house tequilas are listed above.
Use a chilled glass. I love drinking out of a martini glass or a traditional margarita glass, but this depends on if you want your margaritas, frozen or on the rocks. I prefer rocks. Frozen margaritas get watery very quickly.
Use fresh lime juice, but other citrus juices should be fresh also. A fresh margarita is the best! If you must use sweet and sour than look for those made with fresh lime juice. Make sure they aren't made with corn syrup and citric acid and lots of food coloring additives that you can't pronounce.
About that lime juice. Squeeze it ahead and get the grunt work done. If you have some leftover, just freeze it for your next margarita session.
We love orange bitters, instead of triple sec, which is an orange flavored liquor. Using orange bitters lets you taste the tequila and isn't that what a margarita's all about?
We use agave sweetener rather than a simple syrup. Since tequila is made from agave, why not keep things in the same family? Depending on your limes and your tequila, you may find you don't want your margarita so tart. The agave helps with that.

WANT SOMETHING TO EAT WHILE YOU SIP MARGARITAS?
THIS CHEESE CRISP QUESADILLA REMINDS ME OF AN ARIZONA CHEESE CRISP. TRY ONE IF YOU HAVEN'T!
The cheese crisp may look like a quesadilla, but it is not. Never folded and always crisp, found mostly in Arizona…you need to know about this!
This Mexican poblano cheese casserole is proof that simple ingredients in the right combination, can easily become more than the sum of its parts. This savory, cheesy gratin is home made Mexican goodness! I could eat it every day!
I JUST MIGHT MAKE THESE EASY CHICKEN TINGA TOSTADAS FOR DINNER TONIGHT.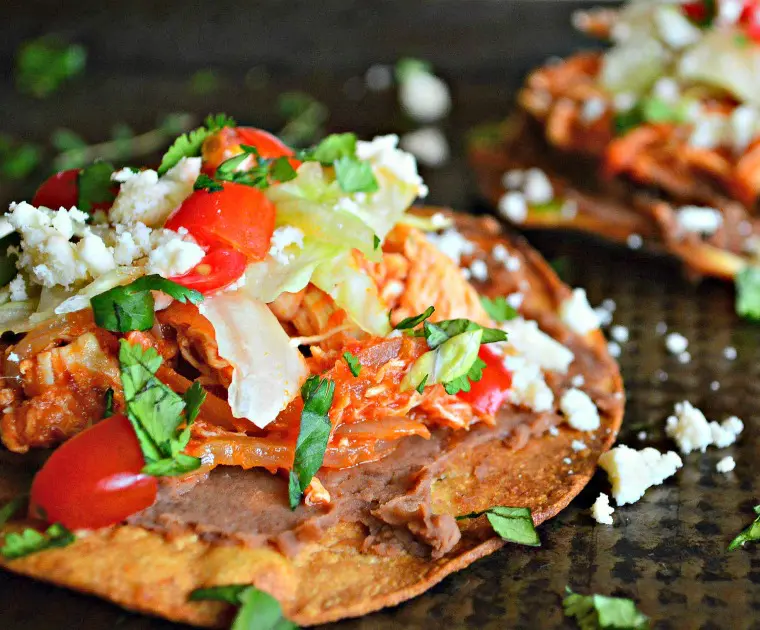 HAVING A PARTY? THESE PARTY QUESADILLAS LOVE A MARGARITA!
PLEASE PIN!
Print
How To Make a Margarita (Best Margarita Recipe)
Author:

Abbe Odenwalder

Prep Time:

5 Minutes

Total Time:

5 Minutes

Yield:

1

cocktail

1

x

Category:

cocktails

Method:

Shaker

Cuisine:

Mexican/American
---
Description
This Orange Bitters Agave Margarita depends on a great tequila. Add some agave, lime juice and orange bitters and you have a very special margarita. And also a very potent one.
---
3 oz silver agave tequila

1 oz agave

3 – 4 drops of orange bitters

Juice of 1 1/2 limes freshly squeezed

---
Instructions
Fill a margarita glass with ice and water to chill.
Combine lime juice, tequila, agave syrup, and orange bitters in a cocktail shaker filled with ice. Shake 40 times vigorously. (Really.)
Empty ice filled glass. Rub a slice of lime along the rim of the glass. Dip rim of glass into a plate of kosher salt. Strain contents of shaker into glass.
Sip slowly and enjoy!
---
Notes
This makes one strong and great drink!
Keywords: margarita, orange bitters margarita, fresh margarita recipe, best margarita recipe, best margarita tequila, margarita how to make, recipe for best margarita