This old fashioned BBQ chicken with an easy BBQ rub and a no cook BBQ sauce will have the neighbors swooning when they smell it on your grill. A family classic recipe-I know you will love it!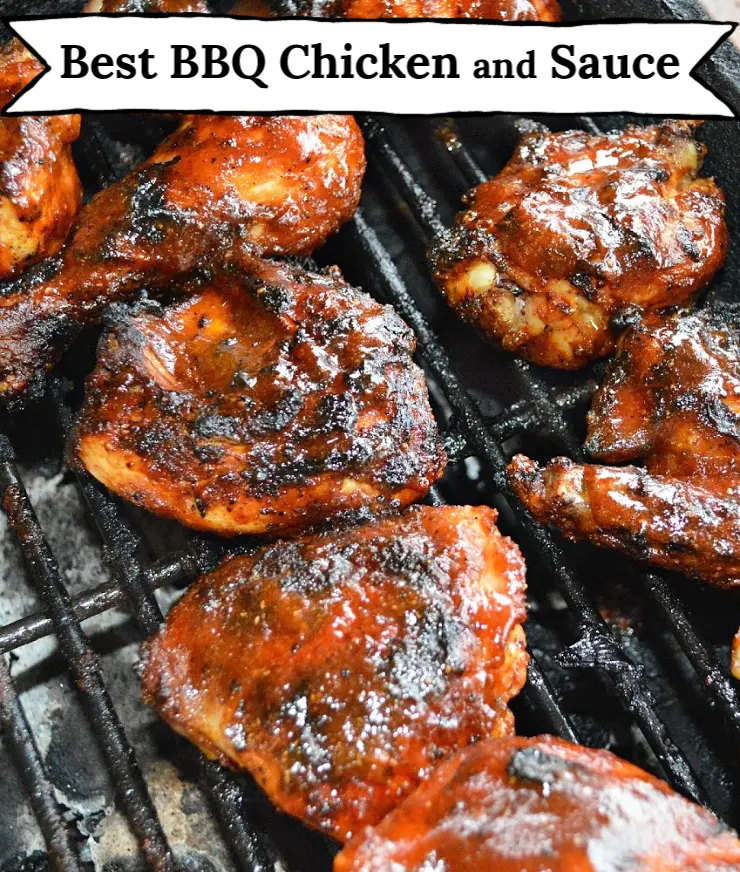 Every now and then, my mom would BBQ chicken. We weren't like my husband's family from Texas, who bbq'ed briskets and such. We did chicken and that was our BBQ.
If my mom wasn't opening a blue and red jar (I can't remember the name) of BBQ sauce, she sometimes made her own. That was a special treat.
I don't have her recipe, but I believe it was similar to the one I'm sharing today. I kept it simple, but perused a few of my old cookbooks that soon might be labeled vintage.
It seems most old fashioned sauces contained butter, lemon juice and ketchup. Pretty consistent, they were.
This simple sauce is better than most. That's really downplaying this sauce. Honestly? This rich sauce is INCREDIBLE!
It is tart and sweet with a good dose of garlic and black pepper. Please make a double batch because it keeps well in the fridge.
Trust me. You will find lots of reasons to use it!
This sweet and savory sauce requires no cooking though it does require melting butter. You can do that, can't you?
Buy a whole chicken and cut it into pieces. Chicken has more flavor if cooked still on the bone.
You can buy a cut up chicken but often I end up with one huge thigh and one small thigh and I'd just rather have my thighs the same size, thank you very much! So, I cut my own.
Or feel free to spatchcock your chicken by cutting the backbone out. Press on the breastbone to flatten it and then place it on the grill with the dark meat facing the hottest part of the grill.
But before I even get this chicken to the grill, I cover it with the rub recipe below. This amps up the flavor of the chicken and it what makes this the best bbq chicken recipe ever!
Now preheat your grill to high. So yes. I do use a gas grill. I left the charcoal grilling to my dad.
My dad probably would have used charcoal, at least until he got a gas grill. And he probably would have been yelled at for burning the chicken.
But really it's when the sugar in the rub caramelizes that the chicken sends out that great bbq perfume throughout the neighborhood.
That's when everyone starts thinking I wish we were having what they are having tonight!
I think I never got into charcoal grilling because honestly I'm afraid to light a match. (My mother was a smoker and put the fear of God into us kids and to this day I hate lighting matches. I use those long handled lighters, if I must!)
I use an indirect method of grilling which means first you preheat the entire grill to high. When you are ready to put the chicken on, turn one side of the grill off.
Place the chicken on the grill with the dark meat facing the hottest part of the grill.
Cook it low and slow, but it should be done in about an hour.
Don't brush on the BBQ sauce until the end. Don't worry if it gets a little black. It is still good that way.
I always serve my bbq chicken with an ear of corn on the side and some watermelon. Potato salad, coleslaw, some garlic bread also works! Baked beans.
Boy, you could almost skip the BBQ chicken, with all those great side dishes, but then you'd miss that summer smell!
Growing up across the street from a popular park meant that our neighborhood always smelled good.
We were always able to catch the drift of what was cooking somewhere in our vicinity. Was it hot dogs or hamburgers, ribs or most likely, BBQ chicken.
It was always fun scouting the park, looking for friends, while also checking out everyone's picnic table.
The red checked tablecloths were topped with bags of chips and potato salad, coleslaw, watermelon, sodas and baked beans.
It always looked like fun, as our family was not big into picnics. I think we tried it once, but my dad thought it was a lot of work when we could just eat the same food at home.
Myself? I love a good outing. And I love to bbq.
And if you love bbq, then this bbq chicken with a homemade bbq sauce is not to be missed!
Be prepared for your neighbors to guess what you are cooking. Without a doubt they will want to fire up their grill, too!
Shoot-be a neighbor and invite them over. BBQ season is for sharing!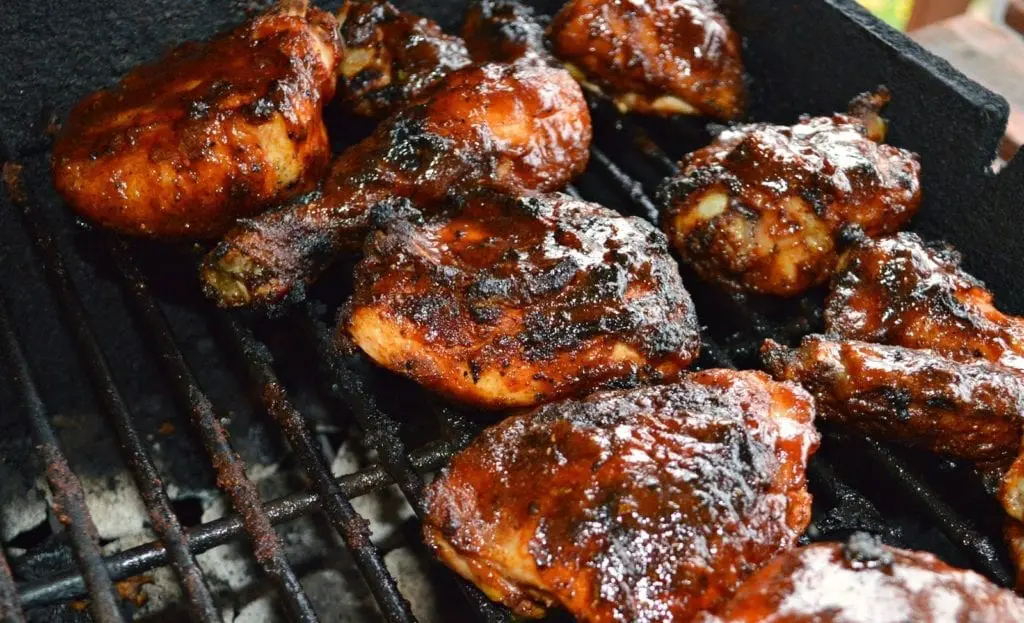 Please Pin and Share: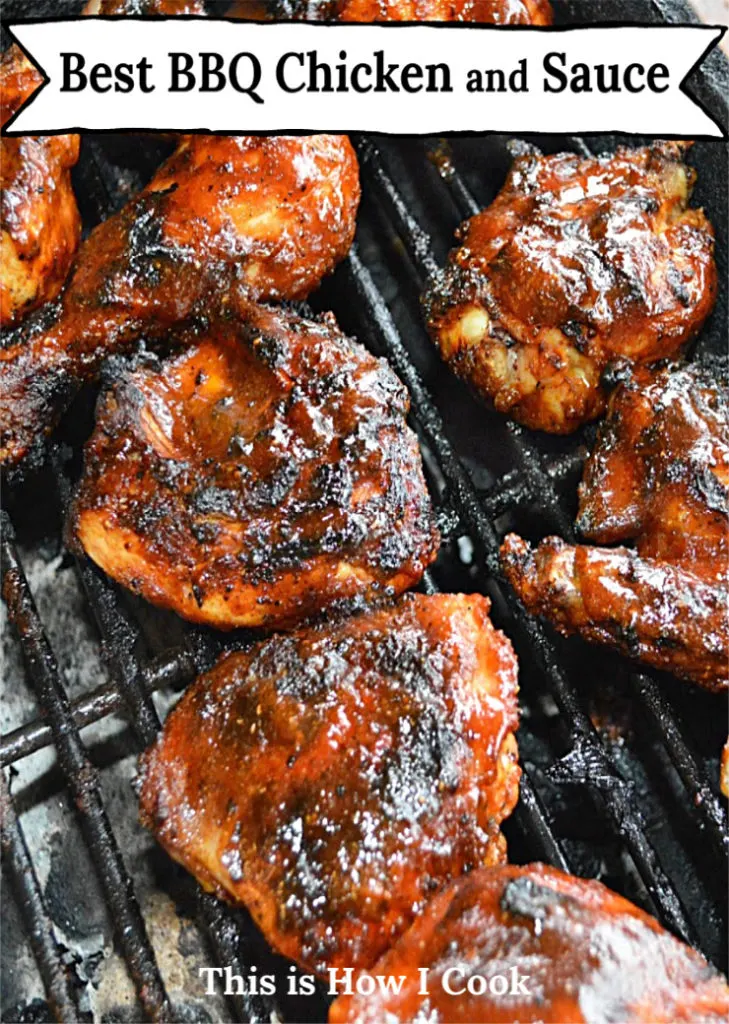 Print
Old Fashion BBQ Chicken and Sauce
Author:

Abbe Odenwalder

Prep Time:

20 Minutes

Cook Time:

45 - 60 Minutes

Total Time:

80 Minutes

Yield:

4

-

6

Servings

1

x

Category:

Chicken

Method:

Grill

Cuisine:

American
---
Description
This old fashioned bbq chicken recipe includes a great rub and a phenomenal bbq sauce!
---
1

cut up chicken (I usually cut each breast into

two

pieces)
CHICKEN RUB (USE THIS ALL)
OLD FASHION BBQ SAUCE
6

T ketchup

2

T apple cider vinegar

2

T fresh squeezed lemon juice

4

T Worcestershire

6

T brown sugar

1

t salt

1

t garlic powder

1

t fresh ground black pepper

1

t dry mustard

1

t smoked paprika

1

t paprika

1/2

t celery seed (the secret ingredient)

4

T melted butter
---
Instructions
Chicken Rub:
Mix all ingredients together. Rub all over chicken and let sit as long as you can. Overnight works, too.
BBQ Sauce
Mix all ingredients together and set aside in refrigerator until ready to use. (I usually make a double batch because I love this stuff!)
Preheat grill to high. When ready to cook chicken, turn off one side of the grill.
Place chicken on grill with dark meat toward the hotter part of the grill. Cook low and slow. Total cooking time is about one hour but after about 45 minutes, start checking your chicken. I always use a meat thermometer.
When it is close to ready, brush with sauce. Shut the grill and let this cook for a few more minutes. Brush again until the chicken is cooked to your liking. Brush with sauce, shut grill lid, and let it kind of melt in. You can turn it over if you like a few blackened spots. This can take about 5 minutes.
Serve leftover sauce on the side. White meat usually cooks the fastest. If this happens, place it on the grill side that is turned off, to keep it warm.
---
Notes
Make sure chicken is at room temperature before placing on the grill. Otherwise the chicken will take longer to cook.
Times below do not include time for the chicken to marinate.
Keywords: best bbq chicken recipe, bbq chicken, grilled bbq chicken, bbq chicken sauce, homemade bbq sauce
Other things to try: