This esquite recipe is almost like elote corn in the cob, except it is made in a bowl or cup. Easier to eat than on the cob, it is great to serve at a potluck. It certainly isn't as messy to eat. And it can be made ahead.
If there is one thing you need to know about me it is that I love corn. Summer to me is synonymous with corn. Yellow may represent the sunflowers and the sun to many of you but to me it means corn. Maybe it is because I grew up in Illinois in a town that was surrounded by corn.
I still miss seeing the never ending cornfields that ended my summer by waving tassels at me as I drove the road between Kankakee and Joliet one summer.
I loved the white barns and the black and white cows that dotted my horizon and I miss the roasted, buttered corn on the cob that meant the Kankakee County fair was going on and summer was quickly ending.
I miss road side markets filled with fresh corn and cantaloupe and red ripe tomatoes and I miss the smell of green wide open spaces.
I love Colorado but I guess there are some things that always stay with you. And corn-well- it goes where I go. I love potatoes but in the summer potatoes go away, only to be replaced by corn.
I eat corn in salads and salsas and scrambled eggs. I eat corn in pasta and bread and on quesadillas. I eat it stuffed in poblano peppers and in rich corn soups. I eat corn on the cob and corn in a cup. Ohh-maybe I should have been the corn queen, but alas my hair is not golden.
My mother used to buy fresh corn and cut it off the cob. She then froze it to use during the winter. The crazy thing is that I only remember eating corn two ways.
One – on the cob with butter and salt and pepper and two – off the cob in a bowl with butter and salt.
Did my mother not know all the amazing things one can do with corn? Maybe my mother just did not share my love of corn. No worries though. I still love corn.
So last night found me at home with 4 ears of corn in the fridge. It isn't quite corn season yet so the corn is not as sweet or as tender as it could be. I decided to combine a Mexican version of elote (roasted corn on the cob), and a bit of a take off from the corn in a cup that we eat at Jack n' Grill here in Denver.
They have a great canned corn dish that I make often in the winter when I can't get fresh corn. It involves lemon juice, chili powder and canned parmesan cheese. I'm telling you it is highly addictive and I will share this winter. But last night I tried this and it was really good.
What is the difference between this esquite recipe and elote corn?
It's very simple actually. Esquite is corn off the cob and elote corn is on the cob. Semantics, right?
I could have eaten all 4 ears-but I didn't. This esquite corn recipe involves roasting the corn on the grill, which is a no brainer, and then combining it with mayo, cheese, scallions and spices.
You can add cilantro or roasted poblanos or a jalapeno or a myriad of other things but I didn't have those in the fridge so I made it like this. And it was GOOD.
Don't feel like roasting? Just buy a bag of roasted corn in the freezer section at the grocery. It will definitely work in a pinch!
Forget the microwave and go make this corn. This esquite corn in a bowl is quick and simple and doesn't get all over your face, like when you eat it off a cob.
However if you choose to make this corn on the cob as Mexican elote, merely roast the ears of corn, roll them while they are hot in the mayonnaise, and then roll them in the combined toppings. I find this works really well on a paper plate.
Whatever you do, plan on eating lots of corn this summer. I could eat it one way or another, every night!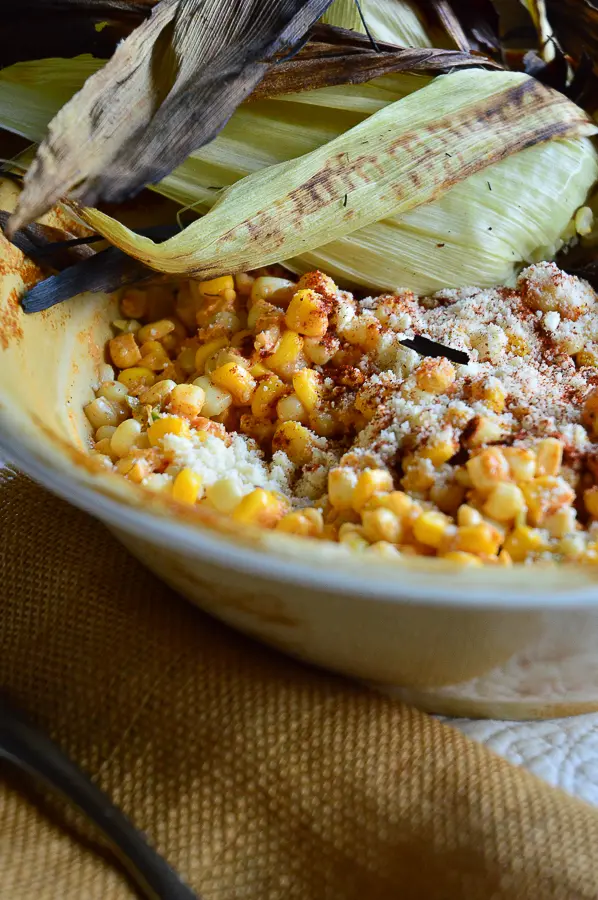 More Food With Corn:
Print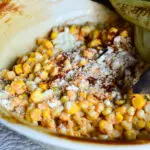 Elote Corn in a Bowl
Author:

Abbe Odenwalder

Prep Time:

15 Minutes

Cook Time:

10 Minutes

Total Time:

15 Minutes

Yield:

4

Servings

1

x

Category:

Side Dish

Method:

Grill

Cuisine:

Mexican
---
Description
Elote Corn in a bowl tastes better than on the cob. Well, it certainly isn't as messy to eat. And it can be made ahead.
---
4 ears of corn roasted (I shuck the corn and roast it dry on the grill over medium heat turning it as it browns.)

Topping
2 T mayonnaise

1/3 c dry parmesan cheese (Yes, the kind in a container)

½ c finely chopped scallions

2 cloves of garlic, pressed

2T lime juice

½ t smoked paprika

1 t ancho chili powder

Sprinkle of red chili flakes
---
Instructions
Roast the corn and slice it off the cob.
While corn is roasting combine topping ingredients in a bowl.
Add corn and give an extra squeeze of lime juice before serving. Ole!
---
Keywords: esquite recipe, Mexican elote, What is elote. Mexican corn recipe