I'm really good at special requests. And they make me feel so special. I mean no one asks you to do something unless they think you can do it- right?  And that, to me, is flattering. I get it all the time in my small business because all I do is custom work. Now that wedding season is upon us I am doing lots of custom gifts for people needing special gifts. Generally, I take their wedding invitation and turn it into a special one of a kind plate that can be functional or decorative. I do lots of other accessories too and I love the compliments I get when someone is happy.
But this request was a bit out of the ordinary. And it was special because it came from the 16 year old daughter of a close friend of mine. I mean I've known Becca since she was still in her mom's tummy, so that is a pretty long time in my book. Anyway Becca, who has a million and one things to do to keep her busy, asked  if she could cook with me. Talk about flattery. Becca, you are now my favorite, over your older sister even though I have known your older sister longer. Obviously!
Well, Becca and I had a fabulous time which I think made her mother very happy, too. Becca wanted to make my  avocado corn soup so we did that which helped settle us in to a Mexican menu. We had loads of fun while making salsa and fresh refried black beans and Spanish rice. Flat New Mexican chicken enchiladas with red chile were the main course and I know Becca wants the recipe for that chicken, pronto! But we'll get to that! I think it is because that is the first thing she tasted after she rushed straight from a sleepover birthday at a friend's house. (Boy, I wish I looked that good when rushing straight over after an all nighter, because I bet that's what it was!) Laura, you'll be happy to know she eats very healthy. She started with the chicken and some Crystal Light and a Diet Coke and finished off the rest of the snickerdoodle cookies I had on the counter. I can easily see why she stays so skinny and gorgeous!
After figuring out the main course, we then had to figure out dessert. She suggested pie, which I like, but didn't think very Mexican, so I suggested a tres leches cake which she had never heard of. Frankly, I've never had one, but I always love seeing them in Mexican bakeries, all gorgeous with their thick white, fluffy frosting and always topped with colorful slices of fruit, making them look like Carmen Miranda's fruit basket hat.
Well, we decided to give it a go and I think we are both glad we did. OK, let's catch our breath here… Let me tell you this was a great cake. A superb cake. A really, really, good cake. And when you read the directions it sounds so weird. So squishy (you'll see). But what the heck? Everyone raves about it, so I wanted to see what all the fuss was about.
This is a cake from Central America. It is called tres leches, meaning three milks, because there are three milks involved in the soaking of the cake. Generally, it is evaporated milk and condensed milk. Other choices involve heavy cream or half and half but I used coconut milk.  The frosting also contains heavy cream so in actuality that is 4 milks, but who's counting?
I didn't take this !
There are many theories about this cake's origin.  One says that in 1810 evaporated milk in cans became available in Central America. Then in 1850 condensed milk was able to be canned. Supposedly Nestles printed the tres leche recipe on the cans of milk which popularized the cake. Others say that as Europeans began to settle the Americas, recipes like tiramisu and rum cake, both of which are cakes that are soaked in some kind of liquor, were adapted to the area. I don't really care. What I care about is that someone came up with this and it is good!
There are many different types of recipes for this cake. Basically it is  sponge cake, as it acts like a sponge when absorbing all the milks that go into it. Most sponge cakes do not contain leavening, and the only fat is from the egg. The eggs are beaten until light and this helps create the air pockets or holes in the cake which makes the cake great for absorbing lots of flavors; in this case, the milks! Several recipes I found did contain butter in the cake batter but I decided that tres leches sounded rich enough and who needs all those butter calories anyway? One variation involved the eggs and should the yolks and whites be separated? After reading many comments I decided to do that, because I think it helps keep the cake from becoming to dense.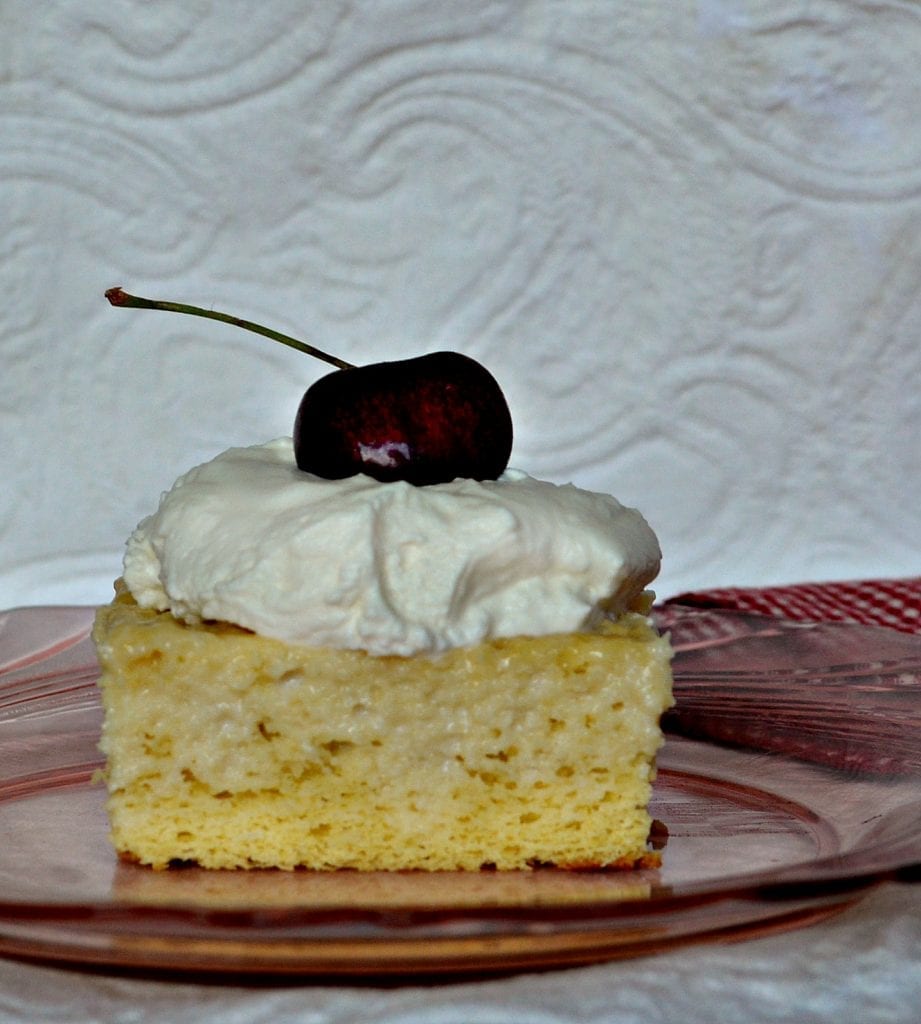 Another  variation I saw, besides the various flavors that you can make this cake, involve how to frost it. Some call for a meringue frosting. Others believe in a whipped cream frosting. I chose that. We dolloped the whipped cream on rather than frost it because we knew there would be leftovers. I think this worked great and allowed us to keep the cake longer. I can tell you that the cake only got better the longer it stood. It never got soggy, only more moist and creamy. I still have one piece left in the fridge and we made it last Saturday. Rabbit catcher would not let me throw it away!
Look at all the holes!
I flavored this cake with rum and loved it. I also used coconut milk and meant to top it with some dried toasted coconut flakes but as Becca and I were busy gabbing, well, we forgot. Frankly, even though we used coconut milk, the rum flavor was more predominant. You could use cinnamon or caramel for other flavor variations and I would love to try chocolate, but haven't figure that out yet. The options are many.
So Becca.  I'm ready for more special requests.  Even though this cake is awfully special you are way more special than that! I am ready for our next foray, wherever, whenever that may be. Thanks for making my day special!
Coconut Rum Tres Leches Cake (adapted from Chow)
1 c all purpose flour, aerated with a fork
6 large eggs, separated
1 c sugar
1 t vanilla
Three Milk Mixture
1 14 oz can sweetened condensed milk
1/2 c heavy cream
1 can unsweetened coconut milk
1 T rum
Frosting
1 c sweetened flaked coconut toasted
1 1/2 c heavy cream
1 T rum
1/4 powdered sugar
Preheat oven to 325 with the rack in the middle position. Butter a 9×13 baking dish. Set aside.
Separate eggs. Place whites in mixer and beat on high speed until medium peaks form, about 1 1/2 minutes. Transfer to another bowl.
Place egg yolks in mixing bowl and add sugar. Beat on high, until pale yellow, about 5 minutes. Stir in vanilla.
Using a rubber spatula, stir about 1/3 of the whites into the yolk mixture to lighten it. Then gently fold in the remaining whites. Sprinkle the flour over the egg mixture and gently fold it in, until there are no white flour streaks remaining.
Pour the batter into the pan and bake until the cake is puffed and golden around the edges about 20-25 minutes.
Meanwhile! Place the three milks and the rum in a large bowl and whisk until combined.
Remove cake from oven and place on a cooling rack. Using a toothpick or skewer poke holes all over the cake and allow to cool for 15 minutes. Poke holes at least every 1/2 inch and poke all the way to the bottom. Pout the milk mixture evenly over the cake and continue cooling about 45 more minutes. Refrigerate at least four hours or overnight.
To make frosting:
Toast coconut for topping. Set aside. Beat cream until soft peaks form. Then add rum and powdered sugar. Continue beating until stiff peaks form. Refrigerate until ready to use. When ready to serve cake, frost with whipped cream and sprinkle with toasted coconut. Or just dollop the way we did!
Try Some More:
Don't Lose This Recipe!
Please Pin and Share!