This flourless chocolate fudge cake is made for chocolate lovers. Mousse like in texture, more like fudge than a brownie!
Ach! Such a crazy title for a very simple cake. This flourless fudge cake is made for chocolate lovers. It is also gluten free so it's perfect when you need something for everyone. I'm not sure when flourless chocolate cake became the rage, only to be followed by little molten lava cakes, but I know that every restaurant seems to have one or the other on their menu. And just like they are everywhere, so are the numerous recipes that extoll their virtues. I'm not sure how old I was when my mother gave me the recipe for her flourless chocolate cake, but I think I was already out of the home-so to speak.
She used to make it quite often and so did I. When I first got married it seems that flourless chocolate cake is what I made for everyone! But don't get too excited because I'm not giving you that recipe. I'm giving you a better recipe. It doesn't involve separate beating of the egg whites and egg yolks or melting the chocolate or anything like that. So, look at it this way, I'm giving you the latest and greatest. Not because I didn't love the one my mother made, but because this one is like way simpler.
Yes, it is different. The texture is more fudge like than brownie like. This one slides off your tongue and can be served warmed or chilled. And it only requires one 9″ pan. Don't laugh when I say this makes 16 servings. It can easily serve 12-maybe 16. Yes, this beauty is rich. Creamy rich and totally a chocolate lover's dream. Throw a little whipped cream or ice cream on top and even a few berries, and you've got an unbelievable dessert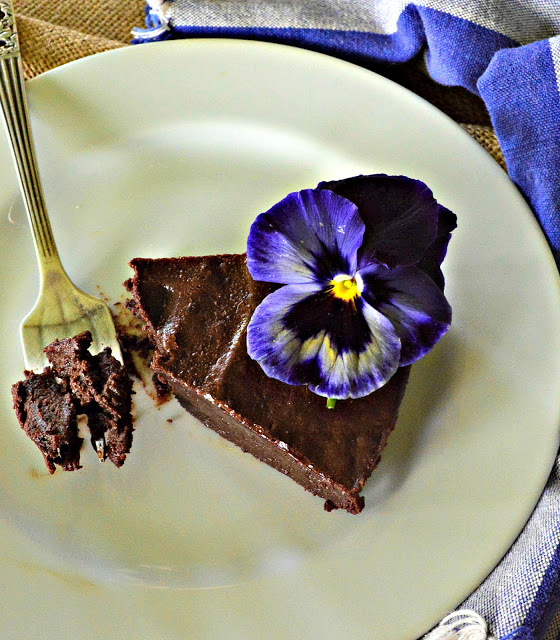 This chocolate fudge cake is wonderful for Passover but I know there are chiffon cake lovers in the bunch and I'm going to give you a link to one of my favorites. This Bon Appetit recipe is good. Very good. I made it way back in 1997. Ach! Where does the time go? Now my friend makes it! But, well, I'm just a girl that loves chocolate and my Ilse's Passover nut cake, iced with a delectable mocha frosting. What can I say?
Passover is a big meal and it lasts a long time so one must pace themselves, as my father says. It involves 4 glasses of wine, a great story, numerous traditions in proper order and singing. This year we are making it easy on my folks and flying to Phoenix to celebrate. Normally we don't celebrate with them because it was too hard to visit when the kids were in school and they never liked coming to Denver. Alex and Zoe are flying in and it will be the first Passover my nuclear family has had together since their senior year in high school. I am looking very forward to this. Like way forward. Like I can't wait! My brother will be there too, but alas, only one of them. I'll be doing a lot of the cooking, and that's OK. I enjoy cooking. Can't you tell?
Our Menu!
Gefilte Fish – I buy the frozen loaves. I've made it several ways but the frozen are pretty good!
Hard Boiled Eggs
Charoses
– I do the Sephardic kind and the apple kind, but this year, just the apples!
Bitter Herbs and Salt Water
Maror (Horseradish) – Usually I grate my own, but this year simplicity is king!
Roasted Asparagus and Roasted Carrots
Frozen Fruit Cup
Meringues
Fresh Berries
And now the fudge cake! Enjoy! And Happy Holidays! Be it Easter or Passover!
Other Passover recipes:
Chopped Liver
Sephardic Charoses
My Mother's Brisket
Egg Salad
Macaroons
Passover Mocha Nut Cake
Marshmallows and Matzoh S'mores
Fool's Toffee
Some Good Easter Recipes:
Don't Lose This Recipe! Please Pin and Share!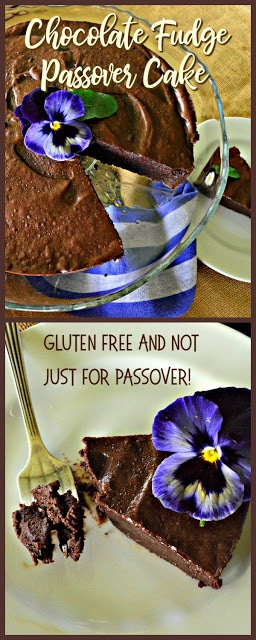 Print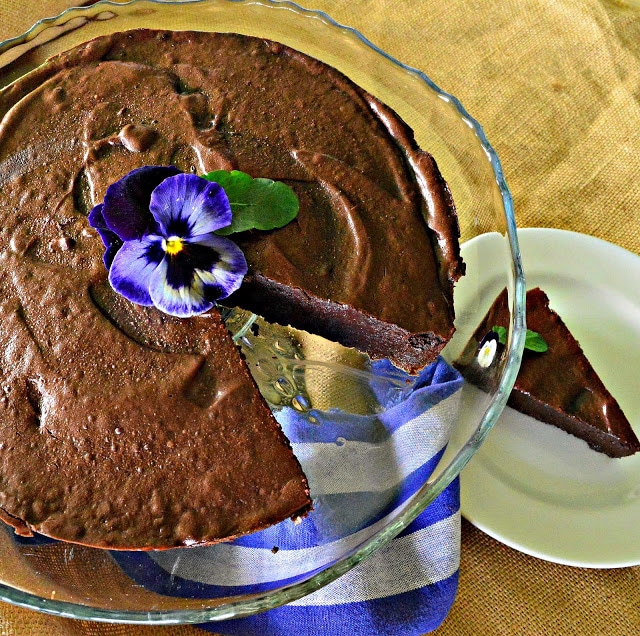 Fudgey and Gluten Free Passover Fudge Cake and My Passover Menu
Author:

Abbe Odenwalder

Prep Time:

20 Minutes

Cook Time:

25 Minutes

Total Time:

45 Minutes

Yield:

12

Servings

1

x

Category:

Dessert

Method:

Baking

Cuisine:

American
---
Description
This flourless chocolate fudge cake is made for chocolate lovers. Mousse like in texture, more like fudge than a brownie!
---
8 oz

unsweetened chocolate, roughly chopped

4 oz

semi sweet chocolate, roughly chopped

1/2

c water or coffee

1 1/3

c sugar

1

c butter

5

eggs
Pinch of salt

1

t vanilla
---
Instructions
Preheat oven to 350.
Line the bottom of a 9″ cake pan with parchment paper. Grease the paper.
Put both chocolates in food processor. Using the on/off method chop the chocolate until fairly fine.
Bring 1/2 c water to boil with the sugar. Stir until sugar is dissolved. With motor running, slowly pour sugar water into chocolate.
Add butter 2 T at a time.
Add eggs one at a time to incorporate into mixture. Add salt and vanilla.
Pour into prepared cake pan. Place in a bigger pan and fill pan with hot water until the water reaches halfway up the outside of the cake pan.
Bake 25-30 minutes or until a cake tester comes out with a few crumbs. Do not over bake. Remove from water bath and let cool. May be served chilled, warm or at room temperature!
---
Keywords: Flourless Fudge Cake, Gluten Free Chocolate Cake, Passover fudge cake,