Chicken Soup cures everything, some say. Well, I'm sure glad I had a bowl leftover from our Seder, because I needed some soothing. Between all the comings and goings, I now have an empty house and that is taking some getting used to. Sunday found Manservant leaving early for Sweden and almost not getting there because United wanted to hold him in the US since his passport expires in three months. It appears that the airlines get fined if they let someone fly to a country where they violate passport rules. Well, Manservant being Manservant, had checked with Swedish border patrol and they said no problem. The problem was when United wouldn't check with Sweden. It seems rules apply and they don't like to budge; but they did after speaking with border patrol on the phone. In that time they also managed to pull Manservant's baggage from the flight, which he conveniently found out about when he arrived in Stockholm.
They skied. I cooked!

Alex also left on Sunday. He discovered that if you fly Southwest and don't show for the first segment of your itinerary they cancel the entire itinerary. He found himself having to buy a last minute seat to LAX because Southwest canceled him on his way over. It appears that when one is flying over the Pacific on a 6 hour delayed flight, that one should still find a way to let Southwest know they won't be making their flight. Now had he booked two one way flights on Southwest, his flight back to LAX wouldn't have been canceled. Yes, I have filed a major complaint with Southwest, who I used to adore. Word to the wise: Never fly Southwest if you are coming in from overseas, especially if you think your flight will be delayed. And never, ever, book Southwest as a round trip. They may let you take free luggage but trust me, they have found ways to recoup their costs!
Alex visiting his buds at Matsuhisa while wearing Manservant's Chinese silk jacket. (At least it is getting used!)
So after seeing Manservant off and Alex rebooking his flight, we sat down for a breakfast of matzoh brei. Matzoh brei is kind of a Jewish version of migas, and is quite good, if I say so myself. It can be prepared sweet or savory and I should make it for you, but I didn't. After brunch, it was time to take my folks to the airport and luckily they had no problems!
We then came home and Alex had numerous female visitors, which left him packing late in the afternoon. Zoe and I took him for the 45 minute one way drive to the airport about 8pm. We then came home where I proceeded to pass out!
Monday found us heading up to Greeley to see PUPPIES! It's getting close and soon I will be able to take one home permanently. I will always miss George and this isn't his replacement; it is just one more way to add that special Skye magic back to my life. So take a look at this, why don't you? George was a black Skye.These pups are born black but they will change color. I know you can only see their heads but soon they are expected to have white bodies and a black muzzle, ears and tail! Any puppy tips, I need to know?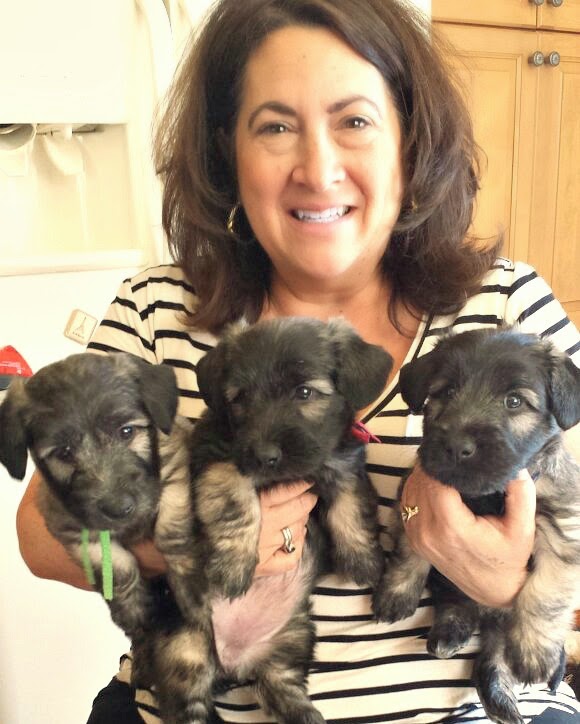 Tuesday Zoe and I left the house at 5:15AM for my last trip to good old DIA. (At least until next week). She made it with 5 minutes to spare because TSA didn't have enough agents at security. She said many others were in the same boat and her flight was half empty. I'm sure glad she made it because I did not want to turn around! BUT, I would have because it was Zoe and I love her.
So now I'm faced with catch up. My house is dirty again and the floors are gray. I have two extra sets of sheets and towels to wash and lots of matzoh crumbs to sweep up. My heart is full, but it is a bittersweet full, because I so loved having my family around. The time with Alex was way to short. First he headed to Salt Lake for a college ski reunion. He then came home and his friends popped out of the woodwork. Last he went to Vail to see his old homies and I stayed here and cooked! Don't know when we'll see him again, but we are planning on attending a wedding in Costa Rica next January, so I expect if we don't see him before, he'll manage to pop up then!
Passover was special. We had a perfect Seder and drank at least the requisite four glasses of wine. Yes, we do have a lot to choose from now that my parents downsized their wine cellar, too!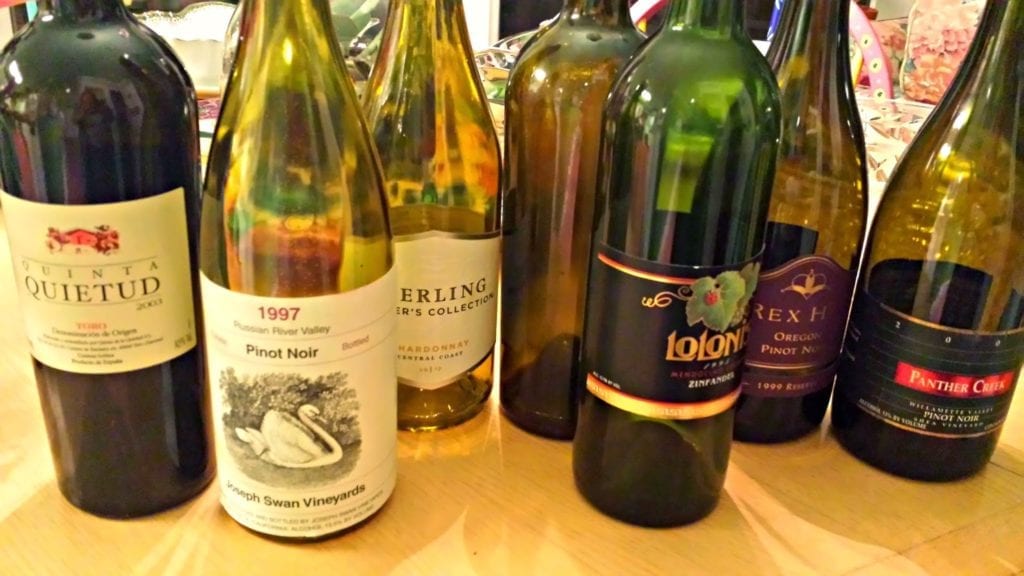 Passover for the first time found me using my Abraham Lincoln dishes. Well, I have 4 pieces and my brother has the rest in a box in the garage. Let me tell you the story so my kids will have it in writing. My mother grew up in Danville, Illinois. When she was about 10 years old my grandfather went to an estate sale at the Woodbury estate. Old Abe often stayed there when he rode his law circuit and my grandfather was told that these were dishes he ate off of. Well, when he arrived home with countless boxes of gorgeous china wrapped in linen and damask cloths, Grandma Fanny was furious. Grandpa Burt also came home with several other pieces of china and a diamond ring. My grandma decided to use the dishes and now countless chips and evidence of dish washing have taken their tole on them. However my Grandpa did win her heart back when he decided to sell the ring and it more than covered what he paid for the dishes!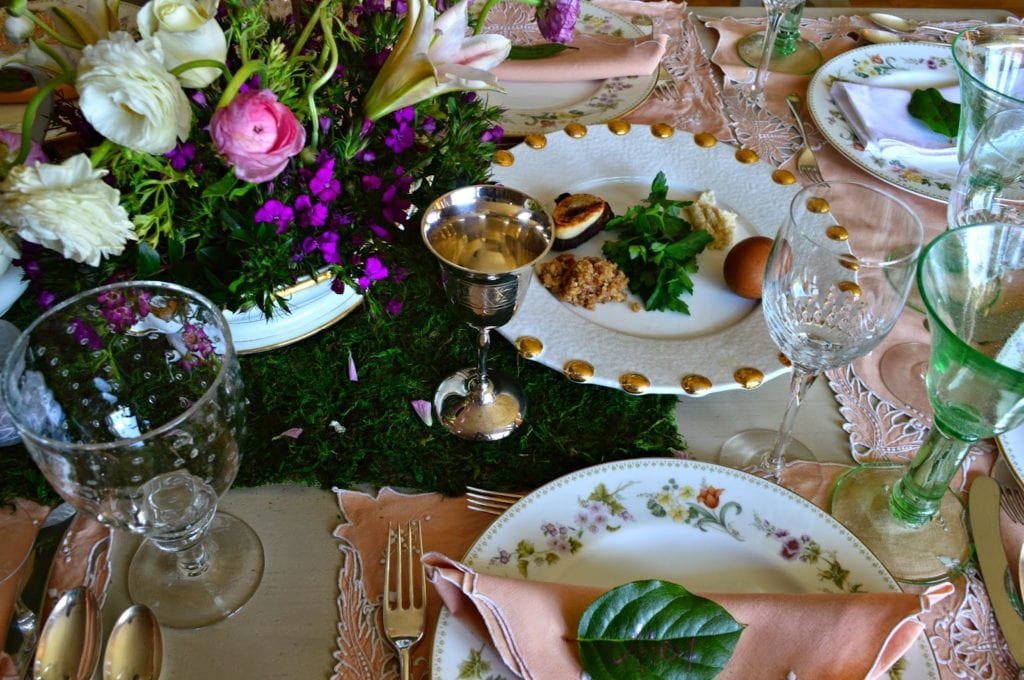 Well, that's enough for the table, but I thought it was so pretty this year!
Truthfully, I don't ever remember my Grandma using the dishes and when she died my mother got them. She kept them on display, but I don't remember her using them either. Now that she has downsized, I finally received a few pieces. Since Passover is a holiday of freedom, I thought it fitting to use them on our Passover table and I intend to make that a tradition. (They are my centerpiece in the picture.) Field Museum later offered to buy the set from my Grandma Fanny, but she wouldn't sell. We don't have many heirlooms in our family because we don't have a lot of history here, and every heirloom counts!
So now it's onward and upward and I feel like I need two weeks to catch up for the week I "lost".
I am so needing this chicken soup!
A few notes: No need to make matzoh balls if you don't want them. This makes a great chicken soup to use with your favorite noodles, too! Also feel free to use Manishewitz matzo ball mix. I, more times than not, do. You can use the chicken fat from the soup and use that to make your balls! I am determined to learn how to make matzo balls because every girl must have a goal, don't you know? Keep in mind that there are two camps on matzoh balls. There are those that like sinkers and those that like floaters. I prefer mine a bit dense so I am of the sinker camp. Be sure not to crowd your matzoh balls in the pot. They need space to expand. If they are to close together they don't get cooked and then they really are sinkers.
I precooked my matzoh balls in chicken broth made from Better than Bouillon because I didn't want to use up all my chicken soup. Matzoh balls do take in the liquid they are cooked in so sometimes you aren't left with much soup. I cooked them. Let them drain and then placed them in a plastic container with plastic wrap between the layers. I then froze them and let them thaw before I put them back in the actual soup to heat up.
Chicken Soup
Serves 10-12
30 minutes active
3 hrs cooking
Ingredients:
5 garlic cloves
2 quartered onions
3 ribs of celery (cut into 4-5 pieces)
2 peeled parsnips (cut into 4 pieces)
1/2 of a celeriac (peeled and quartered)
1 peeled rutabaga
1 leek (washed and cut into 4-5 pieces)
1 package dill
1/2 bunch parsley
3 carrots (peeled and cut into 4-5 pieces)
1 5 lb chicken approximately, cleaned and I cut out the backbone so that it fits in the pot better, but this isn't necessary)
5 quarts of water
8 peppercorns
Directions:
Place all vegetables in a big soup pot. Place chicken on top of the vegetables and herbs. Save the carrots until the end. Cover with about 5 quarts of water and add the peppercorns. Bring to a boil on medium heat, while covered. When water is boiling, skim the foam. Reduce heat to medium low and cover again. After soup has been simmering for about 2 1/2 hours, add the carrots. You want this to simmer very slowly for about 3 hours. (The slower you simmer, the more clear the broth.) Strain chicken broth into another pot or container. (I use the chicken meat in chicken salad or add it back to the soup or if I'm feeling generous, I feed it to Freddie.) Save the carrots for garnish. Discard the other vegetables and bones from the chicken. Chill the broth overnight. This allows the fat in the soup to rise to the top. In the morning, scrape the fat from the soup and now your soup is ready to be heated and eaten! I use the chicken fat to make matzoh balls, but you can use it for anything that requires oil to fry in. This is called schmaltz and it gives great flavor to any food.
Matzoh Balls
From: The New York Times Passover cookbook
Makes: About 12-18 matzoh balls
Time to Make: About 15 minutes to make the mixture. About 40-60 minutes to cook
Ingredients:
8 c plus 1T chicken broth (to cook matzoh balls in)
1 1/4 c matzoh meal
5 large eggs
1 1/4 t salt
1 T vodka
2 T club soda
1/4 c vegetable oil or schmaltz (chicken fat)
1/t t ground pepper
1/2 t garlic powder
1/2 t dill
1 T finely chopped parsley
Directions:
Combine matzoh meal and eggs. Mix well. Add rest of the ingredients and 1 T chicken broth. Mix well again and put in freezer for 45 minutes. Use two tablespoons to form matzoh balls that are about two inches in diameter.
When you are ready to cook them, place them into simmering broth that is hot, but not yet boiling. Cover the pot and cook them for 40-60 minutes COVERED. Check to see if they are cooked through and if they are ready just gobble them up!
More Good Recipes:
Chopped Liver
Sephardic Charoses
Egg Salad
Roast Chicken with Saffron, Hazelnuts and Honey
Not My Mother's Brisket
Matzoh Toffee
Macaroons
Macaroons Version 2
Ilse's Passover Mocha Nut Cake
Passover Fudge Cake
Marshmallows and Matzoh S'mores