Everyone who is a coconut lover loves macaroons. These simple cookies are easy to make and there are so many flavors you can add to them. Trust me, this is a recipe you will love!
Molly Wizenberg, A Homemade Life: Stories and Recipes from My Kitchen Table, 2009
There are several ways to make coconut macaroons but most incorporate egg whites and sugar.
I use a condensed milk recipe which makes for a golden, slightly caramelized, coconut macaroon.
I've tried many others, but always come back to these. Friends love them and yes, this is one of my most requested recipes from folks that have tried them.
This condensed milk macaroon is a good base from which to make any variety of your choosing because the recipe makes 40 to 50 macaroons.
In this family though, we tend to have a coconut chocolate thing going on.
I love mixing in cocoa to a part of the macaroon mixture. Sometimes I just throw in a handful of chocolate chips.
I've tried many recipes for macaroons and always seem to go back to this macaroon recipe. It is easy and quick and allows for many variations.
Just a few tips to help you make the best macaroon ever:
1. Always run your hands under cold water before you start making the coconut balls.
2. Always use parchment paper or a Silpat liner on your cookie sheet.
3. Make sure to beat your egg white for a few minutes until frothy.
4. I often use my hands to make sure the coconut is well coated with the condensed milk.
5. Pack these fairly tight if you don't want them to fall apart. But if you want a lighter macaroon, press them gently until they just hold their shape.
They do not spread but if you haven't mixed in the condensed milk well you may end up with it leaking from the cookie. Not that this is a bad thing because then you end up with caramelized chewy bottoms.
6. I use the sweetened coconut. I've seen recipes using unsweetened coconut and I've tried them.
Frankly, I like the sticky sweetened coconut and using that saves me an extra trip to a natural foods grocery. Some people like their coconut ground up a bit. Those remind me of what comes out of the can, but feel free, I'm not stopping you.
I've given you a few variations of macaroons. Since I first wrote this post I've come up with many more.
I've been known to make margarita macaroons, pina colada macaroons and even gin and tonic and black Russian macaroons.
I love them all, but the truth is most of my friends still prefer the more common varieties!
The truth is I never used to like coconut. I never knew what all the fuss was about.
Maybe it was my discovery of Thai and Vietnamese food that helped me overcome my aversion.
Maybe it was the Mounds bar covered with dark chocolate that I took from my kid's Halloween pumpkin a long time ago.
(I didn't think they'd miss it.) It was very good. Maybe it was my dislike of macaroons that came in a can.(But my husband loves those.)
Whatever. Coconut and I are now pals. I like it a lot.
And I've been making these chewy coconut macaroons for a lot of years now.
Some Macaroon variations:
1. Chocolate Chips (the minis work best)
2. Chocolate chunks (just push a piece of good chocolate into your macaroon when it comes out of the oven. It will melt.)
3. Raspberry, Apricot or Strawberry Jam (make an indentation in the macaroon with you fingers and spoon in a bit of jam and then bake.)
4. Lime Zest (stirred in to batter and maybe some cinnamon)
5. Grated carrots, cinnamon, crushed drained pineapple (this makes carrot cake)
6. Crushed Pineapple drained and rum extract (you know-Pina Colada)
7. Cocoa (A couple tablespoons of this or melted dark chocolate and chocolate chips makes double chocolate macaroons)
8. Plain
9. You can dip the bottoms or top with melted chocolate.
10. Easter people can add food coloring for cute little pastel macaroons or crush up some dried strawberries which make these pretty in pink.
11. Add mini marshmallows and mini chips and have rocky road macaroons.
12. Slivered almonds and almond extract
Well, I think you get the idea. And kids love to make these because, well, I guess because they are kids! So surprise someone. Bring them a real macaroon. You might even convert a non coconut lover. Just be sure to keep this 5 ingredient, no mixer required, chewy coconut macaroon our little secret.
Please Pin and Share: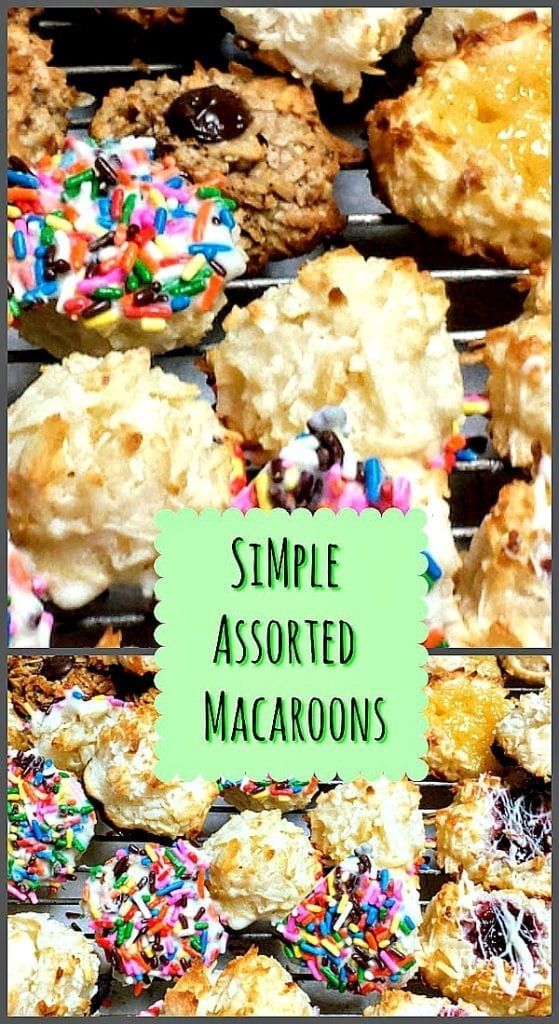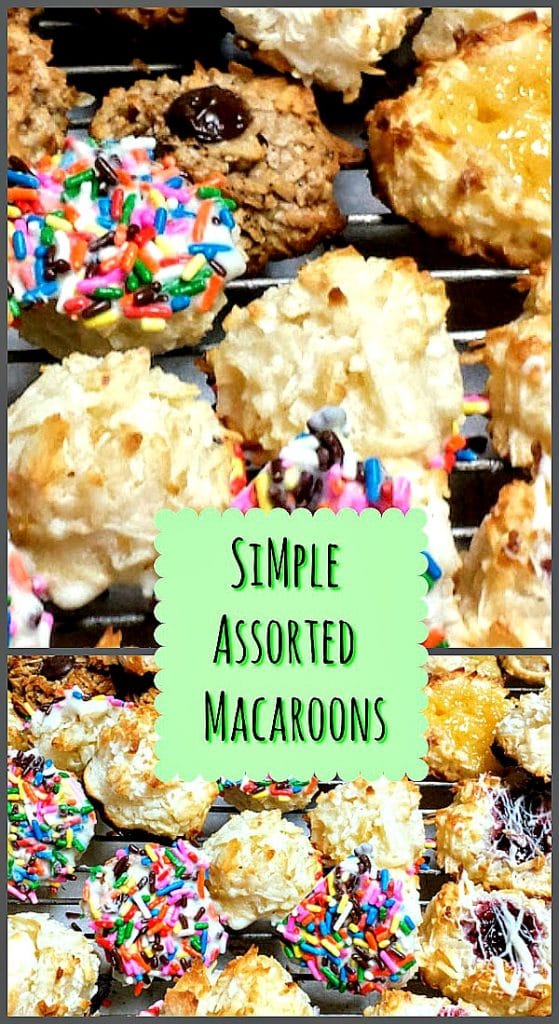 Print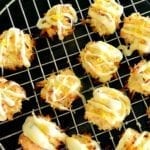 Chewy Coconut Macaroons
Author:

Abbe Odenwalder

Prep Time:

15 Minutes

Cook Time:

20-30 Minutes

Total Time:

35 Minutes

Yield:

40

-

50

Macaroons

1

x

Category:

Cookies

Method:

Baking

Cuisine:

American
---
Description
Everyone who is a coconut lover loves macaroons. These simple cookies are easy to make and there are so many flavors you can add to them. Trust me, this is a recipe you will love!
---
2 large egg whites
1/4 t salt
1 14 oz can sweetened condensed milk (yes, you can use the non fat kind)
2 t vanilla
2 14 oz bags shredded sweetened coconut
---
Instructions
Preheat oven to 350 with rack in middle position.
In a large bowl whisk the egg whites and salt until frothy. (Maybe 2 minutes).
Add condensed milk, and vanilla and mix it up well. Fold in coconut using a rubber spatula or your hands.
On lined baking sheet make little balls with your wet hands. Pack tight or just enough to hold together. Place about 1 inch apart.
Bake about 18- 22minutes until they are golden to your liking. Let cool on rack. Store in an air tight container. These keep very well, because they are so moist.
---
Keywords: macaroons, coconut macaroons, coconut macaroon recipe, chewy macaroons