Chopped Liver, a standard Jewish appetizer or often made into a sandwich, is kind of like a rustic chicken liver pate. Don't knock it until you've tried it.

Chopped liver has a bit of an image problem.
It's not like it's called pate or mousse or something fancy in French.
It's just a very simple dish that happens to be made out of chicken livers.
Throw in a few hard boiled eggs and some sauteed onions and you've pretty much got it.
In my case, I sauteed the onions in duck fat, not chicken fat or schmaltz.
It would have been easy to turn it into pate. But I held back.
This is after all, a Passover chop liver recipe, not fancy chopped liver pate.
Liver seems to have fallen out of favor unless you are a goose, in which case you are a foie gras and highly desirable.
But a chicken is still just a chicken-liver in this story.
And the poor cow-I'm afraid his liver is used only when Weight Watcher's requires their one liver meal a week; but maybe they changed that requirement since I was a teenager.
I do recall my mother making it with onions each week with regularity. And I liked it.
And then there is pork liver which becomes Braunschweiger and a lot of people eat that including moi, who used to eat it every morning for breakfast in the form of Oscar Meyer liver sausage.
I ate it on toast as a child, on Pepperidge Farm white bread with minced onions on top.
And then there is the duck's liver and he can also become the desirable foie gras. So, really if you think about it, liver is still pretty popular in most forms.
You know the saying, "What am I, chop liver?"
Some days I feel like chopped liver. Know what I mean?
Some days I feel ground up, spit out and totally ignored.
And on those days I just tell myself, "Get over it!" Sometimes it works.
Sometimes I still feel like chop liver. Overlooked. Second fiddle. But at least today I can eat it!
Which leads me back to waste not, want not.
I'm not sure if they ate a lot of chickens way back when, but they did make a lot of chicken soup and roast chickens.
So whether they kept all those livers and saved them up in the days before refrigeration, well, I can't tell you. My research doesn't go back that far.
But I can tell you that it doesn't take many livers to feed a lot of people.
I used about 3/4 of a pound and still had enough to give some to a friend.
The rest we've been eating for about a week.
So figure this will serve about 6-8 people as an appetizer and that is what chopped liver is meant to be-unless of course you put it on a sandwich in which case all bets are off.
Some like a lot, some not so much, spread between their bread.
I can also tell you that when I'm making liver I have two very close friends that don't leave my side.
The smell of liver is truly intoxicating.
The onions and the liver create a highly addicting aroma, especially if you are a dog.
I think my dogs dream of Jewish holidays as much as I do.
And speaking of aromas I fondly remember waking up to the smell of frying livers and golden soft onions drifting to the second story of our home.
I remember running downstairs trying to sneak a bite out from under my mother's nose who was also trying to sneak a bite without anyone knowing.
I'm sure she was just testing…
So here goes. Venture forth to the land of liver.
Remember to wash them well and trim off all the yukky green parts and the extra fat.
Sometimes you get a good batch where there isn't much to trim. The rest, well, sometimes they are a little gross.
And be careful of those livers.
They tend to be fragile, so handle them gently.
Just like people like to be treated gently, the same goes for liver.
More Good Jewish Food:
All My Passover Recipes
Sephardic Charoses
Roast Chicken with Saffron, Hazelnuts and Honey
My Mother's Brisket
Macaroons
Macaroons, Version 2
Passover Mocha Nut Cake
Flourless, Gluten Free, Passover Fudge Cake
Marshmallows and Matzoh S'mores
Please Don't Lose This Recipe: Pin and Share!
Print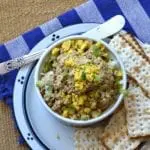 What am I? Chopped Liver!
Author:

Abbe Odenwalder

Prep Time:

10 Minutes

Cook Time:

30 Minutes

Total Time:

40 Minutes

Yield:

4

-

8

Servings

1

x

Category:

Appetizer

Method:

Stove Top

Cuisine:

Jewish
---
Description
Chopped Liver, a standard Jewish appetizer or often made into a sandwich, is kind of like a rustic chicken liver pate. Don't knock it until you've tried it!
---
7

large hard boiled eggs, shelled (I like eggy chopped liver. Some like it more livery; in which case use fewer eggs.)

1

lb

fresh chicken livers cleaned (approximately) you can add more or less eggs accordingly

3

–

6

T oil, chicken fat or duck fat (and I believe I've seen some use butter but that is most definitely NOT kosher!)

4

c

onions sliced in slivers (2 2/3 c in slivers, the rest chopped)
Salt
Pepper
Mayonnaise (Highly Controversial! But sometimes a teeny dollop will add flavor and creaminess. However, my duck fat took care of that!)
---
Instructions
Now you have a choice! You can broil your livers or saute them. I have done both. In either case you do not want to overcook your livers. Overcooked livers are dry and tasteless. They should still be a bit pink, but not a raw pink.
To broil: Set the livers on a rack over a foil lined sheet. Pat them dry and sprinkle with salt and pepper. Broil about 4 inches from the flame for about 3-4 minutes on each side.
To saute: Heat 3 T of your chosen fat in a skillet. Add livers and saute until the raw pink is gone though they will still retain a touch of pink on the inside.
Now cook your onions. Heat 3 T of your chosen fat in a skillet over medium heat. Add 2 2/3 c of sliced onions and sprinkle lightly with salt and pepper. Saute, while stirring occasionally until onions are rich and gold, about 15 minutes. Do not let onions brown. If you have broiled your livers add them back to pan and saute for about 1 minute while mixing the onions and livers together.
Transfer the onions and livers to a food processor and pulse on and off to chop coarsely. Add the hard boiled eggs and pulse a few more times until the desired texture is reached. (Very important-do not over process or you will have paste. I remember my mother used a meat grinder attached to her mix master. It was always so cool to see the liver come out of the little holes.)
Now stir in remaining chopped raw onions. Adjust seasonings. Some people like to add more oil or schmaltz at this step to make it more moist and rich. This is also where you would add a dollop of mayo if you are of THAT persuasion.
Serve with matzo or crackers. Or put it on a giant onion roll with some lettuce and extra sliced onions. I've seen it layered with egg salad on a sandwich and I've seen it paired with corned beef. Many delis serve chopped liver but whenever I've tried it, it always seem to be more livery than I prefer.
Garnish with chopped hard boiled eggs and a smidgeon of green onions.
---
Notes
Adapted from Jewish Holiday Cooking by Jayne Cohen and the kitchen of Libby Weiner))
Keywords: chop liver, chopped liver recipe, liver pate, what am i chop liver, chopped liver, chopped liver recipe