This low country shrimp boil recipe will help you decide just how many shrimp per person. Then again I say there can never be too many shrimp!
When the days are hot outside and you barely want to heat up the kitchen, I love resorting to a low country boil.
One big pot with lots of fresh shrimp, small red potatoes, sweet corn and andouille sausage is enough to fill anyone up and it doesn't require much time in front of the stove.
This easy shrimp boil recipe requires one large stock pot, cold water, shrimp boil seasoning and a beer for some extra added flavor.
The hardest part about making this frogmore stew is deciding how much shrimp per person to use.
How many shrimp per person do I need for a shrimp boil?
The size of the shrimp helps determine the amount of shrimp per person for a shrimp boil.
I use large shrimp, no less than 21-25 shrimp per pound. Figure about 6 – 8 shrimp per person which means 2 pounds of shrimp will serve about 6 – 8 people.
Jumbo shrimp are also delicious and those are labeled as 16-20 per pound.
In that case, figure 4 – 6 shrimp per person.
But in all honesty, I find it doesn't matter how many shrimp you make because they all get eaten!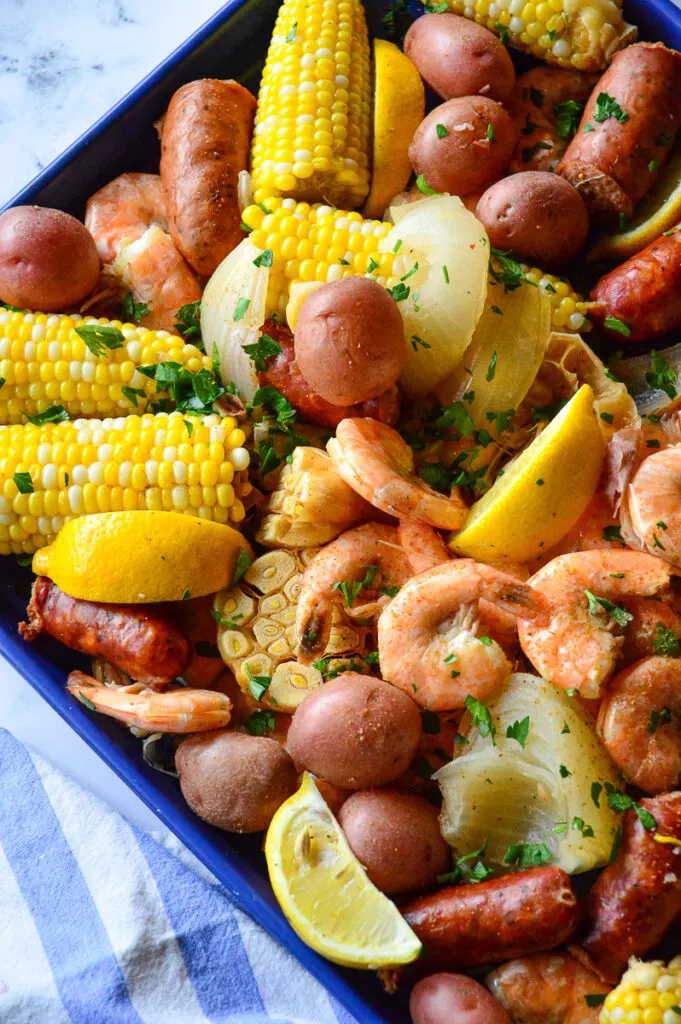 Keep in mind that the shrimp are the star of this show and if you have big eaters, don't be afraid to add a few more.
In general, I figure 4 people to 1 pound of shrimp.
I like shrimp served with the shells on.
The shell keeps the shrimp from drying out and also provides more flavor.
Honestly, the shells come off easily. And even easier when folks are hungry!
Just place an extra empty bowl on the table to hold the shells and the cobs from the corn.
Cajun Shrimp Boil or Old Bay Shrimp Boil?
To make this seafood boil, first you have to decide do you what shrimp boil seasoning you prefer.
Do you want this on the spicier Cajun side or more on the East Coast Old Bay side?
Not familiar with Old Bay? It contains many herbs and spices but predominantly celery salt, black pepper, crushed red pepper flakes, and paprika.
Zatarain's contains mustard seed, coriander seed, cayenne pepper, bay leaves, dill seed,and allspice.
I love both and yes, they can be combined!
Generally they are found by the seafood counter.
When you open the box, you will see they are in net packages.
Throw the whole thing into the pot. Do not cut it open and empty the contents in!
Shrimp Boil Recipe:
Begin with your largest stockpot. Add 4 quarts of water and 1 bottle of beer, and your favorite shrimp boil packet.
Throw in some onions, celery, garlic and a few bay leaves, and smoked Andouille sausage.
Cover the large pot and and over high heat bring this mixture to a rolling boil for 15 minutes while covered.
After 15 minutes squeeze the lemon juice from 5 lemons into the pot and then throw in the lemon wedges!
I used a light Modelo because that is what was in the fridge. Be cautious about using an IPA because you don't want your stock to be bitter.
At this point if you want it spicier, feel free to add 1 tablespoon of cayenne or your favorite Louisiana hot sauce.
Now stir in the raw shrimp. Let boil 1 minute, remove from heat and add the corn.
Let stand 5 minutes while covered before serving.
What to Dip Your Shrimp In:
Shrimp boil sauces and several great options for dipping your shrimp include a cocktail sauce, a remoulade sauce or a seasoned melted butter.
The seasoned melted butter is great for dipping the new potatoes and corn into!
I love a good spicy cocktail sauce.
To make the cocktail sauce I use ketchup, horseradish, Worcestershire and a squeeze of lemon to taste.
Another option is a remoulade sauce or just melt some butter and add some Cajun seasoning or additional Old Bay.
For that matter you could even toss this onto the drained shrimp boil and mix it all together.
If you want this spicier or more seasoned at this point just sprinkle on some more Cajun or Old Bay seasoning!
A shrimp boil is a great way to feed a crowd or large group and the proportions can be adjusted accordingly.
However keep in mind the size of your pot!
This easy recipe is a great thing to rely on in hot summer months. If you have an outside burner like a large turkey fryer, no need to even heat up the kitchen!
And though a side dish is not really needed, I love to serve this with Old Bay coleslaw.
No recipe needed. Just stir some Old Bay into any basic coleslaw and you have the perfect coleslaw for this shrimp boil.
If you do happen to have leftover shrimp just count your blessings.
They make great shrimp cocktail or are tasty over a simple green salad.
Since this is a Southern dish, it is customary to serve it with cornbread, but I actually served this with sourdough bread because Manservant loves sourdough bread!
Have a great time serving this simple recipe.
I merely take out my largest sheet pan and after draining the pot, pour the tender shrimp and all its contents on the pan.
Garnish with some wedges of fresh lemon, and lots of green parsley for a nice pop of color!
This classic shrimp boil is a good way to have a lot of fun and a great way to entertain.
Just don't forget some ice-cold beer! I'll leave that up to you!
Need a Few More?
This post contains affiliate links from which I may or may not earn a small commission.
Print
Shrimp Boil Recipe – How Many Shrimp Per Person
Author:

Abbe Odenwalder

Prep Time:

15 Minutes

Cook Time:

20 Minutes

Total Time:

35 minutes

Yield:

6

-

8

Servings

1

x

Category:

Main Course

Cuisine:

American
---
Description
This easy shrimp boil is perfect for hot summer days. Or chilly Fall nights. Made for shrimp lovers, this easy dinner comes together fast.
---
4 quarts water
1 can beer (not IPA)
1 to 2 packages of Shrimp Boil (Do not cut open the packets) (Old Bay or Zatarain's)
2 T apple cider vinegar
3 medium onions, peeled and halved
2 heads garlic – halved crosswise
6 ribs celery, cut into 3" pieces
1 18 oz package of baby red potatoes
1 T cayenne or Louisiana hot sauce (optional)
5 Lemons, halved
1 14 oz package Andouille Smoked Sausage cut into 2″ pieces
2 lbs fresh shrimp with shells (Large or extra-large)
1 ear of corn per person, broken into halves
Sauce for Shrimp Dipping
---
Instructions
In a 10 to 12 quart stockpot add 4 quarts of water and 1 can of beer, the shrimp boil packet of your choice, apple cider vinegar, onions, celery and garlic, potatoes and sausage. Bring to a boil on high heat and boil covered for 15 minutes.
Squeeze juice from lemons into the water and then add the lemons into the pot. If you want this spicier stir in the hot sauce or cayenne. Stir in the shrimp. Return to a boil, cover and boil 1 minute.
Remove from heat and stir in corn. Let stand for 5 minutes. Drain well. Pour onto a large sheet pan. Garnish with more lemon wedges and parsley and serve with dipping sauce of your choice.
---
Notes
Please see post for serving suggestions.
Keywords: cajun shrimp boil, shrimp boil seasoning, shrimp boil sauce, easy shrimp boil, how many shrimp per person