These scrambled eggs contain everything but the bagel! Made with everything seasoning, smoked salmon, cream cheese, tomatoes and capers, this is one breakfast everyone will wake up for!
Everything seasoning scrambled eggs are amazingly good. If you love everything seasoning like I do, you will adore this recipe.
The story is that Sunday came, my weekend edition of the WSJ was waiting to be read, the coffee was made, and I was craving bagels. But I had everything but the bagel!
Didn't have any. Didn't want to drive and get some. So I created these scrambled eggs.
Not only do I love scrambled eggs, usually with Lawry's seasoning salt, but I also love everything seasoning.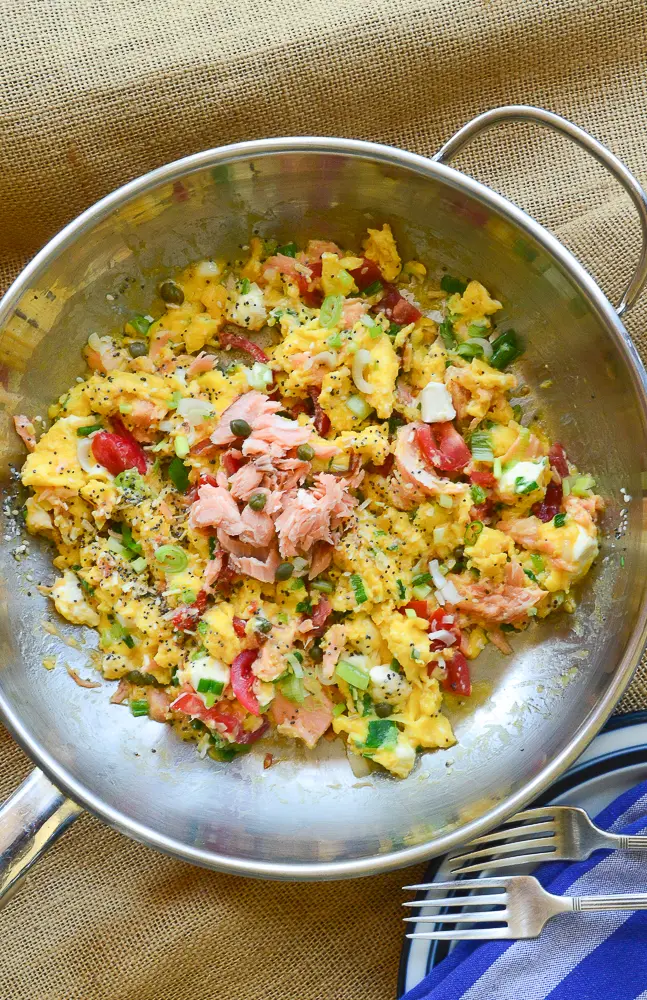 What is everything seasoning?
Though there are many recipes, with all kinds of proportions, most contain poppy seeds, sesame seeds, garlic powder, onion powder, and salt. But you can also use dried minced onion and garlic!
It's hard to beat it since it goes with so many great foods. Yes we know it tastes great on a bagel, but this amazing everything seasoning is also mighty tasty on so many things.
Great on fish or chicken, perfect on veggies – especially avocados, love it on corn on the cob, and hummus.
Use it on a cheese ball, make your own crackers, sprinkle on cottage cheese or baked potatoes – well, I think you get the idea!
These scrambled eggs and salmon are pretty good. Another good thing is they are quick and easy to make.
So easy; I could, at least if I wanted, make them during the week when there often isn't time for a REAL breakfast. (Would have to skip my time allotment for the WSJ, though!)
Anyway…I had everything I needed for lox and bagels, except the bagels. So I invented the best egg scramble recipe EVER!
And I flavored them with everything that would go on a bagel, including the topping on an EVERYTHING bagel.
You didn't see that coming, did you? Well maybe you did.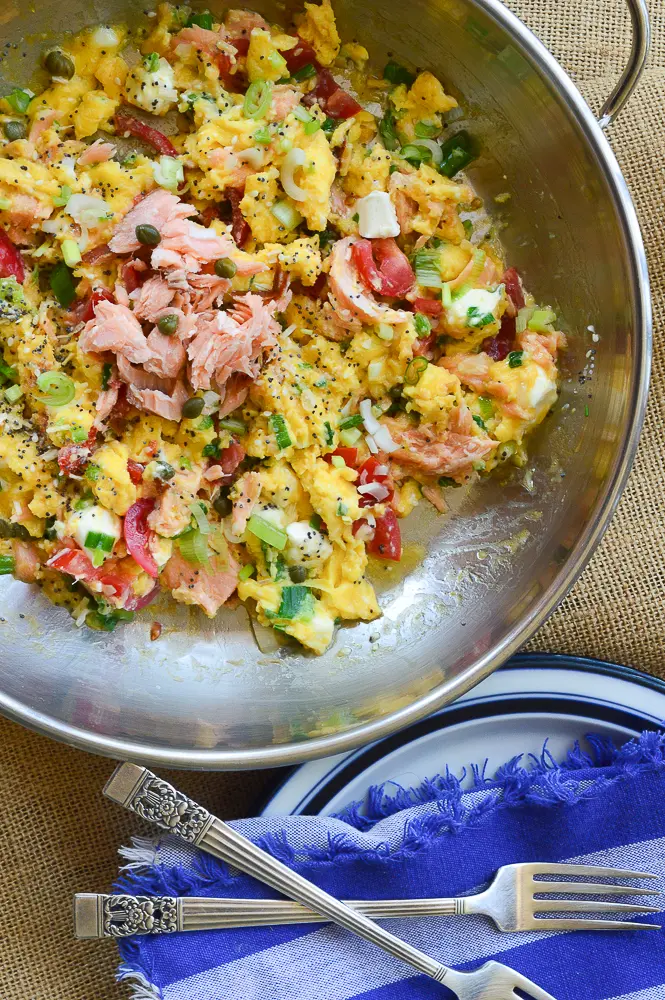 Breakfast is one of my favorite meals, when it is a REAL breakfast. Often times it is just oatmeal or yogurt, which is fine, but to me, those just aren't a REAL breakfast.
A REAL breakfast has scrambled eggs, and toast and hopefully potatoes and bacon or sausage or biscuits or waffles or pancakes or even French toast. And fresh OJ.
Well, fresh OJ doesn't happen often and often enough REAL breakfasts don't happen either.
A REAL breakfast makes teenagers get out of bed at a reasonable time on the weekends.
A REAL breakfast makes everyone happy and ready to weed the garden. Or clean the garage. Or their office. Or their basement. Or do their homework. Yes, REAL breakfasts do work a certain magic on everyone.
So thank goodness for Sundays and REAL breakfasts. Well, not even all Sundays, but sometimes some Saturdays, too.
You've got this!
Need a Few More?
This is an updated recipe from 2014!
Print
Everything Seasoning with Scrambled Eggs
Author:

Abbe Odenwalder

Prep Time:

10 Minutes

Cook Time:

3 Minutes Max

Total Time:

15 Minutes

Yield:

2

Servings

1

x

Category:

Breakfast

Method:

Stove Top

Cuisine:

American
---
Description
These everything seasoned scrambled eggs are almost better than an everything bagel. I love everything seasoning and it is perfect with scrambled eggs!
---
2 T butter

1 T cream

4 large eggs, whisked well

2 green onions, finely chopped (keeping some for garnish)

1 tomato, rough chop

2 oz cream cheese, cut into 1" cubes

2 oz hot smoked salmon, flaked into pieces but lox can also be used

2 t drained capers

Everything Seasoning Mixture: Use it all

1 t sesame seeds

1/2 t poppy seeds

1 t dried minced onions

1/2 t onion powder

1/4 t garlic powder

1/2 t salt

And for a future recipe thought: Next time I plan to use bagel chips and stir them in. Kind of like Jewish migas! Will let you know…

---
Instructions
Directions:
Melt butter in skillet over medium low heat.
Whisk eggs with cream.
Add the eggs and let them slowly cook on bottom while folding them into the center of the pan. Do this all around outer edges of pan.
When eggs are almost cooked to your liking, fold in the green onions, chopped tomato, cream cheese cubes, salmon and capers. Stir in the seasoning.
Cook a few seconds until all is warm. Serve on an everything bagel.
---
Notes
These scrambled eggs are great for a crowd! Just increase the ingredients per person.
Keywords: salmon breakfast, eggs and salmon, everything seasoning, best egg scramble recipes,