"French onion soup is like a treasure chest. Break through the salty molten cheese and discover the gems of sweet caramelized onions inside!"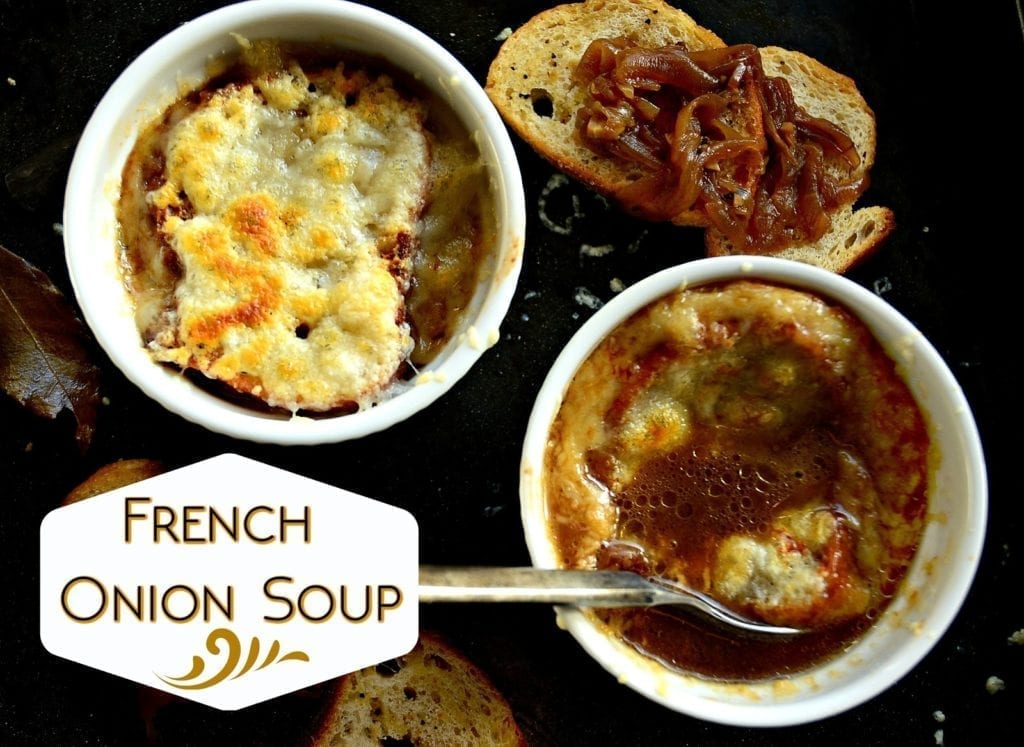 It's hard not to love French onion soup. Like a treasure chest, maybe it's the salty molten cheese that covers the top, and upon breaking the lock one encounters bread soaked with rich sweet broth and then last but certainly not least, one reaches the hidden gems made up of strands of caramelized onions. Ahh. Everyone has their own version, but pretty much they are all the same. I first encountered my treasure chest at the Magic Pan on Michigan Avenue, a very long time ago. And though I consider French onion soup a special treat, I really should make it more often. Don't make the mistake of thinking that anything with cheese is verboten, because really this simple peasant broth is pretty calorie free. So if you must, just make the broth, but everyone needs a splurge now and then.
When I was married many moons ago we were gifted French onion soup crocks in the classic colors of gold and brown. They looked something like this.
I kept them for many years on the top shelf where they gathered dust as they sat unused. They were never very attractive to me and since my kitchen dishes are blue and white I finally felt the urge to purge. And so I did. As my daughter says, or really Marie Kondo, if it doesn't give you joy there is no reason to keep it. So after 20 some years I didn't. When I'm in a purging mood I throw with gleeful abandon but those moods don't strike me often. (This is a good thing because when I throw it generally means I'm in a really bad mood.) However when I do toss – watch out. By chance if these gold and brown crocks with handles are in your cabinets, I hope they are not gathering dust. I hope they are bringing you joy. As much joy as this French Onion soup does me.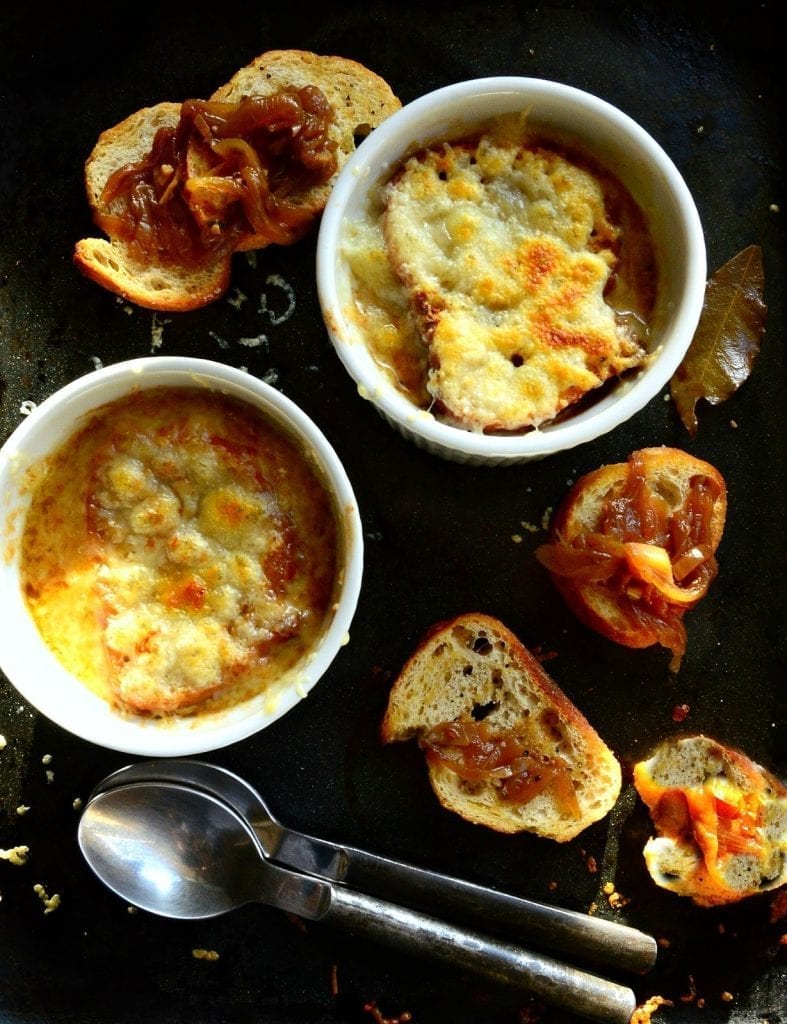 I now use deep white individual souffle dishes to make my soup and it works out just fine. I still am able to run them under the broiler and turn that cheese into molten lava. And I'm still able to break into the treasure chest just fine. Just fine indeed.
More Soup: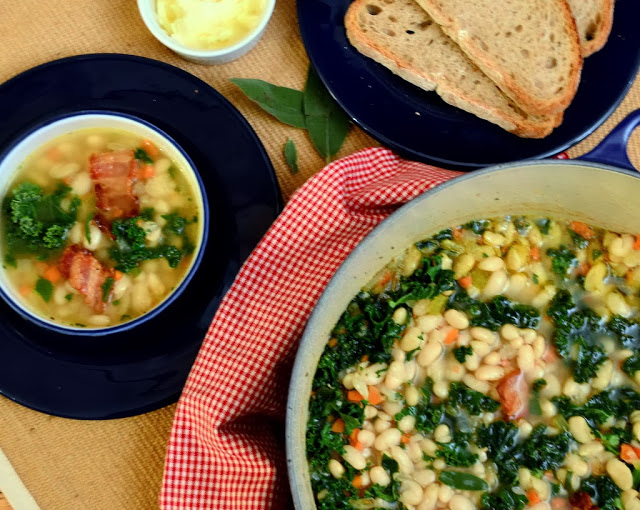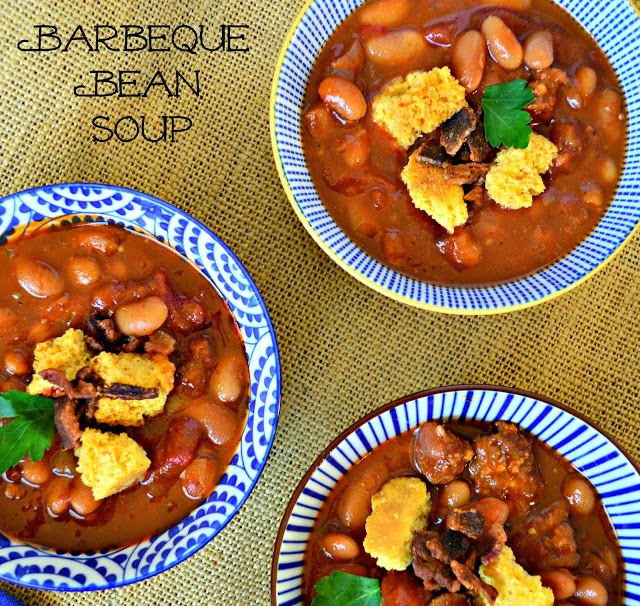 Please Pin and Share!
Yield: Serves 6Author: Abbe OdenwalderPrint Recipe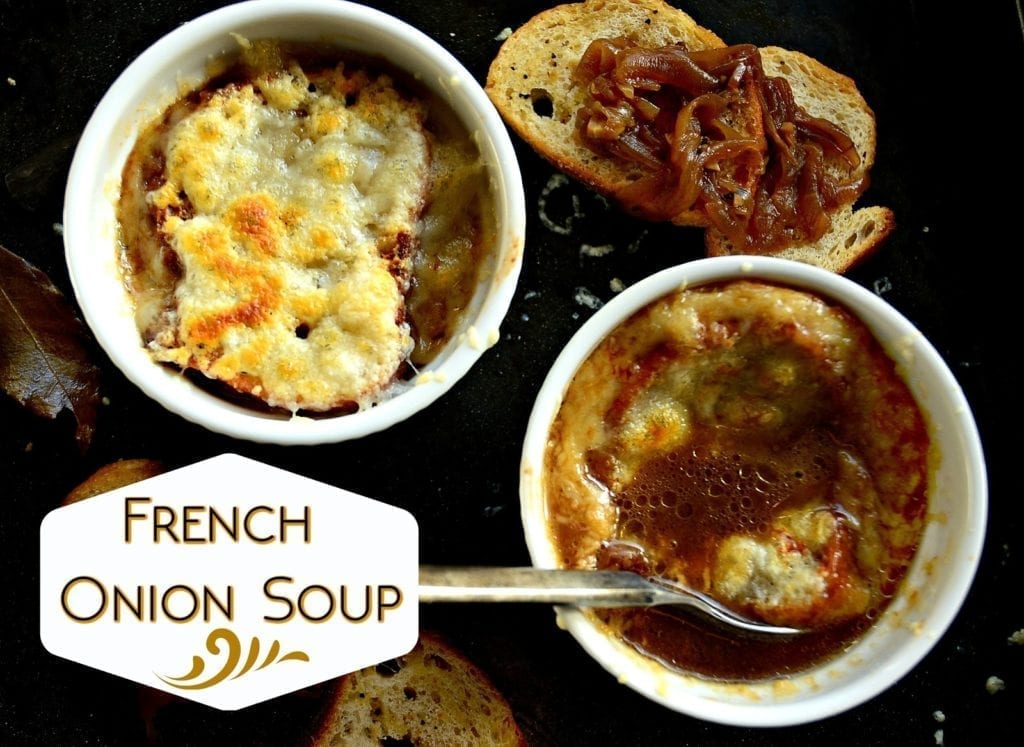 French Onion Soup
prep time: 15 MINScook time: 60 MINStotal time: 75 mins
French onion soup is like a treasure chest. Break through the salty molten cheese and discover the gems of sweet caramelized onions inside!
ingredients:
3 T butter
1 3/4 lb onions or 2 very large, thinly sliced
2 garlic cloves finely chopped
8 c chicken stock
1 c white wine
1 bay leaf
2 thyme sprigs
12 slices crostini or toasted baguettes
4 oz grated Gruyere cheese
instructions:
Melt butter in a heavy bottomed pot. Add the thinly sliced onions. Partially cover and cook over medium heat, stirring occasionally for about 25 minutes or until the onions are golden and beginning to caramelize.
Add the garlic . Let soften for a few minutes. Blend in the stock and the wine, stirring until blended. Add bay leaf and thyme and season with salt and pepper. (This will depend on how salty your chicken stock is.) I do like plenty of fresh ground pepper but that is up to you.
Cover the pot and simmer for 25 minutes. Remove bay leaf and thyme and check for seasoning. Preheat the broiler.
Using your choice of bowl, place the soup into bowls or souffle ramekins. Top with 1 layer of baguette slices. Sprinkle with grated cheese. I like to cover it thick! Place bowls in your broiler pan and then place under broiler until the cheese melts and turns golden. Serve while hot!
.recipe-inner{text-align:left;max-width:620px;border:6px double #009BFF;padding:20px;background:#f2f2f2;margin: 40px auto;font-family:Lato, sans-serif;}.recipe-inner a{color: #4193f0;}#recipe .recipe-name{font-size: 21px;}#recipe .info{font-size:13px;text-transform:capitalize;border-bottom:2px solid #000;padding-bottom:7px;margin-bottom:20px}.info:after{content:";display:table;clear:both}#recipe .info span:first-child{margin-right:30px}#printbutton{border:0;margin:0;color:#fff;float:right;background:#555; padding:5px;border-radius:3px;cursor:pointer}#recipe .time{text-transform:uppercase;font-size:12px;text-align:center;background:#fff;padding:15px 0;margin-bottom:20px}#recipe .time span:not(:last-child){margin-right:12px}#recipe .time span:not(:last-child):after{content:";display:inline-block;height:10px;width:1px;background:#000;vertical-align:middle;margin-left:12px}#recipe .summary{line-height:1.7;font-style:italic}.ingredients{line-height:1.7;clear:both}.ingredients h3,.instructions h3,.notes h3{font-size:20px !important;font-weight:400 !important;margin-bottom:0;color:#000;text-transform: uppercase;}.ingredients ul{margin:0!important;margin-top:5px !important;}.instructions li{margin-bottom:15px !important;line-height:1.6;text-align:left;}.ingredients li{text-align:left}#recipe .instructions{margin-top: 30px;}#recipe .instructions ol,#recipe .instructions ol li {list-style:decimal !important;}#recipe .instructions ol{padding-left:39px;margin:0!important;margin-top:6px !important;}.posturl{border-top:1px solid #ccc;padding-top:10px;}.ing-section{padding-left:20px;margin: 10px 0;}.ing-section > span{font-weight:700}.recipe-credit{font-size:13px;border-top: 1px solid #ccc;padding:10px;text-align:center;background:#ffffff;margin:-20px;margin-top:15px;}.recipe-credit a{color:blue;text-decoration:none;}.copyright-statement{font-size: 13px;font-style:italic;border-top: 1px solid #ccc;margin-top:15px;padding-top:15px;line-height:1.6;}.notes pre{font-size: 15px;margin: 10px 0;padding-left: 20px;font-family: inherit;line-height: 1.7;white-space: pre-line;}.notes h3{margin: 0}.nutrition-info{font-size: 0;margin: 20px 0;padding: 10px;background: #fff;}.nutrition-info>div {display: inline-block;font-size: 14px;width: 20%;text-align: center;}.nutrition-info>div:nth-child(5) ~ div{margin-top: 20px;}.nutrition-info>div p{margin-top: 0;margin-bottom: 7px;}#recipe .image{text-align:center;margin-bottom:25px}#recipe .image img{max-width:100%}#recipe .recipe-name{line-height:1.6;text-transform:uppercase;margin-top:0;letter-spacing:1px;text-align:center;margin-bottom:20px}#recipe .time{border-top:1px dashed #000;border-bottom:1px dashed #000;border-right:0;border-left:0}#recipe .summary{margin-bottom:30px}#recipe .summary:after{content:";display:block;width:50px;height:2px;background:#000;margin:auto;margin-top:10px}#recipe .instructions{margin-top:30px}#recipe .instructions ol{padding-left:39px;margin-top:6px}function printDiv(a){var b=document.getElementById(a);newWin=window.open(",'printwin');var c=newWin.document.createElement('style');c.innerHTML='html{font-family:sans-serif}img{display:none;}#recipe-pinit,#printbutton,.recipe-credit{visibility:hidden;display:none;}.info{text-align:center;text-transform:capitalize}.recipe-name{text-align:center}.info span{margin-right:20px}.time{text-align:center;padding:10px;border-top:1px dashed #000;border-bottom:1px dashed #000;}.time span{margin-right:20px}.adunit,.adunitlabel,.adunitwrapper,.adunitwrapper,.chicory-order-ingredients{display:none!important}.nutrition-info{font-size: 0;margin: 20px 0;padding: 10px;background: #fff;}.nutrition-info>div {display: inline-block;font-size: 14px;width: 20%;text-align: center;}.nutrition-info>div p{margin-top: 0;margin-bottom: 7px;}';newWin.document.getElementsByTagName('head')[0].appendChild(c);newWin.document.getElementsByTagName('body')[0].innerHTML = b.innerHTML;newWin.print();}