Strawberry Crepes are so easy to make. Perfect for breakfast or dessert, crepes are such a wonderful alternative to pancakes.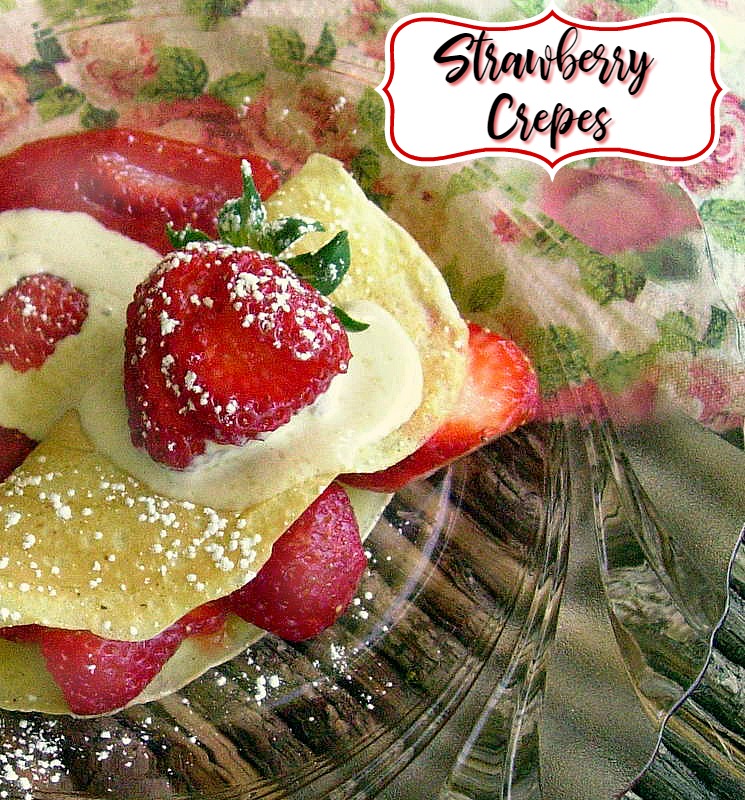 Strawberry Crepes are one of my favorite varieties of crepes.
They can easily be served for breakfast or brunch and if you want them for dessert, just add some chocolate sauce!
Crepes are perfect foils for any kind of filling, be it sweet or savory.
Mushrooms and cheese crepes or crepes benedict with scrambled eggs and Hollandaise are delicious entrees for lunch or dinner.
I love dessert crepes filled with chocolate mousse and topped with whipped cream. The varieties are endless so today is really about the crepe.
When my kids were young we often made crepes as a change from pancakes.
One can eat them like pancakes with syrup or fill them with fruit or bacon or just whipped cream.
Cheese and eggs are great fillings and then the crepe can be folded in quarters and eaten like a sandwich.
Crepes always make the meal feel more special and that is why they are a great choice for Mother's Day.
My mother owned a proper crepe pan…until she gave it away.
She had a black domed iron pan that sat directly on the burner. The idea was to dip it in the batter and then turn it right side up to cook, so the crepe didn't require flipping.
Frankly, I don't remember it working the way it was supposed too, so I use a teeny Calphalon 7″ saute pan to make mine.
Though the black pan was tossed years ago, I still have the cookbook that came with it.
It's missing its cover, but that's OK. The good stuff is on the inside.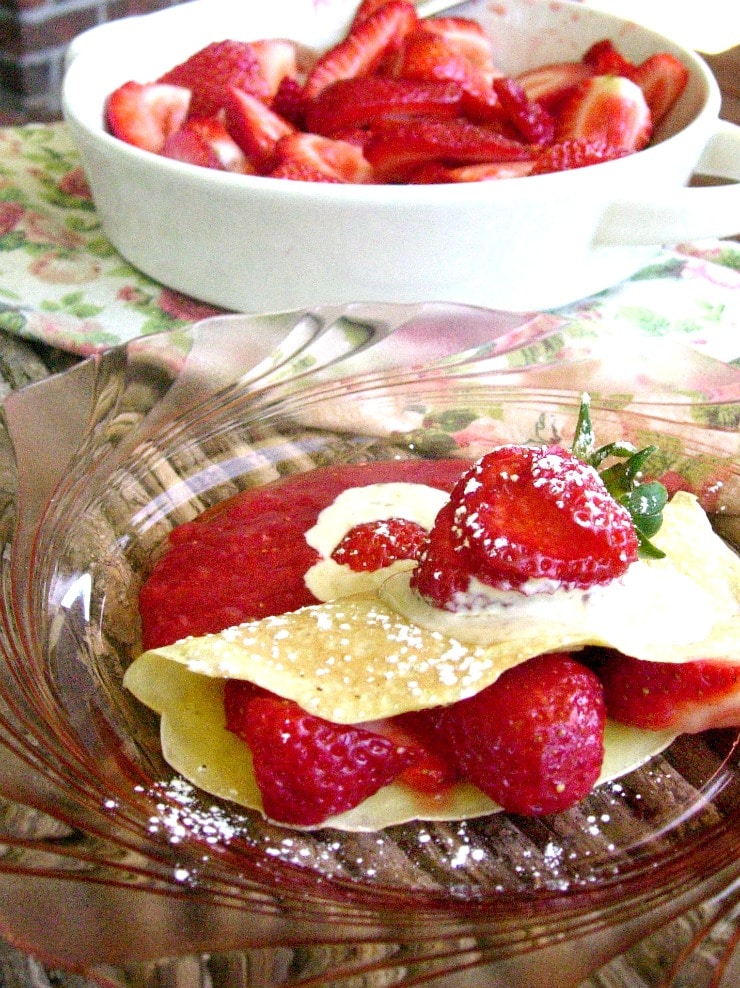 The first crepe is always the hardest to make, but on the other hand it is always the one I taste first. Just to make sure they taste OK, don't you know? Don't be intimidated. Give it a go!
Tips on Making Your Own Strawberry Crepes
Use a pan you trust. Make sure it has a flat bottom and that it isn't warped. I love my 7″ Calphalon with the curved sides. Non stick also works.

Many say to let the batter rest for 30 minutes, but mine turn out just fine, even without the rest time. However if you want to prepare your batter a day ahead, this batter keeps easily in the fridge as long as it is covered. On the same note, it will also keep up to a few days if you don't use it immediately. Add a tablespoon of flour to fluff it up if you need to.

The batter should have the consistency of a light heavy cream. Not too thick and not too thin!

Use about 3 T of batter per crepe.

If you are making a savory crepe, leave out the vanilla and sugar. Add some herbs instead.

Heat the pan to medium high. Do not make it too hot or your crepe will cook into one crisp disc. Test this by dripping a drop of water onto the hot pan. If it sputters and doesn't disappear immediately, it is probably the right heat. You may have to adjust this during the cooking process, to.

Using a brush, lightly coat the bottom of the pan with melted butter. Pour the batter into the pan in a spiral fashion. Then quickly tilt the pan so the batter completely covers the bottom of the saute pan. When the edges begin to look brown, it is probably time to flip. The crepe should release easily. Use a plastic spatula or your fingers to flip it. The crepe only needs to be golden on one side, so the second side cooks very fast. Each crepe should not take more than two minutes total and usually it is more like 90 seconds.

Crepes store well in the fridge. Place in a ziplock bag or cover well with plastic wrap. Crepes can also be frozen easily. Just place in a ziplock and freeze. They separate easily when defrosted. Reheat covered so they don't dry out.

Who wouldn't love a strawberry crepe?
The first strawberry grown in a garden was in the late 18th century in France. Before that strawberries were primarily used for medicinal purposes.
Thank goodness someone recognized that strawberries can be appreciated just for being a strawberry.
I hate to think about missing out on the wonders of this remarkable red berry.
8 berries have more vitamin C than an orange. The little strawberry is also among the top 20 fruits in the antioxidant category and 1 cup has just 45 calories.
As a child I got hives from eating strawberries. I don't get them anymore, but I'm still cautious about eating to many.
I fondly remember strawberry season in Israel where thirty some years ago the family I lived with had 5 kids.
At lunch, dad would march home with food from the market, and with any luck he'd procure giant bags of strawberries.
After seeing how they are sold in the US, I was amazed that one could buy strawberries in such quantities.
As quickly as they were washed, those berries were gone, and all that was left were 5 red berry stained mouths waiting for the next day when dad would arrive home again with more.
My mother always made us Bisquick shortcakes for the requisite strawberry shortcake topped with Cool Whip, at least once each season.
That is unless we were on diets whereby we resorted to bowls of fresh red strawberries alongside a big bowl of sour cream and another of brown sugar.
Simple and sublime. What a perfect match and one I still serve today.
Trust me there is nothing better than dipping a giant red strawberry in sour cream and then in brown sugar.
There is a possibility though that these strawberry crepes could surpass that simple dessert!

I am not a big fan of strawberry ice cream or strawberry syrup-even on a Banana Split.
But I love strawberry jam and strawberries on waffles and these strawberry crepes. I love crepes.
Crepes at the Magic Pan in Chicago on Michigan Avenue were a decadent treat when I was growing up.
A shopping day on the Gold Coast required a well fortified lunch and Magic Pan was always my choice.
I don't remember what I ordered, but it was the only lunch where I was allowed to get dessert, too!
If we were lucky enough to still be in the city for dinner, The Blackhawk and their chilled spinach salad brings up fond memories but alas, I don't believe either are there anymore.
Though I never got to share the traditions of lunch at the Magic Pan with my kids, I did start a tradition of making crepes.
For Zoe, these strawberry crepes are the perfect vehicle for whipped cream.
For me…well, I'm happy to eat crepes anyway I can get them. I urge you to give them a try.
Perhaps making crepes will become your new pancake and if not they are a great alternative!
Please Pin and Share:
More to Try:
Here are a few filling ideas for crepes from my friends:
Shrimp Florentine from Will Cook For Smiles would be great in a crepe!
Print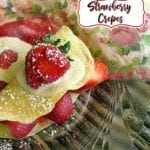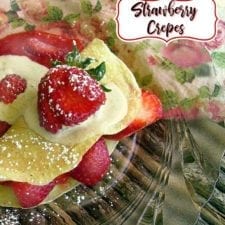 Fresh Strawberry Crepes
Author:

Abbe Odenwalder

Prep Time:

10 Minutes

Cook Time:

15 Minutes

Total Time:

25 Minutes

Yield:

1

dozen 7" Crepes

1

x

Category:

Breakfast/Dessert

Method:

Stove Top

Cuisine:

French
---
Description
Strawberry Crepes are so easy to make. Perfect for breakfast or dessert, crepes are such a wonderful alternative to pancakes.
---
Crepe Batter
2

eggs beaten

1/3

c milk or cream

1/3

c water

3/4

c all purpose flour

1

T melted butter

2

T sugar

1

t vanilla
(Extra melted butter for greasing the pan)
Strawberry Filling
1

lb of fresh strawberries cleaned and quartered or sliced
If strawberries are not sweet enough feel free to add a spoonful of sugar.
Strawberry Sauce
1

c hulled strawberries

2

T confectioner's sugar

2

T orange juice or raspberry juice or Grand Marnier
Sour Cream Brown Sugar Sauce
1

c sour cream or plain Greek Yogurt

1/4

c brown sugar
---
Instructions
In a 4 cup measuring cup beat eggs, and then add milk and water. Whisk well.
Gradually mix in flour. This mixture should end up smooth, so if you prefer to use an immersion blender that works, too! Add melted butter, sugar and vanilla and mix well.
Batter should be smooth and have the consistency of a thin heavy cream.Heat your teeny pan and and brush well with melted butter. You don't want the pan too hot or your crepe will burn. Medium high usually works for me, but you may have to lower the heat if it gets too hot. A drop of water should bounce and sputter, not evaporate immediately if you need to check the temp of the skillet.
Pour in about 1/4 to 1/3 c of batter starting in the center of the pan and pouring in a spiral fashion. Now swirl the pan and make sure you have enough batter covering the bottom of the pan and that it is even in depth. Cook until the bottom is light golden in color. This takes about a minute. If you cook the crepe on too high of heat it will get too crisp. Using tongs gently lift the crepe to check. If it is ready, turn over and cook the other side until done, but it doesn't have to turn gold on this side.
Now you've got it! Brush pan with butter and repeat! Crepes can be stacked and kept warm under a towel until ready to fill.
Strawberry Filling
Combine strawberries with a bit of sugar if needed.
Strawberry Sauce
Put strawberries in a deep bowl or cup and using immersion blender blend until desired consistency. Stir in sugar and juice or liquor.
Sour Cream Brown Sugar Sauce:
Mix together and use for a dollop. Lots of dollops!

To Assemble:

Fill crepes with fresh strawberries. Surround one side with some strawberry sauce. Top with a dollop of sour cream brown sugar sauce.
---
Keywords: crepes, strawberry crepes, strawberry crepes recipe, strawberry crepes filling, how to make crepes, strawberry cream crepes