Mixed greens with pomegranates, pistachios and pears is a delightful winter salad. Add in some fresh herbs. Toss with pomegranate dressing and put this salad over the top.
After a week of cookies I felt like something green and I don't mean frosting. I felt the need to balance out the butter and sugar with a pretty salad that would be perfect for Christmas dinner. Or possibly New Year's Eve. Concocting a salad with winter's produce isn't always easy but it can be done. This salad was fun to throw together and even comes with the requisite Christmas colors. Green in the form of lime zest, salad greens and pistachios. Red from pomegranates and red leaf lettuce and possibly red pears. It used to be that pomegranates were a special treat but they have become quite prolific. One can find pretty tiny red arils everywhere now, along with the pomegranate fruit.
Adding in pistachios and lime zest not only contributes to the flavor of the mixed greens but also gives this mixed green and herb salad a festive vibe. Cranberry goat cheese not only helps with color, it adds to the richness of the salad and takes this pomegranate, pear and pistachio salad from ordinary to extraordinary. Pears are a lovely winter fruit and do come in red varieties, though I couldn't find them. I used a Bosc pear because they taste good even when they are crisp. What is your favorite variety?
Making the pomegranate dressing is super simple. It is not unlike most vinaigrettes but in this case it contains pomegranate paste or molasses. They are the same thing. Both are boiled down pomegranate juice. You can make your own by simmering pomegranate juice until it thickens. OR just make a trip to your favorite Middle Eastern market and you will find it. I love field trips like this! And if you can't find pomegranate paste or pomegranate molasses…just leave it out. Or use boiled down cranberry juice. Do not use grenadine. Though real grenadine is made from pomegranates, it also has sugar added to make a sweet syrup.
Mixed greens and herb salad can be bought already packaged with the pretty red and green lettuces. My mix contained dill which works well with pomegranates. I also buy fresh mint and throw some leaves in. Mint really makes this salad pop and I dare you to try it! But what to do if you can't find pears or pomegranates? Use a fresh orange or grapefruit. Throw in some dried cherries or cranberries. It really isn't hard if you search your pantry. Dried apricots would work well, too.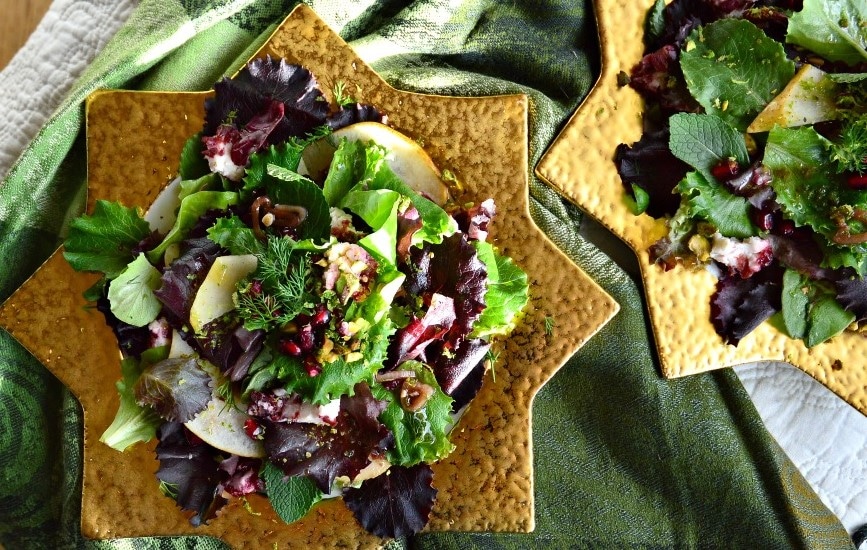 Enjoy this salad all season long. Or at least as long as you can find pomegranate arils. And if you ever feel tempted I'd love it if you counted how many arils are in one pomegranate. In case you didn't know…a few trivia facts about the pomegranate. It grows on a large bush. It was one of the first cultivated fruits in the Middle East. And it is said to contain 613 arils which are the number of commandments in the Hebrew Torah. (And you thought there were only 10!) Let me know what you think of this salad and the pomegranate dressing. And if you counted. Because I sure haven't!
Here's a few more festive salads you may want to try. Rachel Cooks has a Christmas Salad with pomegranate, pecans and kale with citrus that looks totally good. Liz from That Skinny Chick Can Bake made this layered jello salad that can be made in the festive color of your choice. Zoe and my dad would love this!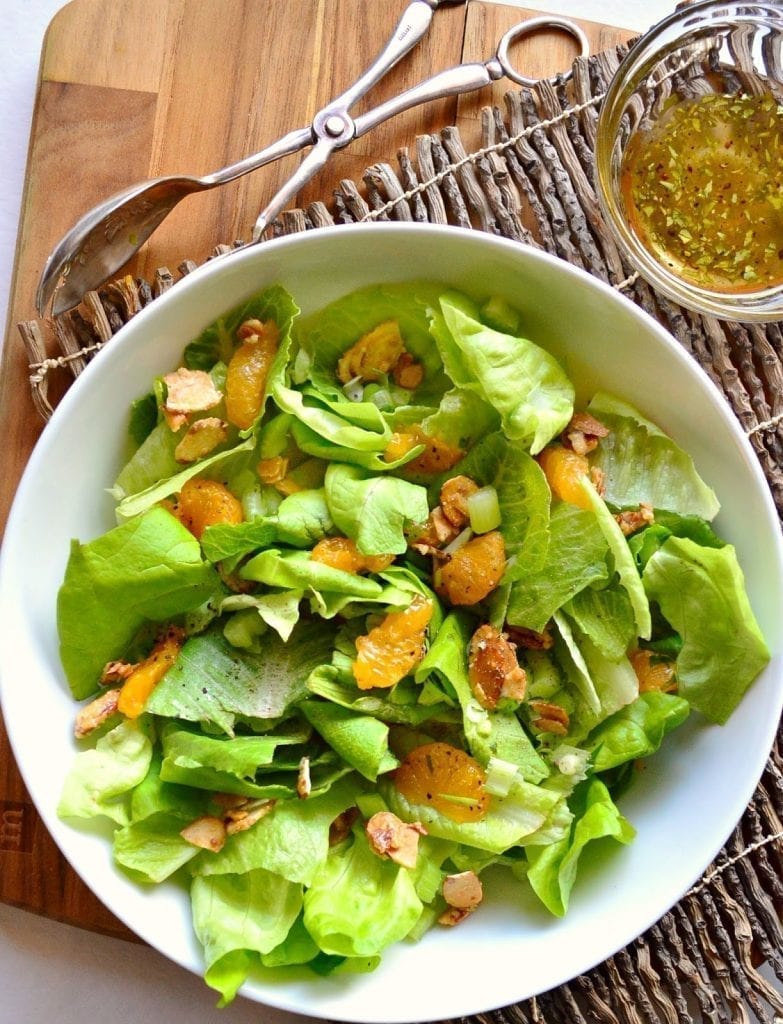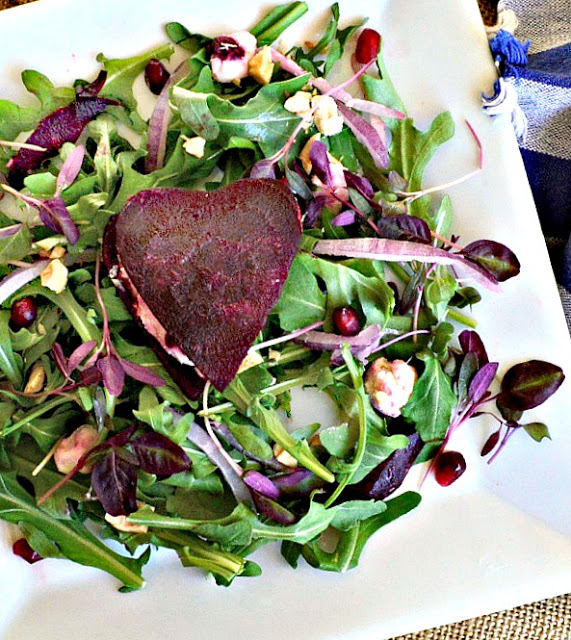 And now it's time to Pin and Share!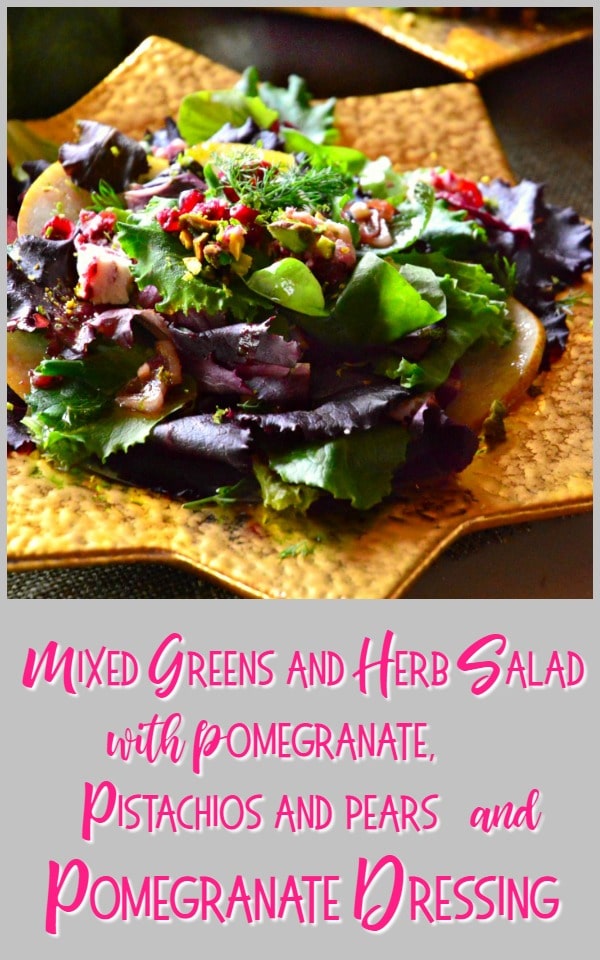 Print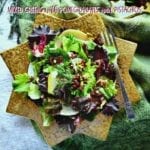 Mixed Greens with Pomegranates, Pistachios and Pears
Author:

Abbe Odenwalder

Prep Time:

20 Minutes

Total Time:

20 minutes

Yield:

6

Servings

1

x

Category:

Salad

Cuisine:

American
---
Vinaigrette
1 large shallot, halved and thinly sliced

1 T pomegranate molasses

2 T sherry or red wine vinegar

1 t lime juice

1 t honey

1/2 t kosher salt

1/4 t fresh ground black pepper

1/3 c olive oil

Salad
8 c mixed green herb salad

Mint leaves (8-10 thinly sliced)

2 ripe pears, thinly sliced (You can cut these into cubes, but I like them sliced in the shape of the pear

1/3 c pomegranate arils

3 oz cranberry goat cheese or feta

1/4 c chopped pistachios

Zest of 1/2 a lime
---
Instructions
Make the pomegranate dressing:
Combine shallot, pomegranate molasses, vinegar, lime juice, honey, salt and pepper and whisk until the salt is dissolved.
Whisk in the olive oil and let the vinaigrette stand at room temperature while you prepare the salad.
Combine mixed greens, and half of the pomegranate seeds, and half of the goat's cheese and half of the lime zest in a large bowl. Whisk the dressing and add enough to dress the salad. Go slow! No one likes a soggy salad. Toss well. Add more as needed.
Add the sliced pears, the rest of the goat's cheese and lime zest. Sprinkle the rest of the pomegranate arils and pistachios over the top. Serve right away!
---
Keywords: salad, mixed greens, pomegranate dressing, herb salad, pistachios. mixed greens with pomegranate and pistachios