I love Chinese noodle dishes and this spicy chili garlic noodles dish is my fave. Especially when it's made with my favorite chili garlic oil!
I do love noodles and turning down a bowl of this spicy Chinese noodles recipe is not in my repertoire.
Well, turning down any bowl of noodles is something I believe I've never done.
Growing up we had Midwestern spaghetti and the weekly noodle kugel, but I don't recall any other pasta being served on Wildwood Avenue.
I kind of feel like I'm making up for lost time. After all it wasn't until high school that I even knew what lasagna was.
And forget lo mein or Pad Thai or even mac and cheese.
Asian noodles, even in the form of ramen noodles, were not something I had growing up in Kankakee!
But back this this spicy Chinese noodles recipe-that isn't really a recipe.
I needed something to slurp my homemade chile oil with and this spicy chili oil noodles dish was it!
A Few Quick Notes:
Feel free to use your own favorite chili oil, if you didn't make mine.
My faves include Lao Gan Ma and Fly By Jing is getting a lot of press, but I haven't tried it yet.
Most Chinese chili oils contain sesame oil and sesame seeds, along with dark soy sauce and lots of red pepper flakes.
So whether you are using chili sauce or chili garlic sauce, as long as you like it, you will like this noodle dish.
However, you do need one made with a bit of oil, because it is the oil coating the noodles that gives this dish its flavor.
Don't know the difference between dark and light soy sauce?
In Chinese cooking most recipes use light soy sauce or "thin" soy sauce.
It is salty and lighter in color, so it doesn't stain your food-such as noodles.
Dark soy sauce is meant for braising and is the familiar Kikkoman version.
It is meant for color and is sweeter, thicker and less salty than light soy sauce.
But be assured: I have used whatever I have on hand!
Maggi Seasoning? I do use this flavor enhancer that is used around the world.
It adds a rich, savory flavor that creates that umami taste one always hears about.
No need to run out and get it but once you have it you will find many ways to use it.
Type of Noodles to use in this spicy chili garlic noodles recipe:
This spicy Chinese noodles recipe can be made with udon noodles, ramen noodles, or in my case I made them with wonton noodles.
Two are Chinese egg noodles and all are wheat noodles, so what is the difference?
Ramen noodles are made with egg and udon noodles are vegan.
Udon noodles are also thicker and straighter, whereas ramen noodles are wavier.
Both are flour based, but ramen has a chewier texture.
Wonton noodles are also egg and wheat based and I always buy them after a trip to my favorite Asian grocery store.
They are meant for soup but work perfectly in this chili garlic noodles recipe.
Lo mein noodles are meant for heavier dishes, so I would probably avoid those..
Whatever you do, make sure any type of noodle is cooked al dente!
Nothing worse than soft, soggy noodles!
Choose your favorite type of ground meat for these spicy garlic noodles.
Both ground chicken and ground pork can be used.
Want to add veggies? Stur fry some baby bok choys or snow peas or just use green onions like I do.
So let's get to it, shall we? My mouth is watering already!
How to Make this Chili Garlic Noodles Recipe:
Begin by cooking your noodles according to the package instructions.
Remove from water and drain and toss with a teaspoon or so of sesame oil so they don't stick together. Set aside.
While that's going on cook the chopped peanuts, garlic and orange peel in a large skillet or preferably a wok, over medium heat stirring so nothing burns.
When the peanuts are golden, stir this mixture into 1/2 cup of your favorite Sichuan sauce (oil), that's hopefully made with lots of red chili flakes.
Set aside while cooking the meat. Add another tablespoon of oil and press the ground meat in a thin layer into the skillet or wok over medium-high heat.
Season well with salt and some white or black pepper. Cook until the bottom is browned then break up into small bits and cook through.
Decide whether you are using the orange peel. If not remove them from the chili oil.
I enjoyed them chopped up and stirred in as it gave the dish a bit of a pop.
However, make sure you really trimmed the pith off the peel or it could be bitter.
After the meat is tossed with the oil add the barbecue pork, if using, and the cooked noodles, and toss with more spicy sauce.
Once everything is well coated, stir in most of the scallions and cilantro but leave some for garnish.
I usually like to leave some of the "goop" meaning the peanuts, chili pepper flakes and garlic, to serve on the top.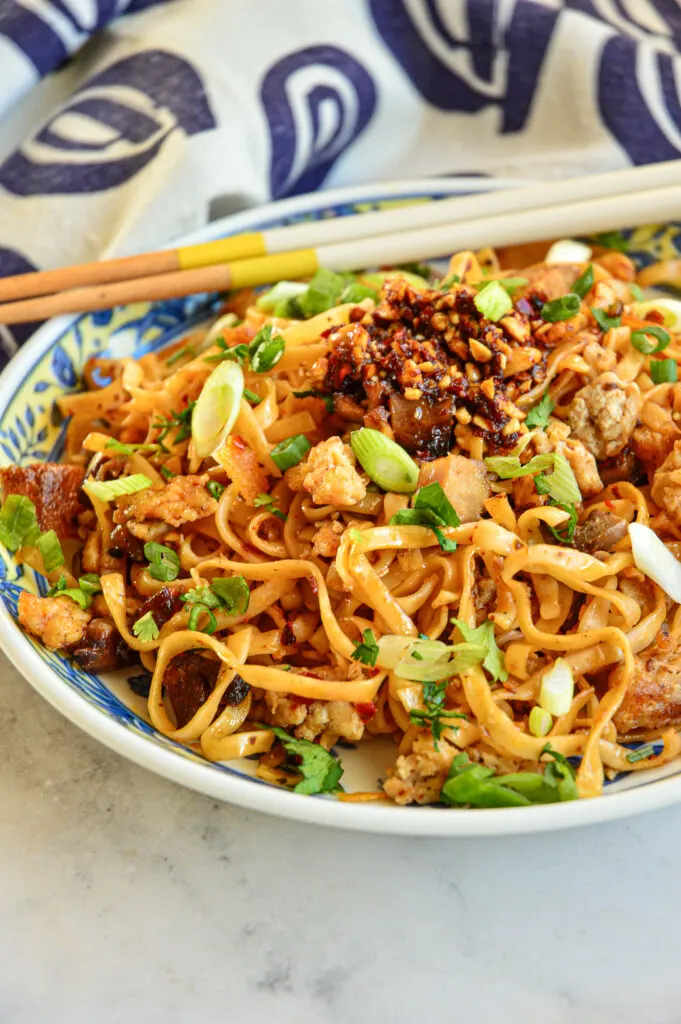 Pour into a large bowl and get out your chopsticks and have fun diving in.
This is an easy weeknight dinner and Manservant would tell you that a fried egg works very well on top.
But he thinks that fried eggs go with most everything.
If you have leftover noodles I assure you they are very good the next day.
Just store the spicy noodles in an airtight container and they are ready to microwave for lunch.
This dish is made with just a few simple ingredients and with just a little bit of effort you can have a simple dinner on the table fast.
Spice levels will vary according to the chili oil you use, so make sure to use one you like.
This spicy Sichuan noodles recipe isn't Dan Dan noodles, but if you want to see my take on Dan Dan sloppy joes, read this post.
(It deserves an update because I make this recipe a lot, but not always with the steamed buns!)
Though these aren't Dan Dan noodles, these spicy garlic chili oil noodles are pretty awesome.
Still Hungry?
A Modern Take on Asian Noodles with Garlic!
If you like Sichuan food, you will love this Tofu dip that tastes like Mapo Tofu!
Yes, the Chinese make amazing Sichuan potatoes!
This post contains affiliate links from which I may or may not get paid a small commission at no cost to you!
Print
Spicy Chili Garlic Noodles Recipe
Author:

Abbe Odenwalder

Prep Time:

20 Minutes

Total Time:

20 minutes

Yield:

4

to

6

Servings

1

x

Category:

Main Course

Cuisine:

Asian/Chinese
---
Description
This easy chili garlic noodles recipe-Sichuan style- are ready for dinner in 20 minutes. Isn't your mouth watering?
---
1/2 c of your favorite chili oil
Salt and Pepper or white pepper
2 T canola oil (divided)
6 T chopped, roasted and salted peanuts
Rind of 1/2 orange, peeled into 2 to 3" strips
4 minced garlic cloves
1 pound of ground chicken or pork
1/2 c chopped Chinese barbecue pork
A few dashes of Maggi seasoning (optional)
10 to 12 ounces ramen, udon or wonton noodles, preferably fresh and cooked according to package directions (Cook until al dente-not soft) Toss with 1 t of sesame oil to keep noodles from sticking together.
4 chopped scallions on the bias
1/2 c chopped cilantro
---
Instructions
Using a large skillet or wok, heat 1 T of oil over medium heat. Cook the peanuts, orange rind and garlic until golden. Pour into the chile oil but remove the orange rind before serving. Personally, I like the orange rind chopped up and added to the noodles but that is up to you.
In the same skillet add the other tablespoon of oil and heat over medium-high. Add the chicken or pork and press down into a thin layer. Season with salt and the pepper of your choice. Cook without stirring, ocassionally pressing the meat down, untill the bottom is browned, about 5 minutes. Break the meat up into small pieces and cook until cooked through, about another minute.
Add half of the chile oil to coat the meat and stir scraping up any brown bits from the bottom of the skillet or wok. If you are using the Maggi seasoning, add a few dashes now. Add the noodles and pork and the rest of the oil, tossing well to coat the noodle/meat mixture.
Top with scallions before serving.
---
Keywords: chili garlic noodles, garlic chili noodles, chili garlic noodles recipe, sichuan noodle recipe