A good Chinese Vegetable Stir Fry Recipe is a great side dish to most any meal. Whether you are serving this with other Asian dishes or just a simple roast chicken, this veggie stir-fry is a delicious way to get your veggies in!
When we visited China, we never failed to have a side dish of veggies with our meal.
Alex loved stir-fry greens, but I preferred mixed veggies or the smashed cucumber salad.
I love the contrasting flavors and the colorful varieties on a plate that veggies bring to the table.
That truly is the fun thing about making any Asian stir fry.
One can come up with a great dish usually by just cleaning out the fridge.
I always keep dried shitakes in the pantry, along with baby corn and water chestnuts, which can also be used in a stir fry.
Chinese stir fry veggies are a great way to incorporate healthy and delicious vegetables into your diet.
Whether you're a fan of Chinese food or just looking for a new vegetable dish to try, a Chinese vegetable stir fry recipe is the perfect option.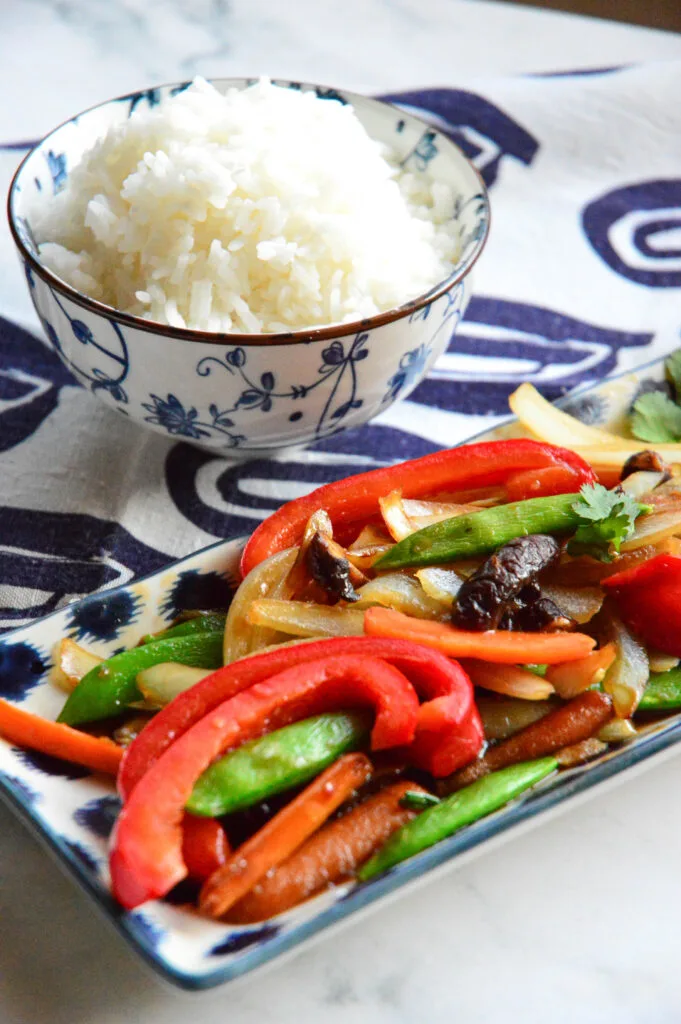 The cooking process involves high heat, a little bit of oil, and a variety of Chinese vegetables.
Soy sauce, garlic and ginger add extra flavor to this healthy veggie dish.
And if you like sesame oil, add a tiny drizzle over the finished dish for a little extra flavor.
This stir fry recipe is made to go with my Thai garlic black pepper chicken so you will see it contains fish sauce.
If you are making this more Chinese style, leave out the fish sauce and sub in some oyster sauce.
Can't go wrong with either.
Vegetables to Use in a Chinese Vegetable Stir Fry Recipe
When you head to an Asian grocery store to get the ingredients for your Chinese/Asian stir fry, you may feel overwhelmed by the different types of vegetables available. Don't worry!
Many Asian markets and grocery stores have the vegetables you need, and they may even have English names on the packaging.
Some of the most popular Chinese vegetables for stir fry include snow peas, Chinese broccoli, choy sum (a green leafy vegetable), Napa cabbage, bean sprouts, green beans, bamboo shoots, shiitake mushrooms, red bell peppers, snap peas, Chinese eggplant, and baby bok choy.
I'll be honest. I am not a lover of bamboo shoots in any dish, but I do love bean sprouts.
Problem is it is hard for me to find fresh bean sprouts where I live because many stores don't carry them anymore.
I'm guessing it is because they spoil fairly fast. However when I go to an Asian market they have huge plastic bags of bean sprouts available so that is the week, everything I cook has bean sprouts in whatever I'm making!
Tips on preparing this Chinese Vegetable Stir Fry Recipe:
A great way to prepare your Chinese stir fry is to make sure all of your veggies are about the same size.
This will help them cook faster and more evenly.
A large skillet or wok is the best option for stir-frying because it allows you to cook at high heat without crowding the vegetables.
The high heat will help your vegetables cook quickly, so they don't become too soft or lose their bright colors.
To make your Chinese stir fry extra flavorful, add some soy sauce, sesame oil, oyster sauce, hoisin sauce, or fish sauce.
A pinch of salt and white pepper can also help enhance the flavors of the vegetables.
If you like a little bit of spice, add some chili flakes or red pepper flakes.
If you're looking for a complete meal, add some protein to your vegetable stir fry.
Chicken, beef, or shrimp are great options.
You can also add some Asian noodles or serve your stir-fried vegetables over white rice.
Chicken broth or chicken stock can help keep your stir fry moist and flavorful.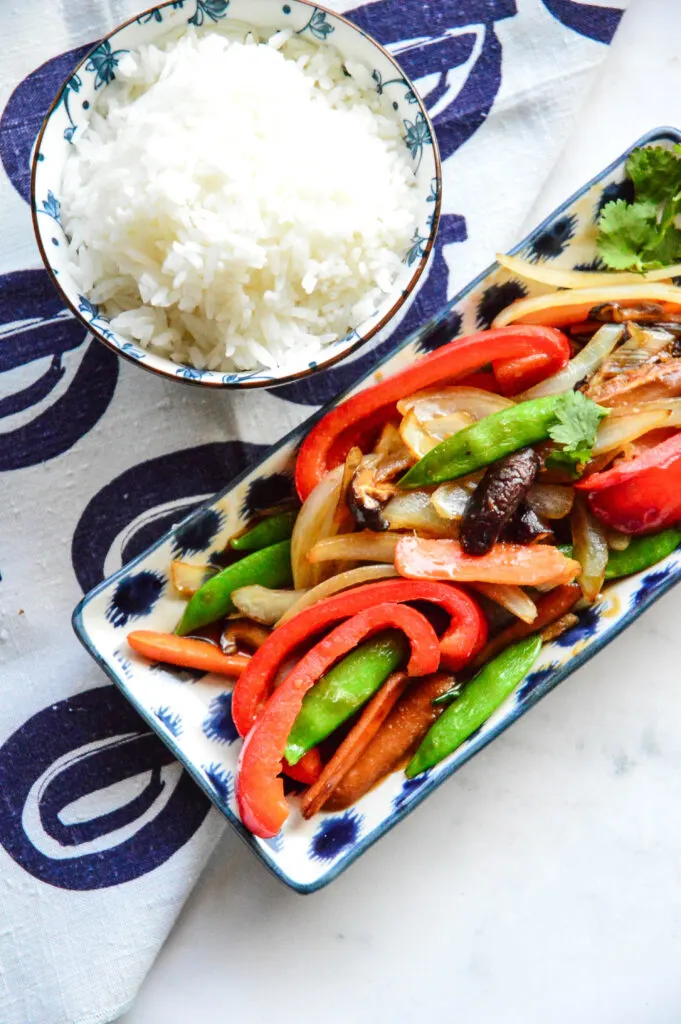 For those who are health-conscious, vegetable stir fries are a great way to get your daily values of vitamins and minerals.
Last night, I tried a Chinese stir fry recipe that included snow peas, baby corn, Chinese broccoli, shiitake mushrooms, and red bell peppers.
I served it over white rice, and it was a hit!
I added some sesame seeds and green onions for extra flavor.
If you're a fan of stir-fry veggie dishes you can experiment with different combinations of vegetables and Asian stir fry sauces to find your favorite way to prepare Chinese stir fry.
I loved this Asian stir-fry with my black pepper chicken but honestly this dish would go gear with a roast chicken also.
When my kids were young I often let them choose what to add, because this Chinese vegetable stir fry recipe is a great way to get kids to eat veggies!
And actually it is a good way to get Manservant to eat them, too!
A Few More Bites: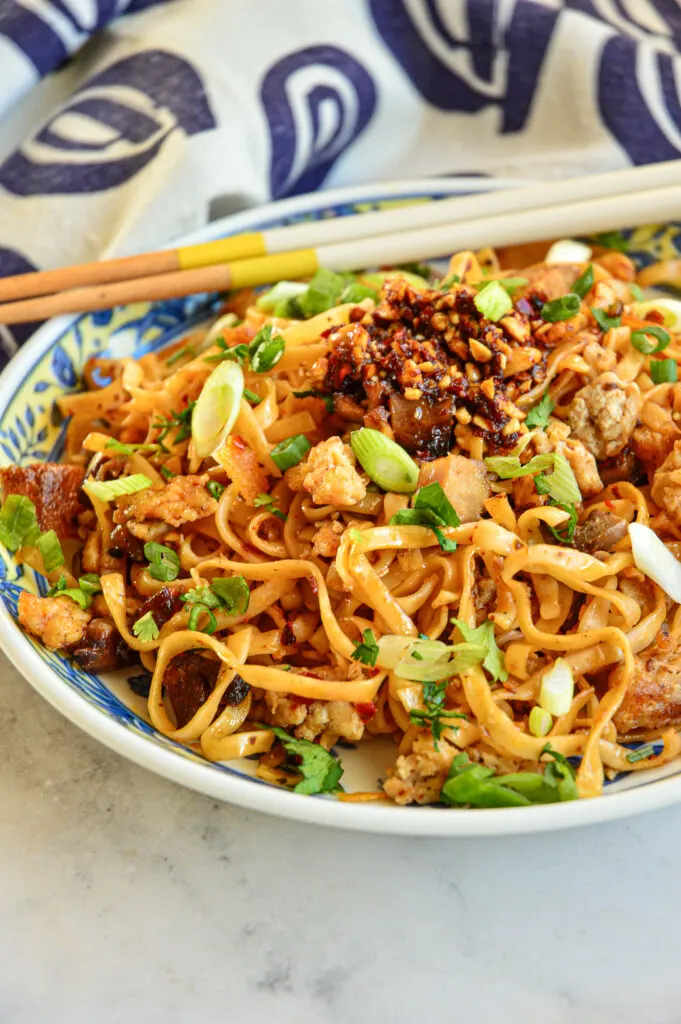 This post contains affiliate links from which I amy or may not earn a small commission at no cost to you.
Print
Asian Stir Fried Veggies
Author:

Abbe Odenwalder

Prep Time:

10 Minutes

Cook Time:

5 Minutes

Total Time:

15 minutes

Yield:

4

Servings

1

x

Category:

Side dish

Cuisine:

Asian
---
Description
Stir Fried Veggies are a colorful side dish to any meal. Choose your favorite veggies and make a side dish that everyone will love.
---
1 large onion sliced into thin half moons
1 medium carrot, peeled and sliced thinly on the diagonal
2 garlic cloves, minced
1" piece of fresh ginger, peeled and sliced into thin sticks or 1 1/2 t of ginger from the tube
1/2 c dried shitake mushrooms reconstituted or 1 c fresh mushrooms sliced
1 red pepper, seeded and cut into thin strips
1 stalk of broccoli cut into floret or 1 c snow peas or sugar peas
3 green onions, cut on the diagonal into 1" pieces
2 T canola or peanut oil
---
Instructions
Make sure all ingredients are ready to go, and the sauce also!
Heat wok or large skillet over medium-high heat and add the oil.
Add onion, garlic, ginger, and carrot and stir fry about 1 minute. Add mushrooms and cook until beginning to soften.
Add red pepper and broccoli if using and stir until veggies are soft but still crisp. Stir in snow peas if using and the sauce and cook briefly until veggies are cooked to your liking. Stir in green onions and serve.
---
Keywords: Asian stir fried veggies, Chinese vegetable stir fry recipe, Chinese vegetable stir fry, stir fried veggies, Asian stir fry sauce