A Char Siu Chinese Barbeque Pork Recipe is so versatile. Besides just serving as a main dish, there is so much one can do with it. Think of this as Chinese carnitas!
One of my favorite things is finding Chinese Cantonese restaurants that have Chinese BBQ pork and roast duck hanging, and ready to be bought.
That doesn't happen often in Denver, but there are a few restaurants that have them.
Most likely I find both at the Asian grocery stores, and if I do I always order some for take out.
Both make for an easy meal and I am all about easy!
It doesn't get much easier than marinate and bake now does it?
What is char siu Chinese barbeque pork?
Char siu is usually a pork shoulder that has been sliced, marinated and roasted with a slightly sweet flavored marinade, until it glistens and becomes sticky and crusty, and irresistable.
Char siu means fork roasted and the traditional method of roasting this meat was with long forks directly over the fire. Think of this for your camp outs next summer!
In any case, I do make this in the oven, though it can be made on the grill.
What cut of meat should be used to make Char Siu?
Several cuts of pork can be used to make this homemade version of Chinese roast pork, but I find fatty cuts work best.
Pork tenderloin is very lean so a no on that, and pork belly is too fatty so skip that one also!
I used a pork shoulder with the bone-in. I can never find a boneless pork shoulder, so I sliced around it.
A pork butt would be great also.
A pork loin is leaner, but could be used, too.
How to Make Char Siu Marinade:
Though everyone has their own recipe, most marinade ingredients contain hoisin sauce, soy sauce, honey, Shaoxing wine, 5 spice and usually red food coloring.
As you might see my char siu is not red, because I didn't use food coloring!
It adds no flavor and I didn't have red yeast rice or fermented red bean curd which is also often used in Cantonese cuisine to give a natural red color.
It doesn't really add flavor, so I felt it unnecessary.
Don't know what 5 spice is?
5 spice is made up of five spices often consisting of star anise, fennel seeds, clove and cinnamon.
The fifth is up for debate, but usually is some type of pepper.
I find it now at my regular grocery store, but of course you can alway order it online or make a trip to an Asian grocery store.
Honestly, I love going to foreign markets. It brings out my sense of adventure!
How to Make Char Siu Chinese Barbeque Pork Recipe:
Begin by making the marinade. I do this in a large ziplock bag. Plan on marinating at least 12 hours, but the longer the better.
Combine the key ingredients of hoisin sauce, soy sauce, honey and wine or sherry, along with minced garlic cloves.
Add a dash of sesame oil, the 5 spice and some extra white pepper.
Chinese food almost always uses white pepper instead of black.
Slice the pork shoulder into 1/2″ thick pork strips and add to the marinade.
When ready to bake bring the meat to room temperature and place it on a wire rack over an aluminum foil lined roasting pan.
Trust me on this. If you don't you will have lots of sticky drippings on the bottom of the pan that will burn and be hard to clean off.
Then pour hot water into the lined pan. This will keep the drippings from smoking during the bake time.
Make sure to not throw away the marinade.
Use this to brush on the Chinese pork to help get that wonderful sticky glaze on top!
I loved this char siu pork recipe.
Leftovers can be stored or frozen in an airtight container, but will keep for about a week in the refrigerator.
How to Serve Char Siu:
Char siu can be served over white rice or you can do as my friend from NY does.
She used to visit the Catskills every summer and every Friday night they ate Chinese roast pork sandwiches.
Imagine my surprise and on a Friday night!
She even served it to us once, which was the first time I had heard about this!
Take an Italian roll and toast it with garlic.
Fill with the roast pork and serve with Chinese hot mustard and duck sauce.
Other ideas include using bao buns instead of Italian rolls!
I use leftover char siu in baked pork buns and also chop it up and use in fried rice, or stir-fried noodles of any kind.
Many chop it up and use it in eggrolls too. Shoot, I'd even stir this into omelets!
Tell me please all the different ways you use char siu.
Manservant is kind of boring. He'd be happy to eat it slice after slice. Forget the accompaniments!
So there you have it. An easy way to make Chinese restaurant-style pork.
No need to seek out Chinese restaurants, even though you should.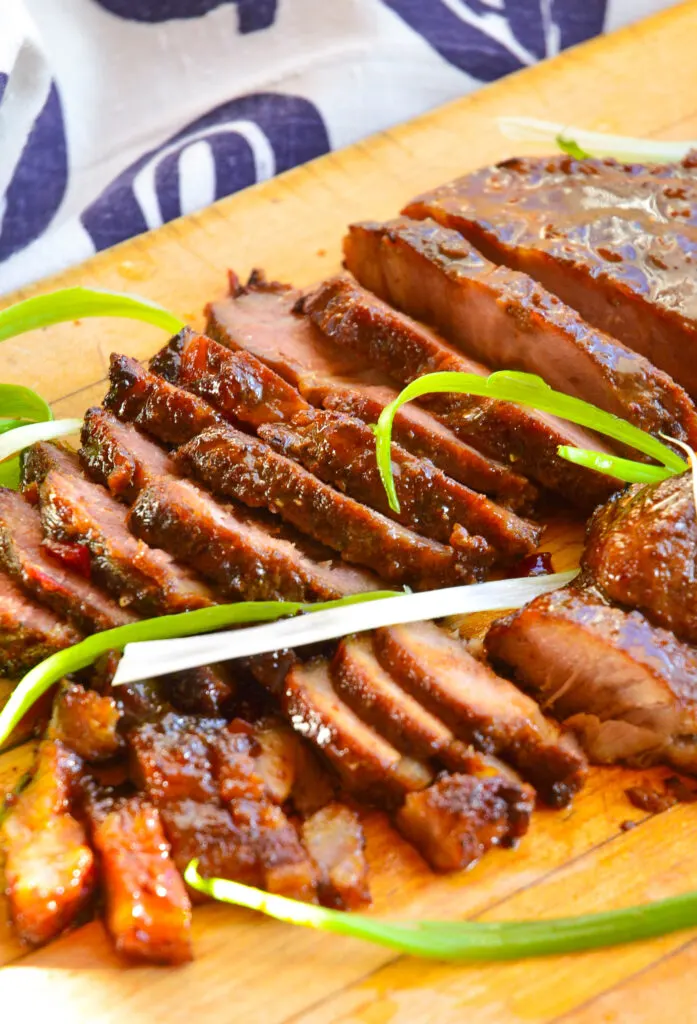 Interesting fact: Chinese restaurants are disappearing.
As many immigrants came to this country and have since educated their children, their is no one to take over the business.
Sad, but true. And good, but sad. It makes me wonder what will be the next popular immigrant restaurants to fill their place.
So do try to find the Chinese bbq shops and the Asian market, while at the same time explore Chinese cooking.
Once your pantry has the right ingredients Chinese cooking is easy to do!
In closing, I want to share with you one of my favorite new cookbooks of the year.
For years I've read The Woks of Life blog and have fallen in love with the family and their food.
Now they have their own cookbook!
Perfect for anyone who loves Chinese food, this book is a treasure of info and contains awesome recipes.
As soon as Alex Odie has a real address I plan on gifting him with it.
Happy Chinese New Year to all who celebrate and to all who don't…no reason you can't celebrate with this Char Siu Chinese Barbecue Pork recipe!
Wear red!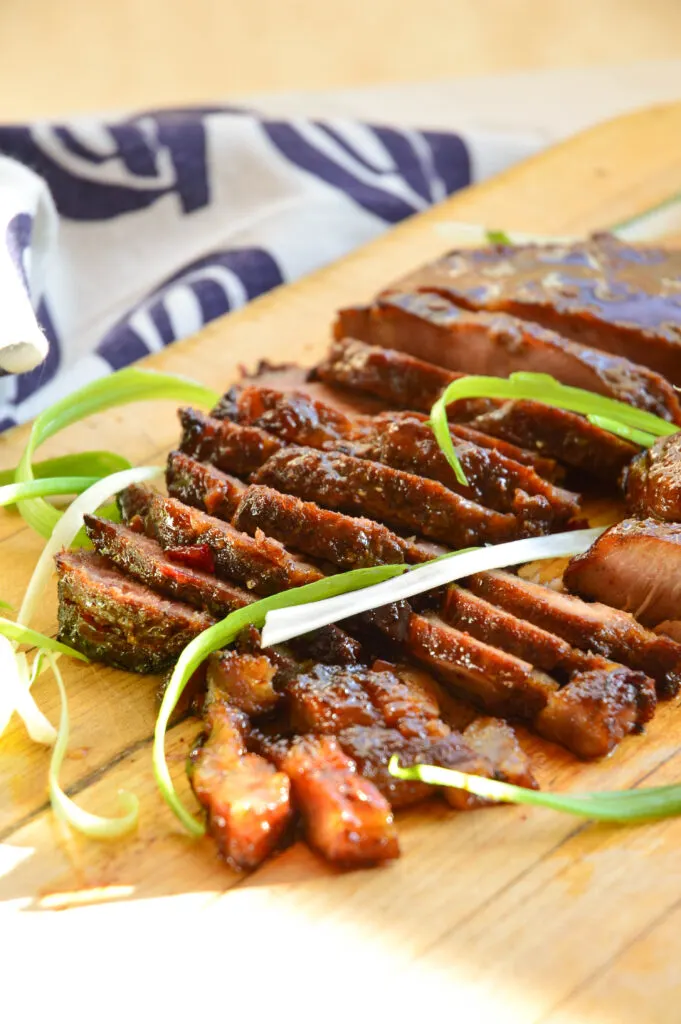 Some More Please!
This Chinese BLT could also be made with roast pork!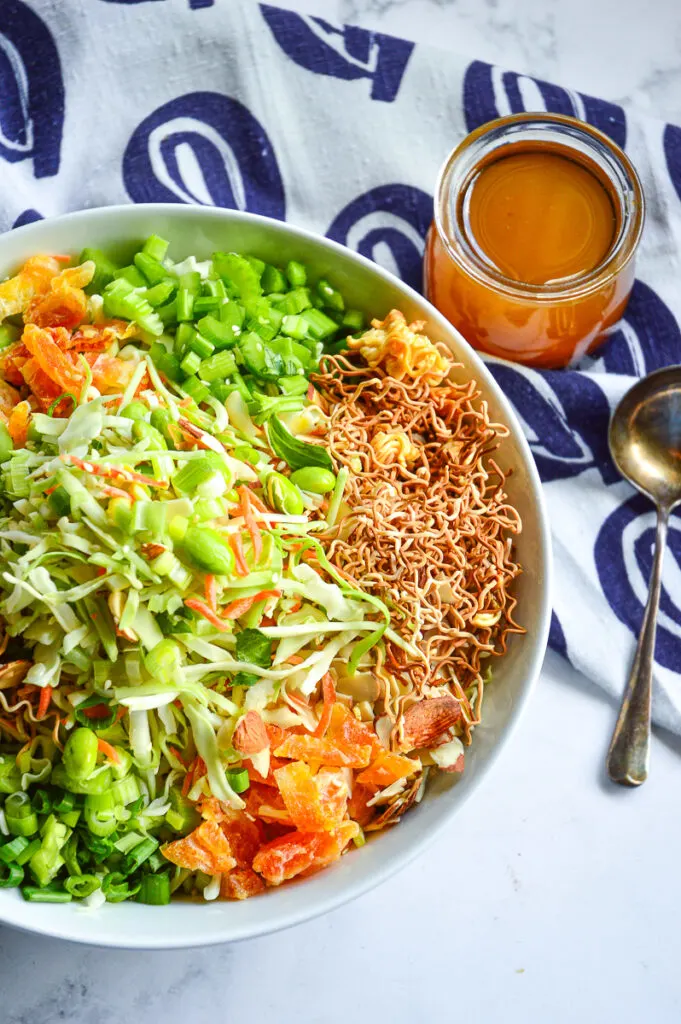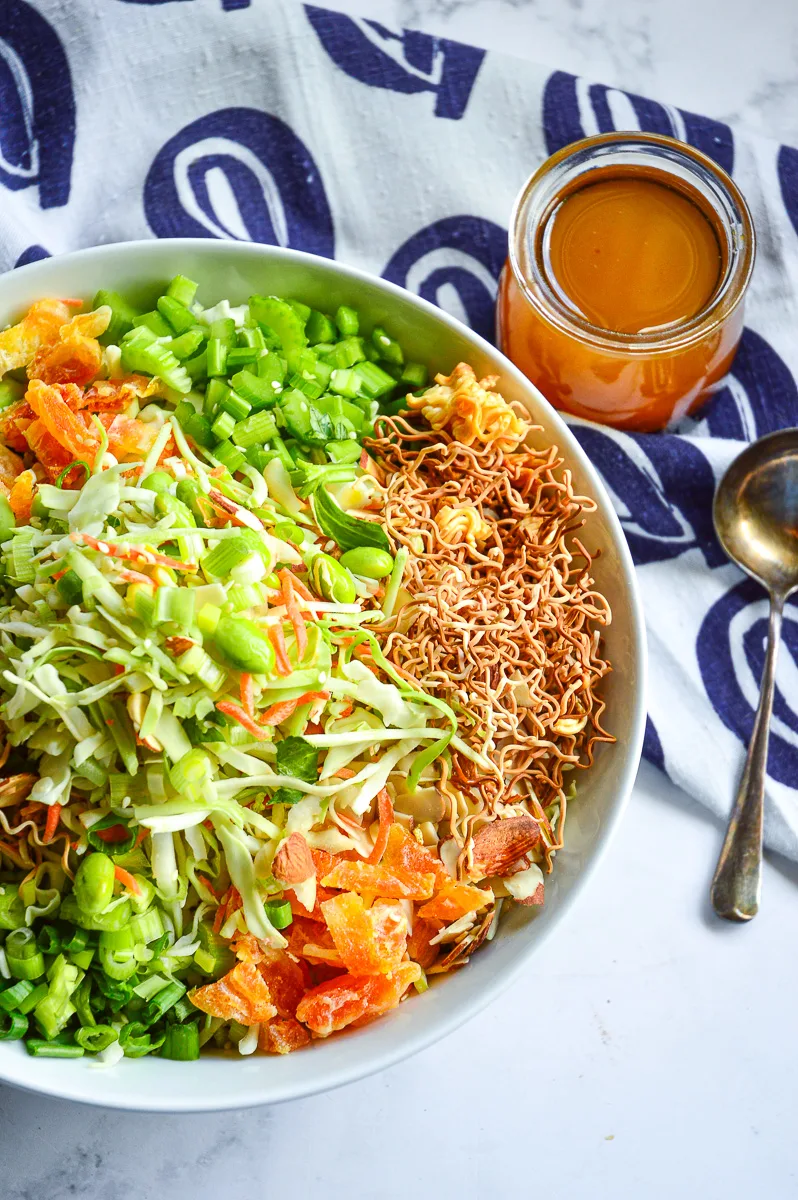 Add some to the Ramen Noodle Salad!
Curry Puffs are great as a Chinese dim sum appetizer!
This post contains affiliate links from which I may or may not earn a small commission at no cost to you!
Print
Char Siu Chinese Barbeque Pork Recipe
Author:

Abbe Odenwalder

Prep Time:

10 Minutes*

Cook Time:

50 minutes

Total Time:

0 hours

Yield:

6

-

8

Servings

1

x

Category:

Main Course

Cuisine:

Asian
---
Description
Char Siu Barbeque Pork makes a great meal. Leftovers are perfect in noodles, rice, sandwiches and even omelets!
---
1/4 c hoisin sauce
1/4 c soy sauce
1/4 c honey
1/4 c Shaoxing wine or sherry
3 minced garlic cloves
2 t molasses-not blackstrap
1/2 t toasted sesame oil
1 t 5-spice seasoning
1/4 t ground white pepper
3 lbs boneless pork shoulder, sliced into 1/2″ thick slices
---
Instructions
Combine all marinade ingredients in a large ziplock bag. Add sliced pork and marinate in the refrigerator for at least 12 hours and up to 48.
When ready to bake, remove from oven and bring to room temperature. Save the marinade.
Place oven rack in the upper third of the oven and preheat to 475. Line a sheet pan with aluminum foil and place a metal rack on top of that. Place pork slices on top of rack leaving room in between so pork will cook evenly. Pour hot water into the bottom of the pan to prevent dripping from burning and smoking.
Roast for 10 minutes and the reduce oven to 375 and roast for an additional 15 minutes. If you need to add more water, feel free. Flip the pork, turn pan all the way around and roast for another 15 minutes. Check every 5 minutes or so during this time to make sure pork isn't scorching. If so, tent lightly with foil to prevent burning.
Combine 1/4 c of leftover marinade with 2 T of honey.
After 40 minutes of roasting time, remove pan from oven and base both sides with the honey mixture. Roast another 10 minutes. The pork should now be caramelized on top. You may need to broil for 1 to 2 minutes but watch carefully because sugar burns! (If you want this to glisten more, brush with honey mixed with the marinade, one more time before broiling.)
Remove from oven and tent with foil. Let rest about 10 minutes before slicing and serving.
---
Keywords: char siu recipe, Char siu Chinese barbecue pork recipe, chinese bbq pork, char siu pork, what is char siu, char siu ingredients