There are so many lasagna recipes and they are all good, but in the summer I am partial to this easy lasagna recipe made with fresh tomatoes.
One could use canned tomatoes if need be, but either way, this is one delicious lasagna.
What makes it so perfect? Not laden with lots of extra cheese, this lasagna is made for tomato lovers. The simple sauce just shines.
The sauce isn't burdened with the weight of the cheese. Nope! No mozzarella or ricotta in this lasagna recipe! Just a simple, white bechamel sauce to add flavor and richness.
Truthfully I prefer this lasagna with bechamel sauce instead of cheese. But if you must, you can add a layer of mozzarella. I will let you!
No meat in this lasagna either, which I know lots of you love. In which case feel free to add a layer in the middle if you choose.
I however, prefer to add mushrooms. Porcini mushrooms add meatiness and flavor to this easy lasagna recipe, but if you can't find those feel free to add in whatever your favorite mixture of mushrooms might be.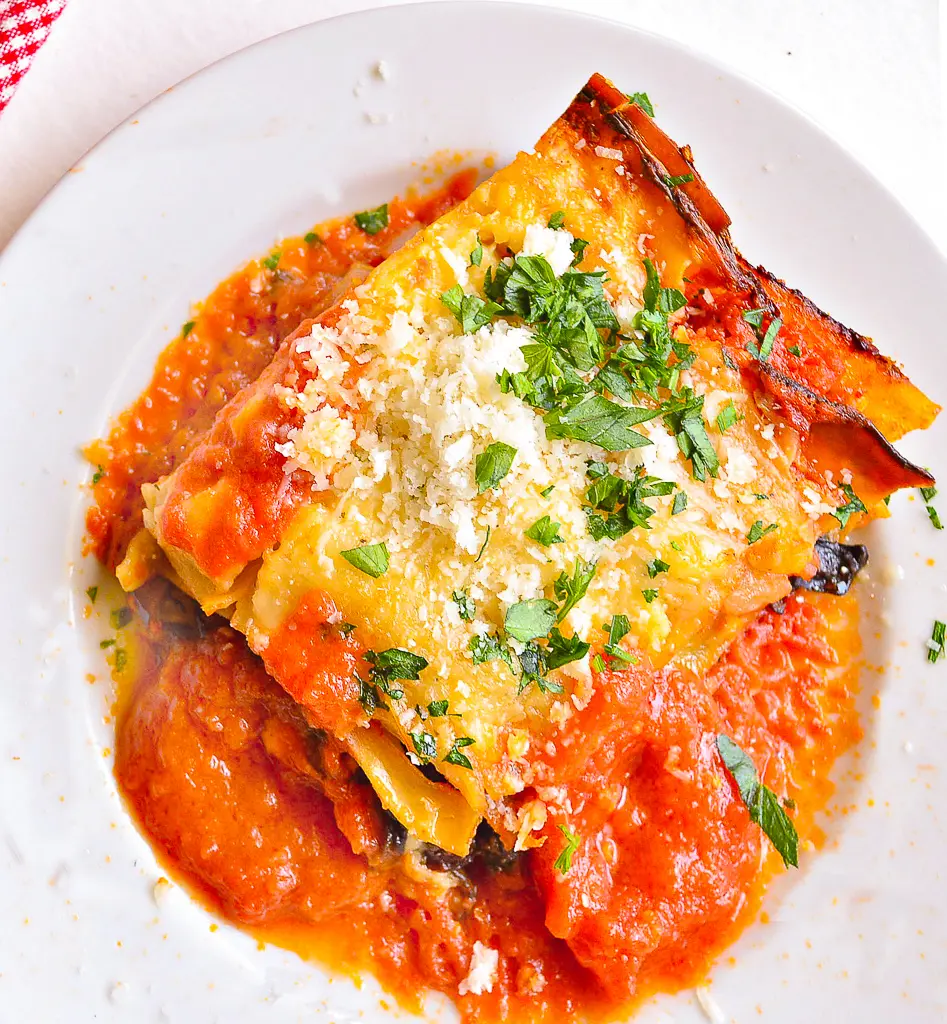 Dried mushrooms tend to have lots of concentrated flavor so see what you can find.
Don't like mushrooms? Well, that's easy to fix? Just leave them out!
This homemade lasagna is easily made with no boil noodles. I use Barilla and am quite happy with how tender they become.
Just make sure to cover them with very hot water and let them soak while you get your ingredients together. Then slide them through your fingers to remove the water before placing them into the lasagna dish. Make sure they are fully covered with sauce, so you don't have any problems with them tasting dry and uncooked.
I don't think I ate lasagna until I was 16 years old. I remember eating it at my best friend's house. Her mom was Italian.
I remember her saying I had to come over because her mom, "WAS MAKING LASAGNA!" I'd heard about lasagna. I'd even eaten it in Hamburger Helper skillet dinner form. My mom made that.
However, I never remember my mom making lasagna; but in all fairness my mom is Jewish and not Italian, and I can assure you her mom probably did not make lasagna-even the hamburger helper kind!
The only pasta dish I remember in our home that my mom made on a regular basis was spaghetti with meat sauce; which now that I think of it is pretty funny, because my mom loves pasta. I mean really loves pasta. No lie. I mean she didn't even make macaroni and cheese!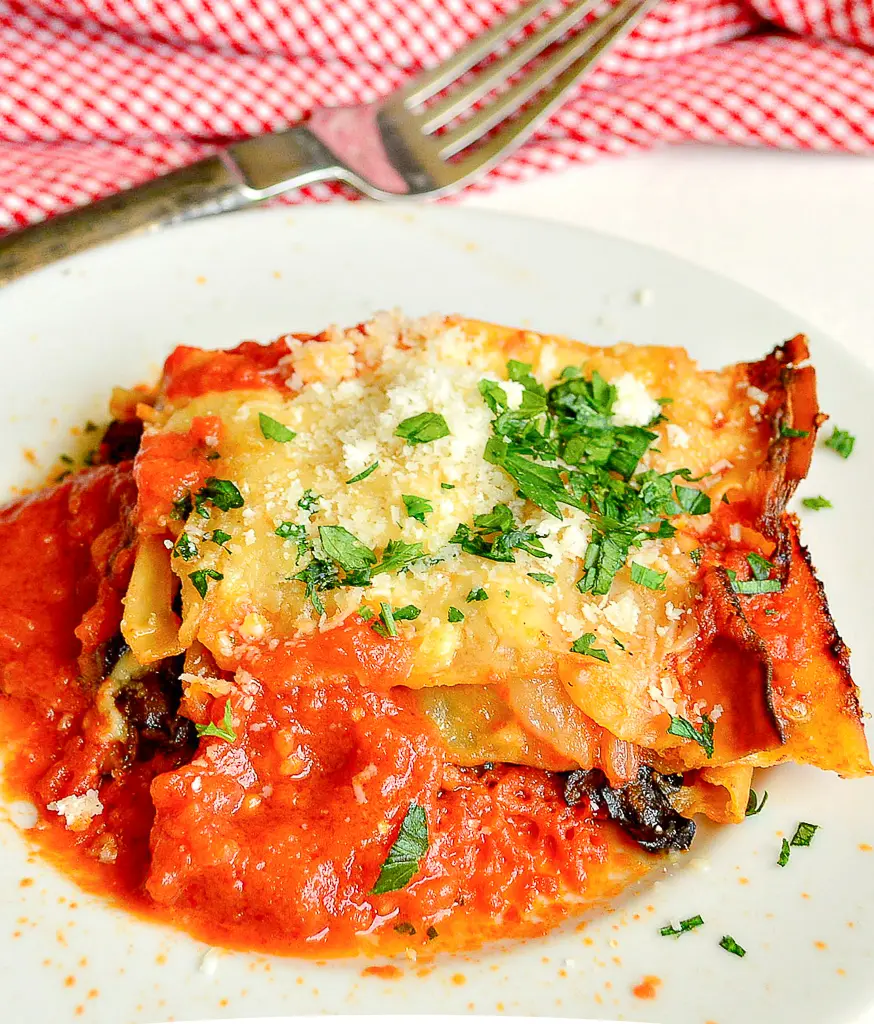 Well, I learned to make lasagna in college. It feeds a lot and was always a hit. I don't remember having a recipe.
When the kids were born I remember making a lot of other pastas, too. Zoe especially loved pasta so we had it once a week. Under the age of five they ate a lot of mini tortellinis and raviolis.
And then it was beloved spaghetti with real Italian sausage in the fall. We all loved linguini with clam sauce. The kids even requested it for their birthday when they were 7 years old.
Ziti al Fresco is a huge fave and I still make it at least once a year. It contains cream and we try to avoid that so I don't make it as often as I wish I could.
Fettucine Alfredo is Zoe's favorite and that also contains cream, but oh my, it is worth it at least once a year.
I made lots of buttered noodles in shapes of every kind to make Zoe happy. I often resorted to spaghetti with garlic, because that is my fave and you almost never need anything from the grocery to make it.
Often enough I just took left overs from the fridge and came up with a pasta dish. Tomato sauce or that enemy, cream, ties everything together.
Manservant likes pasta. But he doesn't like it all the time. Either does Alex Odie San China Boy. But I guess that doesn't include Chinese lo mein of which they both eat a lot.
Noodle bowls and pot stickers are pasta, are they not? I often made a lo mein bar with numerous toppings and sauces and let the kids choose what they wanted. I would then throw it in a wok and we were all happy campers. Individualized, easy meals!
But back to lasagna. I didn't make it often when the kids were young. I don't know why.
Maybe because I wasn't used to making such a big pan. Whatever the case, I did make a mushroom lasagna that was so rich and luscious, we had it for special meals.
It did contain porcinis and I rationed those out with an iron fist. I still always request a bag of porcinis when friends go to Italy. Receiving porcinis is like a gift from the gods!
Recently I received one of those bags of porcinis from friends who returned from Italy so I invited them for dinner while Manservant was home. (Well, I think he was home, but 2 weeks flies by fast. If I figure it right he will be gone 50% of this year. And that's another episode!)
I knew she loved my mushroom lasagna but I was ready for something a bit lighter-more summery. Something I could use fresh tomatoes in. The bounty of summer-so to speak.
And so it is, I came up with this. No, it isn't full of gobs of gooey cheese. This is a more healthy lasagna-if one can deem lasagna healthy. This one only contains Parmigiano which also falls into the gift from the gods category. I do love real Parmigiano-Reggiano.
Have a bounty of tomatoes ready to come in? This lasagna is perfect for them. I used Marcella Hazan's easy tomato sauce which is killer, if you haven't tried it. Her sauce is superb on any pasta.
So with all these words on this page, you must be thinking pasta for dinner. This veggie lasagna with no boil noodles is so worthy!
A few last words. If anyone says to you, "My mom is making lasagna!" just dash over. Lasagna is so worth it!
More To Try:
Please Pin and Share: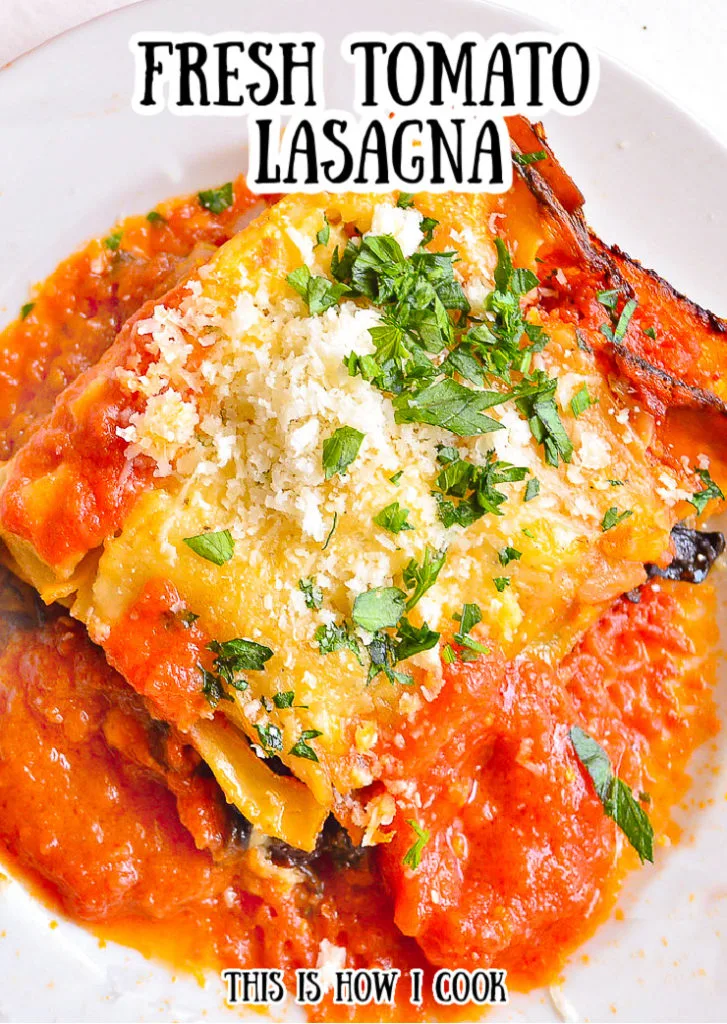 This post may contain affiliate links. Please see my disclosure policy.
A Few Things I Used When Making This Lasagna:
My food mill is also what I use for making apple sauce. Of course, it is good with tomatoes, too. I like this lasagna pan with handles, but I often use a metal one, if I don't need something pretty! So yeah. Dried porcinis are expensive. But a little go a long way. Thank goodness for Amazon!
This is an updated post from August, 2016
Print
Summer Tomato Lasagna
Author:

Abbe Odenwalder

Prep Time:

60 Minutes (Not all active)

Cook Time:

15 Minutes

Total Time:

45 Minutes

Yield:

6

-

8

Servings

1

x

Category:

Pasta

Method:

Oven/Stove Top

Cuisine:

Italian
---
Description
This lasagna recipe is perfect for use with fresh summer tomatoes. No ricotta or mozzarella in this, just a simple bechamel sauce with lots of sauteed mushrooms.
---
1 recipe of tomato sauce:

3 1/2 lbs fresh Romas or plum tomatoes or 1 28 oz can good Italian tomatoes

12 oz or 1 1/2 sticks butter

1 1/2 medium onions, peeled and halved

1 1/2 t salt

1/2 t sugar

1 recipe bechamel sauce:
6 T butter

4 T flour

1 t salt

Fresh ground pepper

2 1/2 c milk, warmed in microwave for about 1 to 1 1/2 minutes

Pinch of nutmeg (optional)

1 c fresh grated Parmigiano-Reggiano

1 lb fresh mushrooms (optional) cleaned and sliced or chopped

3/4 c dried porcinis (soaked and liquid reserved) (optional)

3 T butter

1 box no boil lasagna noodles
---
Instructions
Tomato Sauce:
Wash tomatoes in cold water. Cut in half, lengthwise. Cook in a covered stockpot or saucepan until they have simmered for 10 minutes. Puree the tomatoes through a food mill back into the pot.
If you are using canned tomatoes, start at this point. (Canned tomatoes should also be run through a food mill or use an immersion blender.) Add butter, onion, salt and sugar and cook at a slow, but steady simmer, uncovered for 45 minutes. (I bring this to a slow boil on medium and then reduce my temperature to the lowest possible setting that keeps it simmering.)
Remove onion and slice into half moons and reserve for lasagna.
Directions: Bechamel Sauce
Melt butter in a medium saucepan. Add the flour as butter melts and use a whisk to blend flour into the butter.
When mixture is golden and velvety, slowly stir in the warm milk, stirring constantly with a whisk. Stir for about 15 minutes or until sauce is thickened and of smooth consistency.Season with salt, pepper and nutmeg until this tastes so good you can eat it from your spoon.
While bechamel and tomato sauce are cooking, start the mushrooms if using.
Heat butter in a large skillet. Add fresh mushrooms and cook on high heat until mushrooms release their juices. Let the juice simmer away.
Stir in strained and reserved liquid from the dried porcinis along with the chopped porcinis. Cook for a few minutes. Let liquid simmer away until the mushroom mixture is fairly dry. Season with salt and pepper.
Assembly:
Preheat oven to 450.
Soak 1 box of no boil lasagna noodles in very hot water. While these are soaking, prepare your baking pan. I used a 9 x 11 deep pan. Grease with 1 T butter.
Spread a thin layer of tomato sauce on the bottom of the dish.
Top with 1 layer of lasagna noodles.(I dry my noodles by running them between two fingers. This usually removes enough water.)
Spread with tomato sauce, some of the reserved onions and then some Parmigiano.
Now another layer of lasagna noodles and then spread with bechamel. Sprinkle with cheese. Add half of the mushrooms.
Now another layer of pasta and some tomato sauce and onions. Sprinkle with cheese. More pasta, Bechamel sauce, mushrooms and cheese.
One more layer of pasta with tomato sauce and onions, and cheese and finish with pasta and bechamel sprinkled with cheese.
You can always use more cheese if needed. I try to reserve some tomato sauce for pouring over while serving and you may also have some lasagna noodles left over.
Bake at 450 for 15 minutes or until top is light golden and sauce is bubbling.
---
Keywords: lasagna recipe, lasagna easy recipe, lasagna veggie, lasagna homemade, lasagna with bechamel, lasagna no boil noodles, lasagna without ricotta