This super good, super fast to make Asian ramen noodle salad, Chinese coleslaw, is perfect for a potluck, great for lunch, and you can't go wrong for dinner either. You just may want to add some chicken or other protein! So good and it stays crunchy for a few days even with dressing!
This Asian ramen noodle salad is similar to an oriental chicken salad but adds in crunchy ramen noodles and salty soybeans in the form of edamame.
If you've never had them before they make a great snack and adding lots of edamame to this Asian coleslaw helps provide lots of protein and fiber.
One cup of edamame contains 8g of fiber and 17 g of protein with only 180 calories total.
In this case I took my bag of frozen edamame and thawed them under running water and salted them when thawed.
Edamame have so much more flavor when salted and also make the perfect snack!
This simple salad can be thrown together quickly with many things I have on hand.
Think a whole bunch of minced green onions, sliced almonds, sesame seeds, a can of mandarin oranges; however in this case I use dried mandarins found at Trader Joes.
Those can be quite addicting!
Personalize your Asian Ramen Noodle Salad:
And substitutions are allowed in this ramen noodle cabbage salad.
Feel free to sub in sunflower seeds for almonds.
White wine vinegar for rice wine vinegar. Apple cider vinegar would be fine, too.
Using coleslaw mix or broccoli slaw means no need for slicing or shredding.
And the simple salad dressing is easily made with soy sauce, rice vinegar, and vegetable oil-in my case I used canola, but any neutral oil will do.
With a teaspoon of sesame oil and ginger for some extra added flavor, I also added some garlic, honey and brown sugar to this great recipe.
No honey or brown sugar on hand? A touch of maple syrup will also give this salad a bit of sweetness which helps balance the saltiness of the soy sauce.
Just pour all the dressing ingredients into a mason jar and shake before using.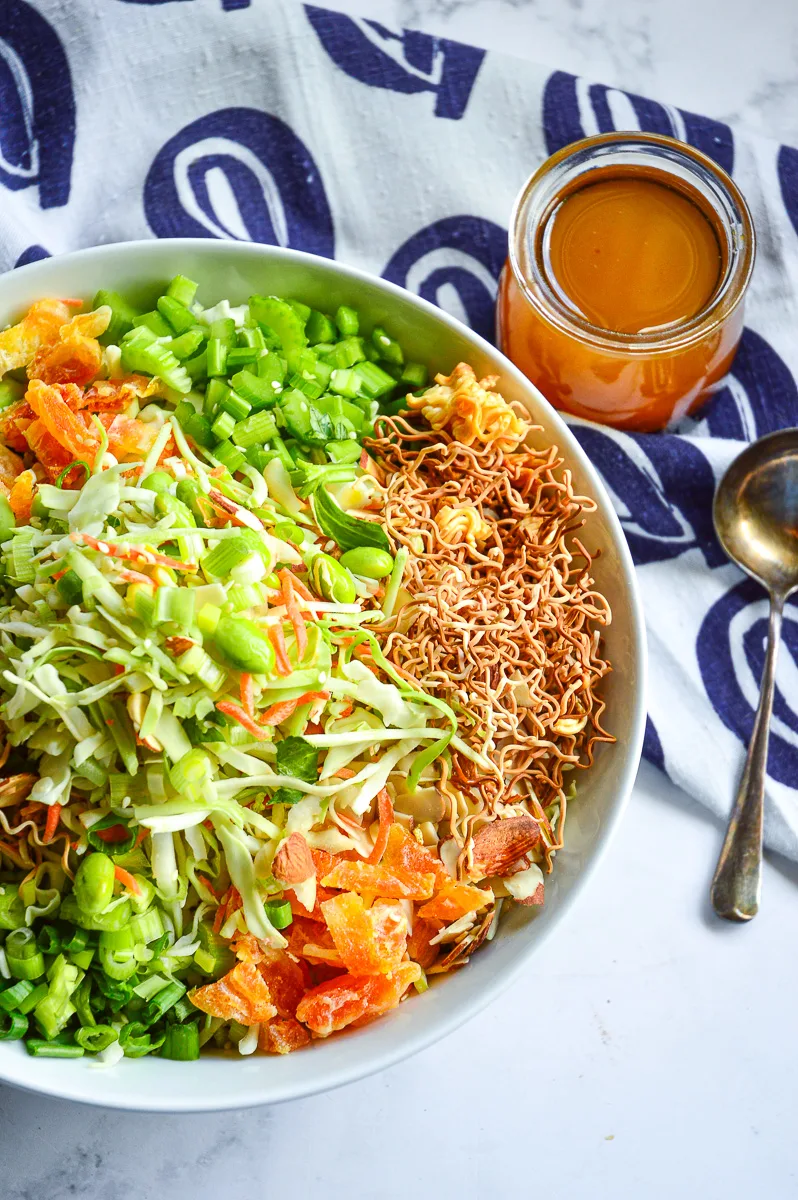 The best part of this salad in my opinion is the crunchy ramen noodles.
No need for flavor packets and no need to cook them.
I did however toast the almonds and uncooked ramen noodles together until golden brown in the toaster oven to give them some extra crunch!
This Asian ramen coleslaw is a great side dish for your next potluck or family reunion.
However at our house we had this Asian ramen salad recipe as the main dish.
You could add some rotisserie chicken, grilled shrimp, or marinated flank steak if you want a more substantial dinner.
I like filling a large bowl with the cole slaw mix and then topping the salad with the extra ingredients.
It's much prettier when served and then can be tossed at the table.
How to Store Chinese Ramen Salad:
The beauty of this salad is that it can be tossed ahead of time and the best part is even when I kept this overnight in the fridge the small pieces of instant ramen noodles still stayed crunchy.
As long as you don't drench your salad with lots of salad dressing, the leftover Asian salad with ramen noodles should still be perfect for lunch the next day!
Feel free to store it dressed or not in a ziploc bag.
With Denver hitting 95 today, salads are on my table.
This is a great way to use up the ramen packages I have in my pantry left from winter.
And with Alex home anything with Asian flavor is popular in our house.
(Well, even when he's not here!)
And if everyone in your home doesn't think they love salad I must say that the bright colors in this Chinese slaw recipe with ramen noodles may make this very attractive to non-salad lovers.
I love this sweet and salty Asian cabbage salad. I love that it is easy to make.
I love it so much I double the salad dressing just so I can eat it on other salads!
I'm betting that this Asian ramen coleslaw recipe may soon become one of your favorite recipes of summer.
Well, I hope so!
Need a Few More Salads?
Vietnamese Chicken Salad (Goi Ga)
Print
Asian Ramen Noodle Salad (Chinese Coleslaw)
Author:

Abbe Odenwalder

Prep Time:

15 Minutes

Total Time:

20 Minutes

Yield:

4

-

6

Servings

1

x

Category:

Salads

Cuisine:

American
---
Description
This super good, super fast to make Asian ramen noodle salad, Chinese coleslaw, is perfect for a potluck, great for lunch, and you can't go wrong for dinner either. You just may want to add some chicken or other protein! So good and it stays crunchy for a few days even with dressing!
---
2 packages Ramen Noodles, uncooked and crumbled, no seasoning packet needed
1/2 c sliced almonds
1 12 oz bag edamame
1 – 2 16 oz bags of coleslaw mix or Brocoli Slaw (I used 24 oz)
1 bunch scallions minced
1 15 oz can Mandarin oranges, drained or I used Trader Joes, dried Mandarins (1/2 c)
1/2 c chopped celery or water chestnuts
1 T sesame seeds
Chicken, shrimp, steak-optional
Sesame Asian Dressing
1 t minced ginger
1 t sesame oil
2 cloves minced garlic
1 1/2 t brown sugar
1/4 c rice vinegar
1/4 c soy sauce
2 T honey
1/2 c canola oil or other flavorless oil
---
Instructions
Preheat oven to 400 or use a dry skillet for toasting the noodles and almonds.
Spread crumbled ramen noodles and sliced almonds on baking sheet and bake for about 5 – 7 minutes or until slighty toasted and golden. Do not let them overbrown or they will burn!
Add all salad ingredients to a large bowl along with some of the ramen/almond mixture. Save some to garnish the salad with!
Add the vinaigrette as needed and toss with the sesame seeds. Garnish with additional ramen noodles, almonds and sesame seeds.
Vinaigrette:
Combine all ingredients in a jar with a lid. When ready to serve shake jar until dressing has emulsified. Use as much or as little as you want. Dressing keeps well in the fridge.
---
Notes
I use frozen edamame and thaw them in a strainer under running water. I then sprinkle them with a generous amount of salt for extra flavor.
Keywords: asian ramen coleslaw, asian cabbage salad, Asian ramen salad recipe, ramen salad, ramen noodle salad recipe, asian salad with ramen noodles, chinese slaw recipe with ramen noodles