Sichuan Shredded Chinese Potatoes are spicy-spicy good! I never even knew there were Chinese potato dishes until I went to China! What a great discovery!
Sichuan potatoes were new to me until I went to China. Spiced with Sichuan peppercorns, these potatoes are simple and quick to make.
Upon doing some research I discovered that potatoes are China's largest crop. The majority of the harvest is fed to the animals and many are exported.
Potatoes are commonly served at home but we saw many varieties being sold on the street, including roasted sweet potatoes, which are everywhere. Our third day in China even found us confronting potato latkes in Chengdu…at least that's what the sign said!
In China, potatoes are served like any vegetable. They even accompany rice and if you think about it, these spicy Chinese potatoes do benefit from rice, but I also think they would work perfectly with scrambled eggs.
Sichuan potatoes are simple to make and the variations are endless. Stir in some garlic if you'd like. Cumin is also quite common in stir fried potato dishes. And if you don't want the sour spicy effect, leave out the vinegar and the chilies. This Chinese potato stir fry is great on its own…though I do love a touch of scallions or onion.
Chinese potatoes are not cooked until golden brown, unless they are deep fried, which we didn't see too often. We saw this version and we also saw these served cold as a potato salad. When the potatoes are cut correctly they will cook in a short amount to time.
However, keep in mind that if you don't slice them properly it could affect the cooking time. This is a great way to perfect your knife skills.
Pepper? In Sichuan Potatoes?
Good question! There are several ways to approach the heat in this dish. If you want to go all out and leave your taste buds numb and tingly, definitely use Sichuan peppercorns in these Sichuan potatoes.
You can also use normal red pepper flakes that you sprinkle on pizza. Or add a few dried red chili peppers into the oil. Stir those up until you smell them. Remove them and then add the potatoes. This is one way to add heat, but not too much!
Yes there are countless ways to make these Sichuan shredded potatoes. But they all come out the same way. Delicious!
If you love potatoes the way I do, you'll want to try this unique preparation of potatoes. They don't come out golden and crispy, but almost al dente like cooking pasta noodles. Manservant asked if they were cooked all the way through and the answer is yes…as long as you slice them correctly, they will be ready in 5! Are you drooling yet?
And a few more potato faves:
These are old pics, but these Cajun potatoes are spicy nice!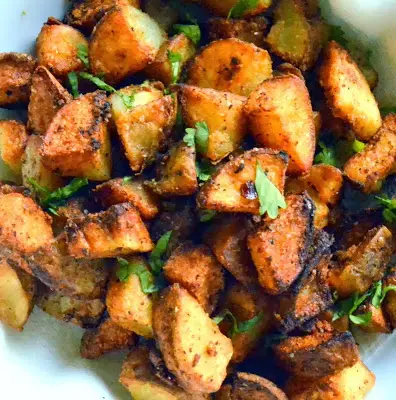 Please Share The Potatoes!
Print
Sichuan Shredded Potatoes
Author:

Abbe Odenwalder

Prep Time:

10 Minutes

Cook Time:

7 Minutes

Total Time:

17 Minutes

Yield:

2

-

3

Servings

1

x

Category:

Side Dish

Method:

Stir Fry

Cuisine:

Chinese
---
Description
Sichuan Shredded Potatoes are a great way to eat potatoes and are ready in 15 minutes. Just don't burn your tongue!
---
2 medium sized Russet Potatoes

1 t salt

1 T canola, grapeseed or peanut oil

4 T white vinegar

2 t sugar

1 t chili paste

1 t chili flakes (at your discretion)

1 t chili oil (at your discretion)

4 minced scallions
---
Instructions
Peel potatoes and slice lengthwise into 1/8′ ovals, (approximately). Now stack the ovals and slice into thin, narrow strips. Place potatoes into a bowl and cover with water and salt for 5 minutes. Drain and pat dry on paper towels.
Heat oil in a wok or large skillet over high heat. Add potatoes and stir until potatoes are covered with oil. Put in remaining ingredients, plus 1 T water, then cook for 5 minutes, stirring continuously to prevent the potatoes from sticking to the pan and becoming overcooked. These potatoes do not get gold and crispy. Their crunchiness is derived from the potatoes not becoming too soft. Kind of like an al dente noodle.
Add most of the minced scallions and stir for a few seconds. Garnish with the rest of the scallions.
---
Keywords: sichuan potatoes, chinese potato recipe, szechuan potatoes, spicy potatoes, stir fried potatoes, sichuan stir fry potatoes, chinese potatoes, sichuan chili potatoes, potato threads, spicy chinese potatoes