This is the best Chinese chili garlic sauce recipe I know of. Not too spicy and full of flavor, you will want to drizzle this on everything!
It's almost Chinese New Year which means I should share with you my not so secret Chinese chili garlic sauce recipe.
The dilemma is if this is a true Chinese chili sauce recipe, a chili paste, a chili crisp or a chili garlic oil.
Yes, it could be a chili sauce though some may want a thicker version-which in this case means just using the "goop"-not the oil.
Many Chinese chili sauces contain fresh chilies such as red jalapenos and other fresh chile peppers.
This only contains red chili flakes and other seasonings.
If you want chili crisp, this is about the same. Some add onion or fried shallots and if you want to go ahead, but I love this chili sauce as is.
And if you want chili oil-just use the oil and drizzle away.
This whole Chinese sauce, paste, oil or crisp thing can get quite complicated!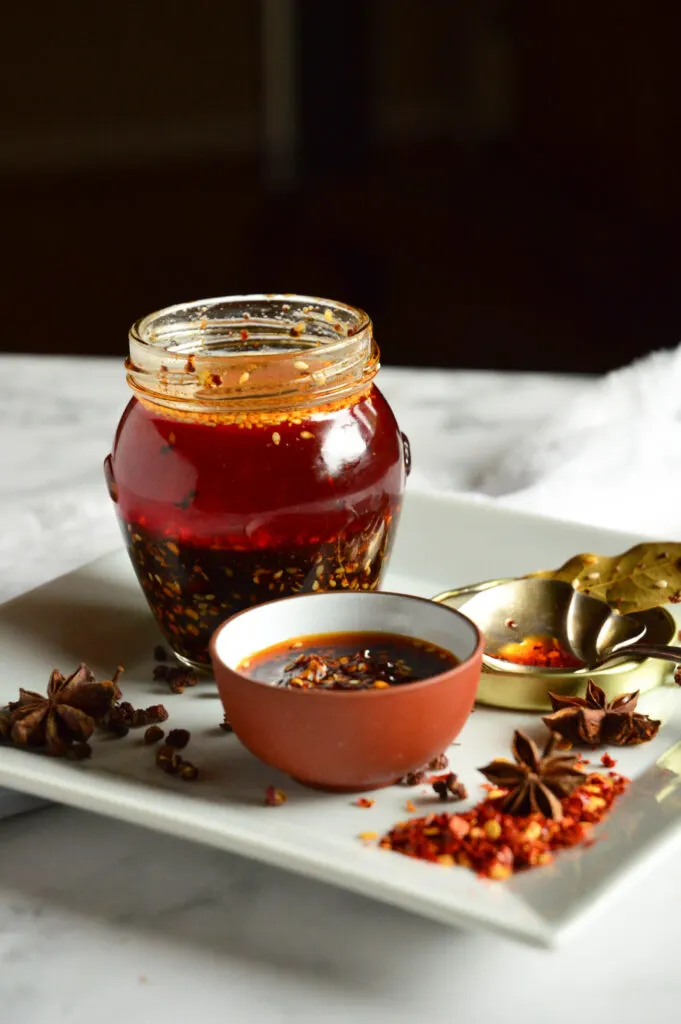 I'm assuming you are a lover of spicy food, soI have no doubt you will fall in love with the savory flavors of this Szechuan sauce.
Frankly, I drizzle this on most anything.
Fresh tomatoes, burrata, avocados and yes, even Chinese food!
It gives extra zing to popcorn or noodles or wontons or potstickers-shall I go on?
Go figure.
I am addicted to this chili oil.
Asian countries all have their own versions of hot sauce.
This one hails from the Chinese Sichuan province and it isn't too spicy that you can't taste all the flavor that's packed in.
This is more than heat.
And this isn't just any chili oil. In other words, there is a lot more to this than just chilies and oil.
Though this spicy sauce is spicy, it is not over the top spicy.
One is able to detect the tingly flavor of Sichuan peppercorns and the saltiness of soy sauce.
Instead of sesame oil, this Chinese chili sauce uses sesame seeds which add to the crisp factor.
And most importantly this homemade chili oil gets flavor not just from the red chilies but from star anise, coriander and ground cumin.
What is star anise?
Star anise is shaped like a star and lends any food a mild licorice flavor.
If you can't find them, just buy 5 spice powder, because it is always a part of that spice blend.
What is coriander?
Coriander is actually the seeds of the cilantro plant and tastes warm and lemony.
What are Sichuan peppercorns?
The "peppercorns" are actually tiny fruits that have been harvested from the prickly ash tree.
As they dry the berries open into a flower shape.
Flavorwise they are tingly and have a bit of a floral taste.
And once you smell them, you will never forget their citrusy aroma.
There are also green Sichuan peppercorns and they are more numbing than the red and I must admit I haven't tried them yet!
If you have some sitting on a shelf and can't smell them, then it's time to get a new batch. Spices should always smell great!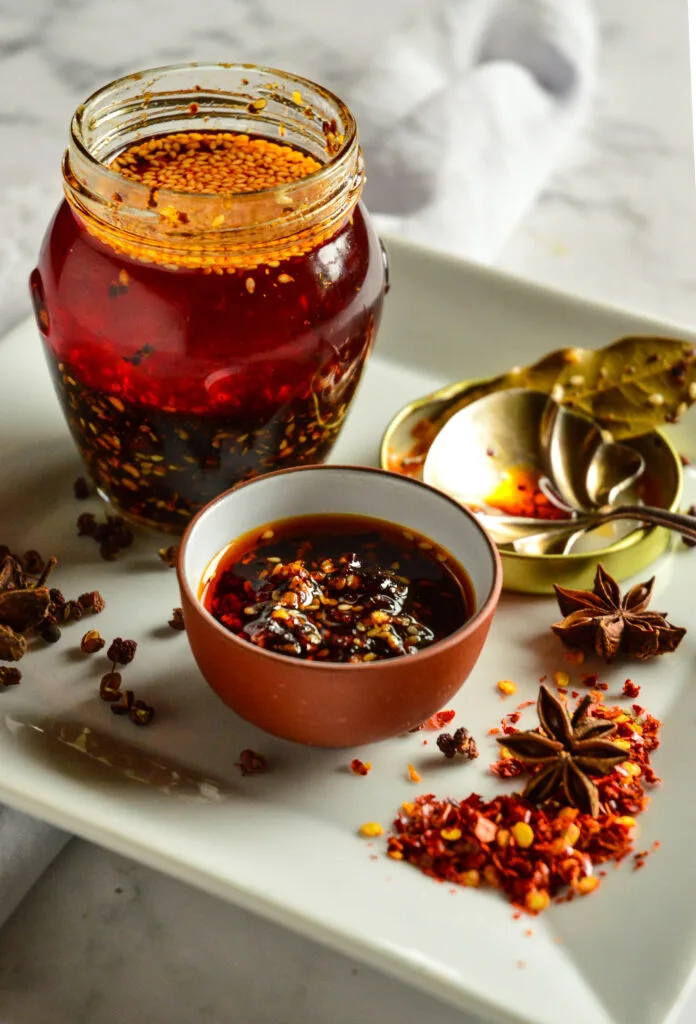 This hot oil rocks your taste buds and one should expect that because it is Mandy Lee's recipe.
Don't know Mandy Lee? She is a blogger I've followed now for a lot of years who now contributes to Food 52 and has her own cookbook, "The Art of Escapism Cooking."
Her story is unique and her recipes even better.
Many are quite involved but this versatile sauce beats any that I've tried from the Asian market that I frequent.
I've tried the famous ones like Huy Fong and Lao Gan Ma that I find at my grocery store though I have not yet tried Fly by Jing.
I do often resort to Trader Joe's chili crisp and there is nothing wrong with it, except this is like Way Better! And much spicier.
If you love Asian cuisine you owe it to yourself to try this recipe.
The spice levels on this are not over the top, but that will greatly depend on what red pepper flakes you use.
There are so many to choose from and though I usually will tell you to stick with Chinese ingredients for a Chinese dish, in this case I used Korean chili flakes because I wanted a Chinese chili oil that I could use with everything.
If I had used just Sichuan chili flakes, it would have turned out a bit too spicy for use on everything and I wanted to use this chili garlic sauce recipe on everything!
This chili garlic sauce or hot chili oil is made with dried peppers not fresh red chili peppers.
It is a great homemade chili garlic sauce to drizzle on all your favorite Asian dishes.
How to Make This Chinese Chili Garlic Sauce Recipe:
Begin by combining the soy sauce and minced garlic, grated garlic or thinly sliced garlic cloves together.
Use a spice grinder to grind your choice of chile flakes, the star anise pod, coriander, cumin and curry powder into a fine spice powder.
In a deep pot, combine the spice powder with the canola oil, sesame seeds and bay leaves.
Bring to a gentle boil over medium heat and boil for 3 minutes, stirring frequently until the chile flakes have turned maroon in color.
As soon as that happens add the ground Sichuan peppercorns.
Fry in the residual heat for about 30 more seconds and add the soy/garlic mixture.
Stir until the sizzle has died down.
Let this homemade garlic chili sauce sit for at least 2 hours at room temperature and then pour into a jar where it will keep in the fridge for at least 3 months.
Truth is I keep it in my pantry and I'm here to tell you that jar is getting low!
One of my very favorite homemade sauces, this Sichuan chili oil is my go-to condiment.
I adore this delicious sauce!
And I love that this is such an easy recipe.
Attending a Chinese New Year party? This would make the perfect gift!
Enjoy making your own chili sauce. The simplicity of this will amaze you and the flavor will wow you!
Need Some More?
Szechuan Tofu Hummus with Mapo Sauce
This post contains affiliate links from which I may or may not be paid a small commission at no cost to you!
Print
Best Chinese Chili Garlic Sauce Recipe
Author:

Abbe Odenwalder

Prep Time:

20 Minutes

Total Time:

20 minutes

Yield:

2.5 cups

1

x

Category:

Sauce

Cuisine:

Chinese
---
Description
This is the best Chinese chili garlic sauce recipe I know of. Not too spicy and full of flavor, you will want to drizzle this on everything!
---
2 T soy sauce
4 garlic cloves, minced, grated or thinly sliced
1/2 c Sichuan or Korean chile flakes (I used Korean)
1 star anise pod
2 t ground coriander
1 1/2 t ground cumin
1/4 t curry powder
2 c canola oil
3 T white sesame seeds
2 dried bay leaves
2 T finely fround Sichuan peppercorns
---
Instructions
Mix the soy and garlic together and set aside.
Using a spice grinder, grind the chili flakes, star anise and coriander, cumin, and curry powder into a fine powder.
In a large deep saucepan, combine the spice powder with the oil, sesame seeds and bay leaves. Set pot over medium heat and bring the mixture to a gentle boil. Boil for three minutes, stirring frequently, until the chili flakes have turned maroon in color. Do not let them turn black or they have burnt!
When they have turned maroon turn the heat off immediately and add the ground Sichuan peppercorns. Stir and let fry in the residual heat for about 30 seconds, then add the soy garlic mixture. This may boil up a little but keep stirring until the sizzling has died down.
Let the chile oil sit at room temperature for at least two hours or overnight before using. Keep in an airtight jar for at least three months.
---
Keywords: chili garlic sauce recipe, Chinese chili sauce, chinese chili garlic sauce, chili crisp, chili paste, chile garlic oil, what are Sichuan peppercorns. Chinese chili oil, Sichuan chile oil