Asian garlic noodles are apparently a thing on the West Coast. Kind of like aglio olio, except with some added ingredients like fish sauce, oyster sauce and soy sauce. They are a great change from they typical Italian version and are still loaded with garlic!
Last year, on the extended family vacation in Newport Beach, on the night that my youngest brother was in charge of choosing the restaurant, we ended up at AnQi Bistro.
It bills itself as Asian fusion and within its very chic, night clubbish interior at South Coast Plaza we proceeded to drown ourselves in many small plates.
All were good. Most very good. And dessert was a skillet chocolate chip cookie with ice cream they made at the table. Oh my.
But one of the most popular dishes was had by my brother and his husband when they ordered the Asian garlic noodles.
Without a doubt they were the simplest dish on the menu and given that neither of them really enjoy seafood, I think they were quite happy with this choice.
Well, being who I am, which is sometimes a food sleuth, I decided to try to figure out the secret of this garlic noodle recipe.
Though these are different from Aglio Olio, the classic Italian garlic noodles, they are still as addicting.
According to my research this dish became famous in San Francisco when Helene An, an immigrant from Vietnam, worked in her mother-in-law's Italian deli.
Needless to say these noodles became an instant hit.
The story behind them is quite fascinating and I encourage you to read it.
But now let's talk noodles, shall we?
I adore Vietnamese food. In fact it's my favorite ethnic food.
Manservant can have his Mexican, but I'd take Vietnamese any day.
With all the French influence in Vietnamese cooking it is not surprising that the sauce for these noodles is made with butter.
Yes, that is one big difference from the Italian version.
Instead of salt, seasoning is added by way of oyster sauce, soy sauce and fish sauce.
And because no one actually has this very secret recipe, I've also seen these garlic pasta made with Maggi seasoning.
Maggi seasoning is similar to soy sauce but apparently much richer and is made with vegetable protein.
My guess is you've tasted it in many Asian foods, but never have realized that it's there!
Some say it tastes like Worcestershire and soy blended together.
Others say it is is similar to the flavor of the herb lovage which is said to taste like celery, parsley and fennel rolled into one.
If you have it and want to ise it give it a try.
As far as what type of noodles to use…
I prefer thin spaghetti noodles cooked al dente.
Fresh Lo mein noodles can also be used.
How to Make Asian Garlic Noodles:
Begin by melting the butter in a wok or large saucepan.
Add lots of minced or smashed garlic cloves.
Stir and cook until fragrant, but don't brown.
Add the oyster sauce, soy sauce and fish sauce and stir; then remove from heat.
If you want to try the Maggi seasoning use it instead of the soy sauce.
Or use 1 t soy sauce and 1 t Worcestershire.
Cook the noodles no more than al dente.
When cooked add to the garlic sauce along with the water that clings to the pasta.
No need to drain.
Increase the heat and add the cheese, tossing vigourously until the sauce is emulsified.
If it is too watery, keep reducing. If it is too buttery, add some more pasta water.
Stir in the scallions and serve!
What to Serve with Asian Garlic Noodles:
These are delicious on their own or very awesome with grilled or stir-fried shrimp.
Chicken is amazing as is stir fried filet mignon. Even black pepper beef.
I hear the original version was served with crab meat and that sounds incredible to me.
Alas, we just had the garlic noodles plain-and nothing wrong with that!
Whether you choose to make this a side dish or a main course, I can guarantee that this Asian garlic noodle recipe will be asked for again and again.
This simple recipe is made for garlic lovers and that's you, isn't it?
Need Some More?
Salmon with Garlic, Ginger and Black Pepper
This post contains affiliate links from which I may or may not earn a small commission at no cost to you.
Print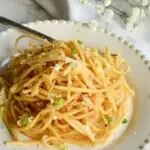 Asian Garlic Noodles
Author:

Abbe Odenwalder

Prep Time:

10 Minutes

Cook Time:

15 Minutes

Total Time:

25 minutes

Yield:

4

-

6

Servings

1

x

Category:

Main Course

Cuisine:

Asian-American
---
Description
Asian garlic noodles are certainly a riff on Aglio Olio. But this simple dish becomes a classic, too! If you love garlic, this is for you!
---
4 T butter
20 medium garlic cloves, minced
1 T oyster sauce
2 t light soy sauce or Maggi seasoning or 1 t soy and 1 t Worcestershire
2 t fish sauce
1 lb dry spaghetti or fresh lo-mein
Large 1/4 c fresh grated Parmesan
4 minced scallions
---
Instructions
Melt the butter in a wok or large saucepan over medium heat.
Add the garlic and cook, stirring until fragrant but not browned, about 2 minutes.
Add the oyster, soy and fish sauce and stir to combine. Add in half of the scallions if you choose. Remove from heat.
Bring 1 1/2 inches of water to a boil in a 12″ skillet over high heat. Add the pasta and stir a few times to make sure it's not sticking together and cook about 2 minutes short of al dente.
Using tongs, transfer the cooked pasta to the garlic sauce along with whatever water clings to it. (DO NOT throw the pasta water away!) Increase the heat to high, add the cheese to the pot or wok and stir and toss vigouously until the sauce is creamy and emulisfied, about 30 seconds. If it looks too watery, let it keep reducing. If it looks too buttery, add a splash of cooking water to emulsify.
Serve immediately garnished with scallions.
---
Notes
Thanks J. Kenzi Lopez-Alt for the inspiration!
Keywords: garlic noodles, recipe for garlic noodles, garlic pasta, Asian garlic noodles, garlic noodles San Francisco