I love recipes using chorizo sausage. I don't care if it uses Spanish chorizo sausage or my own Mexican chorizo, I just know that this highly seasoned sausage makes every meal better.
We eat a lot of fresh chorizo in this house, whether for breakfast or dinner.
Sometimes I make my own spicy chorizo, using ground meat such as ground pork or ground chicken.
What goes into my homemade chorizo recipe?
My chorizo gets its delcious flavors from two types of chile powders, Mexican oregano, garlic, two kinds of paprika, black pepper and two types of vinegar.
This is an easy chorizo recipe that can be also used for this smash burger recipe.
Making your own homemade Mexican chorizo is easy, but if you are in a pinch for time, I have now found the chorizo from AdapTable meals to be quite good.
(This isn't a sponsored post, though I did one for them on Instagram last year. I find their meat to be quite good.)
Ordinarily I buy Boulder sausage, but haven't found that lately in chorizo form.
Kroger, my local grocery store is King Soopers, also has their variety and it isn't bad, but I do like AdapTable Meals better.
If you've never had this somewhat spicy sausage, make this burger recipe for your first time, because who doesn't like a good burger?
I know ground beef is traditional for burgers but since I don't eat beef, I find delicious chorizo is a great way to get my burger fix in!
This smash burger style recipe is also a perfect and tasty way to use fresh roasted green chilies which are now in all of our local markets.
This New Mexican style burger is something the whole family will enjoy.
Kind of in smashburger style, I also use fresh Mozzarella cheese or Oaxaca cheese, chipotle mayo and a telera roll.
You could use a regular hamburger bun, but I love the soft texture of this Mexican bun.
It is also very easy to smash into the pan and forms a crisp golden crust on the outside.
Yes, you could make grilled chorizo burgers, but I love making this kind of Mexican patty melt!
Chorizo Smash Burger: (Recipes Using Chorizo Sausage)
Begin by taking a pound of chorizo and dividing it into quarters to make 1/4 lb burgers.
Heat your skillet with a tablespoon of olive oil on medium high heat and add the chorizo burgers.
Once they are cooked, leave the pork fat in the pan and add lots of onions and saute until soft.
Once they are soft, stir in a handful of roasted Hatch green chili peppers and heat through.
No green chilies? Use bell pepper if you'd like. Just remember to add them with the onions so they can cook at the same time.
Mix up some mayo with about a tablespoon of adobo sauce from a can of chipotles.
(I always have a can of chipotles on hand because they add so much flavor to everything. Didn't use the whole can? These keep in the fridge for almost like forever in a sealed container.)
Spread a bit of mayo on the interior of the bun and the exterior.
Add some cheese, the roasted onions and chiles, your chorizo burger and the top of the bun.
Place back into the hot skillet and fry the bottom until golden.
Flip carefully and smash down the bun and its fixings. Use a can if you need, too!
As soon as it is crisp, remove from pan and devour.
Want some pickled jalapenos? Be my guest.
A great side dish to your burgers would be black beans or refried beans and maybe some sweet potato fries.
​Before we go further let's make sure you know the difference between Mexican chorizo and Spanish chorizo.
Spanish chorizo is a cured sausage. I use it on charcuterie boards and we love its smoky flavor.
It can be used like salami and also stirred into queso fundido for a Spanish twist.
Some of my favorite recipes using chorizo sausage include:
Breakfast enchiladas, breakfast tacos or this great breakfast sandwich.
Migas is a great eggs recipe with chorizo as is this Mexican breakfast casserole.
These Spanish chorizo potatoes, which would be perfect with this recipe, can also be made with sweet potatoes.
I love this paella with its chorizo rice.
And these churro waffles studded with smoky chorizo are one of my favorite recipes for breakfast.
Chorizo has so many delicious flavors and if you feel daring you may even want to substitute it for Italian sausage and make an easy chorizo pasta recipe.
Personally I could take a little crumbled chorizo, place it on flour tortillas with Cheddar cheese, a bit of minced green onions and make a simple quesadilla that I could eat any time of day.
​I love Mexican flavors and chorizo always has a way of making easy meals extra special.
What's your favorite way to use this spicy pork sausage? I could use some more recipes using chorizo sausage!
Other Recipes Using Chorizo:
Grilled Cheese Sandwich with Green Chiles and Chorizo
Green Chile and Chorizo Bing Bread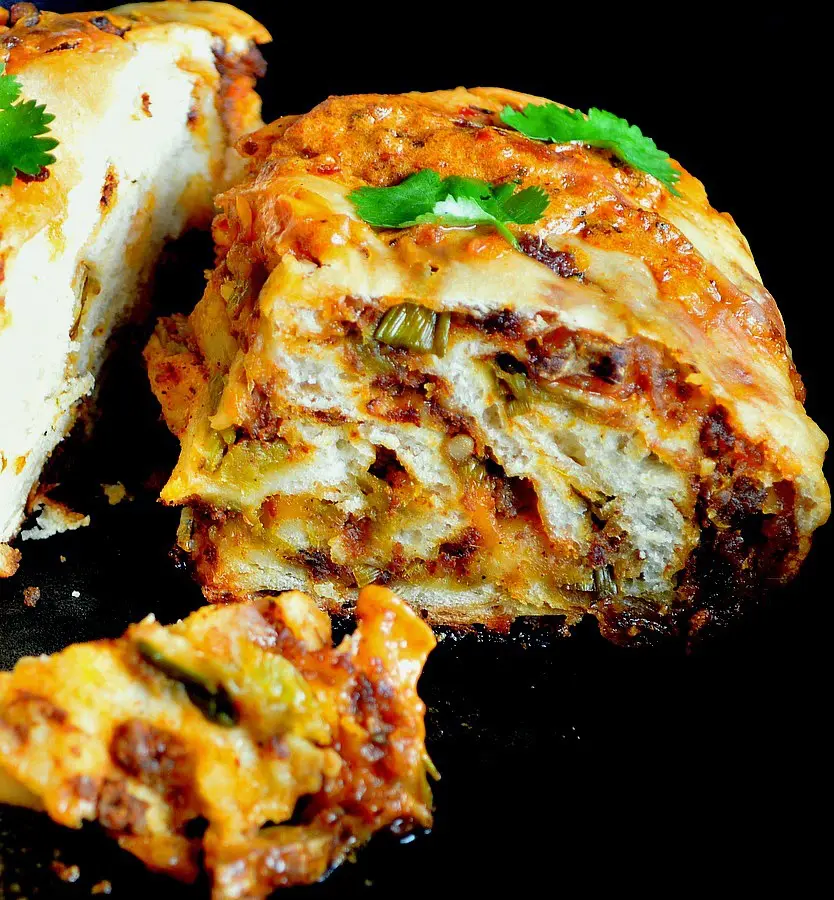 This post contains affiliate links from which I may or may not earn a small commission at no cost to you.
Print
Recipes Using Chorizo Sausage
Author:

Abbe Odenwalder

Prep Time:

10 Minutes

Cook Time:

10 Minutes

Total Time:

20 minutes

Yield:

4

Servings

1

x

Category:

Main Course

Cuisine:

Mexican/American
---
Description
I have lots of recipes using chorizo sausage. This chorizo hamburger is just one of them, but it sure is a good place to start!
---
1 lb fresh chorizo
1 T olive oil
1 large onion, sliced into thin slices and halved
1 c roasted and peeled green chile strips
8 ounces Oaxaca cheese cut into 8 slices, or fresh mozzarella
1/2 c mayonnaise
1 T adobo sauce from a can of chipotle peppers or just chop up a few chipotles
4 Telera buns
---
Instructions
Form chorizo into 4 equal patties.
Heat 1 T oil in a large skillet over medium high heat.
Add chorizo patties and cook through by smashing them into the hot skillet. Flip halfway through.
Remove from pan when cooked. Add onions to the skillet, lower heat to medium and cook onions until soft. Add the green chiles and warm through.
While the onions are cooking mix the adobo sauce or chopped chipotles with the mayonnaise.
Split buns in half and spread each side with a smear of mayonnaise. Top with 1 slice of cheese. Add the chorizo burger. Top with a few slices of green chile and onions. Top with another slice of cheese. Top with a bun. Do this 4 times!
Place the assembled burgers in the pan and smash down so that the bottom half of the bun gets golden and crispy. While it is cooking spread the top if the buns with more mayonnaise. When the bottom is crispy, carefully flip the burgers over and smash down carefully. Once that side is also golden brown you can devour them!
---
Notes
Of course you can do this with any ground meat, but chorizo is great. And keep in mind that chorizo can be made with ground chicken, too!
Keywords: recipes using chorizo, chorizo burger, smash burgers, chorizo recipes, chorizo recipe ideas, ground chorizo recipes, easy chorizo recipes