This awesome seafood paella is incredibly easy to prepare. With flavors of citrus and sherry, if you want just skip the seafood and eat the rice!
If compliments were worth money, I'd be a millionaire! This seafood paella is the dish that garnered praise this time, which isn't surprising since it is courtesy of Yotam Ottolenghi, of Jerusalem cookbook fame.
I've written about a few of his recipes and I'm sure I'll be writing about plenty more (Plenty is also one of his cookbooks, as is Plenty More!). His cookbooks are without a doubt, some of my favorites.
He recently started writing a column in Bon Appetit and it was the photo that caught my eye. Then I spotted his byline, and zeroed in on it like a hawk spotting a pigeon.
I've been busy cooking and am exhausted. Manservant came home from Sweden and left again yesterday for Warsaw, and since I didn't think he'd be here for Fathers Day, we decided to have some friends over.
Friday night found us eating my favorite BBQ chicken but Wednesday found us eating this paella. Finding little neck clams fresh at the grocery made me go for it.
I always have a hard time finding them here in the Gateway to the Rockies! Of course, (now Manservant tells me) he will be back on Saturday, so I guess I didn't need to knock myself out on his account.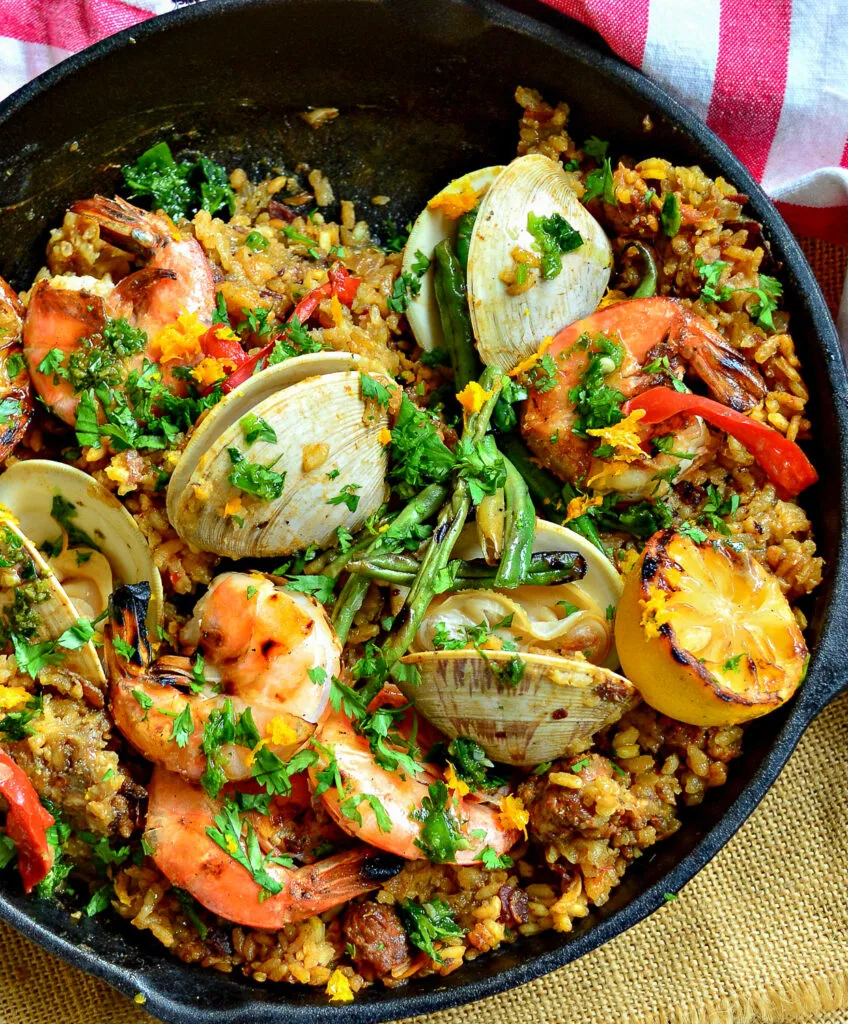 What is Seafood Paella?
Paella is a Valencian rice dish from Spain. There are as many versions of it, as there are cooks.
Traditional paellas often contain chicken and sausage and seafood. Others contain just seafood. Some are mixed. I'd love to go to Valencia and try the real thing but I'm very happy with this seafood version.
As for the word, "paella", that actually refers to the type of pan used to make what we know as paella.
I've made many paellas through the years and even have a paella pan on the top shelf in my pantry. It was much to big for this recipe, so I left it on the top shelf to gather more dust.
I'm not big on gadgets or appliances in my kitchen, so the fact that I even have a paella pan, makes my eyes roll. Trust me a 12″ cast iron pan is big enough to make paella for 6, and we were only four.
How do you cook Seafood Paella?
In many seafood paella recipes, the seafood is first cooked in the pan in a bit of olive oil. This recipe is a bit different in that the shrimp, green beans and green onions are cooked on the grill.
I like this method because grilling gives great flavor to this rice dish. However you can first saute your shrimp and veggies and then set them aside until they are ready to be added back to the pan.
Paella was traditionally cooked outside over an open fire and this method hints at that.
I stayed true to this seafood paella recipe, except I did add chorizo in with the pancetta. It wasn't necessary, but I do love chorizo.
This is a seafood paella and does not have chicken. There are zillions of variations for paella, so don't be afraid to make up your own.
I liked this recipe because it requires grilling the shrimp and vegetables that go on top of the finished dish. This isn't necessary but since it is supposed to be summer, (but doesn't feel like it here) I decided I loved the idea of grilling some of the components. Ma
What to serve with Seafood Paella?
We started with some panfried halloumi in garlic butter with fresh oregano and chickpeas and lemon, had a green salad with Spanish olives and this garlic confit toast, and finished with the strawberry slab pie from Food and Wine.
The slab pie was great, because the crust was great, but since I'm not a great pastry roller, it was a real pain in the tuchas. At least that was my take on it, but everyone loved it!
And if you are wondering why I don't have photos of those items it is because we were too busy eating and maybe drinking. I must admit that the paella photos were taken the next day and they made great leftovers for supper!
What is Paella Rice?
Traditionally the rice in paella is the Spanish Bomba variety. It is short grained and is a variety that is meant to absorb liquid 2-3 x its volume without bursting.
I was lucky enough to find it at my grocery and must say it does make a difference. Flavor and texture-wise. If you can find it, use it!
If you don't feel the need to have a full paella, feel free just to make the rice. You could always just grill a piece of fish or some shrimp to place on top.
The paellas I've made in the past are always rice heavy, and this one is no exception. I would say the rice alone could serve 8-10 people, so adjust accordingly. If you decide to forego the clams, you could always sub in some clam juice for flavor, instead of using all chicken broth.
Enjoy the paella. Don't let it intimidate you. With all your ingredients ready, this is easy enough.
I started the mixture ahead of time and stopped before I added the rice. You could even grill the veggies and shrimp and set aside until ready. Keep it simple and relaxed.
Now send in the flamenco dancers and some tall gin and tonics and get ready for compliments.
Other great Ottolenghi recipes:
And please don't forget the famous Burnt Basque cheesecake for dessert!
(This is an updated post from 2015)( This post may contain affiliate links where I might earn a small commission at no cost to you.)
Print
Seafood Paella
Author:

Abbe Odenwalder

Prep Time:

30 Minutes

Cook Time:

75 Minutes

Total Time:

1 1/2 hours

Yield:

6

Servings

1

x

Category:

Main Course

Method:

Stove Top/Grill

Cuisine:

Spanish
---
Description
This awesome seafood paella is incredibly easy to prepare. With flavors of citrus and sherry, if you want just skip the seafood and eat the rice!
---
For green sauce:
1 serrano chile, not seeded, coarsely chopped

1/3 c chopped fresh parsley

10 T olive oil, divided

Kosher salt

4 oz pancetta, cut into 1/2″ pieces

8 oz fresh chorizo

1 large yellow onion, chopped

1 red bell pepper, cut into 1/2″ strips

4 garlic cloves, thinly sliced

2 t paprika

1/2 t smoked paprika

1/2 c dry Sherry

3 c short grain rice (I used medium because my grocery didn't have short)

6 c low sodium chicken broth

3 wide strips orange zest and more grated orange zest for garnish

1/2 t saffron threads (Don't skimp)

12 little neck clams, scrubbed

8 green onions, trimmed

8 oz fresh green beans

12 large shell on shrimp or prawns (heads are fine if you can find them)

Freshly ground black pepper

3 lemons, halved
---
Instructions
Puree chile, parsley and 6 T oil in food processor until smooth. Season with salt and set aside.
Heat 1 T oil in a 13″ paella pan or a 12″ cast iron pan over medium high heat. Cook pancetta, stirring occasionally until browned and crisp, about 5 minutes.
Add chorizo, breaking it up as it cooks.
Add onion and pepper and cook stirring occasionally until soft, about 8-10 minutes.
Add garlic and paprika's and stir until fragrant, about 1 minute.
Add sherry and bring to a simmer and cook stirring constantly, until pan is almost dry, about 3 minutes. (I stopped at this point and when I was ready to start again, I just rewarmed it.)
Add rice and cook stirring occasionally until rice is coated and starting to turn translucent, about 3 minutes. Stir in broth, orange strips and saffron, season with salt. Bring to a boil, uncovered, reduce heat, and simmer until rice is nearly tender, 12-15 minutes.
Nestle clams into rice in center of pan and cook until clams begin to open, 12-15 minutes. Do not nestle them too deeply into the rice or too close together because they will have no room to open up! Cover pan with foil and simmer until rice is al dente and clams open. Discard any that don't after about 8-10 minutes. Remove from heat, but keep covered, and let rice steam 10 minutes.
While paella cooks, toss green onions and green beans with 2 T of oil and salt and then grill until charred, about 5 minutes.
Then toss shrimp with 1 T of oil and salt and grill until cooked through and shell is lightly charred, about 2-3 minutes per side, depending on size. Grill lemons at the same time, until charred, also.
Arrange onions, green beans and prawns over paella. Drizzle with reserved parsley chile oil. Squeeze some grilled lemon juice over. Place a few wedges on paella. Don't forget the orange zest! Be ready for compliments.
---
Notes
Thanks Ottolenghi and Bon Appetit!
Keywords: seafood paella, seafood paella recipe, seafood paella recipe easy, paella rice
In 2015 Geordie looked like this:
And Now: