Korean cream cheese garlic bread is like my new favorite appetizer. Loaded with garlic and cream cheese, plus a bit of sweetness, this loaf makes a great appetizer.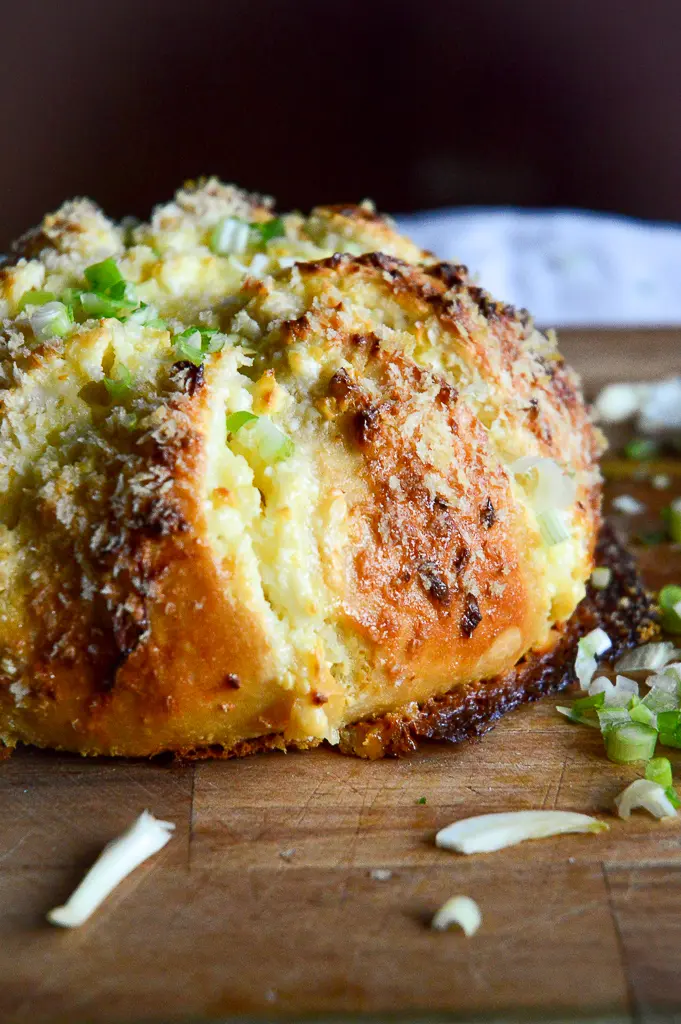 Have you ever tried Korean cream cheese garlic bread?
I think I first saw this at the end of the year on TikTok, but honestly I can't remember.
What I do remember is thinking this is something I want to try right away because who doesn't love golden brown sourdough bread slathered in garlic butter?
Oh yeah. And did I mention this Korean garlic bread is filled with sweet cream cheese?
After some research-because I had never heard of this popular Korean street food, nor had Alex who has spent considerable time in Korea, I discovered it being sold through Goldbelly from the Calic Korean bakery in California.
Now I haven't had theirs, but famous it is, and it's the only thing they make!
So get ready to save $40 because that is what each loaf costs if you mail order it.
It seems that many Korean recipes for this Korean bread begin with making your own bread dough.
Let's face it. I love to make bread, and I've really been wanting to try my hand at making an Asian milk bread, but I was in a hurry to try this not so classic garlic bread FAST!
Many recipes I've seen have also used soft dinner rolls and stuffed those with the cream cheese filling.
But after reading about the Calic bakery version where they use a sourdough loaf of bread, I thought to myself, what a perfect idea.
Heading to the nearest King Soopers (a Kroger store), I discover a prebaked approximately 6″ round that I figured would be perfect for this recipe.
I know it's not a Korean milk bread, but heck, not only did this version reach my mouth faster, I also thought that the sourdough would hold up better for this garlic bread recipe.
Just 3 Steps in this Korean Cream Cheese Garlic Bread:
First cut your loaf into sections. I cut mine vertically through the middle without cutting through the loaf. You do want it to stick together!
Then cut it horizontally from side to side. Now make an X between those cuts. The idea is to end up with 8 wedge sections, if I did my math correctly!
Make the Cream Cheese Filling:
Combine the cream cheese with sugar, heavy cream and scallions to make the filling. Blend it until it is nice and creamy.
If you have a piping bag, you can pipe your cream cheese mixture into it.
Or just use a knife and a spatula to shove it in between each slice.
Some cheese did come out, but those lacy bits of cheese were my favorite.
Make the Garlic Egg Custard:
Combine the melted butter in a large mixing bowl with lots of chopped garlic, (like one whole bulb's worth), 2 T of condensed milk, 1 large egg and 1 T honey.
These wet ingredients are the secret to this tasty cheese bread.
Soak the cheese stuffed loaf in this egg custard and let the bread soak it up.
Don't be afraid to turn it upside down. The cheese should stay intact.
Let it soak a few minutes, if you are using sourdough. With its crusty crust, it takes a few minutes for it to seep in. You will probably have some of the butter mixture leftover anyway.
After soaking it well, let the butter drip off-OK so it is a bit messy, and then place the garlic cheese enriched loaf on a parchment paper lined baking sheet.
Try to brush the rest of the garlic butter mixture on the entire bread and use as much as you can.
Now Bake:
Sprinkle the top of the bread with panko bread crumbs and even a little bit of coarse salt before baking.
All this and no rolling pin required!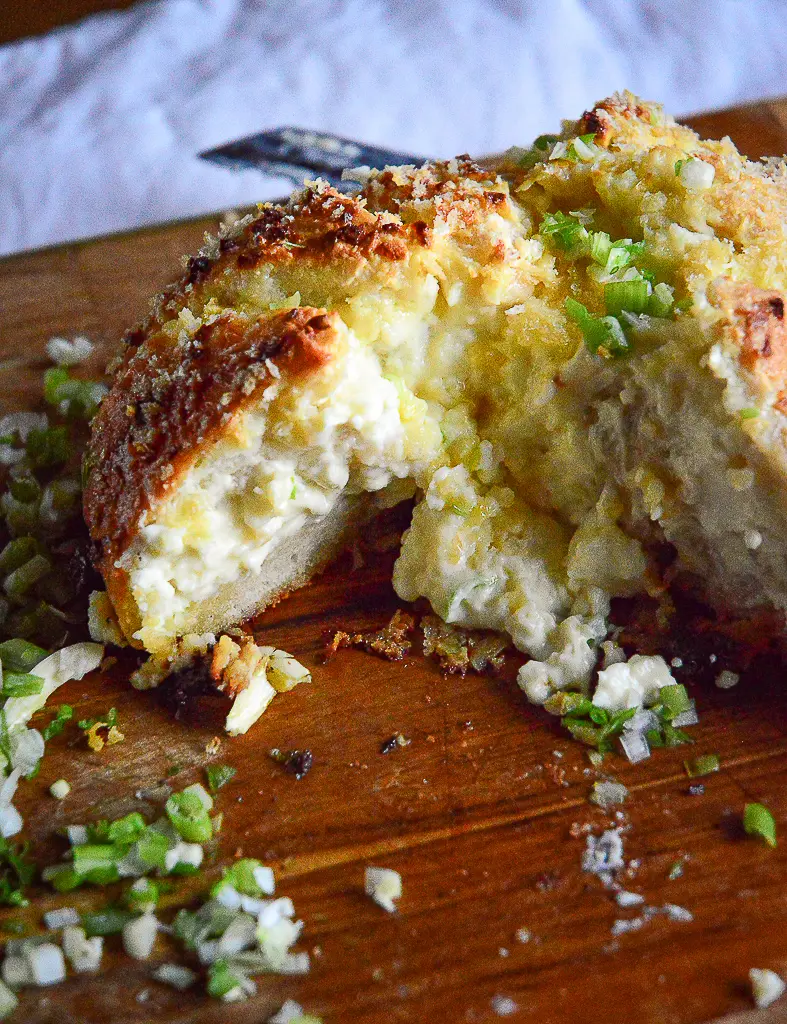 No this isn't a substitute or my new favorite way of making garlic bread, but this certainly is my new favorite way of making a garlic bread appetizer.
I've made this twice now, but next time I think I'll try some red pepper flakes and also sub in some Cheddar along with the cream cheese.
Lots of possibilities with this kind of bread, eh?
You might be thinking that this Korean food is all that's offered at TIHIC. But no- I do love Korean corn cheese, which is one great appetizer.
I actually also read that Calic bakery came up with a corn version of this cream cheese bread. Doesn't that sound good?
No need to worry about high altitude with this recipe, either!
When you taste this sweet and savory Korean cream cheese garlic bread, I bet you'll be amazed that this worked. It does sound kind of weird, doesn't it?
It's easy to think that but I guarantee you won't stop at just one bite!
I mean really, whenever I read about lots of garlic, combined with cheese and bread, really, who could resist?
Need a Few More?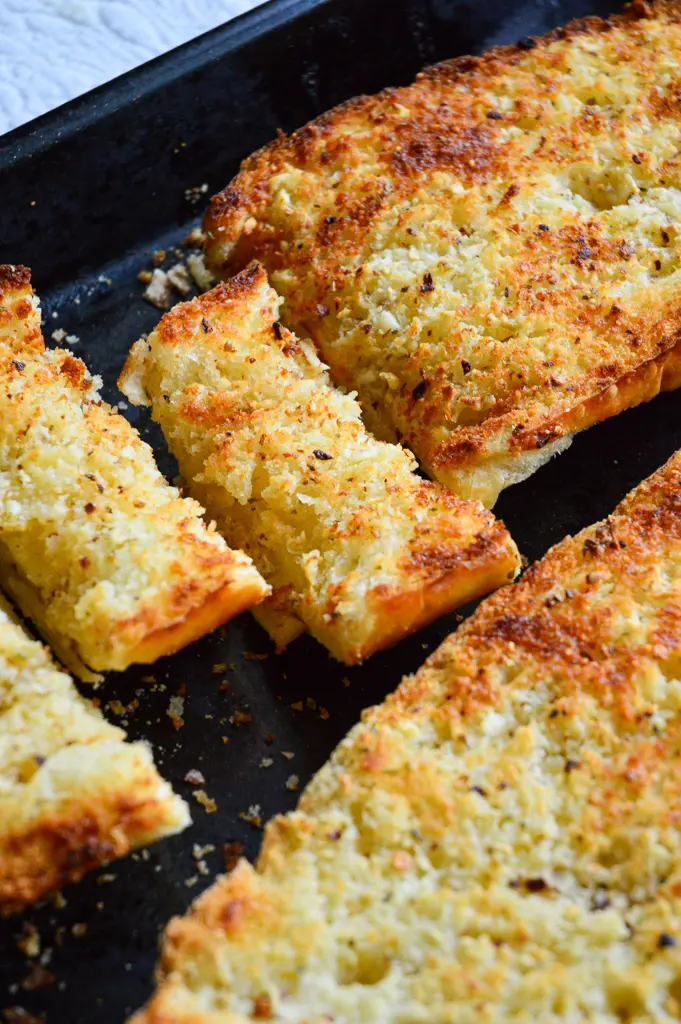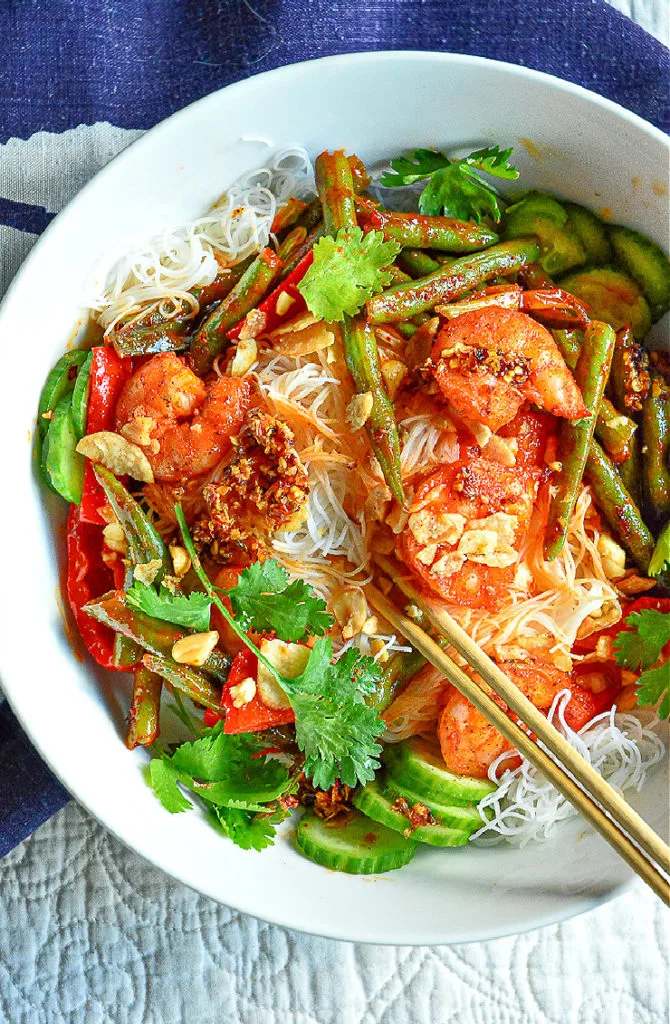 I'd Love It If You'd

Follow Me On Pinterest

and Pin and Share!
Print
Korean Cream Cheese Garlic Bread
Author:

Abbe Odenwalder

Prep Time:

20 Minutes

Cook Time:

15-20 Minutes

Total Time:

45 Minutes

Yield:

4

-

6

Servings

1

x

Category:

Appetizer

Method:

Baking

Cuisine:

Korean
---
Description
Korean Cream Cheese Garlic Bread is loaded with lots of garlic and cream cheese, plus a touch of sweetness, which makes this an incredible appetizer.
---
Cream Cheese Filling:
1 8 oz package of Philadelphia cream cheese, softened to room temperature
2 T sugar
2 T heavy cream
Garlic Butter:
1 1/2 sticks butter or 12 Tablespoons
1 head of garlic (Mince the cloves or crush them into a paste)
2 T condensed milk
1 egg
1 T honey
3 T parsley or cilantro or scallions, minced
Topping:
Panko bread crumbs
Sprinkle of coarse salt
1 round loaf of sourdough bread (about 6″ in diameter)
---
Instructions
Line a baking sheet with parchment and preheat the oven to 350.
To make the cream cheese filling:
Beat the cream cheese until smooth and creamy.
Add the sugar and mix well.
Add the heavy cream and whisk until smooth,
Scoop into a piping bag or a zip lock bag with one corner cut off or just use a knife and spatula when filling the bread.
To make the garlic butter:
Melt the butter in a large bowl. Add the minced garlic or paste, condensed milk and honey.
Stir in the eggs and parsley or scallions or both. Whisk until combine. Set aside.
Assembly:
Slice the loaf into 8 pie shaped sections without cutting through the bottom of the loaf.
Place the cream cheese mixture in between each bread section. Try to make this even!
Brush the garlic butter into every crevice, getting the insides and everywhere you can. Turn upside down and place in bowl upside down and then let the garlic soak in. Then lift out and let the excess drip off.
Sprinkle to top of the loaf with panko bread crumbs and some coarse salt. Place on the parchment lined baking sheet.
Bake 15 minute or until the bread is crisp and golden.
---
Keywords: Korean cream cheese garlic bread, Korean garlic bread, cream cheese garlic bread