I love red chili and this rich New Mexico Red Chili recipe is hard to beat. Made with chili powder it is simple to make and so, so good!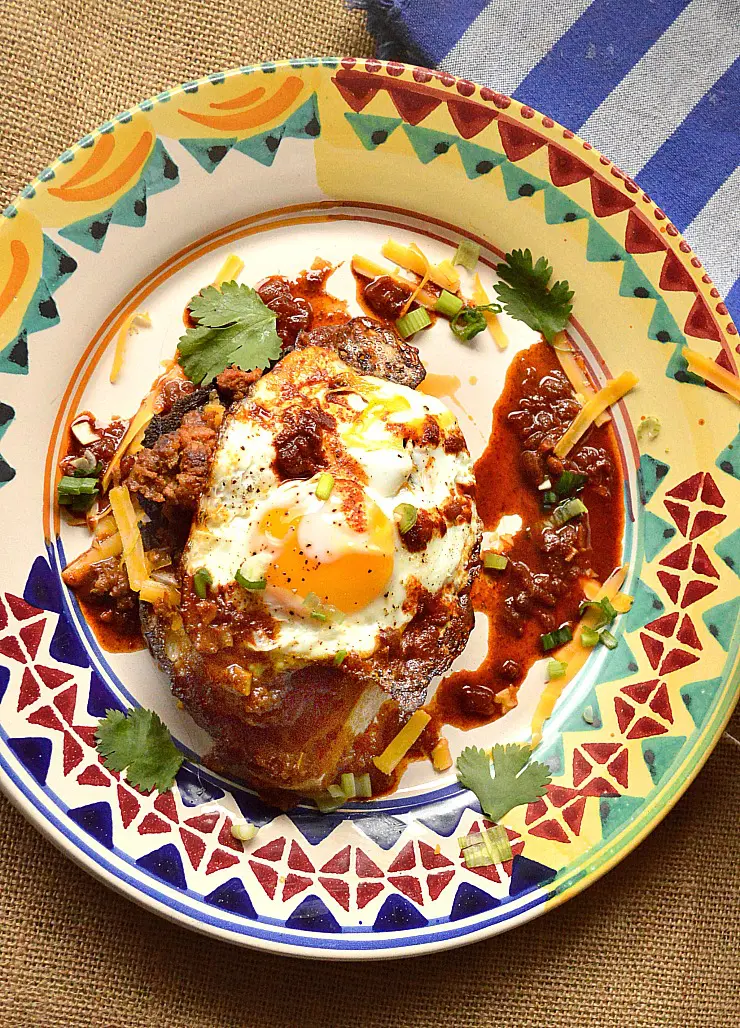 A good New Mexico red chili recipe is worth its weight in gold.
That is, if you love red chili as much as I do.
Though I love green chiles and have a superb green chili recipe sometimes I crave the rich red sauce which is superb over chicken enchiladas, carne adovada and even breakfast burritos.
To save time I make my red chili sauce from New Mexico chile powder.
I buy it online or use some of my stash from New Mexico that I buy when I am lucky enough to get the chance to drive down.
It's only a 4 hour drive to Taos from Denver and Santa Fe is about another hour from there. What a great trip-but I digress.
Dried red chile pods are often used, but then one has to soak the dried chiles, take out the seeds and then blend or use a food processor to make a chile puree before adding to the sauteed onions and garlic.
Not that this is hard, but if you have good red chile powder I find this step can be avoided.
Yes, there are so many different ways to make red chile and every cook has their own version.
Every cook also has their own preferred chilies that they use to make their favorite blend.
Chile Powder?
If you don't like spice, the red chile I use is medium heat.
I prefer an ancho chile powder for richness, but also use Chimayo red chile powder for added flavor.
Sometimes I use molido chile powder which is made from Anaheim peppers. It is easily found in the Mexican section of the grocery.
Now it seems you can find ancho chile powder, chipotle chile powder and if you look in the Mexican section you can find a few others.
Generally, they are labeled as to how hot they are, so keep your preference in mind.
I like using ancho chile powder for its rich sweetness and chocolate overtones.
It is fun to experiment and come up with your own favorite flavors.
Once a fresh variety of pepper is dried it has a new name.
For instance, anchos are dried poblanos and chipotles are smoked and dried jalapenos. Just in case you need you know!
Want to know the difference between grocery store chili powders and pure New Mexican chile powder?
It's the difference of a few seasonings. Store bought contains additional things like salt, cumin, paprika and even garlic and onion powder.
I prefer to create my own flavorful sauce and love the unadulterated taste of New Mexican red chiles .
New Mexico red chili sauce is not as hot as green chile sauce.
And why is that?
Because red chiles are just ripened green chiles!
And green bell peppers become red peppers if left to ripen! That is why they are "sweeter" and not as spicy. And also why they are more expensive because they take longer to bring to market.
However one can create a spicy red chile sauce by choosing spicier red chiles. And of course there is always hot sauce, but honestly then I like to go Christmas style.
So what is Christmas style, you ask? That's when you smother your favorite Mexican dish with red chili on one side and green on the other. Or for when you can't decide which you want more!
Making this Red Chile Sauce Recipe
Begin this Northern New Mexico red chili recipe by taking a somewhat large pot and sauteing the onions and garlic in a flavorless oil, which isn't olive oil!
Think canola, sunflower or vegetable oil.
Then stir in your choice or blend of red chile powder and cook a minute until it smells good.
Slowly add in ½ cup of chicken stock at a time (I use Better than Bouillon), and bring the mixture to a simmer.
Add some Mexican oregano and salt and let this simmer about 25 minutes.
Mexican oregano is from a different family than Italian oregano and has more citrus undertones. However I have used them interchangeably without a noticeable difference.
Soon you will have the best New Mexican red chili sauce ever!
Don't confuse this New Mexico red chile sauce with chile Colorado, which is a red chile stew made with beef.
This one is strictly meant for topping enchiladas or other favorite Mexican foods.
Of course, like all good chili sauces, it is perfect on its own with a warm flour tortilla and a good sprinkle of diced white onions.
This red chili sauce is not a classic enchilada sauce recipe because it doesn't contain tomatoes, but of course it can be used as an enchilada sauce.
You know it isn't even dinner time and I guess because I didn't eat breakfast I've already decided on eggs. When in doubt I almost always decide on eggs.
With potatoes. Yeah, you should know that about me.
And this red chile sauce is great with both eggs and potatoes!
The rabbit hunter/manservant loves it. Well, he loves anything with chilies.
Chorizo is in the fridge so a quick breakfast sandwich with chorizo and cheese and a fried egg sounds perfect.
With red chili drenching the top, I might have just found the best way to eat it.
I could have used corn tortillas, but in this case the bread really held its own.
Perhaps it was the smell of Manservant's rabbit prevention program that inspired me to make my favorite New Mexico red chili recipe.
Smelling all those chili peppers and powders and hot sauce and sriracha and vinegar and cayenne, (yes his pepper spray is one gourmet mixture) got me thinking chile.
Yes, Manservant has made his own pepper spray and it's a game of war around here. Somehow I feel we are the ones being hunted.
Those rabbits are going to come back with a vengeance. I just feel it. After all, baby rabbit season is almost upon us.
So after 2 cold days I needed something sultry. Something spicy and warm, but still mellow.
This New Mexican red chili sauce sure hit the spot!
(This post contains affiliate links from which I may earn a small commission on qualified purchases at no cost to you.)
And a Few Others You Might Like:



Print
Red Chile Breakfast Sandwich
Author:

Abbe Odenwalder

Prep Time:

25 Minutes

Cook Time:

25 Minutes approx

Total Time:

45 Minutes

Yield:

4

Servings

1

x

Category:

Breakfast/Dinner

Method:

Stove Top

Cuisine:

New Mexican
---
Description
New Mexican red chili sauce is a great sauce for enchiladas, burritos and even a breakfast sandwich!
---
2 T vegetable oil

1 medium onion minced

3 garlic cloves, minced

3/4 c dried, mild, red chile powder (I used 1/2c ancho and 1/4 c molido)

28 oz chicken stock or water or beef

1 t dried Mexican oregano

salt as needed

Breakfast Sandwich:

Hearty Bread (I used Ecce Pannis White Country Loaf sliced on the diagonal to give me a big thick slice)

4 T butter

1 lb fresh ground chorizo

1 c grated cheese (I used cheddar but you may use your favorite)

1 egg per person

2 chopped green onions

2 T chopped cilantro

Red Chile Sauce (see above)
---
Instructions
Red Chile Sauce
Warm oil in a heavy saucepan over medium heat.
Add chopped onion and garlic and saute until onion is limp.
Stir in chile powder and let toast a minute while stirring.
Add stock, 1/2 cup at a time. Stir well.
Add oregano and salt and bring just to a boil. Reduce heat to a bare simmer and cook for 20-25 minutes until thickened. (This is a thin sauce but you may want to simmer it longer if you want a thicker consistency.)
This sauce keeps for a few weeks in the fridge. You can freeze it also, but I think if it is in your fridge you will find a way to use it!
To Make the Breakfast Sandwich:
Cook chorizo in skillet over medium heat. It crumbles easier if cooked on a lower heat and not on a high heat.
Slice bread into thick slices. Toast and butter. Keep warm.
Grate cheese and chop cilantro and onions.
After chorizo is cooked, remove from skillet.
Add 1T butter and melt. Slowly crack one egg into skillet and fry-one per person to your favorite degree of doneness. (Personally, I scramble mine but the rabbit hunter likes his fried).
Top bread with a layer of chorizo. Top that with shredded cheese. Top that with the egg. Now ladle red chile on top. Garnish with cilantro and green onions.
Prepare for a sultry, warm, rich, taste to enchant your senses. This is red chile!
---
Notes
Adapted from: A Real American Breakfast
Keywords: red chile sauce recipe, breakfast sandwich, New Mexico red chili recipe