It was a cold, gray morning here in Colorado. After the snow and freezing temperatures my poor hyacinths just didn't want to wake up. Their dark green leaves and their pink and purple flowers lay drooped in the dirt. But their scent is still strong and I am hopeful they will make a recovery. It is the only flower the rabbits ignore. But they better watch out because my husband is closing in on them. He is establishing a perimeter and slowly chasing them out of the yard and into our neighbor's. Or at least that's what he thinks. The snow allowed these rabbits to leave telltale paw prints as a clue to their whereabouts.
He has now barricaded the bottom of the fence with boards. We could see where they were trying to dig their way back in but so far no success with that. He has boarded up the bottom of the tree house so they can't crawl underneath. And he has put netting under the one big juniper shrub we have left. Frankly, I wish he'd just take the juniper out because I believe snakes live their, too. He has made his own pepper spray in the hope that if we dry out around here the smell alone would keep them away. Yes folks, it's a game of war around here. And somehow I feel we are the ones being hunted. Those rabbits are going to come back with a vengeance. I just feel it. After all, baby rabbit season is almost upon us.
In any case smelling all those chili peppers and powders and hot sauce and sriracha and vinegar and cayenne, (yes his pepper spray is one gourmet mixture) got me thinking chili's. And after 2 cold days I needed something sultry. Something spicy and warm, but still mellow. Yes, I was feeling red chile. No, not the meat and beans kind of thing. New Mexican was more what I was thinking. I wanted something to spoon over my eggs or burritos or quesadillas. Something I could use for great cheese enchiladas or nachos or to put over a burger. Yeah, I need a Mexican fix.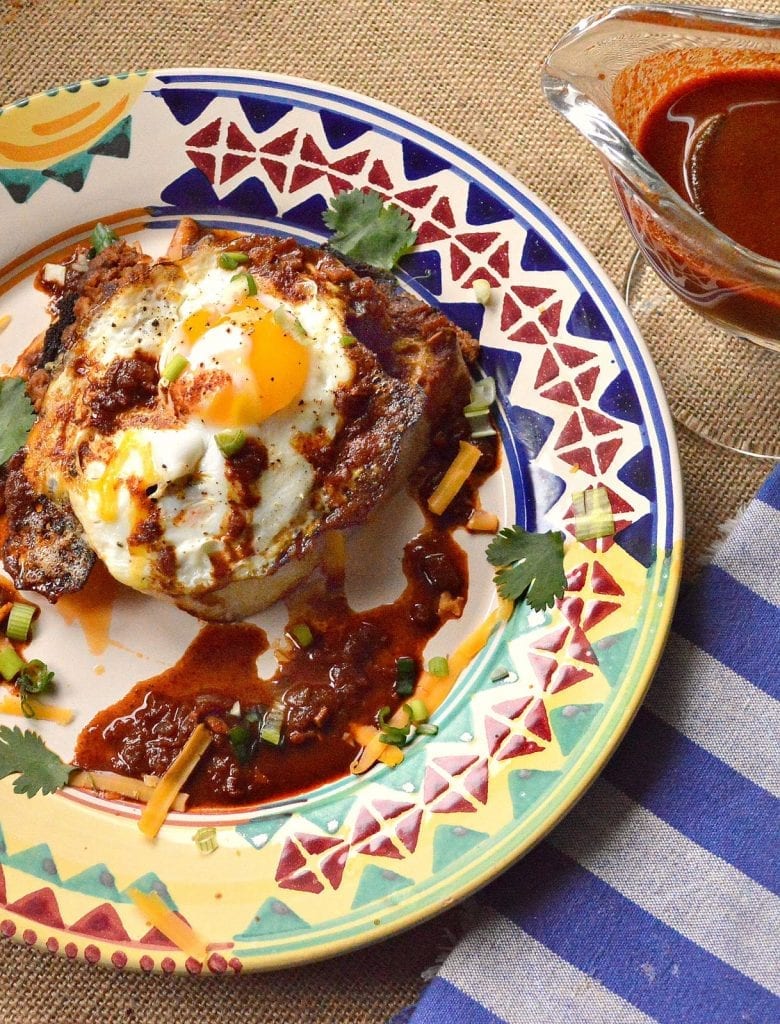 But it isn't even dinner time so I decided on eggs. When in doubt I almost always decide on eggs. Or potatoes. Yeah, you should know that about me. And so I decided to make my favorite red chile. It's simple and easy and fills that empty spot in my tummy. And the rabbit hunter loves it. Well, he loves anything with chilies. Red chile is different than green chile. Green chile is made with fresh chilies and red is made from dried. Green is usually spicier but it all depends on what chilies you choose to use. I make my red chile from dried chile powder where as traditionalists will reconstitute dried whole chilies and blend them and cook them down. I have done that, but today I wanted something quicker.
It used to be that the grocery only sold standard chili powder meant for making the beans and meat chili varieties. Usually it contains a blend of chile powders and maybe some cumin,garlic and oregano, Now you can find ancho chile powder, chipotle chile powder and if you look in the Mexican section you can find a few others. Generally, they are labeled as to how hot they are so keep your preference in mind. I like using ancho chile powder for its rich sweetness and chocolate overtones with a combination of a more standard mild New Mexican chile powder like molido. It is fun to experiment and come up with your own favorite flavors.
The chile is easy to make and I am sure you will be able to come up with a million or so ways to use it. I made a quick breakfast sandwich with chorizo and cheese and a fried egg. Then I spooned chile all over so that the bread soaked it up. I could have used a tortilla but in this case the bread really held its own. This would be perfect for brinner! Or lunch! or breakfast. And it may even give you energy to catch a few rabbits!
Please Pin and Share!
And a Few Others You Might Like:

Green Chili Poached Eggs with Cheddar and Bacon
Corn and Green Chile Quesadillas
Sloppy Jose
Green Chile
Elote Corn in a Bowl
Green Onion Garlic Chive Skillet Cornbread
New Mexican Red Chile (adapted from A Real American Breakfast by Cheryl and Bill Jamison)
2 T vegetable oil
1 medium onion minced
3 garlic cloves, minced
3/4 c dried, mild, red chile powder (I used 1/2c ancho and 1/4 c molido)
28 oz chicken stock or water or beef
1 t dried Mexican oregano
salt as needed
Warm oil in a heavy saucepan over medium heat. Add onion and garlic and saute until onion is limp. Stir in chile and let toast a minute while stirring. Add stock, 1 cup at a time. Stir well. Add oregano and salt and bring just to a boil. Reduce heat to a bare simmer and cook for 20-25 minutes until thickened. (This is a thin sauce but you may want to simmer it longer if you want a thicker consistency.)
This sauce does keep for a few weeks in the fridge. You can freeze it also, but I think if it is in your fridge you will find a way to use it.
New Mexican Breakfast Sandwich (Serves 4)
Hearty Bread (I used Ecce Pannis White Country Loaf sliced on the diagonal to give me a big thick slice)
4 T butter
1 lb fresh  ground chorizo
1 c grated cheese (I used cheddar but you may use your favorite)
1 egg per person
2 chopped green onions
2 T chopped cilantro
Red Chile Sauce (see above)
Cook chorizo in skillet over medium heat. It crumbles easier if cooked on a lower heat and not on a high heat.
Slice bread into thick slices. Toast and butter. Keep warm.
Grate cheese and chop cilantro and onions.
After chorizo is cooked remove from skillet. Add 1T butter and melt. Slowly crack one egg into skillet and fry-one per person to your favorite degree of doneness. (Personally, I scramble mine but the rabbit hunter likes his fried).
Top bread with a layer of chorizo. Top that with shredded cheese. Top that with the egg. Now ladle red chile on top. Garnish with cilantro and green onions.
Prepare for a sultry, warm, rich, taste to enchant your senses. This is red chile!
Red Chile. OLE!