"These churro waffles with chorizo gleam with cinnamon sugar. Add a fabulous maple syrup with a touch of smoke, by way of Mezcal, and some ancho chile powder. Trust me. This brunch will not be forgotten."
It began on a cold and snowy Saturday night. We found ourselves craving dinner and not knowing where to go, or what we desired. Pulling into a recently opened Mexican restaurant that looked pure dive on the outside, we were greeted with a more pleasant inside. After perusing the menu I ordered a chipotle shrimp dish that with the first bite seemed quite good. It was the second bite that bit me. Chipotle heaven but my mouth was in hell. I can usually handle spicy, but this was way beyond that. After scraping off the sauce, everything became a bit more manageable. Our sweet waitress after noticing what was going on asked if I wanted a churro, a sweet cinnamon sugar churro, where upon Manservant said he was really ready to get home. Bye, bye churro.
Later that night one of my favorite bloggers, posted a recipe for churro waffles which triggered something not very deep within, and I began thinking about breakfast. Realizing I had some cooked leftover chorizo in the fridge I decided that churro waffles were meant to be. After all cinnamon sugar is in my blood. As a wee one it was a common item on the "the sick meal" plate. Buttered toast with probably margarine, topped with cinnamon sugar, some Mott's apple sauce, and a glass of Nestle's Quik were usually on said plate. What can I say? It must have worked because I'm still here!
After looking at Tieghan's recipe I decided to make a more grown up waffle, though nothing was wrong with the original. I had chorizo to use up and what a perfect place to put it. This recipe is a basic buttermilk waffle; add a pinch of cinnamon and chorizo and it moves to the intermediate flavor level. Yet, it was the maple syrup with
Sombra Mezcal
and ancho chile powder that put this glistening, gleaming churro waffle into the sublime category. And as for the mezcal; it isn't for everyone and usually not for me, but Manservant loves the stuff! Frankly when I taste it, it tastes like drinking a bonfire. However that smoky goodness goes a long way in maple syrup. It doesn't take much to add heaps of flavor, which was part of my plan. Manservant was grateful that I only used a touch, after all, his bottle is getting low! Good thing Father's Day's coming!
Enjoy this waffle for Cinco de Mayo or enjoy it for Mother's Day. Just enjoy it. I know we sure did!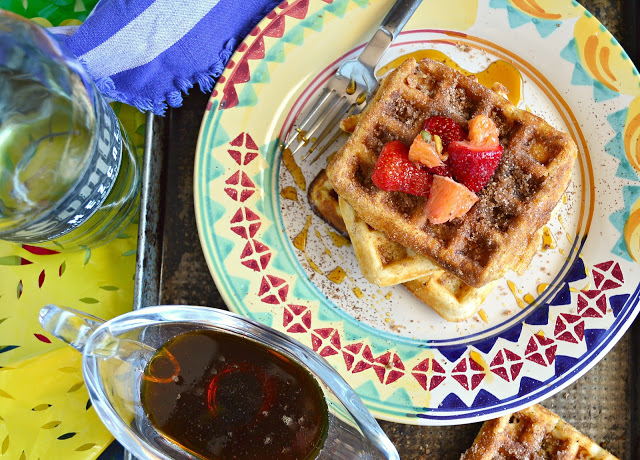 I just made a new Pinterest board for all of my Mexican inspired creations. Follow along as I add more all the time.
More inspirations:
Fresh Strawberry Crepes Easy Green Chile Egg Souffle Belgian Liege Waffles
Please Pin and Share: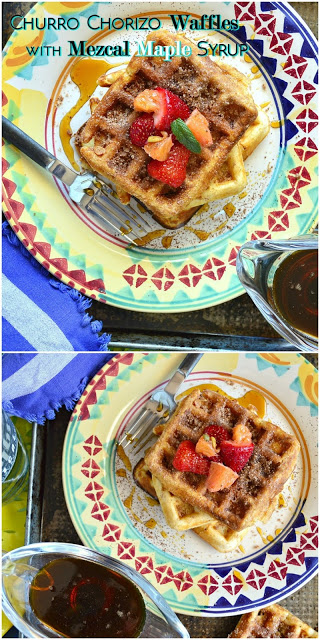 One More Waffle!
Dark Chocolate Belgian Waffles
yield: 12 Waffles (Depending on your waffle maker)Author: Abbe Odenwalderprint recipe
Churro Chorizo Waffles with Chile Mezcal Maple Syrup
These churro chorizo waffles gleam with cinnamon sugar. Add a fabulous maple syrup with a touch of smoke, by way of Mezcal, and some ancho chile powder. Trust me. This brunch will not be forgotten.
prep time: 20 MINScook time: 20 MINStotal time: 40 mins
INGREDIENTS:
2 c buttermilk (I keep dry buttermilk on hand or you can mix 2 T white vinegar into 2 c milk)
3 eggs
6 T butter, melted
1 T vanilla
1 T brown sugar
2 c flour
2 t baking powder
1/2 t salt
1/2 t cinnamon
8 oz good chorizo, cooked, crumbled and fat blotted well
1 T cinnamon or more depending on how strong you want
1/2 to 3/4 c sugar
4-8 T melted butter for brushing on waffles
Ancho Chile, Mezcal Maple Syrup
3/4 c maple syrup
1/2 t ancho chile powder or more if you want
1 t mezcal
INSTRUCTIONS:
In a large mixing bowl, whisk together buttermilk, eggs, 6 T melted butter, vanilla and brown sugar.
Add flour, baking powder, salt and cinnamon. Stir until combined.
Add in cooked chorizo. Make sure you have blotted it well.
Allow batter to sit 10 minutes. Make cinnamon sugar on a flat plate so you can dip your waffle.
Heat waffle iron. My waffle iron uses a heaping 1/4 c of dough. I can bake 2 at a time and they took about 90 seconds to 2 minutes.
After they are cooked, brush each side with melted butter. While still moist, dip each one into cinnamon sugar mixture on both sides. Serve with warmed chile maple syrup.
Mezcal Chile Maple Syrup
To make maple syrup:I use a glass measuring cup.
Swish the 1 t mezcal in measuring cup and pour the rest back into bottle. Or leave it in if you like a lot of smoke. Add chile powder and maple syrup. Whisk together. Before serving heat in microwave for about 1 minute. Watch carefully so it doesn't boil over.