(This post may contain affiliate links. Please see our disclosure policy.)
Curry Puffs are a favorite of mine on any dim sum menu. I love the flakiness of the pastry and the simple luscious taste of the curry. Easy to make, I know you will like these!
Curry Puffs are a dim sum standard. Perchance you've never had dim sum? Then I recommend you find a good Chinese restaurant in your area and head over one morning for brunch. There is nothing like watching little serving carts roaming the dining room, each containing hearty bites of various morsels.
Dim sum literally means, "to touch the heart" and trust me, these sweet and savory bites manage to do just that. But perhaps what is more touching is watching large family groups dining together enjoying what may be over a hundred different dishes on the menu.
The hardest part is deciding what to choose but we have quickly learned our favorites. We often begin with soup, ladled directly from the pot. We usually have a Chinese greens dish and then we push forward to dumplings and egg rolls and noodles.
Manservant loves the little pork rib riblets and I love baked barbeque pork buns. In fact, I used to order three dozen at a time and take them home and try to freeze them. The kids usually got to them first, whether it was for breakfast, lunch or snacks!
Alas, my favorite place for these buns closed and I've been trying to come up with my own recipe. I've managed to perfect the filling, but the dough isn't quite what I want it to be.
So until then, I'm happy eating these flaky, golden chicken curry puffs. Sometimes made with ground beef, I prefer them with chicken. However, the choice is up to you!
This year for New Year's Eve I decided to have a dim sum party. It is always four of us and that has remained the same for about 27 years. No, dim sim is not traditional for New Year's Eve, but it makes for a good casual spread.
We started with homemade pot stickers, continued with chicken curry puffs, and then we ate bbq pork pineapple buns.
That's another recipe where the secret lies in the dough. I keep chipping away trying to find the perfect recipe every few months! Earlier in the day I bought a Chinese roast duck and we then sat down to enjoy duck buns and some simple stir fried noodles.
Dessert was egg tarts, which Manservant fell in love with working all those years in China. He used to buy them at KFC!
Are chicken curry puffs dim sum?
Dim sum hails from Hong Kong and it is often thought that chicken curry puffs are a riff on British Cornish pasties. Chicken curry puffs are found though throughout Asia, in many forms. Sometimes they are filled with sardines, and some varieties are made with sweet potatoes.
But today, I'm giving you a very simple recipe using ground chicken that is simply cooked in a skillet and then cooled before being placed upon a prepared square of puff pastry that has been thawed. I told you, these were easy.
Perfect for snacks or appetizers or even Chinese New Year, I also think these handheld pastries served for dim sum, would be great for game day watching. Manservant ate all of ours for lunch and I never got to freeze any for future use.
That's OK though, because honestly, these chicken curry puffs are so easy to make, it wouldn't be hard to whip up another batch!
If you are having a dim sum party or just want to try your hand at making some dumplings, here's a few things that may come in handy. I don't often use a steamer, but when I do I like this one:
If I were ordering a new Chinese cookbook, I would order this one. Fuchsia Dunlop is incredible.
I have one of Eileen's cookbooks that I happened to get from one of those free libraries on the street. It is awesome My guess is that this one wold be also.
This is the first Chinese cookbook I ever owned. It is awesome and is worth your $2. The fried rice is the best I've ever had!
Please Pin and Share:
Print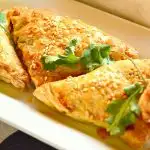 Chicken Curry Puffs (A Dim Sum Favorite)
Author:

Abbe Odenwalder

Prep Time:

30 Minutes*

Cook Time:

40 Minutes

Total Time:

1 hour 10 minutes

Yield:

18

puffs

1

x

Category:

Appetizers/Snacks

Method:

Stovetop/Baking

Cuisine:

Asian
---
Description
Chicken Curry Puffs in puff pastry are easy to make. Crispy and flaky, these make great snacks, appetizers or even lunch!
---
3 T canola oil

1 onion, diced

2 cloves garlic, minced

1 pound ground chicken

2 T curry powder

1 1/2 t turmeric

1/2 t ground cumin

1/4 t sugar

1/4 t fresh ground black pepper

1 t salt

2/3 c chicken broth

1 T cornstarch

2 sheets puff pastry

1 egg, beaten with 1 T water to make an egg wash

Sesame seeds for garnish
---
Instructions
In a skillet, heat the oil over medium high heat. Add the onions and garlic and cook until translucent.
Add the ground chicken, breaking it up with a spatula. Cook until no pink remains and the juice has simmered away.
Add the curry powder, turmeric, cumin, sugar, pepper and salt. Stir the mixture together and cook for a few minutes.
While that is cooking, make a slurry of the cornstarch with the broth. Whisk well. and stir into the chicken mixture, until everything has thickened. The mixture is ready when there is no liquid pooling in the pan. Take off heat and let cool. You can even refrigerate this and use it the next day.
While chicken is cooling, take the puff pastry from freezer and remove from package. Defrost about 35 minutes. Unfold each sheet and cut each into 9 squares.
Spoon about 3 T of filling onto each square and fold diagonally to form a triangle. Press the edges together and crimp with a fork.
Using two baking sheets lined with parchment or a Silpat liner, place puff pastry triangles on baking sheets.
When the puffs are formed, refrigerate for 20 minutes. Preheat oven to 400. When puffs have chilled, brush with egg wash before placing in oven. Sprinkle with sesame seeds. Bake for 15-18 minutes until golden, one sheet at a time.
Let cool for 10-15 minutes before eating. They will be hot! These reheat well in a toaster oven or air fryer.
---
Notes
Adapted from The Woks of Life.
This mixture is also good on a bun, in a burrito, in a taco or even on baked potatoes!
*Does not include cooling time.
Keywords: curry puffs, curry puffs recipe, recipe for curry puffs, curry puffs with puff pastry
A Few More Hand Held Foods:
Chinese Sausage Focaccia
Green Chile and Chorizo Bing Bread