This OMG BLT is to die for! Made with candied bacon and candied tomatoes…skip the mayo and add jalapeno cream cheese…Yes, this is what dreams are made of!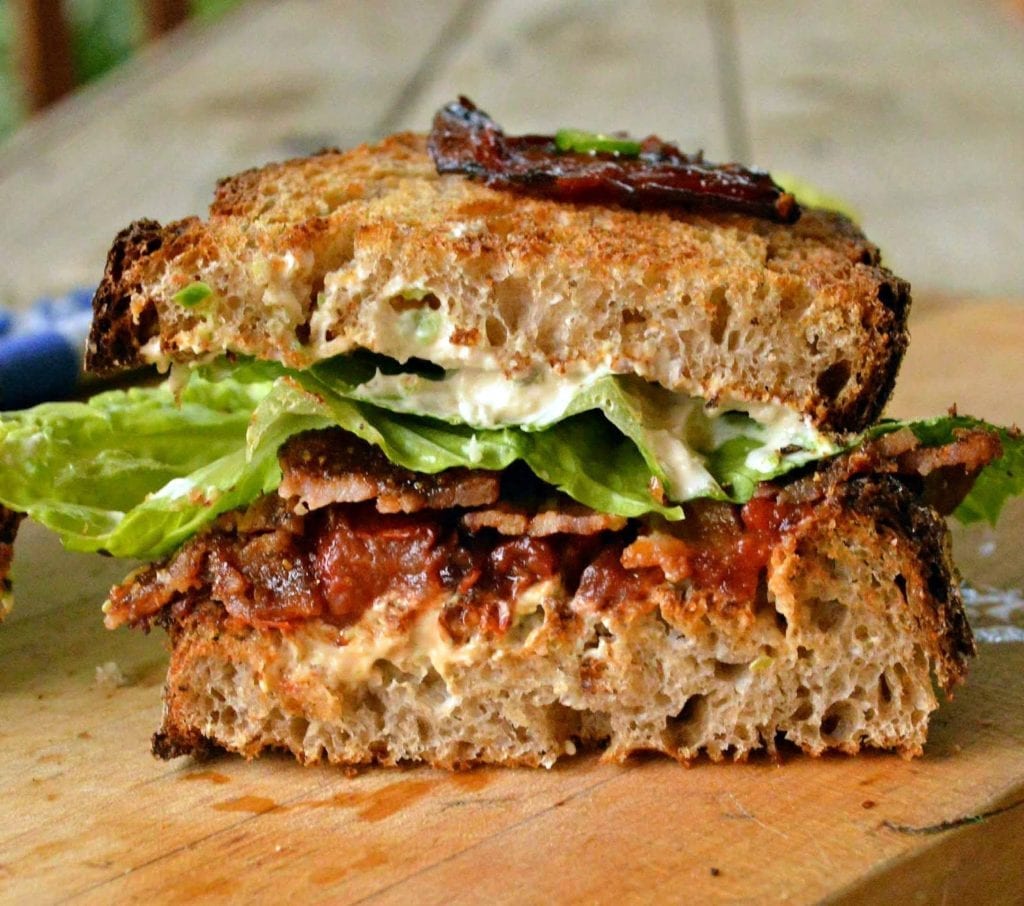 Please forgive me. What I am about to share with you must be kept in strict confidence. There are many things I need to tell you and I really should update my bio page, which I promise I will do soon. SHARING!!!!  I LOVE bacon. I do not know when this began, because I hated bacon as a child. I remember my dad cooking it and the smell alone gagged me. I remember looking in the pan and all that grease was, like, so unattractive. Back then he would slide a few slices onto my brothers plate and they looked like slimy gobs of fat. No, bacon was not for me. So I really don't know what happened. I don't know when it began that I began to like love bacon. I kind of wish I had never found bacon, but alas, bacon has found me.
I have made bacon jam which is quite good and I really should do it again, so that I can show you a picture, But it is totally dangerous stuff to have around. I mean it just has so many uses all of which contribute to the curve in my hips. So you get the picture. And one day, long before bacon jam, I discovered BLT's. When my husband traveled a lot, I used to make them for my dinner. It was comforting. At least to me. But I know food is not a good thing to use for comfort, so I could use some new suggestions. Perhaps a cat?
Well, onward. This post began when I saw this post for candied tomatoes and candied bacon. Now you must know that I never liked tomatoes as a child either. Detested them, except in the form of ketchup or spaghetti sauce. So maybe I discovered bacon somewhere next to the tomatoes. Whenever. Wherever. But now I like tomatoes. But only if they are good ones. Which brings me to the farmers market, I went to on Saturday. They had a lot of good looking tomatoes. And I bought a lot of them. I can't ever remember buying so many tomatoes. But it was because I knew I wanted to make these- those candied tomatoes.
And then I saw this bread. Well, I can't show you because I didn't have my camera which I should have. It was a giant, I kid you not, at least a 14″ round of bread. If I'd said 20″ you might not believe me, but I think it might have been that. I convinced my friend to split it with me.
Well, this entire time I kept thinking I'm making BLT's for dinner, but one thing I always do with bacon is make candied bacon. With pepper. Everyone always asks what makes it so good. Well, besides the bacon it must be the sugar and pepper. So I knew when I saw this recipe for tomatoes that it would go so well with my bacon. And when my friend Mr. KR posted candied bacon on his blog, so I debated on giving you this today. But I just couldn't help myself because this was so damn good. Just be sure to visit him and Kim for the candied tomatoes because their pictures are like way better than mine!
Next time I think I would revert back to white bread. I think bacon goes better with white bread. Or corn bread. Or just by itself. But really this bread was so good, one of those artisan Italian whole wheat, spelt breads and it was awesome; however it was just a wee bit much of bread. Even with all that bread though, this sandwich shined. I mean glowed. I mean shimmered in the sun. Oh, this is a good one. Sweet and salty and peppery and I want one right now. And then yesterday I made a tomato sandwich. I took fresh tomatoes and those cute candied tomatoes and some basil and mayo and put them on bread. I might do it all over again; it was so good.
Oh yeah. Did you think that was mayo in the photo? Nope. I used jalapeno cream cheese. Forget the calories in mayo and use this. Simple deliciousness that makes this sandwich go down easy. I'll leave it up to you about how much to schmear on.
Anyway, it you think my bacon looks a tad overdone-well-it is. I love my bacon totally crisp. Which is maybe why I never liked my father's.  My kids like theirs just a bit softer than me and so does hubby. Sorry, I'm the cook! This bacon is crisp and crunchy and well caramelized because of all the sugar. And the tomatoes are well caramelized, too. I probably didn't need to leave them in the oven so long but I was on the phone with my brother, so I paid full attention to him and not the tomatoes. Whoops. Didn't matter they still turned out great.
OK! Get on with it.  You will not be sorry. Hurry up already. Get cooking!
Candy Pepper Bacon
(I use thick so it takes longer than using thin. Cooking time varies but you must watch your bacon as it will burn in an instant. About 5 minutes prep and 30 minutes cooking)
I cooked 10 slices and used about 5 for two sandwiches. I weaved the bacon together because it doesn't slide as easily off the sandwich. You don't have to do this but for some things it works pretty well, especially on top of a burger!
Place parchment paper in pan. Place wire rack on top. Cook bacon for two minutes in microwave to render fat. (I do this by placing slices on a paper plate that is set upon a regular dinner plate and then cover with another paper plate. You can skip this step and just cook it in the oven but add about 10-15 minutes more cooking time.) Then place on rack. Spread with brown sugar. Sprinkle liberally with black pepper. Bake at 350 for about 25-30 minutes.
Jalapeno Cream Cheese (About 10 minutes prep)
1 8 oz block cream cheese
1/4  of an onion
1 seeded jalapeno
1 T chili sauce
1/2 t garlic powder
Throw it all in a food processor and pulse away. Add some milk if you need to thin it. Or more chili sauce. (I used the Heinz variety, but you can use a spicier kind if you want.)
To Assemble:
Slice bread and toast. Schmear with cream cheese on each slice of bread. Layer each slice with several or a lot of candied tomatoes. Then top with bacon. Then lettuce. Then you could put a slice of fresh tomato or not. Then top with your other schmeared slice of bread. Eat and drool.
Necessary Ingredients
Jalapeno Cream Cheese
Candy Peppered Bacon
Bread
Lettuce (the Iceberg Kind)
Candy Tomatoes (I roasted about two pounds of tomatoes which was 2 cookie sheets worth. I put pepper on one sheet and those were outstanding, too.) And my leftovers are in the fridge waiting to be savored.
Oh yeah. Watch the bacon when the dogs are around. They kept careful eyes on it the entire time.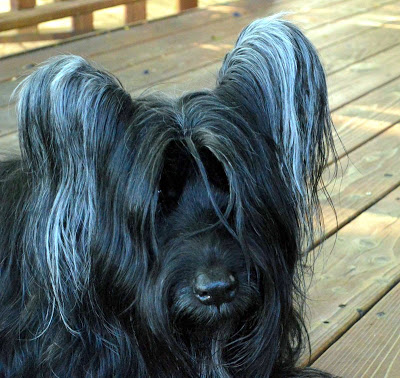 A Few More To Try:
Hot Brown Sandwich
Banh Mi
Dan Dan Sliders or Chinese Sloppy Joe
Chicken Artichoke Baguettes and Artichoke Dip
Don't Lose This Recipe! Please Pin and Share!