This Million Dollar Bacon BLT is to die for! Made with candied bacon and candied tomatoes…skip the mayo and add jalapeno cream cheese…Yes, this is what dreams are made of!
Million dollar bacon? Well with today's prices, it might be close, but truthfully, at least in this case, this million dollar bacon recipe is so worth it!
Millionaire bacon is just bacon all dressed up. Some call it candied bacon. I just call it good. Like addictingly good.
It doesn't matter how much you make, it always disappears.
I make mine with just three ingredients. Brown sugar, black pepper and of course the bacon.
And yes, I prefer thick cut bacon, but either works. It's only the cooking time that changes.
Others prefer to mix up some maple syrup with the brown sugar and add a dash of cayenne pepper or red pepper flakes, but I like to keep it simple.
After all, bacon is often made in the morning and I may not be quite at the top of my game upon awakening!
Make sure to use a rimmed baking sheet.
Line it with aluminum foil or parchment paper.
Place an oven-safe wire rack on top of the paper.
Lay the thick-cut bacon slices in a single layer in the opposite direction that the wires of the rack run.
Spread about 1 teaspoon of brown sugar on each slice and then grind on the black pepper.
No need to mix this up in a small bowl and dirty another dish!
If you want to add more seasonings you can, but I love this spicy candied bacon as is!
In a preheated oven, using the center rack, cook until crisp-about 30 minutes, but this depends on how thick the bacon is.
I've made bacon that's labeled thick, even though it looked thin to me.
It's a good idea to keep your eye on the bacon. And turn the fan on. Nothing makes a house smell more than cooking bacon or frying latkes!
It will crisp up even more after removing from the oven so be sure to NOT burn the bacon.
The millionaire's bacon. He/she would not be happy.
Usually most of the bacon grease drips into the pan but if you must, place the bacon strips on paper towels to drain.
Just be sure to keep the sugar side up!
And drizzle with real maple syrup if you want before serving, but I think the peppery sweet brown sugar coating is enough!
At first bite, you will know what I'm talking about. You will know the reason that some even call it billionaire's bacon!
I can't remember the first time I made this million dollar bacon recipe, but I've been making it since the kids were wee ones at home.
I would tell you that it makes a great snack but to be truthful one can never make enough to have it as a snack.
And leftovers of this spicy candied bacon recipe disappear fast.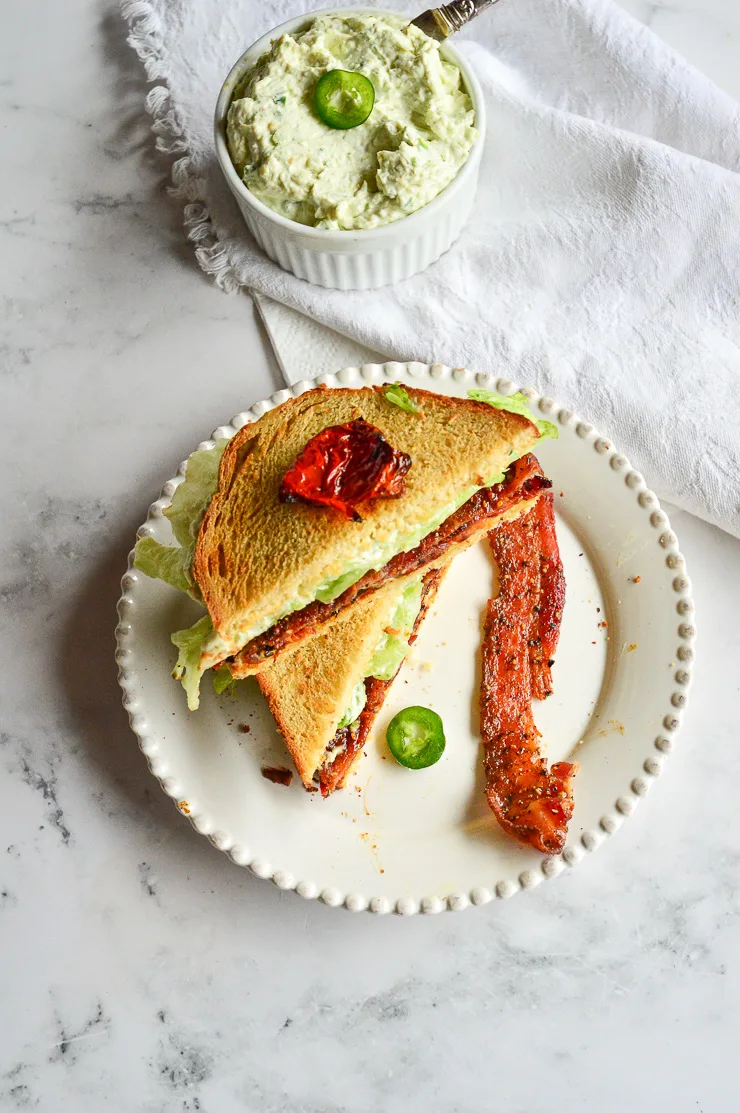 I always try to make more than I need so I can crumble it on salads. Yes this bacon is a great idea on an iceberg wedge!
Or you could get all fancy schmancy and put a slice in your Bloody Mary.
Or break it into pieces and add it to your popcorn bowl.
Anytime you need bacon, this bacon candy is the answer to amping up almost any recipe.
I've used uncured bacon and cured bacon and though it is hard to discern the difference, I believe I like the uncured bacon bettter.
It has a dryer texture and cooks up crispier in my opinion, though I have not put this to the test side by side!
After a little bit of research it seems that the First Watch restaurant is famous for this bacon.
We actually have this restaurant just up the street and I love their breakfasts.
But no, I've never tried the bacon. I leave bacon to me.
Because really-who knows more about bacon than a nice Jewish girl?
LOL! Please forgive me.
There are many things I may not have shared with you.
I LOVE bacon.
I do not know when this began, because I hated bacon as a child.
My dad was the bacon cooker in our home.
Perhaps he learned to cook bacon when he was a sergeant in the army, because I have a hard time believing that his father ever tasted bacon.
I remember watching my dad cook bacon on Sunday mornings before Sunday school and thinking that it did not look so appetizing.
But he also made his fried eggs super runny and I didn't like those either!
Back then he would slide a few slices of regular bacon onto my brother's plate and I always said he could have my share, too!
Dad liked everything on the rare side. Not just beef, but bacon also.
It wasn't until I discovered crisp bacon that I began my love affair.
But somehow, somewhere, I began to love bacon.
I kind of wish I had never found bacon, but alas, bacon found me.
The best part about bacon is when I don't have to cook it.
Though I must admit having a microwave really changed things up. No greasy mess anymore!
And this million dollar bacon recipe cooked on a wire rack is easy with very little mess.
But bacon, in my house, is just totally dangerous stuff to have around.
Its main use is to contribute to the curve of my hips. So you get the picture.
Anyway one day, long before bacon jam, I discovered BLT's.
While Manservant travelled, I made BLT's.
They were comforting. They were quick. And they are very, very good.
Well, onward. This post began when I saw a recipe for candied tomatoes.
Now you must know that I never liked tomatoes as a child either.
Detested them, except in the form of ketchup or spaghetti sauce. But now I like tomatoes.
But only if they are the good kind. Which brings me to the farmers market, I went to on Saturday.
They had a lot of good looking tomatoes. And I bought a lot of them.
I can't ever remember buying so many tomatoes. But it was because I knew I wanted to make those candied tomatoes.
And then I saw this bread. Well, I can't show you because I didn't have my camera, which I should have.
It was a giant, I kid you not, at least a 14″ round of bread.
If I'd said 20″ you might not believe me, but I think it might have been that. I convinced my friend to split it with me.
Well, this entire time I'm thinking I'm making BLT's for dinner.
The one thing I always do with bacon is make candied bacon. With pepper.
Everyone always asks what makes it so good. Well, besides the bacon it must be the sugar and pepper.
So I knew when I saw this recipe for tomatoes that it would go so well with my bacon.
Next time I think I would revert back to white bread.
I think bacon goes better with white sandwich bread.
But really this bread was so good, one of those artisan Italian whole wheat, spelt breads and it was awesome; however it was just a wee bit too much bread.
Even with all that bread though, this blt sandwich shined. I mean glowed. I mean shimmered in the sun.
Oh, this is a good one. Sweet, salty and peppery and I want one right now.
Yesterday I made a tomato sandwich.
I took fresh tomatoes and those cute candied tomatoes and some basil and mayo and put them on bread.
I might do it all over again; it was so good.
Oh yeah. Did you think that was mayo in the photo? Nope. I used jalapeno cream cheese.
Forget the calories in mayo and use this. Simple deliciousness that makes this blt sandwich go down easy. I'll leave it up to you about how much to schmear on.
Anyway, it you think my bacon looks a tad overdone-well-it is. I love my bacon totally crisp.
Which is maybe why I never liked my father's.
My kids like their's just a bit softer than me and so does hubby. Sorry, I'm the cook!
This bacon is crispy and crunchy and well caramelized because of the sugar and is the best candied bacon recipe I know of.
(Even Manservant makes it now!)
And the tomatoes are well caramelized, too.
I probably didn't need to leave them in the oven so long but I was on the phone with my brother, so I paid full attention to him and not the tomatoes.
Whoops. Didn't matter they still turned out great.
And that's it. The OMG blt sandwich or millionaire's BLT. The best millionaire bacon blt recipe I know of.
I wish I could get a million dollars for this millionaire's bacon recipe, but trust me you'll feel like a million with just one bite!
It's worth every penny!
(This is an updated post from 2013.)
Need Some More?
Tomato Pie with Pimento Cheese and Bacon
Savory Dutch Baby with Bacon and Cheese
I'd Love it if You'd Follow Me and Pin and Share!
Print
Millionaire Bacon BLT
Author:

Abbe Odenwalder

Prep Time:

15 Minutes

Cook Time:

30 Minutes

Total Time:

45 Minutes

Yield:

4

Servings

1

x

Category:

Sandwich

Cuisine:

American
---
Description
BLT's are a favorite of mine. As long as the bacon is crisp I can eat them every which way. But if you ask me, this blt sandwich made with candied bacon, candied tomatoes and jalapeno cream cheese is the best. However pick and choose what components you want.
---
Millionaire's Candied Bacon
Brown Sugar
Fresh Ground Black Pepper
2–3 slices thick bacon per sandwich (thin is optional, and will take less time to bake)
2 hearty white slices sandwich bread per blt
Jalapeno Cream Cheese
1 8 oz block cream cheese
1/4 of a large white onion
1 seeded jalapeno, diced into small pieces
1 to 2 T mayonnaise
1/2 t garlic powder
Salt to taste
Candied Tomatoes
1 medium sized tomato sliced/per person
Brown sugar
Oil
Pepper
Iceberg lettuce
---
Instructions
Millionaire's Bacon
Preheat oven to 400.
Line a large baking sheet with parchment paper and then place a wire rack on it.
Place bacon on the rack in the opposite direction that the wires run.
Sprinkle with brown sugar-about 1 t per slice- and rub into the bacon to cover each slice well.
Using you pepper grinder, grind a liberal amount of black pepper over each slice.
Bake for 20 to 30 minutes until bacon is golden brown. Keep in mind that it will crisp up after removing from oven. Because of the sugar on the bacon, it will burn fast. I don't mind it a little burnt, but some do so be sure to mind the bacon!
Remove from oven when bacon is ready and set aside to cool.
Candied Tomatoes:
Preheat oven to 450. Line a rimmed baking sheet with parchment paper.
Slice each tomato into 1/2″ slices, about 4 per tomato. Dip each slice into olive oil and place on parchment lined baking sheet. Sprinkle with brown sugar and black pepper. (Just like the bacon.)
Roast for about 25 – 30 minutes or until edges are a bit crispy. They will still be soft, however you can also do this with a batch of small cherry tomatoes. Toss those with oil and roast whole. They can be eaten just like candy!
Jalapeno Cream Cheese
I put everything into a 4 cup measuring cup and using my immersion blender, blend until soft and creamy. You can add more mayo if needed.
To assemble:
Toast bread lightly. ( I have also seen where one is to bake the bread so that way one side of the bread is still soft. In this case, the toasted side is the side that you spread the cream cheese on.)
Spread about 1 T of cream cheese on each slice of bread. Top with 4 candied tomatoes. Top with 2 -3 slices bacon. Add several crisp slices of lettuce and finish with the second slice of cream cheese spread bread. Give it a slight press. Slice on the diagonal and serve!
---
Notes
Only choose the components you want to use. In my case this would be the bacon! Don't feel like taking the time to make candied tomatoes? That's OK, but be sure to sprinkle the raw slice of tomato with a bit of salt so the flavor comes out. Just want mayo? No problem here! And don't skip the lettuce.
Keywords: candied bacon recipe, blt recipe, how to make a blt, millionaire's bacon, best blt's, best blt recipe, blt sandwich
Oh yeah. Watch the bacon when the dogs are around. They kept careful eyes on it the entire time.