Colorado's best hash is a mushroom and turkey hash that dates back to 1839. I say if a recipe lasts that long, it's gotta be good! Save your leftover turkey for this!
(This is an updated post from 2014.)
We all know hash-don't we? Specifically turkey hash; the delectable dish of chopped meat and vegetables. An odds and ends kind of dish. I just checked out The Encyclopedia of American Food and Drink by John F. Mariani at the library. (A great book, by the way. At least if you like weird and interesting food facts, like I do.)
They say that hash comes from an old French word, "hacher" that means to chop. In the mid 19th century hash was associated with cheap restaurants called "hash houses or hasheries." I kid you not.
It goes on to say that on an 1850 menu from the El Dorado Hotel in Hangtown, CA was an item for Low Grade Hash at 75 cents or 18 Carat Hash for a dollar. I'm not slinging made up hash at you. I got this from a real book.
I present to you today a turkey hash that dates back to 1839, from the great state of Kentucky. It was considered a breakfast dish and often served with corn meal cakes. I didn't get too those. I just served this golden, crispy turkey hash with mushrooms on toast. And Manservant added his egg.
We ate this for dinner. And we ate this for breakfast two days later. At that point, I refried this in more butter to warm it, which also crisped up the edges into glorious little, brown, buttery bites. I have to tell you this stuff is good. Best turkey hash I ever had!
So…how to make turkey hash?
One begins by cooking the onion and mushrooms. Though hash traditionally has potatoes, this one has 'shrooms. If you want potatoes though, go for it! Stir in some flour. Then add in your broth and seasonings and bring this gravy like mixture to a boil. Cook this for about 10 minutes.
Add your turkey. Scrape the hash up from the bottom of the pan. Press it back down, let the turkey hash get good and brown and crispy for about 8 minutes. And you are ready to eat. I can smell it from here!
Let's be blunt. This ain't no street hash and it's not from an "edible store". This is the real thing. Totally on the up and up and you don't have to be 21. This is for sure the best hash I've tried in a long time and you don't have to wait in line.
Rich and full of flavor with lots of earthy notes. Gentle and hip and comforting all in one bite. Savory, sultry and mellow and perfect for a Sunday morn. This turkey hash is something the whole family can enjoy.
I don't know about you but I really get stoked on comfort food. I look forward to certain leftovers just so I can make some hash. And this hash is really the best I've had. (Next to that summer decades ago that I spent in Denmark and another weekend? day? summer? in Amsterdam.)
You know I love potatoes, but no potatoes in this. A few 'shrooms puts this hash over the top and into psychedelic land. Well, that and a bit of heavy cream sends me totally from terra firma.
Yeah, we all know Colorado became the first state to legalize marijuana, Mary Jane. Years ago I probably would have jumped for joy, but now I only jump rope, and that doesn't happen very often. Now it is here and I'm a bit too underwhelmed by the whole thing.
Right now the only thing weed would do to me is make me eat more, sleep more and smile more. And I don't need the first two! Of course, I do have a few aches and pains but I best solve those on my own.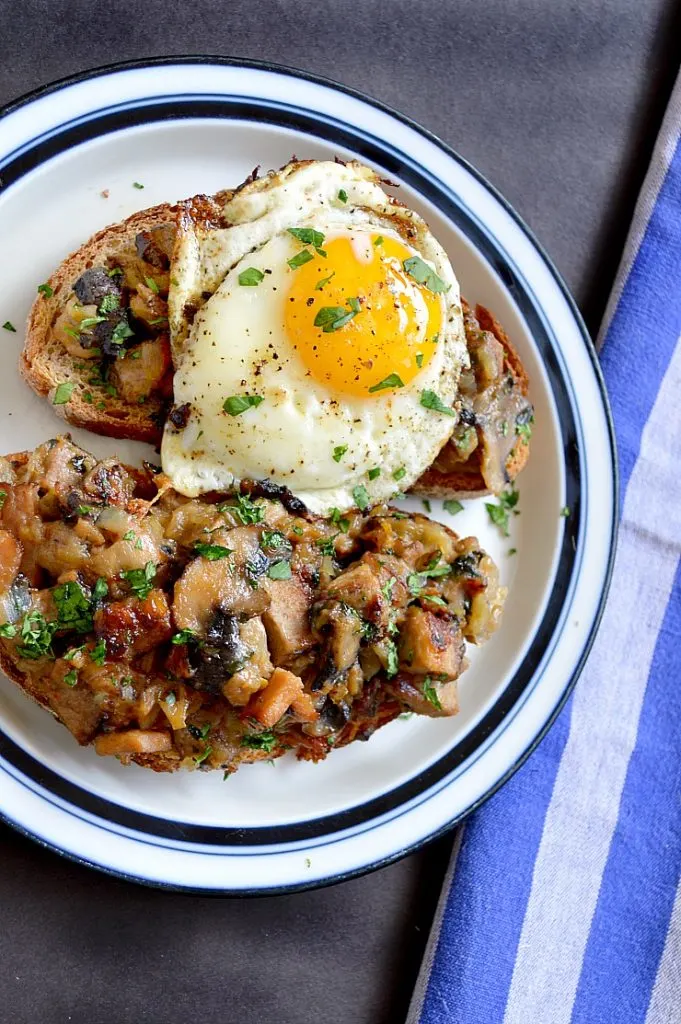 No, I'm not smoking anything right now and I'm already in a pretty good mood, so I'm not kidding when I tell you that this turkey hash will put anyone in a pretty good state, though it might not be Colorado. This hash might not give a Rocky Mountain high, but it sure beats smoking tea.
And if you do be smokin', tokin' da weed, you just might get the munchies… which leads me back to this hash. In which case, please feel free to partake.
Please Pin and Pass it Around!
If you haven't had enough of me, I'd love it if you follow me!
Print
Colorado's Best Hash or Need I Say More?
Author:

Abbe

Prep Time:

15 Minutes

Cook Time:

35 Minutes

Total Time:

45 Minutes

Yield:

4

Servings

1

x

Category:

Supper/Breakfast

Method:

Stove Top

Cuisine:

American
---
Description
Colorado's best hash is a mushroom and turkey hash that dates back to 1839. I say if a recipe has been around that long it's gotta be good! Save your leftover turkey for this!
---
3 T unsalted butter

2 T bacon drippings or oil

2 c chopped onions

1/4 lb thinly sliced mushrooms

3 T flour

2 c chicken or turkey stock

3 T heavy cream or half and half

1 T Worcestershire sauce

1 T tomato based bbq sauce

3–4 c diced and cooked chicken, turkey, beef or pork

1/4 c minced Italian parsley

Salt and Pepper
---
Instructions
Warm the butter and drippings in a large, heavy skillet over medium high heat.
Add the onions and cook for a minute, then add the mushrooms. Cook for 5 minutes, warming it through.
Pat the mixture down and let it cook until it begins to brown-about 6-8 minutes. Scrape it up with a sturdy spatula, getting up any brown bits.
Sprinkle flour over it and stir until it is incorporated. Now pour in the stock, cream, Worcestershire sauce and bbq sauce. Bring the gravy like mixture to a boil. Cook it down for about 10 minutes, until it is so thick that when you pull a spatula through it leaves a trail. Scrape up from the bottom while the mixture cooks.
Add your cooked meat of choice, parsley and salt and pepper to taste.
Scrape the hash back up again. Continue cooking and scraping until the liquid is cooked down and the hash mixture remains moist, but has a few crisp edges, another 6-8 minutes. Do not turn the temperature down unless you're close to burning the mixture. You need the heat to develop a rich, brown crust.
Serve over toast and add a fried egg if you'd like! Now just chill out. Peace, man!
---
Notes
Adapted From: Derby Day Turkey Hash (Real American Breakfast by Cheryl Alters Jamison and Bill Jamison)
Keywords: turkey hash, turkey hash recipes, turkey hash recipe, how to make turkey hash
More Comfort Food: