This Macho Salad Recipe is made for those who consider themselves macho and those who don't! Girl dinner? Man dinner? This salad is so good, no one cares!
I've never thought of salad as feminine or masculine.
Salad isn't quiche-remember how real men don't eat quiche? Or did they eat quiche?
That was a long time ago. I can understand that a salad such as a pretty Bibb lettuce salad tossed with tiny mandarin oranges, sprinkled with lightly toasted almonds might be considered a bit more feminine then say, a taco salad loaded with meat.
Does that make a Caesar salad, neutral territory?
But a macho salad recipe? I didn't name this beast.
I ate this eons ago at a restaurant that I think is now nonexistent.
Yes, I ordered the macho salad but there were no machos that came with it.
Just salad. I shouldn't say that. This is a macho salad recipe that even a macho would eat.
And whether you are or you aren't, a macho that is, this salad is, and it is good.
Let's get something straight here. I'm not a macho lover.
But I think we've already figured out that I am a Macho Salad lover.
So just who is a macho? We all know the song, "Macho Man" by the Village People, right? (True confession… for a long time I though they were saying Nacho Man and I love those.)
But check out this description from the urban free dictionary for the word macho:
"Male who cannot "lose face" in front of his mates or women. Most macho men have the emotional range of a teaspoon and have enough empathy to fill the ink tube in a pen."
Enough said, right?
But back to salad..I don't know how I remembered this salad, but it's been planted in my mind for awhile.
Macho Salad
Maybe it's the sweet cornbread croutons that offset the tanginess of the dressing.
Or perhaps the dates off set the goat cheese.
And the roasted chicken helps tie everything together.
Or is that the avocado that does that?
Perhaps it is the creaminess of the cheese, mixed with the crunchiness of the cornbread and the sweetness of the dates, that contrast so well with the saltiness of the chicken.
(Rotisserie Chicken works just fine in this.)
And you must know that this apple cider mustard vinaigretter would taste good on any salad-even one of the feminine variety.
My Manservant loves this salad and seeing how it is now about 60 degrees in Denver, even though the mountains are still being pounded by snow, last night was perfect for a salad.
A manly salad. And I only say manly, because it was devoured by my man.
I have yet to figure out why if I serve a salad with a meal, he saves it until the end and quite often doesn't eat it.
Whereas, if I serve it as a main course, he loves it! Well, thank goodness for this!
I think even this macho man would eat this salad.
And if he didn't I could care less about this "macho man!"
Or perhaps this macho in training.
Speaking of which, last night I skipped watching the Olympics to watch the Beatles.
Ohhhh. Now that was a good show. Did you see it?
And I ate this Macho salad before I sat down to watch TV. And that is all I have to say about salad.
Now I'm going to get my hair colored, because if there is such a thing as a Macho woman, well, that's not me!
More Great Salads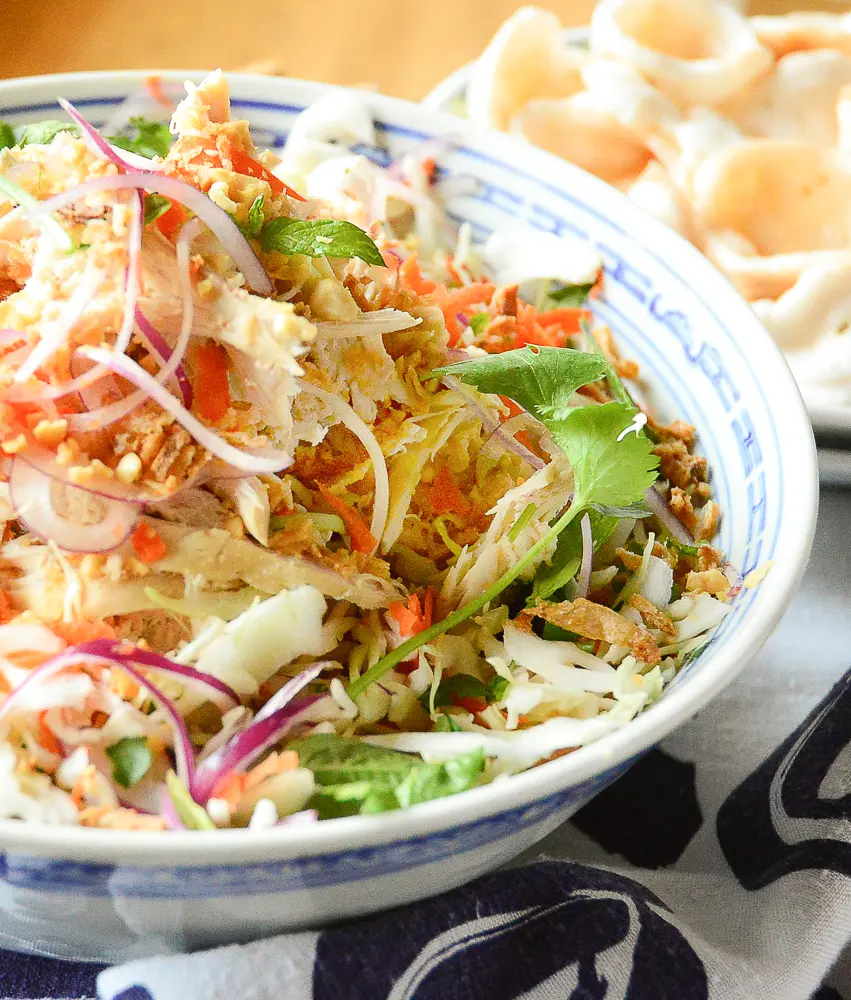 Goi Ga (Vietnamese Chicken Salad)
Print
Macho Salad… I Mean, Really?
Author:

Abbe Odenwalder

Prep Time:

15 Minutes

Total Time:

15 minutes

Yield:

2

Servings

1

x

Category:

Salads

Cuisine:

American
---
Description
Macho salad is so good. With it creamy cheese, crunchy cornbread croutons, avocado and sweet dates-well, it's hard to go wrong with this macho salad recipe!
---
Dressing:
1 t spicy brown mustard
1 large garlic clove, pressed or minced
1 T fresh squeezed lemon juice
1 T apple cider vinegar
1 1/2 t brown sugar
1/4 t salt
1/4 t black pepper
1/2 t Italian seasoning
1/3 c olive oil
Salad:
4 x 6″ square of cornbread cut into big cubes (Bake these is a 300 degree oven after tossing with 1 T olive oil for 20 minutes until they are dry and crouton-like)
3 1/2 c of salad greens – I used spinach and arugula
1 c shredded roast chicken (I used deli chicken)
2 t chopped Dates or golden raisins
10 baby tomatoes quartered
1/2 avocado cubed
1/2 c sliced almonds
2 oz goat or feta cheese, crumbled
2 chopped green onions
1/3 c drained corn or fresh roasted if you have it
---
Instructions
Combine all dressing ingredients except oil in a large mixing cup or bowl. Mix well and then slowly drizzle in the olive oil using a mini whisk to emulsify the dressing. (I used all the dressing on the salad but you may like more or less.)
Combine salad ingredients in a large bowl and toss with dressing. Dive in and sing Macho Man!
---
Notes
Feel free to use this dressing on other salads. It is so good!
Keywords: macho salad, macho salad recipe
More Valentine's Day recipes: