Hot Fudge Cake is a great dessert. Kind of like a brownie with a built in hot fudge sauce! Can't get much better than that!

Hot Fudge cake is a dessert I've been making since college. My guess is that it came from the worn pages of The Joy of Cooking. I can tell you that I know I discovered it because I was out of eggs. Yes, this is a perfect dessert for those allergic to eggs. And those out of eggs. Sometimes there are no neighbors around to ask! This easy hot fudge cake is like a warm brownie with a built in hot fudge sauce. Some might call this a hot fudge pudding cake, but this light chocolate sauce doesn't remind me of pudding.
Hot fudge cake is what you want when you want dessert, but don't want to spend a lot of time in the kitchen. Basically it involves making a batter and spreading it in the pan. From there you sprinkle it with sugar and cocoa and chocolate chips. Pour on your choice of liquids and voila! Hot fudge pudding cake. Don't be alarmed when you take it out of the oven and see something hard and ugly staring at you. The "sauce" has seeped below.This is almost an upside down cake because the sauce is at the bottom.
Now take this moist and luscious brownie and spoon portions of it into a dish. Top with ice cream or whipped cream and you have a very special dessert that will impress. I also like to spoon a bit more sauce over the ice cream. And if you have ever been to Trader Joe's you may have some coffee syrup in your fridge. In which case drizzle a little over the top. Heaven!
Hot Fudge Cake is a great make ahead recipe. I divided this recipe in half and used two baking dishes to make it. One half I baked right away and the other I kept in the fridge for two weeks. When I was ready to bake it, I poured the liquids over the top and I have to tell you… it was better than the first one. Maybe because the flavors were slowly melting together. Who knows? But if there are only two of you this is a great way to make two desserts!
This is a great old fashioned recipe. A classic, if you will. But really? who can resist a brownie that makes its own sauce?
Here are a few other chocolate desserts with hot or warm in their title. Hot chocolate cookies from Dinners, Dishes and Desserts are cookies I've always wanted to try. Hot Fudge Brownie Cheesecake from my friend Liz at That Skinny Chick Can Bake is amazing. I mean don't-just don't look at the photo. It will make you have a strong desires for hot fudge brownie cheesecake!
And a few more: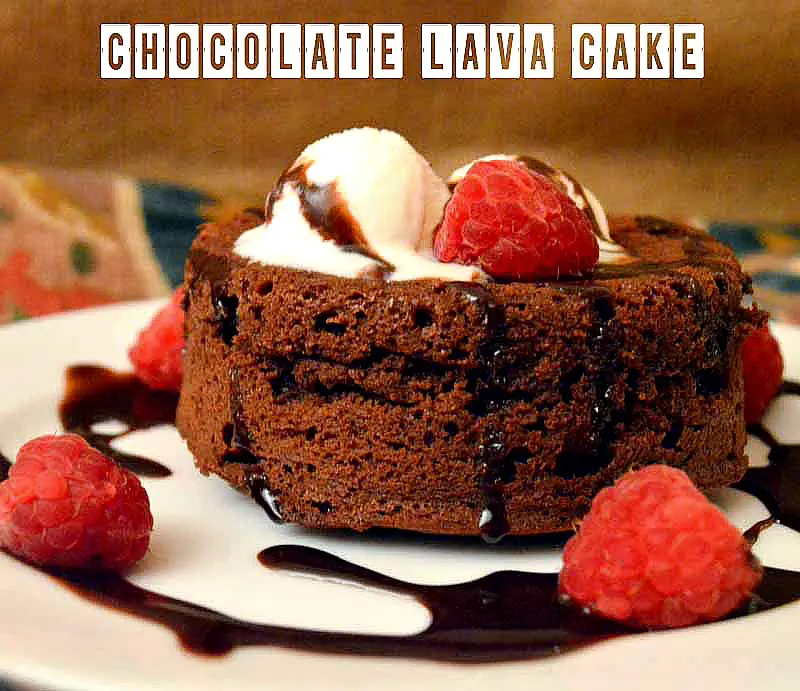 Please Pin and Share!
(This is an updated post from 2012)
Print
Hot Fudge Cake
Author:

Abbe Odenwalder

Prep Time:

15 Minutes

Cook Time:

35 Minutes

Total Time:

45 Minutes

Yield:

6

Servings

1

x

Category:

Dessert

Method:

Baking

Cuisine:

American
---
Description
Hot Fudge Cake is a great dessert. Kind of like a brownie with a built in hot fudge sauce! Can't get much better than that!
---
3/4c sugar

1c flour

3T cocoa

2t baking powder

1/4t salt

1/2c milk

1/3c melted butter

Ice Cream or Whipped Cream

1 1/2t vanilla

Topping:
1/2c packed brown sugar

3/4c sugar

4T cocoa

Handfuls of chocolate chips

1c coffee

1/4c rum
---
Instructions
Heat oven to 350. Butter an 8 or 9' pan.
In large bowl mix together 3/4c sugar, flour, 3 T cocoa, baking powder and salt. Stir in milk, butter, and vanilla. Stir until somewhat smooth. Spread into pan.
Now for the fun part. Sprinkle on the sugar. Then the brown sugar. Then the cocoa. Then the chips. Go ahead add a little more. You know you want them. What the heck, add some nuts too if you'd like.
Now take your coffee, mixed with the rum (or just all coffee or water) and pour it over the top. DO NOT STIR! Bake for 35 minutes or until center is almost set. Cool briefly and then spoon into dessert dishes or directly into your mouth. Don't forget the sauce that is at the bottom of the pan.
---
Keywords: hot fudge cake, hot fudge pudding cake, hot fudge cake recipe, easy hot fudge cake recipe