This easy 15 Minute Shrimp in Tomato Sauce with Feta is perfect for family or company. This savory, shrimp dish is made for busy nights!
Opa! It is time to celebrate!
It's been a long time since I was in Greece. 1976 to be exact. You do the math.
Our family flew to Israel to celebrate my brother's Bar Mitzvah.
After touring Israel we flew to Athens.
Imagine me drinking coffee in the main plaza and then turning around and spotting your best friend from high school drinking coffee their, too.
Totally serendipitous.
She was there after spending a year in France and stopped in Athens on her way home, which is where I spotted her.
It is a small world and it keeps getting smaller.
Not that this has anything to do with Greek shrimp, but when I think of Greece I can't help but remember that story.
Sad to say I don't know where that friend is anymore, but maybe one day our paths will cross again.
And if they do I can only imagine where that might be. It is a small world, after all.
But back to food. Israel's food (back then), was nothing to write home about.
Other than the famous Israeli breakfasts there wasn't much to say.
Needless to say the food is now over the top glorious, but back then we thought we'd died and gone to heaven when we hit Greece's little tavernas.
I remember sitting in a tiny seaside town under a white umbrella gazing at the blue, intoxicatingly blue sea and ordering seafood.
The breeze had the scent of salt and the essence of wood drifting from the grill, where your order was cooked fresh.
And fresh it was as we watched the fisherman unloading their small little dinghys.
I'm sure we started with fried zucchini and garlic aioli, because I believe we did that at every meal there. Couldn't get enough of that.
And we probably had a grilled fish and maybe we had grilled prawns. I don't remember.
I do remember the magical, lackadaisical feeling of being truly relaxed and wishing the moment wouldn't end.
Between the sun and the ouzo and the breeze, life couldn't get any better then.
(And yeah-those cute Greek guys!)
I have all kinds of shrimp recipes using tomato sauce.
My Creole shrimp is quite popular as is, but this raw shrimp recipe is for a simple Greek baked shrimp with feta cheese.
Looking for an easy weeknight dinner that will impress the whole family?
This Greek baked shrimp with feta recipe is a surefire hit.
Some people know it as Shrimp Saganaki.
Imagine a spicy tomato sauce packed with succulent shrimp, and tangy feta cheese.
This dish is bursting with Mediterranean flavors.
Best of all, it's a breeze to make, perfect for those nights when you have less time to spare.
Well, this recipe won't take you to Greece, but at least this shrimp dish brings a bit of Greece to you.
And frozen shrimp just can't compete with big meaty sweet prawns grilled over wood and drizzled with fresh green olive oil.
But it is a perfect quick dish to throw out for company or when you haven't picked up anything else.
I tend to always keep a bag of frozen shrimp on hand because I make shrimp often.
I don't eat red meat, so shrimp is one of my stand ins along with chicken and fish, and breakfast for dinner.
Just 10 ingredients, and most of them seasonings, are in this shrimp dish.
With a short assembly time and less than 15 minutes in the oven, you can have this shrimp with red sauce ready in no time.
No, this isn't a shrimp pasta recipe.
I usually serve this shrimp with rice, but if you want to turn this into a pasta dish, feel free to boil some spaghetti.
Shoot, you could even serve it over spaghetti squash which at this moment is sitting on the counter.
How To Make this Easy 15 Minute Shrimp in Tomato Sauce with Feta
To make this easy shrimp dish begin by coating a small oven-proof dish with olive oil.
I mix up the tomato sauce directly in the dish.
Combine canned diced tomatoes, tomato paste, a dash of red wine vinegar, garlic powder or minced cloves of garlic, and some oregano and basil, kosher salt and some fresh grinds of black pepper, along with a pinch of red pepper flakes to taste.
Stir well and place your large shrimp in a single layer on top of the tomato sauce.
Then sprinkle the feta cheese on the back of the shrimp.
Place in a 400 degree oven for 13 minutes.
Add the green peas and bake for two more minutes or until the shrimp have turned pink and are cooked through.
Why green peas? I love the flavor they add, but also the color. Don't have peas? Don't worry!
This is a great recipe, but be cautious not to overcook the shrimp.
Remove from oven and drizzle with olive oil and sprinkle with some fresh parsley for added color and flavor.
No parsley? Sprinkle with fresh basil or oregano.
While the shrimp cooks, make some rice.
Serve with a simple green side salad and add some garlic bread if you'd like.
Any crusty bread would taste great and is perfect for dunking in the sauce.
What kind of shrimp to use in this shrimp in tomato sauce easy 30 minute meal?
I prefer large shrimp-anywhere from 13 to 15's or 21 to 25's.
Most shrimp are found frozen now, but if you are lucky enough to find fresh shrimps, by all means go for it!
And if they are frozen, I like to buy the IQF's at my local grocery store.
IQF merely means that they have been individually frozen rather then freezing them in a large block.
How To Thaw Shrimp Fast:
If you haven't thawed the shrimp overnight in the fridge, (LOL) just place them in a strainer and run under cold water and they will be thawed in a few minutes.
However, you do not want the shimp taking on too much moisture, so the best recommendation is is place them in a ziplock bag and then place the bag in a bowl of cold water.
Weight the bag so it doesn't float and the shrimp should be ready to peel in 15 – 30 minutes.
Know your ingredients.
This easy shrimp dish doesn't have many and since tomato sauce plays such a big part in this simple dish, you may want to test a few different varieties of canned tomatoes out.
I did that one year and didn't really think I'd be able to tell much of a difference.
Well, I was wrong. I must admit that San Marzano tomatoes really do taste better.
The lower acidity of the tomatoes makes a huge difference.
No need for that pinch of sugar!
Try it and see and the next day make spaghetti sauce with the leftover tomato sauce!
Higher quality ingredients do make a difference in the taste of food and I encourage you to buy the best you can.
I promise you will notice the difference.
This shrimp dish is worthy of special occasions and it also makes an easy 30-minute meal when you are too tired to cook.
Leftovers? Store them in an airtight container and be sure to reheat the shrimp slowly.
Nothing worse than dry, over cooked shrimp.
That's about it. Enjoy this shrimp in tomato sauce with feta and a bottle of Retsina and relax!
OPA! I can almost smell the salt water.
Looking for a
small white casserole dish
? Not sure what the little spoon that comes with it does, but I do like the looks of the dish!
This post contains affiliate links for which I may or may not be paid a small commission at no cost to you.
Print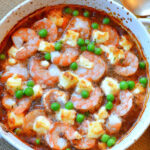 15 Minute Greek Baked Shrimp with Feta
Author:

Abbe Odenwalder

Prep Time:

10 Minutes

Cook Time:

15 Minutes

Total Time:

25 minutes

Yield:

2

-

3

Servings

1

x

Category:

Main Course

Cuisine:

Greek
---
Description
This simple shrimp dish is made in about 15 minutes and most of that time is spent in the oven. Take a load off and serve this tasty Greek shrimp dish to company or family!
---
18 large shrimp (I prefer 21 to 25's for this dish) Peeled, deveined and shelled
3/4 c canned diced tomatoes
1 T tomato paste
1 T olive oil and a bit more for a drizzle on top
2 t red wine vinegar
1/2 t garlic powder or 2 minced garlic cloves
1 t Greek seasoning or some fresh or dried oregano and basil
Pinch of red chile flakes
2 T frozen peas
2 oz cubed feta
---
Instructions
Preheat oven to 400 degrees.
In a small oiled 8 x 8 baking dish mix diced tomatoes, tomato paste, olive oil, vinegar, and seasonings.
When it is well mixed, top with the shelled shrimp and sprinkle with feta.
Bake for 13 minutes or until the shrimp are lightly cooked and the feta browned. (It will not melt.) Sprinkle on the peas and cook for two minutes more.
Take out of oven and drizzle with olive oil. Serve over rice.
---
Notes
Feel free to double this in a bigger dish!
Keywords: shrimp tomato feta, Greek shrimp, taverna shrimp, saganaki shrimp, shrimp with tomato sauce and feta, easy 15 minute shrimp with tomato sauce and feta, shrimp recipes tomato sauce