Vietnamese Chicken Salad (Goi Ga) is an easily prepared cabbage salad, made with rotisserie chicken and lots of herbs, topped with peanuts and fried shallots, and dressed with a sweet and tart dressing. I've been addicted to this for about 30 years!
There is hardly a better summer salad than Goi Ga, better known as Vietnamese chicken salad. For as long as I've been devouring Vietnamese food, I've been craving this authentic Vietnamese chicken salad.
I order it winter or summer, but I always order it. Unless of course I make my own. This is a super simple salad to make and is easily made with store bought rotisserie chicken, which is what I used last night.
Ordinarily poached chicken breasts are used, but not heating up the kitchen has its own rewards; especially when one has a home with just a swamp cooler and no ac. Not complaining, because in general it works very well. And wouldn't you know, today's weather in Denver may as well be fall. Baby, it's chilly outside!
What's in Vietnamese Chicken Salad or Goi Ga?
Vietnamese chicken salad is filled with the flavor of herbs. Mint, basil and cilantro to be exact. No lettuce greens in this, but crunchy cabbage that I also buy at the grocery in bags labeled angel hair cabbage. I said this salad was easy and I wasn't joking!
Throw in some shredded carrots which I guess I could have bought too, but didn't. I actually shredded them myself! Using my easy mandoline I sliced some red onion, chopped some peanuts and took a bag of fried shallots out of the freezer.
I buy these for a few bucks at an Asian market and they thaw almost immediately. They give great flavor and crunch to this salad. If you don't have them, feel free to substitute the fried onion rings in a can-just make sure they are in tiny pieces!
Nuoc Cham
Now let's look at the dressing. Nuoc Cham is traditionally used, which is a very common dipping sauce in Vietnam. It is used for dipping egg rolls, dipping soft shell crab or anything fried, and as a dressing for this salad and many others. You will love it.
Tasting tart and sweet and full of garlic and a touch of chili, I think it was this sauce that made me fall in love with Vietnamese food. Fish sauce is a main ingredient of nuoc cham and is the salty element of the sauce. Kind of like soy sauce is to Japanese or Chinese cuisine, fish sauce is to Vietnamese.
If I were to choose my favorite ethnic food, Vietnamese would be it, without a doubt.
I love serving this traditional Vietnamese chicken salad with shrimp chips, just as they do in the restaurant we visit. For some reason I had a hard time finding them in the Asian market.
Alex picked up 5 boxes in Vietnam and brought them home to me. He came home with cuttlefish, shrimp and fish chips-you name it! To be honest, I hate frying so I thought I would try them in the microwave. I did this with poppadoms once and it worked!
I took 5 wafers out of the box, brushed both sides with oil, placed them on a paper plate, microwaved on high for one minute and they came out as cute little cups. Perfect to place a few bites of chicken salad on! I did try weighting them to see if they would come out flat, but they still formed a cute little cup. If you can find them, try them. Kind of like a Vietnamese tortilla chip!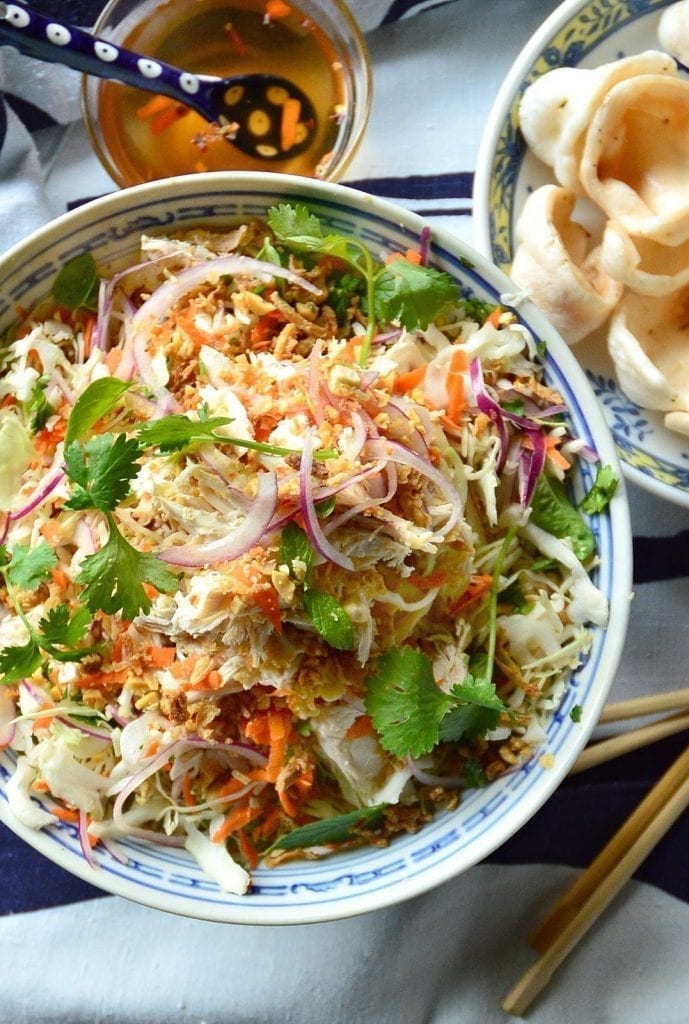 If you've never tried Vietnamese food, what's stopping you?
I must admit to not being a lover of pho which seems to be competing with ramen lately. I do love a chicken pho, but the beef escapes me. Love the noodles though! And if pho is all you know, you are off to a good start.
But then again there are banh mi's, which are starting to appear everywhere. These Vietnamese sandwiches on French baguettes filled with pickled veggies, jalapenos and cilantro can be found stuffed with everything from pate to grilled pork and chicken. We find them for about $4 and feel like we are robbing someone! Check out a good Vietnamese restaurant. You won't be disappointed!
And now it's time to make this salad… so I can go eat my leftovers!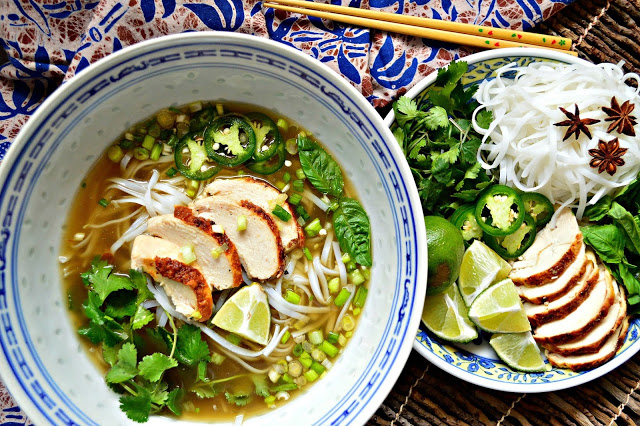 Please Pin and Share: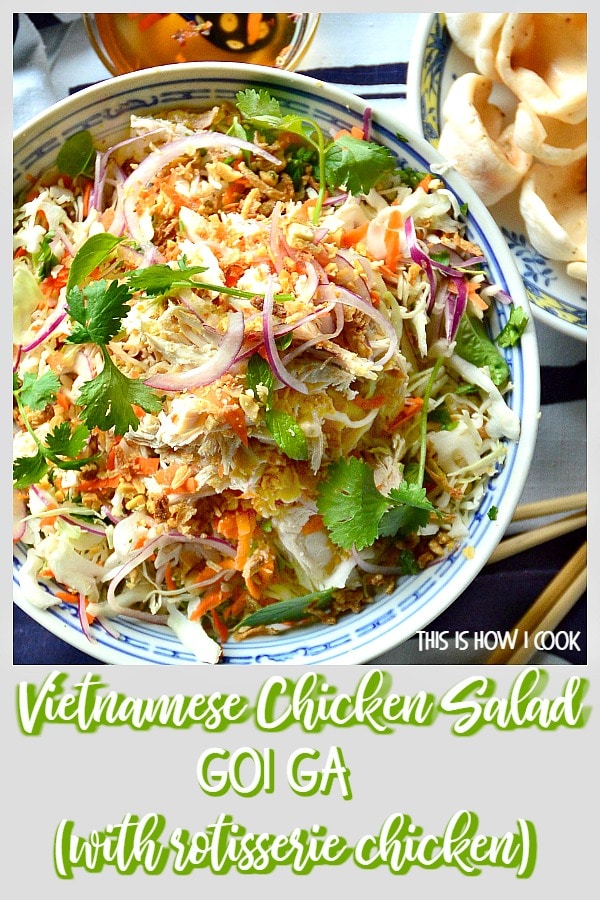 Print
Vietnamese Chicken Salad (Goi Ga)
Author:

Prep Time:

25 Minutes

Total Time:

25 Minutes

Yield:

2

-

3

Servings

1

x

Category:

Salads/Mains

Method:

No Cook

Cuisine:

Vietnamese
---
Description
Vietnamese Chicken Salad or "Goi Ga" is an easily prepared cabbage salad, made with rotisserie chicken and lots of herbs, topped with peanuts and fried shallots, and dressed with a sweet and tart spicy dressing.
---
Scale
Ingredients
1

bag Angel Hair Cole Slaw or about

3

–

4

c shredded cabbage

2

carrots-shredded

1/2

of a Bermuda onion sliced very thin

1/4

c chopped cilantro

1/4

c small mint leaves

1/4

c fresh basil leaves (If you have Thai basil, so much the better!)
Rotisserie Chicken (I used both breasts and tore them into shreds. No chopping!)

4

T coarsely chopped peanuts

3

T fried shallots
Nuoc Cham
1/4

c freshly squeezed lime juice

1

–

2

minced garlic cloves

3

T fish sauce (I use Three Crabs. There is a huge taste difference from

one

brand to another.)

4

T water

4

T sugar

1/4

t red chili flakes

1

T sweet chili sauce (Mae Ploy)
---
Instructions
Make the Nuoc Cham. Combine all ingredients and stir until the sugar dissolves. Set aside.
In a large bowl, toss the cabbage, carrots, onion, and half of the cilantro, mint and basil. Top with torn chicken and sprinkle with the rest of the herbs, peanuts and shallots.
I serve the nuoc cham separately so that each diner can dress the salad the way they prefer. I also serve this with fried shrimp chips as they do in the restaurant we visit. Pile a big bite of salad on each shrimp chip, add a spoonful of nuoc cham and eat! (See above)
---
Keywords: Vietnamese Chicken Salad, Recipe for Vietnamese Chicken Salad, Vietnamese Chicken Salad Recipe, Vietnamese Chicken Salad Dressing, Goi Ga, Vietnamese Chicken Salad Cabbage, Authentic Vietnamese Chicken Salad, Traditional Vietnamese Chicken Salad