I'm not sure how my Papa Alex fell in love with our beloved Ilse, but I believe it had something to do with her cooking. I was young when my Bubby died and I know my Papa was very sad. However it wasn't too long until he found Ilse and we all discovered that the way to a man and a family's heart is through their stomachs. Ilse was a tremendous comfort to Papa which made me comfortable too- because if Papa was happy, well, I for one, was happy, too.
I can only guess what she cooked up on their first date but my imagination leads me to believe that it may have been this cake. It is a special cake not only because it contains love in the purest form, but also because I have never found any like it. So don't lose this recipe. I guarantee you won't be able to replicate it. Many years later when I was older I asked Ilse how long she had been making this. As you will see the secret ingredient in the frosting is hot cocoa mix. I had no idea they made hot cocoa mix in the 40's but she informed me they did. Now something else you must realize-this was before food processors were standard fare in the kitchen, so all those nuts had to be chopped very finely by hand. And the egg whites were mixed with a hand beater. Quite a job and more than I would want to do, but Ilse did it and not just for Passover. (Yes, this is a Passover cake, because it contains no leavening or flour.) She made it often.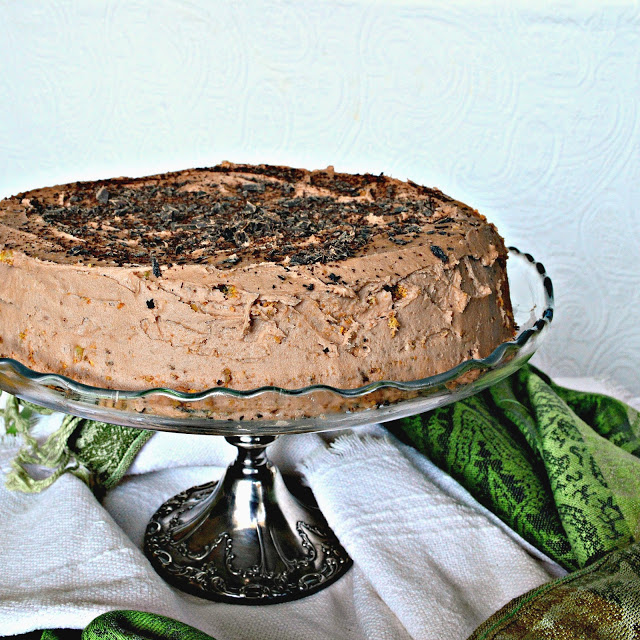 Now, let me digress and admit something here. When I was younger, I did not like this cake, but I loved the frosting. I remember trying to eat around the cake and look like I really liked it. But all that does not matter now. One of the first things I wanted when I got married was this recipe. It is true that absence makes the heart grow fonder. It then took me almost 20 years to get the recipe out of her mouth! It was over the phone and well, you can see exactly what I wrote. But now I am writing it up in recipe form so that it can be enjoyed by all.
And one last note. My kids LOVE this cake. I have twins so I bake two cakes each year. We always do chocolate and we always do Ilse's cake. And when they came home this year for winter break, it was Ilse's cake that was waiting for them. It is only fitting that in the month of December when Ilse would have been 91, that we use this cake to celebrate her. It is comforting to know that my kids will most likely be celebrating with this cake for many years to come. And in doing that Ilse will always be in our hearts and our thoughts. And dare I say- our tummies? Yes, I believe she would be proud AND happy.
Ilse's Mocha Nut Cake
(I use a 9" springform pan but Ilse used a 10". I prefer it taller and I also think it stays moister this way. Keep in mind this is my interpretation of what you see on the above paper.)
Serves 8-12
Time to Make:
About 30 minutes
Ingredients:
Egg Yolks
8 large eggs separated with the whites in your mixing bowl. Yolks in another.
2c finely ground walnuts
1c sugar
3/4t almond extract
1/4t vanilla extract
1/2c matzoh meal
Directions:
Whip egg whites until soft whip and then add 1/2 c sugar to make a very thick bowl of stiffly beaten egg whites.
Stiff Egg Whites
Beat egg yolks with whisk until very thick and lemony. Stir in remaining 1/2c of sugar. Add nuts, vanilla and almond extracts and matzo meal. Fold in egg whites.
Scoop into parchment lined 9" spring form pan. Bake at 375 anywhere from 40 minutes to an hour. Insert skewer to check for doneness. It should be clean or with very few crumbs clinging to it. You do not want it to over bake or it will become dry. Cake will rise probably above pan. Cool on a rack. It will fall and actually look quite ugly. That is OK because now you get to make this most delicious frosting.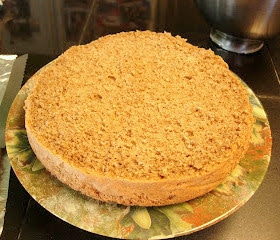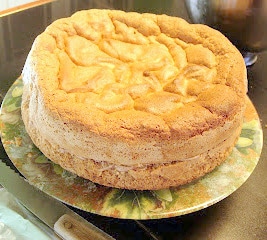 Mocha Frosting
(I do this recipe plus 50% more. You could also double it and then eat the rest with your fingers. Doubled is just a bit too much for this cake!)
2c powdered sugar
1 envelope Swiss Miss or hot cocoa mix
1 stick butter or margarine
2-3T of coffee (from a cup of brewed coffee)
Beat this well in a mixer and make sure to save some for the cake!
When cake is cool, slice through middle horizontally there by creating a layer that you can now fill. Replace top half and frost the entire cake. This is a great birthday cake, not to mention a very special Passover cake. Apparently it is also a great cake to attract future husbands, too!
P.S. The teacup is also very special. It was given to me by Ilse at my bridal shower and was a cup from my Bubby's china set. I don't know what happened to the china but I have one very special teacup.