A classic, old fashioned chocolate fudge layer cake with a tender, moist interior topped with a rich, creamy chocolate frosting, this has birthday cake written all over it.
It is a new year. It will be a good year. (I'm supposed to say this twenty times a day for 3 weeks and then my brain will start believing it.) I read that somewhere but I won't bore you with the other 19. It will be a good year but right now I feel more optimistic telling you what will taste good this year. I have made this triple layer chocolate fudge cake  for thirty some years and it only took me one time to believe how good it was! It has served me well for birthdays, anniversaries, and special occasions. Yes, it has become a classic in our little family.
Along with Ilse's Mocha Nut Cake this is the other cake that is always asked for by my twins each year around birthday time. And to show them how much I loved them, I admit, I did make two cakes most of the time.
Ilse's Mocha Nut Cake
This year I even made it for my father who celebrated 81 years of a charmed existence; at least in my book. And he is a charmer I will tell you. I believe I even got him to smile when this cake was placed in front of him. And smiling is one thing he does not do enough of. If I were making his birthday wish it would be that he smiles more. After all he does have a lot to smile about.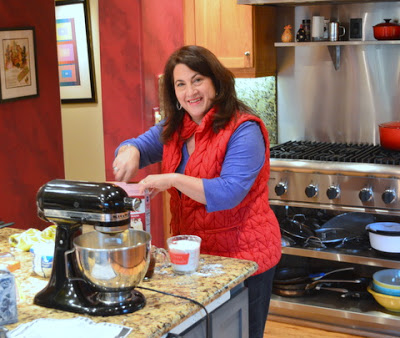 Making my father's cake
This is a great chocolate cake. It is moist and flavorful with the perfect crumb. It comes out of a standard cake pan well, but I prefer removable bottom cake pans. Because this cake is so moist you may have to rap a standard pan on the edge of a counter to get it to come out clean. When flouring the pan, I prefer cocoa instead of flour.
The best part of this cake, in my humble opinion, is the frosting. If you are a frosting lover please make at least 1 ½ times this recipe. You will use it. My daughter informed me that she is now making this frosting to go with boxed cake mixes. She decided it was the frosting that counts. Please note that I made this for many years with a handheld mixer. Yes, it really does need to be beaten for 5 minutes, but I promise the time goes fast.
Yes, time really does go fast. I find many pictures of this cake with the candles being blown out. It brings back many memories of happy times not to mention the many different kitchens I've made it in. This is one recipe I've stuck with. And boy, it has stuck to me too! (Sorry, I couldn't help myself.)  OK, regardless of your resolutions, make it a point to make this cake at least once this year. If you do, I guarantee you will have at least one sweet day to look forward too! And many happy memories thereafter.
Print
Chocolate Fudge Cake
Author:

Prep Time:

30 Minutes

Cook Time:

25 Minutes

Total Time:

55 Minutes

Yield:

12

-

16

Servings

1

x

Category:

Dessert

Method:

Baking

Cuisine:

AMerican
---
Description
A classic, old fashioned chocolate fudge layer cake with a tender, moist interior topped with a rich, creamy chocolate frosting, this has birthday cake written all over it.
---
Scale
Ingredients
3 (1 ounce) squares of Baker's
unsweetened chocolate
2 ¼ c sifted cake flour (I use a fork and stir flour well to make it light)
2 t baking soda (even in Denver)
½ t salt
½ c butter
2 ¼ c firmly packed brown sugar (I always have dark so that is what I use but light is
fine)
3 eggs
1 1/2t vanilla extract
1c sour cream
1 c boiling water
Chocolate Frosting
4 squares (1 ounce ) Baker's
unsweetened chocolate
½ c butter
1 pound confectioners sugar
½ c milk
2 t vanilla
---
Instructions
Preheat the oven to 375 degrees. Grease and flour 3 9-inch cake pans.  (I use cocoa instead of flour)
Melt chocolate in microwave for 1 minute power level 7. Stir and then do 30 seconds power level 7 until it is
melted completely. Cool.
In a large bowl beat butter until soft and creamy. (If butter is not at room temperature you can soften it in the microwave in the paper wrapper for 10 seconds.)
Add the brown sugar and eggs and beat with an electric mixer for 5 minutes at high speed. Scrape down several times during this process.
Beat in the vanilla and melted chocolate.
Stir flour, baking soda and salt with a fork to aerate and incorporate the salt and soda. Add flour mixture alternately with sour cream, beating well after each addition. Stir in boiling water slowly and mix well. Batter will be thin.
Pour evenly into prepared pans. Bake for 25 minutes or until sides of cake shrink from edge of pan and a tester inserted comes out with just a few moist crumbs.
Cool on rack.
Chocolate Fudge Frosting
Combine chocolate and butter in microwave safe bowl. Microwave on power level 7  until mixture is fully melted. Do this in 30 second intervals and whisk the chocolate and butter in between until melted and chocolate and butter are incorporated.
Combine sifted confectioners sugar, milk and vanilla in bowl. Stir until smooth. Add the chocolate mixture. Stir until well combined. If frosting is too soft to be spreadable,  place bowl in a pan of ice water and beat with a spoon until frosting is thick and holds its shape. This can also be refrigerated and brought to room temperature before icing.
---
Notes
I always make 1 1/2 times the frosting recipe. It is so good.
Keywords: chocolate fudge layer cake, chocolate fudge cake, birthday cake, chocolate cake
Birthday Photo. Smiling or Not?