It's not Mother's Day yet, but I'm getting ready. There will be no kids to bring me flowers or make me breakfast this year, but that's OK, I understand. Really, I do. Really, really, I do. Yes, I do. Maybe a card will come in the mail, but yes, life does move on and I do get to see them both soon and I just saw them a few weeks ago, so I'm not complaining. But I did love Mother's Day when they were young. It was fun to see their cooking skills improve as they got older. Yes, they made me eggs benedict with smoked salmon, but usually it was an omelet. Manservant used to do that part. And they always brought it to my bed on a tray that was needlepointed for me by Ilse, my third grandma. The blue tray always always held the one bloomed red tulip that was in the front yard closest to the front door.
Usually the weather was nice, so we went for a bike ride on the canal and sometimes we I even made a picnic. Often we did yard work and planted flowers and it was the one day they were always eager to help. Well, this year will find me in the yard if the weather holds, (though it isn't supposed to) because I am way behind in my yard work. We have an incredible amount of dandelions and I have no idea why. The weeds are already tall and I need to get things in shape before Zoe arrives for Memorial Day.
Gardening has put me in the mood for one of my new favorite cocktails. I discovered this when we ate at Alex's restaurant. Well, not really Alex's restaurant. Don't I wish? But the restaurant where Alex works. Matsuhisa makes what they call a gardener's cocktail. I don't know where this came from, but now that I am paying attention I see they are on a lot of restaurant menus, though they are all made a bit different. The one key ingredient they all seem to have is something fresh and herby and green. I've seen these made with cucumbers and basil but Matsuhisa's is made with ginger and jalapeno and cilantro.
I only consumed one while we were there, so this drink is based on my incredible memory and a few questions I asked the bartender. Manservant did the rest. He is the mixologist in our family. I am the drinker. I just wanted that to be clear. I am the cook. He is the eater. We have very established roles in this pack.
And now I can see why many bloggers post drinks on Friday. What a great day to get the weekend started. Yes, I am sitting here in this highly charged, very creative environment, sending out this somewhat dizzy blog. And this doesn't feel like work. It feels like I need a nap. And then maybe when I wake up there will be a fresh one waiting for me!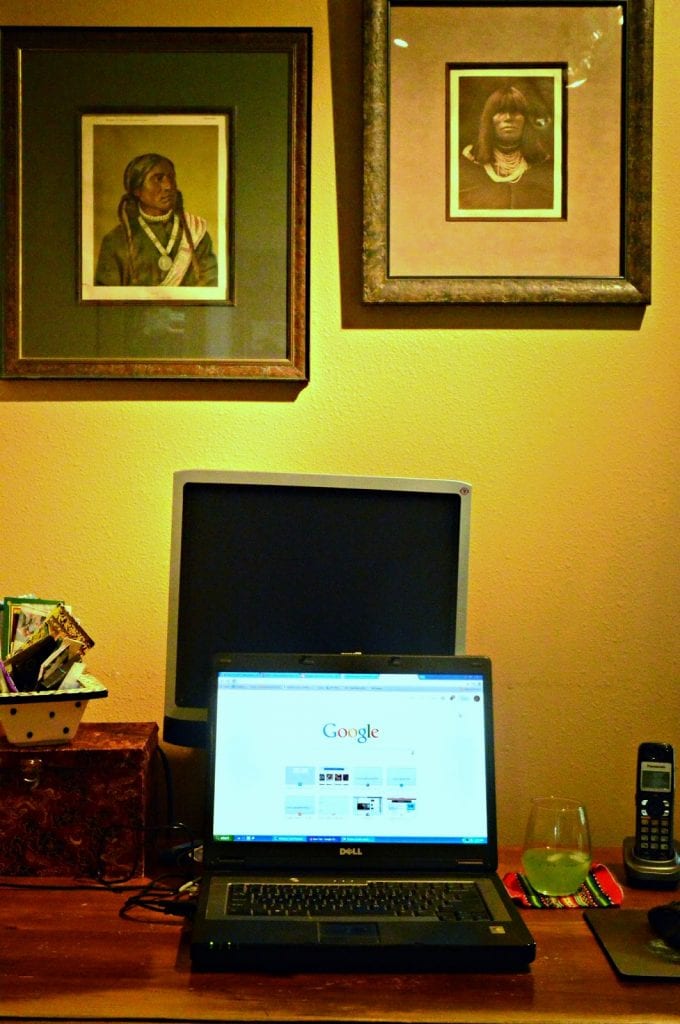 My highly creative environment with one too many computer screens!
I love this drink. Yes, it does work great with Asian food, but it would be great with Mexican food, too. Or a burger for that matter. It has some spice, some herbiness (is that a word?) and it is such a beautiful shade of green. My kitchen is painted bright green, so I like green. And green does remind you of a garden, right? Well, maybe not my garden… I have never had much of a green thumb, but I try really hard.
We made this drink in Phoenix when we were visiting and my mother had a sip. Then she had two sips and before you know it, it was gone. Now, on a side note I should mention that my father has a really incredible wine cellar. And they both love wine. But I discovered something about my mom. She loves cocktails. Yes, she does. And cocktails love her. She relaxes and smiles more and I think really enjoys the happy hour. Especially the French onion dip. She even complained when Manservant made me a drink and didn't offer her one. Yes, I do think she'd choose a cocktail over a glass of wine.
As a child, I remember my mom and dad attended many cocktail parties. She always wore a little cocktail dress and blue eye shadow and Joy or Shalimar perfume. She smoked her cigarette while she applied heavy makeup in the bathroom. She doesn't smoke or wear heavy makeup anymore, but I just needed to set the scene. She always had hair that looked a lot like Jackie's. Her clothes looked a lot like Jackie's, and if you don't know the Jackie I'm talking about, just look up 1962. I was 5. And my mom was gorgeous. And glamorous. And I loved to watch, but I hated that cigarette. And then they left; after the babysitter had come. And the lingering trace of perfume and smoke was in the air, while we ate pizza rolls and watched Disney or Batman.
So Mom! This drink is for you! Have Dad make you one. Or two. And enjoy your Mother's Day. I'm thinking of you. Here's sending you a virtual hug and kiss and a Happy Mother's Day. And the best part is, I'll be drinking one, too. Love you, Mom!
The Gardener (by way of Matsuhisa and the Manservant)
Yield: 1 Cocktail
Chill your glass. I used what you see, but a martini glass works, too. Or a high ball. You can do this on the rocks or not. I am not picky. Keep your gin chilled, too. It is important to always be ready, because you never know when the need for a drink will strike. Make sure you use clean ice, because the freezer can impart weird flavors to the ice. Manservant told me to rinse the ice. I did.
Ingredients:
Ginger – Peeled, so there are no floaties. Manservant told me to say this. When it comes to drinks, I take him on his word. You will need 1 peeled slice, about an 1/8″ thick and in a 1″ round size. Ginger is not perfectly sized, so do your best.
Jalapeno – 1 unseeded 1/4″ thick slice
Cilantro – 1/8 c (No need to chop)
Now put those three things into a shaker. Muddle them well. Be aggressive. Manservant told me I wasn't being aggressive enough when it came to muddling. So just break that shit up.
Now add:
1/2 shot of freshly squeezed lime juice
1/2 shot of Agave nectar or simple syrup
1 shot of Hendricks gin
Add some ice (no fancy ice in this house) to your shaker that is filled with cilantro, jalapeno and ginger. Add the lime juice and agave and gin. Now shake. Be aggressive with the shake, too. Strain into glass of your choice. Drink. Feel the green. Be a wild and crazy mother for Mother's Day. Your kids will not forget, I promise. That is if they are there…
Matsuhisa says to try another version made with fresh red peppers. We haven't gotten to that yet. But we will. I also think that adding club soda to this would make a lighter, more sparkly drink for  the wummer. I mean summer. Your choice. Happy Mother's Day!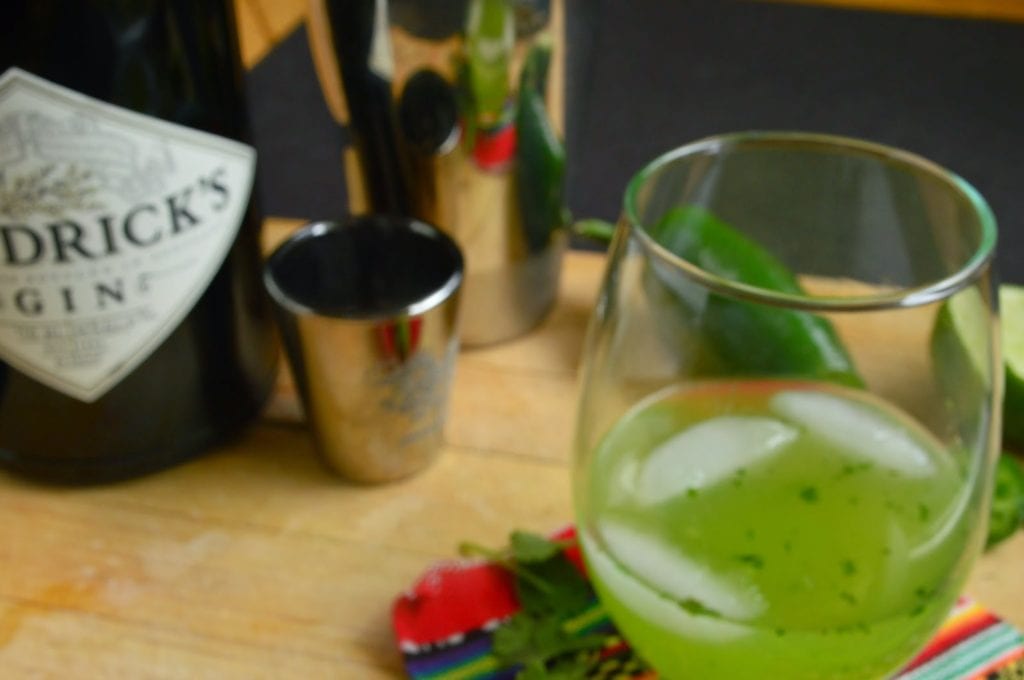 One too many gardeners!


Great Foods for May: