It's been a long time since I posted a mezcal cocktail, but this one made with Ilegal Mezcal, has become one of my faves. This is a great mezcal cocktail recipe and since Manservant invented it, he told me I could name it. Being Valentine's Day; and because of its intense, gorgeous color, I just HAD to name it the Mezcal Kiss.
I'm calling it the Mezcal Kiss, because it reminds me of Valentine's Day and kind of reminds me of women that wear bright red lipstick. You just can't miss them, right?
I always hoped I could get away with it, but I'm afraid I'm just a pink girl!
Well, you can't miss this mezcal drink either!
Saturated with the color red, its smoky complexity is balanced with the tart richness of hibiscus.
Add in some fresh lime juice and a touch of orange from orange bitters, this is one drink you can't escape.
And I mean that. This mezcal cocktail is 22% alcohol and just like you can't miss a woman wearing red lipstick, you can't escape the effects of this stiff drink!
What gives this mezcal recipe its red color?
Manservant used dried hibiscus and made his own hibiscus syrup, instead of using agave or the standard simple syrup.
This stuff is so good you can even use it to sweeten iced tea and create your own special version of tea.
Mix it into 7-Up and give the kids your own version of a Shirley Temple.
Just don't forget to add some maraschino cherries, because everyone knows they are the best part of a Shirley Temple!
Hibiscus syrup is also wonderful drizzled over plain yogurt or fresh fruit to give it that little something extra!
How to Make Hibiscus Syrup:
Combine 1/2 c of hibiscus blossoms and 1 cup of water in a small pot. Bring to a simmer over medium heat and stir in 1 cup of sugar and 1 t of salt and stir until dissolved. Set aside to cool.
This will keep in the fridge awhile. I'd tell you how long but we use it within a month!
What mezcal should you use?
The choice is up to you. Manservant relies on Ilegal Jovan mezcal to use in his cocktails.
Ilegal is a bit soft, a touch sweet and not too smoky but still strong enough to stand up and hold its own. Hmm. Just like I like my men!
This mezcal is a great way to get someone started on mezcal because of its mild flavor and its lower price point which is totally affordable.
Unaged, this mezcal comes in a sexy bottle-I love the green wax, dripping down its elongated shape-bottle, that is.
And like I said, it's not too smoky but sure manages to light my fire. (Hey, it's Valentine's Day!)
Perfect for cocktails and though it is sippable on its own, Ilegal mezcal makes for a perfect kiss. Mezcal Kiss, that is!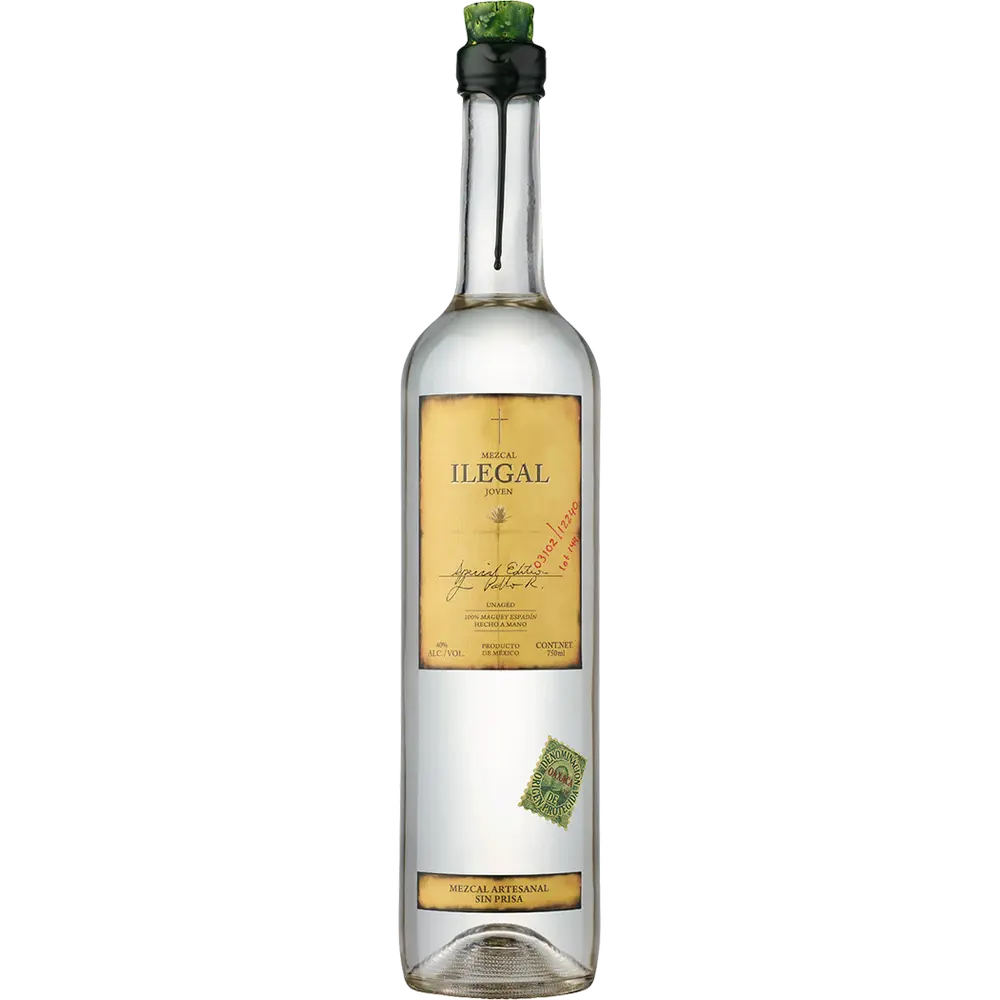 Who knows? Maybe others will follow!
If you've never had mezcal and you love Scotch, you will probably like mezcal. Both have smoke!
(So, no I'm not being paid by Ilegal, though Manservant wishes!)
Now, let's make this Kiss shall we?
Chill some round, sensually shaped coupes with ice. (If you watched Emily in Paris-on Netflix ,which I thoroughly enjoyed, you learned that champagne coupes were shaped like Marie Antoinette's breast!)
And then I learned that's probably not true because I hate to pass on misinformation.)
But back to our coupes… Fill with ice and fill with water and set aside.
In your favorite shaker, add lots of ice and then 3 ounces of Ilegal mezcal, 1 1/2 ounces of hibiscus syrup, (in case you don't want to make your own) and 1 ounce of fresh lime juice plus two dashes of orange bitters to make this hibiscus mezcal cocktail.
Don't forget to put the lid back on the shaker. Shake it well. Just like you were putting on a show.
Empty the ice from the coupes. Go around the rim, ever so carefully with your tongue-I mean a wedge of fresh lime, and then dip the coupe into sparkling sugar.
You want it to sparkle real good.
Then carefully pour-down to the last drop-your Mezcal Kiss into the coupe.
Serve and savor and enjoy.
Happy Valentine's Day!
I guess I like Mezcal because here are other favorite cocktails with mezcal!
I'd Love it if You'd Follow Me and Pin and Share:
This post contains affiliate links that may or may not pay me a commission, but at no cost to you!
Print
Mezcal Kiss
Author:

Abbe Odenwalder

Prep Time:

10 Minutes

Total Time:

10 Minutes

Yield:

1

drink

1

x

Category:

Cocktails

Cuisine:

American
---
Description
This mezcal cocktail with hibiscus, fresh lime juice and orange bitters is a little bit sweet and a little bit savory. Totally refreshing, the smokiness of the mezcal and the richness of the hibiscus syrup totally comliment each other.
---
Hibiscus syrup
1/2 c dried hibiscus blossoms (Flor de jamaica)
1 c sugar
1 t smoked or regular flaky salt
Cocktail:
3 ounces Ilegal Mezcal
1 1/2 ounces Hibiscus syrup
1 ounce fresh squeezed lime juice
2 dashes orange bitters
Coarse Sugar, Valentine Gummy hearts
---
Instructions
Hibiscus syrup:
In a saucepan combine the blossoms and 1/2 c of water and bring to a simmer over medium heat. Add the sugar and salt, stir to dissolve. Now turn off the heat and allow to cool completely. Strain through a fine wire-mesh sieve, pressing on the solids to extract all the syrup. You should have a little over a half cup of syrup. Keep in the fridge until ready to use.
Cocktail:
Fill your favorite martini glass or coupe with ice. Add water and set aside to chill.
In a cocktail shaker filled with ice, add mezcal, hibiscus syrup, fresh lime juice and orange bitters. Shake well.
Empty glasses and run a wedge of lime around the upper edge of the glass. Pour the sugar or salt onto a plate and dip glass in it to make a sugared or salted edge.
Carefully pour the shaker's contents into the glass. Garnish with a heart if you'd like!
---
Keywords: mezcal cocktail recipe, mezcal drinks, best mezcal cocktail, mezcal recipes, ilegal mezcal, hibiscus mezcal cocktail, hibiscus syrup