Chocolate Brownies, with cocoa and chocolate glaze, aren't Sara Lee's fudgy chocolate brownies that I adored in my childhood. However they sure are close! And to me that's a good thing!
(This is an updated post!)
Growing up my mantra might have been "Nobody doesn't like Sara Lee!". If you know the jingle from their television commercials, I apologize for this being stuck in your head for the rest of the day.
And even if you don't know the jingle, I hope you know Sara Lee.
Sara Lee was cheesecakes with cherries and graham cracker crusts all in a foil pan and a cardboard top.
Sara Lee was poundcake fresh from the freezer. And for all I know they may still make those, but I know of no more chocolate fudgy brownies in a foil pan with a cardboard top that went straight from the freezer to my mouth.
No more chocolate fudge brownies, I am sad to say. Very, very sad to say..
Sara Lee's chocolate fudge brownies were something we always looked forward to when my parents went out for the evening, or the weekend, or on vacation.
That and Gino's pizza rolls. And maybe a few Swanson TV dinners.
But back to brownies. I don't ever remember my mother baking brownies. She did bake chocolate chip cookies.
She made a Heath Bar cake. I remember a few bundt cakes and apple pies but I don't remember brownies. And I love brownies.
I prefer fudgy brownies over cake brownies. I don't like mixes, but one day I'll tell you my secret for mixes which comes in handy if you need a pan of brownies at the last minute for a school function.
Though they involve a mix they are truly decadent. But other than those, I stay away from mixes.
Just because I can, I guess. However, I've always been on a hunt for something similar to Sara Lee.
There was always something special about the cold fudgy brownies straight from the freezer.
We would thaw them just a bit while getting ready to savor our first bite. One bite through the thick chocolate glaze and then deeper into the fudgy brownie insides, laden with tiny walnut chunks would send a child like me to heaven.
But what really sent me over the top was our babysitter's treatment of the brownies. No joke. I still remember the time she cut the 8″ foil pan of iced fudgy brownies into 4 pieces. One for her and three for us kids.
She was clearly not my mother. My mother would have cut 1 inch squares. We loved our babysitter. And she rewarded us with treasure in the form of fudgy brownies.
I finally found a brownie that reminds me of Sara Lee fudgy brownies AND they are about as close to SARA LEE as I think I'm ever going to find.
They are best, IMO, straight out of the fridge. Cold and chewy, with tiny toasted walnut chunks, these fudgy brownies remind me of those I ate years ago. Truthfully, I couldn't tell the difference. Or perhaps my memory is not as good as it used to be.
But, if you need a simple, but decadent brownie, these chocolate brownies with chocolate glaze are it.
And though no one ever needs a brownie, sometimes your day goes a bit better with one. That's all I'm sayin'.
Nobody doesn't like Sara Lee.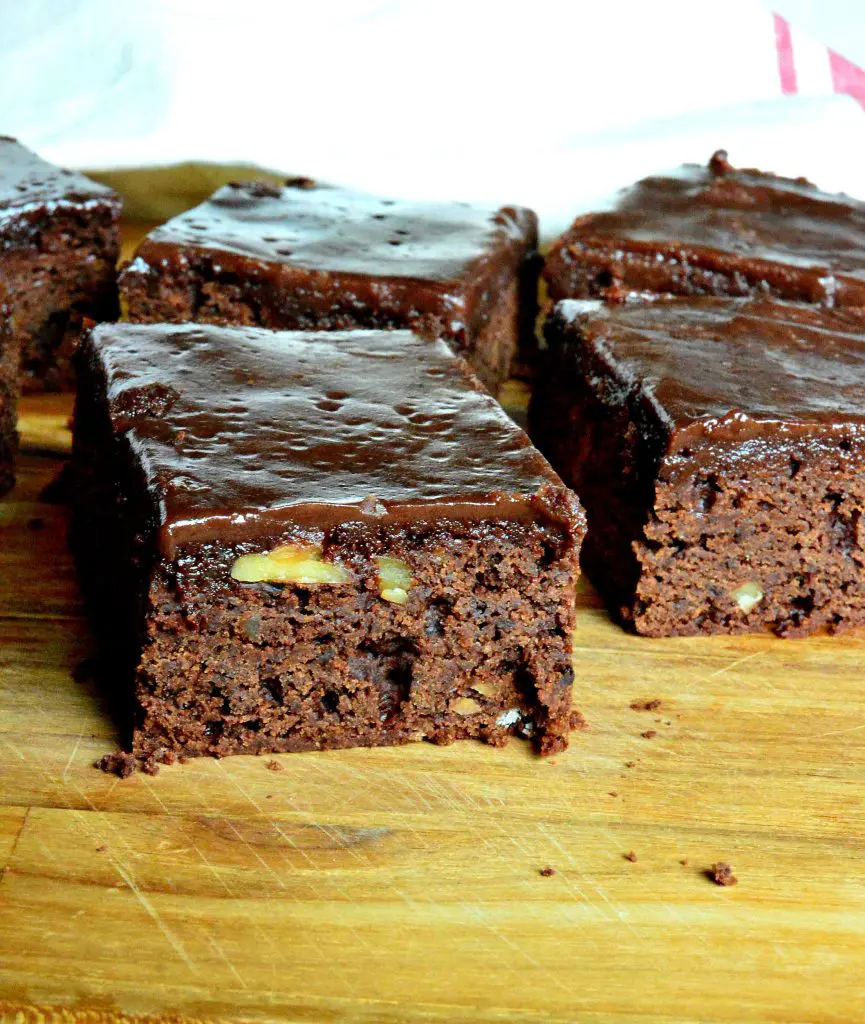 Don't eat these all by yourself.
Please Pin and Share!
And a few more you may want to check out:
More Brownies:
White Chocolate Blueberry Brownies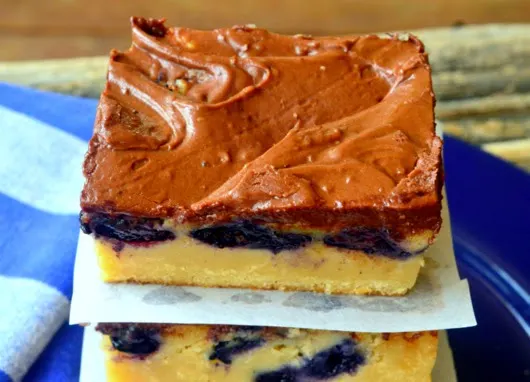 Print
Chocolate Brownies with Chocolate Glaze
Author:

Abbe Odenwalder

Prep Time:

15 Minutes

Cook Time:

25 Minutes

Total Time:

45 Minutes

Yield:

1

8" pan

1

x

Category:

Dessert

Method:

Baking

Cuisine:

American
---
2 eggs
3/4 c sugar
1 t vanilla
1/2 c melted butter
2 T milk
3/4 c cocoa
2/3 c unbleached flour
1/4 t baking powder
1/4 t salt
1/2 to 1 c toasted, chopped walnuts
Glaze
4 T unsalted butter
1 oz semisweet chocolate
1/4 c sugar
3 T milk
---
Instructions
Preheat oven to 350.
Combine eggs with sugar and vanilla. Add butter and milk.
Stir cocoa, flour, baking powder and salt together. Combine with egg mixture. Stir in nuts.
Spread into a greased 8″ square pan or one lined with parchment paper.
Bake 25 minutes. These should still be a bit fudgy. (If you stick toothpick in, there should still be some crumbs sticking to it.) Allow to cool before glazing.
To Make Chocolate Glaze:
Melt butter over medium heat. Reduce heat to low and add chocolate, sugar and milk. Continue heating over low heat, stirring often until mixture is smooth. Don't let this boil.
Pour hot glaze over cooled brownies and refrigerate to chill brownies.
Slice and serve chilled…IMO!
---
Notes
Modestly adapted from Creative Culinary
Keywords: sara lee brownies, brownies with chocolate frosting, brownies with walnuts, brownies with cocoa powder