I know what you're thinking. Well, I think I know what you're thinking. Yeah. Colorado, the pot state. Or in a state of pot. Depends how you look at it. OK. We all know my informative years were in the early 70's. I missed the 60's. Darn it! But I lived in a small town, so it took the 60's awhile to get there. I think. I was never very good at math. So what do white chocolate blueberry brownies have to do with Red Rocks?
If you don't live in the colorful state of Colorado (yes, that is really on our license plate) you may not even know what Red Rocks is. And yes, it does involve red rocks. Red Rocks is a natural amphitheatre that is one of the top concert venues in the United States. With wonderful acoustics and a phenomenal view of the skyline of Denver, Red Rocks has been a concert venue since 1906. It even saw the Beatles perform in 1964 and was the only show that didn't sell out for them on their US tour. (How's that for trivia, Charles?)
Red Rocks is known for some pretty amazing concerts. Of course, one can also run up and then down the steps for exercise, which happens, I think, every Saturday. My kids used to do it. They show movies there. They have a museum, too. And if you celebrate Easter, you can go there for a sunrise service. But the best thing to do at Red Rocks, in my opinion,
is to eat brownies.
Umm. I meant listen to music.
The first concert I saw at Red Rocks was with Manservant in 1977. It was our second date. We drove from Fort Collins to see Bonnie Raitt. He wanted to impress me, I guess. And Red Rocks is pretty darn impressive. The hardest thing about Red Rocks besides the climbing, is deciding to sit close or more towards the middle of the venue. Close is great if you really want to see the band, but the middle is more for the view. As the sun sets, the view of the skyline and the plains of the Great are stunning and mesmerizing.

There is never any reason to not accept a date at Red Rocks. When our friends called to say they had 2 extra tickets and would we want to go, there was no question in my mind as to what we were doing that night. It was a perfect evening. And Red Rocks was just as I remembered it. Except the audience was a tad older. The hair cuts were most definitely different. There was still a sweet pungent odor to the air. The music was not quite how I remembered it, as this concert involved the Denver Symphony and Bonnie was nowhere around! But Red Rocks still enchants.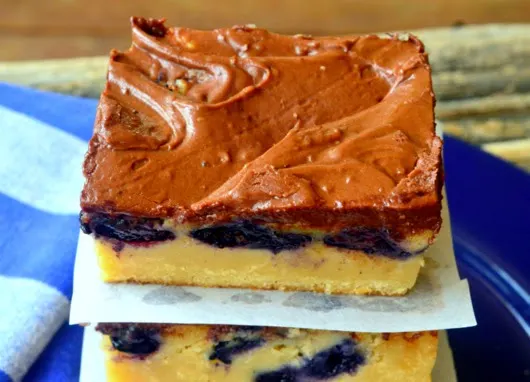 (So now as I sit here drinking a Diet Coke that says, "Share with a Go Getter"; (which I guess means you are all go getters…) the can reminds me of a story Alex told me about a friend of his from Australia, who when going to a bar and being asked what he did, would reply in his strong Aussie accent, "I'm a real go getter". According to Alex this also helped him pick up all the girls.) But back to the picnic… yes, we brought a picnic. A pretty good picnic. I made a miso dip. We had mango, coconut, shrimp summer rolls with peanut sauce and we picked up banh mi's. With some fruit and veggies we were good to go. Of course we started with the brownies-just kidding! Get your minds out of the gutter. This wasn't a Pretty Lights concert, for Pete's sake!
We finished with the brownies and they were decadently good. I know these aren't your traditional type of brownie and they aren't fudgy like one, but they are dense; almost like a bite of poundcake. We like them chilled which makes them more fudgelike than cakelike. Their crumb is sticky, not at all dry and crumbly. Really, how could eating a dense, huge brownie studded with blueberries and covered thickly with chocolate frosting, on a gorgeous night with good friends, while listening to music and watching the sunset, be bad? Just one thing was missing. Bonnie, where were you?
And all right. Just one more thing. The brownies, for the record, are still quite magical.
Last chance to enter Whole Foods Giveaway!
White Chocolate Blueberry Brownies with Dark Chocolate Frosting
Adapted From: Ghirardelli
Yield: 16-32 servings (Depending on if you like them baby size or MONDO size)
Ingredients:
16 oz Ghirardelli white Chocolate (Broken into pieces)
2 sticks unsalted butter
4 lg eggs
1/3 c sugar
1/3 c brown sugar
1 T vanilla
2 c flour
3/4 t salt
1 c fresh blueberries, washed
Chocolate Fudge Frosting
4 squares (1 ounce ) Baker's unsweetened chocolate
½ c butter
1 pound confectioners sugar
½ c milk
2 t vanilla
Directions:
Preheat oven to 350.
Line a 13 x 9 pan with parchment paper. Melt white chocolate and butter. (I use a microwave, but white chocolate is notorious for burning. Do this slowly while mixing in between.) Stir until smooth. Cool to room temperature.
Beat one egg at a time into cooled chocolate/butter mixture. Stir in sugars and vanilla. Fold in flour, salt and blueberries.
Bake 30-45 minutes. Top should not be jiggly. Do not over bake as their texture will not be dense and fudgey. Cool and chill.
To make frosting combine chocolate and butter in microwave safe bowl. Microwave as above until mixture is fully melted. If you want a darker frosting you may add another ounce of unsweetened chocolate.
Combine sifted confectioners sugar, milk and vanilla in bowl. Stir until smooth. Add the chocolate mixture. Stir until well combined. To thicken place bowl in a pan of ice water and beat with a spoon until frosting is thick and holds its shape.
Frost if desired. The recipe above is enough frosting for a three layer cake. It is delicious frosting.
Slice into squares and feel the magic.
More Good Things:
Lemon Thyme Biscotti Crackers
Grilled and Lightly Smoked Peruvian Chicken
Crispy Chipotle Shrimp and Corn
Spaghetti Bolognese
Meatball Vietnamese Noodle Bowl
Donburi Bowl
Strawberry Spiral Biscuit Pie