Need some everything bagel seasoning recipe ideas? This post has over 20 ways to use this delicious seasoning and these savory bialy hamantaschen are one!
With Purim in full swing, I thought it might be nice to try a savory everything bagel hamantaschen and add it to my list of everything bagel seasoning recipe ideas.
I love everything seasoning and I particularly love hamantaschen.
It wasn't until recently that savory hamantaschen started appearing. Growing up we only ate sweet hamantaschen that were filled with jam or poppy seeds.
Well, imagine how happy I was to come across this recipe for a bialy hamantaschen stuffed with cream cheese balls and topped with minced onions-just like my homemade bialys.
They are also similar to bagel bombs, which have a cream cheese interior.
Truthfully you can't go wrong with any of these three, but being Purim, I loved making bialy dough into three cornered pastries.
But let's get back to that everything seasoning, one of my favorite seasoning blends.
Though you can find this bagel seasoning mix, it's so much easier to make your own and of course it tastes so much better.
In a pinch I have been know to buy some from Trader Joe, but honestly my mixture that contains black sesame seeds, white sesame seeds, onion powder and garlic powder, along with some kosher salt is so much better!
And if you are a lover of avocado toast like I am, you will appreciate the savory flavors of this simple recipe.
Everything Bagel Seasoning Recipe Ideas:
Well I mentioned the obvious, bagels and avocado toast, but I love this recipe for everything seasoning scrambled eggs.
Of course, it's a given that a sprinkle over a fried egg works well, too.
Yes, I know you already know that.
And I love sprinkling it over popcorn or French fries. Shoot, it's great over juicy red ripe tomatoes.
Sprinkle it over kale chips or chicken breast or just use it like your every day seasoning mix because this condiment is starting to show up everywhere.
Sprinkle this on sweet potatoes or green beans, and honestly it makes the best corn on the cob.
Make your own everything cream cheese and spread on bagels from the local bagel shop.
Use on the rim of your bloody Mary glass.
Sprinkle on your mac and cheese. Your garlic bread and shrimp cocktail.
Add it to guacamole, or tuna salad or chicken salad or last but not least, egg salad!
It certainly made these bialy hamantaschen something special.
Now what exactly is a bialy hamantaschen?
A bialy is similar to a bagel in that it is round, but that's where the similarity stops.
Bagels have a hole in the middle and are boiled and baked.
Bialys have no hole and are just baked, more like a chewy roll.
Generally the bialys center is filled with a caramelized onion mixture but I prefer a raw onion/poppy seed mixture to the caramelized onions.
That being said if you want to cook your onions, I will not stop you.
Bialys can also be filled with a mixture ot minced onion flakes or garlic flakes. Add in a few sea salt flakes and you have a winning combination.
Making your own Everything Bagel Seasoning Recipe Idea:
Follow your taste buds when it comes to creating your own seasoning blends.
I love garlic so sometimes I've been known to add a touch more.
Some like to add a little sumac to the mix which would make this a fun, citrusy, dry dip for vegetables.
Just a few simple ingredients that you probably already have in your spice cabinet and you are ready to create your next favorite thing.
Combine your favorite mixture in an airtight container or a small mason jar and store in a dry place.
Shake it up and you are ready to season the top of the bagel.
Just like any spice store out of direct sunlight and always give anything with sesame seeds or poppy seeds the sniff test.
Everything seasoning may go rancid because of its oil content so only make as much as you can use over a few months.
But back to these hamantaschen bialys that I lavished with lots of great seasoning of the everything variety!
How to Serve Bialy Hamantaschen:
Perfect for starting off a dinner party and great served with brunch; these beauties can also be topped with a bit of smoked salmon for extra decadence.
They also make great afternoon snacks. Yes, they really do!
Steps to Making Bialy Hamantaschen:
Begin by making your yeast dough. Bialy dough is very easy to make, but does need to rise twice, though this whole process can be completed in about 3.5 hours if you aren't dawdling!
It might seem that these are hard to shape but after you practice on a few, you will be able to turn these out fast.
While your yeast dough is rising, make your everything seasoning. By the way, little jars of this make great gifts!
And if you just can't see yourself making this everything bagel seasoning recipe, it is not necessary to the recipe, but it sure tastes good.
Or just go to one of your favorite grocery stores and I bet they have it.
After you make the seasoning, take a teaspoon and make little scoops of cream cheese. Place these in the freezer until you are ready to use them.
Make the bialy filling by combining the minced onions, poppy seeds and some Panko bread crumbs.
Once the dough has risen, choose your favorite round cookie cutter.
Any size from 2.5 to 3.5″ works well. I used a 2.5″ and it made about 25 perfect little bialy hamantaschens.
I can't tell you exactly because a few of them might have been eaten before I counted!
Really the best part of making these is eating them warm out of the oven.
Take all the rounds and place on a parchment lined baking sheet.
Let rise one more time for about thirty minutes. They will puff up slightly, so before you fill them, take your palm and press them back down so they are only about 1/8″ thick.
Brush with egg wash and place one frozen cream cheese dollop in the middle. Top with a bit of the minced onion mixture and fold up into a triangle.
Once you get the knack, this is easy. Fold up the side of the circle closest to you to almost the center.
Then take the left side and drape it over towards the middle. Finish by taking the other side and doing the same so that you make a nice triangle.
These are easy to fold, but if you are a pinch person, be my guest.
Now chill for about 10 minutes while you oven is preheating.
Before placing in oven, brush one last time with the egg wash, then sprinkle with your everything seasoning.
With over 20 everything bagel seasoning recipe ideas in this one post, I'd love to hear how you use yours!
Need A Few More Recipes?
Everything Seasoning on Corn Nuts would be great!
(Just sub in everything seasoning for the garlic!)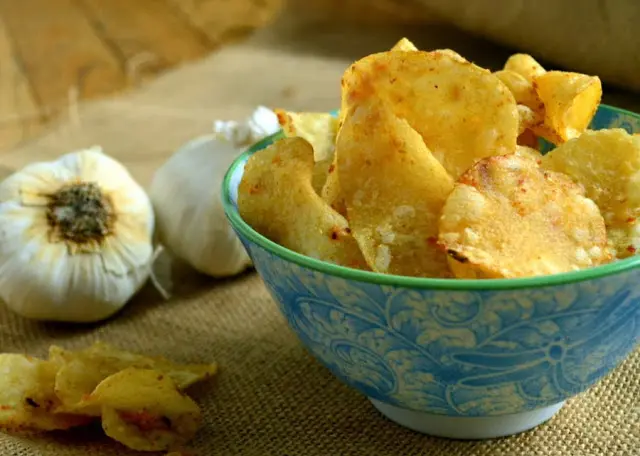 I'd Love it if You'd Follow Me and Pin and Share!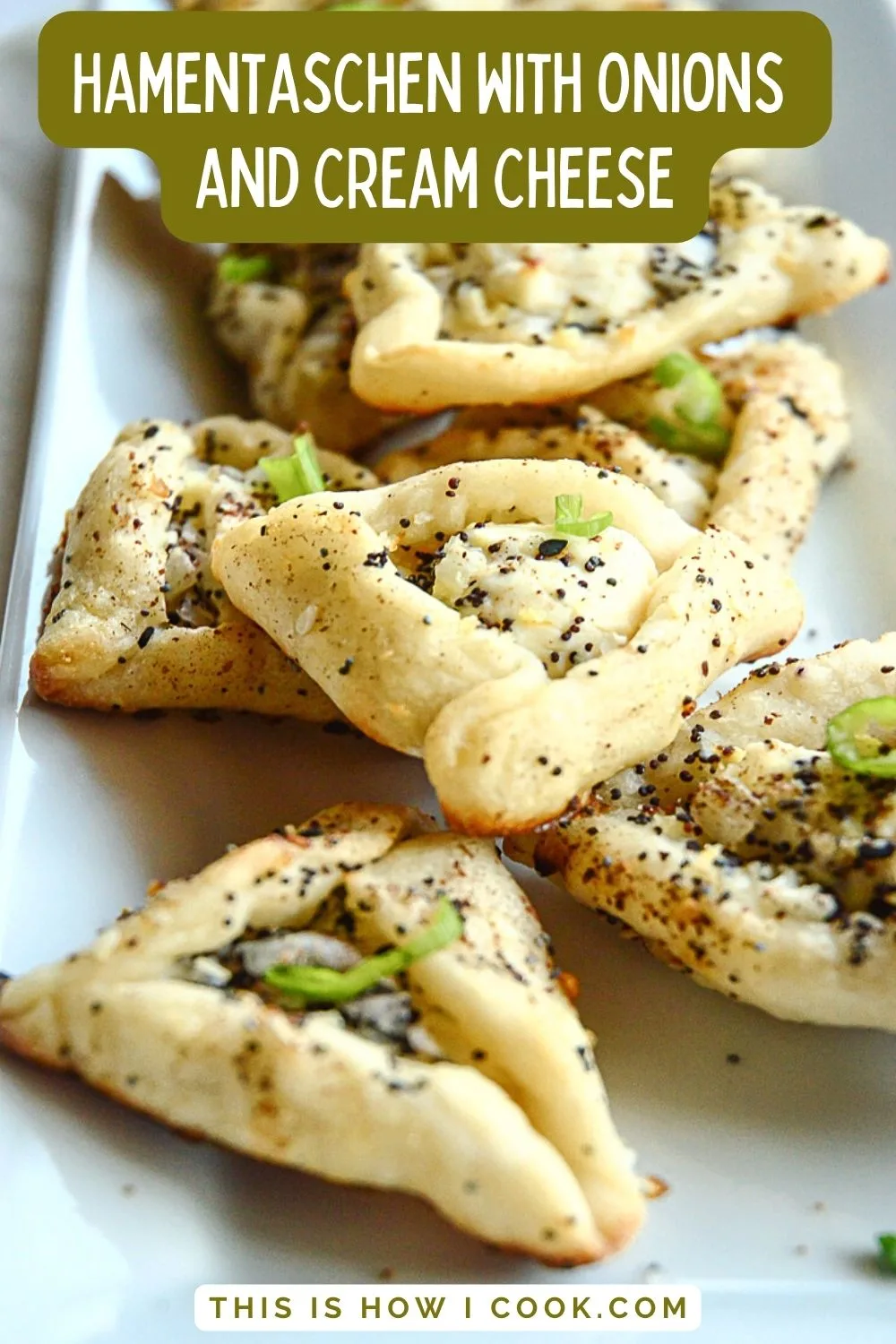 Print
Savory Hamantaschen with Onion Bialys
Author:

Abbe Odenwalder

Prep Time:

45 Minutes*

Cook Time:

7 -9 minutes

Total Time:

60 Minutes

Yield:

25

2.5" hamentaschens

1

x

Category:

Bread

Cuisine:

Jewish
---
Description
These bialy style hamantaschen stuffed with cream cheese and topped with an onion/poppyseed mixture are great appetizers or perfect morning munchies.
---
1/2 t instant yeast
1 t sugar
2 c bread flour
1 t salt
3/4 c room temperature water
1 t oil
Bialy Filling:
1 md/large sweet onion, chopped finely
1 T of coarse toasted bread crumbs, (I used panko)
3 T of fresh poppy seeds (poppy seeds go rancid very quick so smell them first!)
Assembly:
1 egg
8 oz cream cheese
Everything Seasoning:
3/4 t kosher salt
1 T white sesame seeds
2 t black sesame seeds
2 t poppy seeds
1 T dried onions
1/2 t onion powder
1/2 t garlic powder
---
Instructions
Bialy Dough:
Whisk together yeast, sugar, flour and salt in a stand mixer. Gradually add the water until the dough forms a ball. Dough will still be sticky. Add 1 T of flour at a time until flour is absorbed and the dough is soft and smooth. It may be a little sticky, but too sticky means you should add more flour.
Coat the dough ball with 1 t of vegetable oil and place in a large bowl to rise. Cover the bowl with plastic wrap and let rise in a warm spot for about 1.5 hours. My dough did not rise much but when I pressed my index finger about 1/2″ into the top of the dough the dough did not spring back. That means the dough is ready for the next step.
While the dough is rising spoon 1 t balls of cream cheese onto a plate and put them in the freezer.
Mince the onions and combine with the panko crumbs and poppy seeds. Set aside.
Make the everything seasoning mixture and set aside.
When the dough is ready, punch it down and roll on a lightly floured surface into a 1/8″ round. If the dough bounces back a lot, let rest a few minutes and roll again.
I used a 2.5″ round cookie cutter to stamp these out. If you want bigger hamentaschen use up to a 3.5″ cookie cutter. Place each circle on a parchment lined baking sheet and cover with a clean towel and let dough rest another 30 minutes.
After dough has rested, preheat oven to 450 degrees.
Make the egg wash by combining the egg with 1 T of water and whisk well.
Take your pastry circles and with the palm of your hand press back into a round that is 1/8″ thick. (This sounds complicated, but it is not. Brush all the circles with egg wash and top with one ball of cream cheese. If you used a smaller cookie cutter you may need to slice your cream cheese in half. Sprinkle with 3/4 t of the onion mixture.
Now fold your hamentaschen into a triangle by folding up the bottom part of the circle. Then take one side of the round and fold it diagonally and then the other side. This dough was very easy to fold. I did not pinch like many do. I folded each side over the other.
After the baking sheet is full place into the freezer for about 10 minutes to prevent spreading. When ready to bake, brush again with egg wash, particularly where the edges meet. Now sprinkle well with everything seasoning.
Bake for 7 -9 minutes or until the bottoms are golden brown. The tops of the hamentaschen will still be almost white with hints of gold.
Cool slightly on a rack, but these are so good warm. They can be reheated at 275 for about 5 minutes and they can also be frozen. Thaw before reheating.
---
Notes
Everything seasoning can be purchased but it is so much better if you make your own.
These make great little appetizers or are perfect served with scrambled eggs.
Top with a piece of smoked salmon, if you'd like.
*Does not include rise time
Adapted from: What Jew Wanna Eat
Keywords: bialy recipe, savory hamantaschen, savory hamantashen recipe, everything bagel seasoning recipe ideas