This Garlic bread recipe is made with lots of garlic and butter is hard to resist. Crispy with a soft, tender inside, this garlic bread recipe is one way to slay a vampire! And win some friends.
Some time ago someone wrote me for a garlic bread recipe and I realized that one of my very favorite foods was one I had yet to post. Well, it's time to set that worry aside because my homemade garlic bread is now in the recipe index!
How many garlic bread recipes are there?
Garlic bread can be made so many ways and just like chocolate chip cookies I aim to try them all.
Whether you make garlic bread the way the Italians do, which is rubbing sliced garlic on sturdy bread and drizzling with olive oil, a pinch of salt and then grilling OR whether you make it the way my mom did which was slicing vertically through the loaf and then brushing both sides of bread with melted garlic butter OR the way I do, it doesn't really matter. Garlic bread is always mouthwatering, isn't it?
Pasta is made for garlic bead but sometimes I think it's the other way around. Sometimes I think I'll make pasta just so I can make this easy garlic bread! Really! How often do you walk into an Italian restaurant and the first thing you crave is garlic bread? Tell me that's never happened to you!
This garlic bread recipe takes an entire loaf of Italian or French bread (not the baguette kind) which is then sliced the entire length of the bread through the middle. Be prepared to slather one stick of softened garlic butter between the two halves. Then it's a matter of baking and broiling.
My mother always wrapped her garlic bread in foil and then left a little opening at the top. That produces a soft loaf, but I prefer mine a little crustier on the outside. If you prefer that just make sure to slice and butter it the way she did! Or actually the way I did, because that was my job as a child!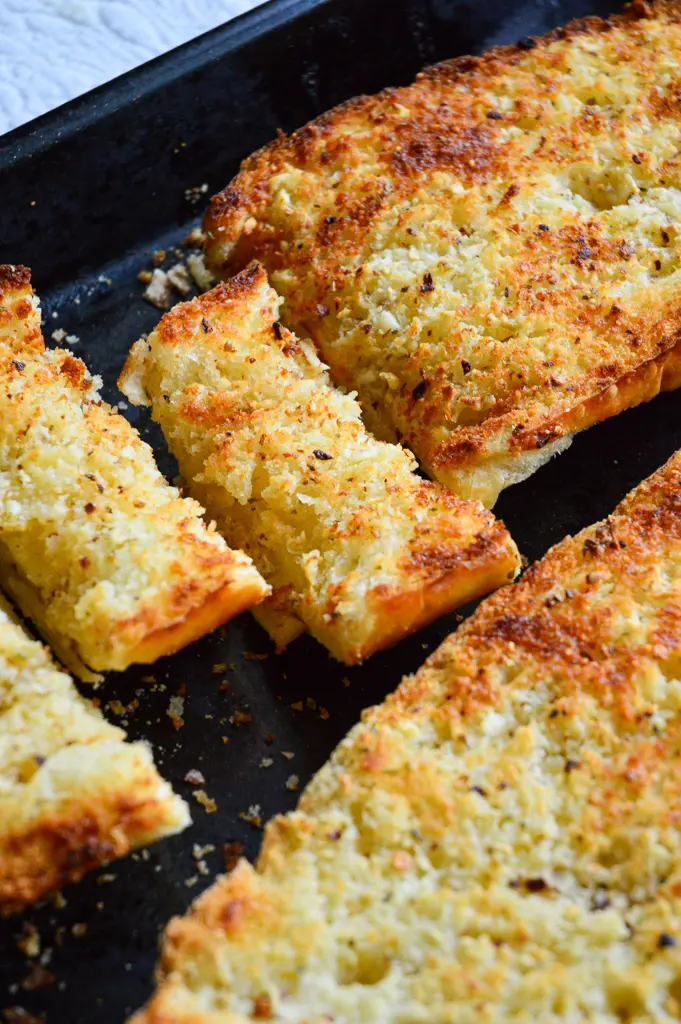 I often grill my loaf outside in the summertime. Do not miss this! Grilled garlic bread is amazing. Just make sure to keep an eye on your bread so it doesn't burn, because bread on the grill burns fast. Don't ask me how I know!
If you are going to do it this way, follow the Italian method which I described above. If you want top the grilled garlic bread with some chopped ripe tomatoes and then you have out of this world bruschetta.
But back to my bread…I add a touch of mayonnaise to the garlic butter to help the butter spread better and to crisp up the bread. The oil in the mayo helps crisp the bread. However, I prefer the flavor of butter so there is no mistaking the butter in this garlic bread recipe.
Can I substitute garlic powder for real garlic?
And as for that amount of garlic? I use 4 – 5 good sized cloves. No weenie garlic bread in this house! But the amount is totally up to you. One large clove of garlic is approximately equal to 1/2 t of garlic powder. I prefer the real thing but hey! sometimes you gotta do what you gotta do!
So much to talk about when it comes to garlic bread. Tell me do you have a favorite garlic bread recipe? I'm on a mission to try them all. This garlic bread recipe is one of my faves, and is a super simple way to put the bread on the table, so to speak! Now just go boil some pasta so you have something to eat with it!
Please Share the Bread!
Print
Garlic Bread
Author:

Abbe Odenwalder

Prep Time:

10 Minutes

Cook Time:

15 Minutes

Total Time:

25 Minutes

Yield:

4

-

6

Servings

1

x

Category:

Bread

Method:

Bake

Cuisine:

American
---
Description
This loaded with garlic bread smells amazingly divine. It tastes even better!
---
8 T softened butter
1 T mayonnaise
Pinch of Salt
5 garlic cloves, minced
1/2 t oregano
1/2 t garlic powder
Pinch of red pepper flakes (optional)
3 T grated Parmesan cheese (fresh or from the can)
Chopped parsley or scallions for garnish (optional)
---
Instructions
With rack in middle position, preheat oven to 425.
With an immersion blender beat butter and mayonnaise or stir well with a fork until smooth and luscious.
Stir in salt, minced garlic, oregano and garlic powder, red pepper flakes if using, and parmesan cheese.
Slice bread horizontally through the middle into two halves. Place on a baking sheet.
Spread each bread half with half of the butter mixture.
Place in preheated oven for 10 minutes. Then turn on broiler to high and let bread turn golden. This takes just a few minutes so watch carefully!
Remove and using kitchen shears, cut bread into slices. (I find this easier than using a knife, but whatever works!)
---
Notes
Bread can be buttered and set aside until ready to bake. It can also be reheated after baking in a 300 degree oven. When you smell it, it is ready to serve!
Keywords: garlic bread recipe, garlic bread, easy garlic bread, how to make garlic bread, homemade garlic bread,
Need a Few More: