If you don't want to hassle with the boiling and baking when making bagels, then these little bagel bombs are the best bagels I know of. Everything Bagel Bombs are way easier to make then bagels. They are topped with everything seasoning and filled with scallion cream cheese.
Perfect to pop in your mouth, these Momofuku bagel bombs are truly "da bomb!
Well. There is no other way to say it. These everything bagel bombs are the bomb!
Bursting with an inner explosion of scallion cream cheese delight, is the perfect way to start any day.
Or perhaps at happy hour, when something is needed to soak up the liquid libations!
I made these a few years ago and knew they would reappear some day. Happy hour with some new bloggers seemed the perfect occasion.
I made sure to have leftovers because Manservant flew home the next day. After a bombshell trip he thought these were the bomb, too!
Bagel Bombs are another great invention from Christina Tosi of Momofuku Milk Bar fame and honestly they are the best bagels I know of.
No need to boil. And the bagel dough is so simple to make.
I finally broke down and bought Christina's book and am so happy I did.
Yes, these bagel bombs were a hit and so so easy to pop into one's pie hole. Or should I say bagel hole?
They are easy to make and even though the instructions may seem lengthy, the truth is they really don't take that long to make.
This is a yeast dough for beginners, I promise. Just do exactly as it says.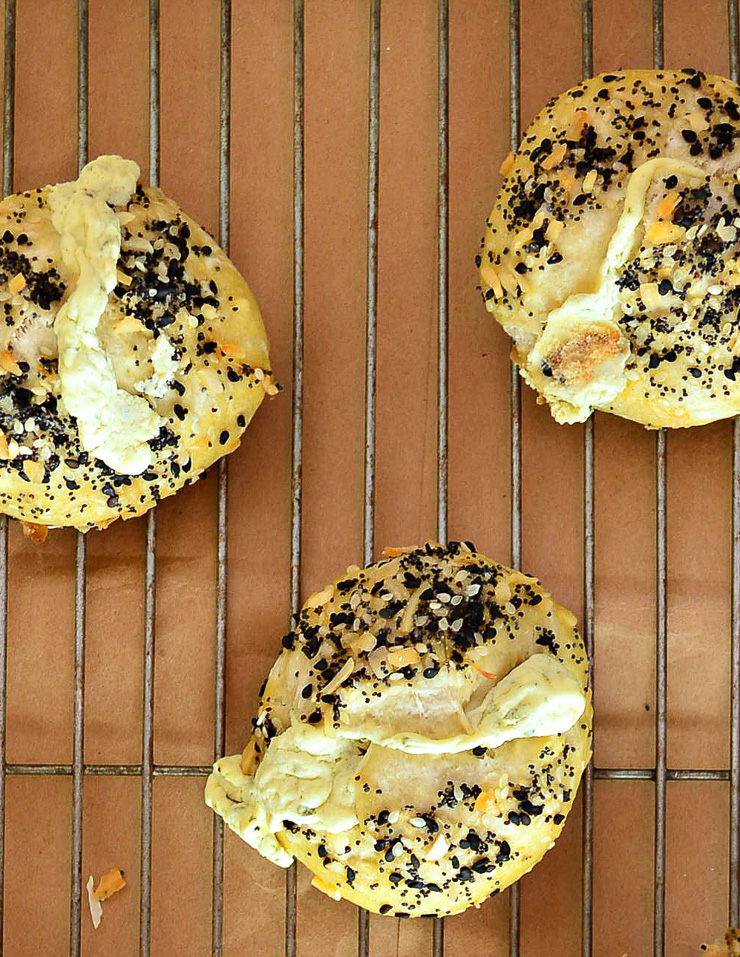 There are a myriad of ideas I have for these. Think of the possibilities.
Cinnamon sugar bagel bombs. Jalapeno bagel bombs. Raisin and brown sugar bagel bombs. Dill bagel bombs. I know you get the picture.
Change the topping and the cream cheese inner bomb and well, bomb's away!
Yes, these are the best bagels I know of without an inner circle!
By the way. I love this everything seasoning mixture on, like everything! It is perfect on scrambled eggs and sprinkled on a sandwich.
Makes for some interesting quesadillas, too!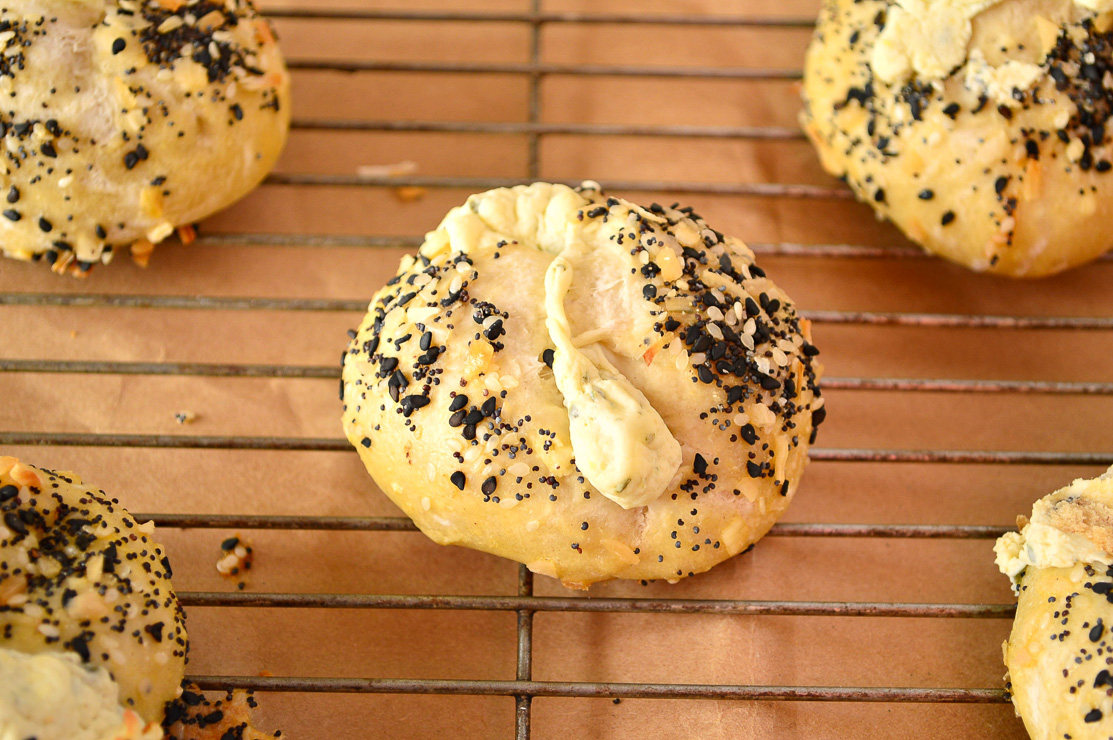 I can't really tell you if they were the hit of our happy hour, but I did hear lots of oohs and aahs.
I reheated them in the oven, so that the aroma of a bagel shop prevailed.
And it does help that when you bite into them that the cream cheese is warm and oozing and way beyond comforting.
I've also zapped them in the micro for about 20 seconds with great results. I think they would be perfect for Thanksgiving morning.
In the past we've always done cinnamon rolls, but I think a change from something sweet might be in order. Save the sweets for later!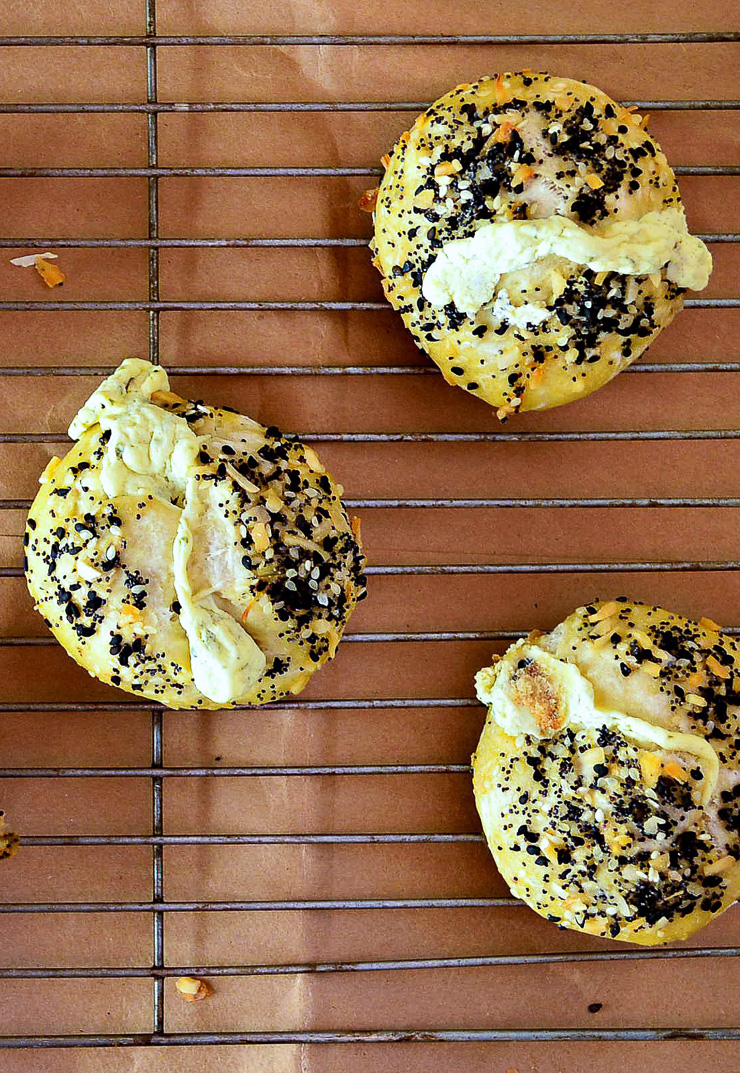 The inner sanctum of a bagel bomb is quite delicious. It is where the inner goodness happens. It is the explosion waiting to erupt. And erupt it does.
It is the signal that your bomb is baked through and ready to remove from your oven. Watch for it. Let it cool for a brief moment.
Then pop that bomb into your pie hole and you'll know this wasn't a bomb. It was THE bomb!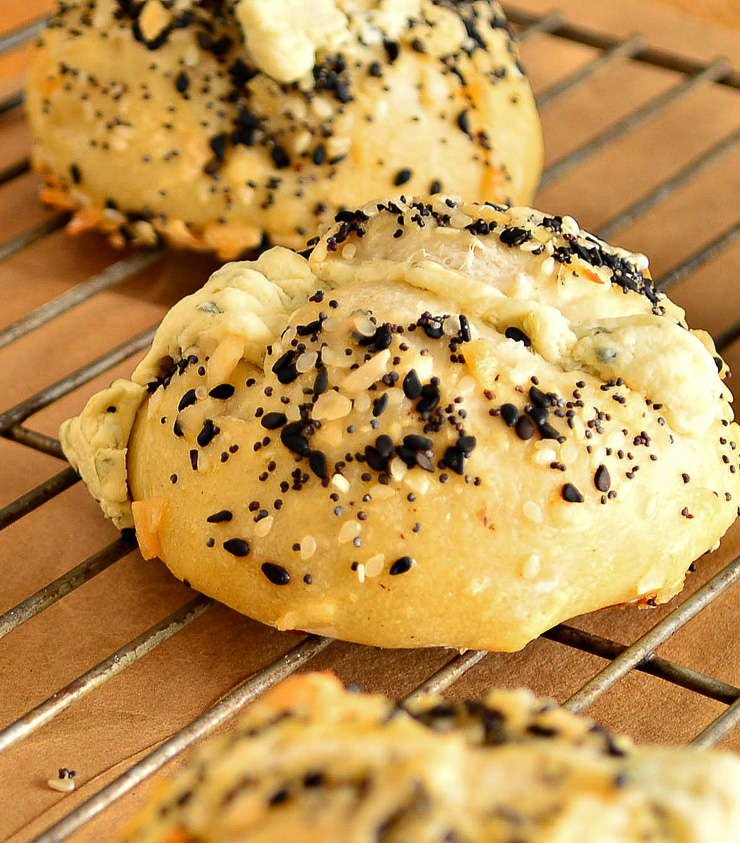 Need a Few More?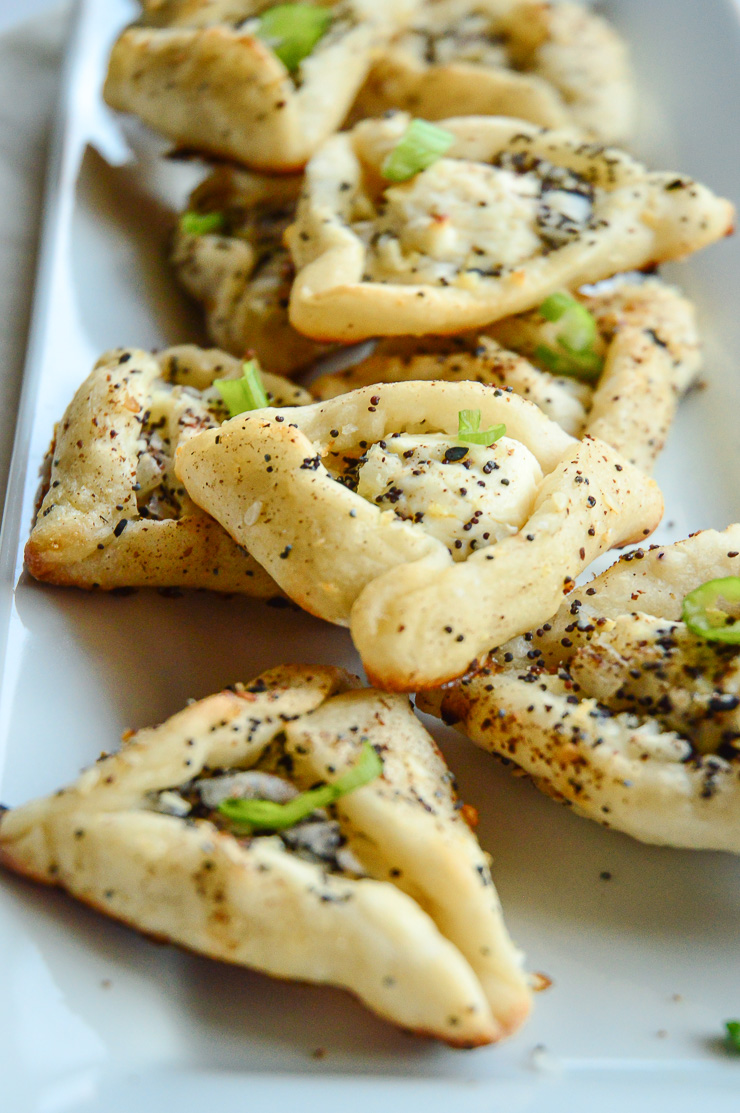 Lox and Bagels Breakfast Casserole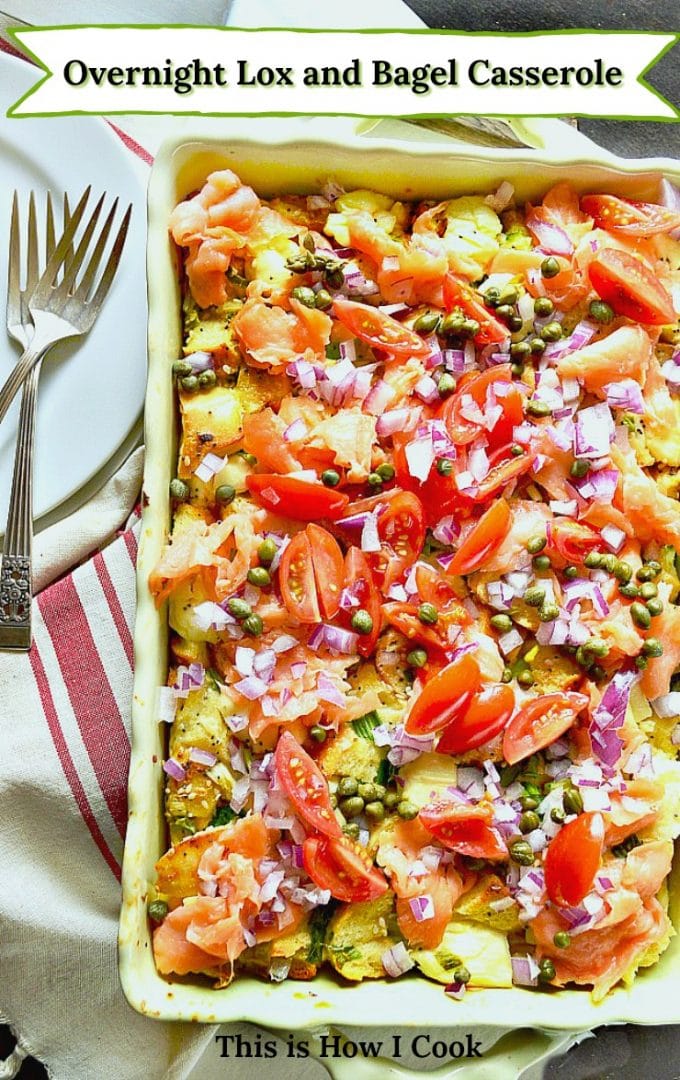 I'd Love it if You'd Follow Me on Pinterest and Pin and Share!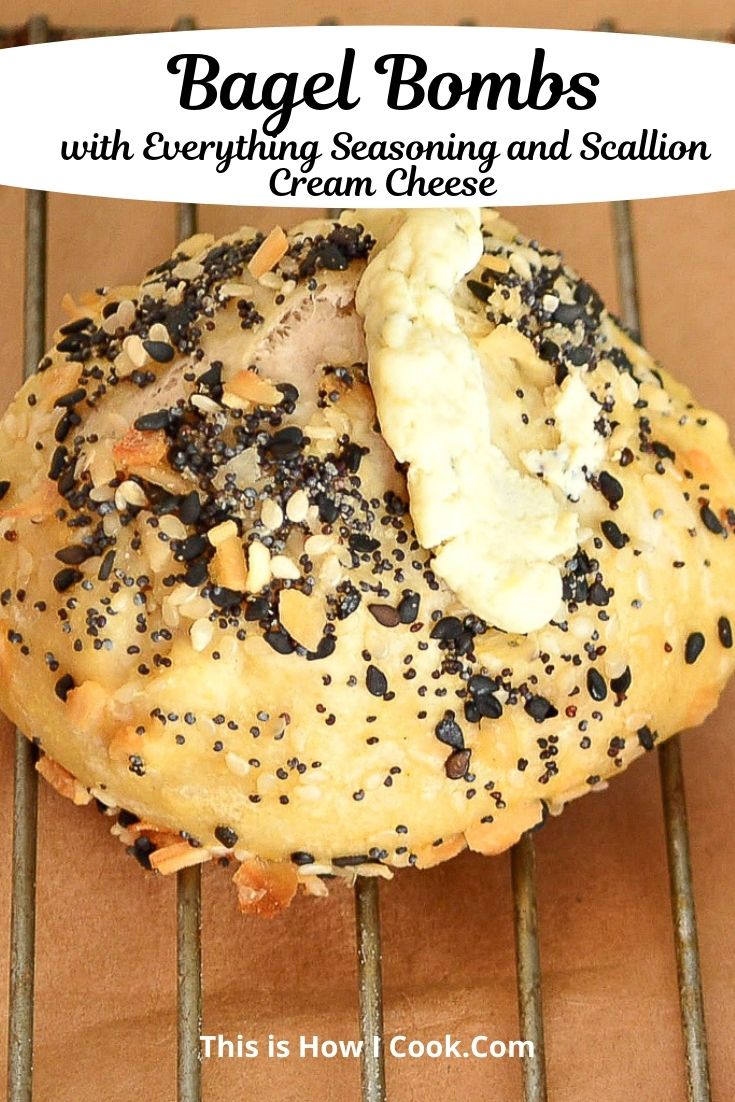 Print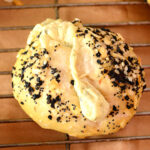 Everything Bagel Bombs are THE Bomb!
Author:

Abbe Odenwalder

Prep Time:

30 Minutes*

Cook Time:

30 Minutes

Total Time:

58 minute

Yield:

8

1

x

Category:

Bread

Cuisine:

Jewish
---
Description
Everything Bagel Bombs are way easier to make then bagels. They are topped with everything seasoning and filled with scallion cream cheese.
---
Bagel Bomb Dough
3 1/2 c flour
1 T kosher salt
1/2 packet or 1 1/8 t active dry yeast
1 3/4 c water at room temperature
flavorless oil for greasing the bowl
Scallion Cream Cheese Plugs (I double to make 16 bombs)
Ingredients:
7 oz cream cheese
4 scallions, thinly sliced
1 t sugar
1/2 t kosher salt
1 T bacon grease (optional)
1 3/4 oz bacon, cooked until crunchy. Chop into small pieces if using and reserve the bacon grease for above.
Everything Bagel Mix (I double this to make enough for 16 bombs and some leftover)
Ingredients:
3/4 t kosher salt
1 T white sesame seeds
2 t black sesame seeds
2 t poppy seeds
1 T dried onions
1/2 t onion powder
1/2 t garlic powder
Bagel Bombs (This will make 8, but I double the cream cheese plugs and the seasoning to make 16 bombs.)
Ingredients:
1/2 recipe of the Mother Dough
1 recipe of the cream cheese plugs
1 egg
1/2 t water
1 recipe of the everything seasoning
---
Instructions
To Make the Dough:
Stir together the flour, salt and yeast in the bowl of your stand mixer. You can use the dough hook like a spoon. Continue stirring by hand as you add the water, mixing for 1 minute, until the mixture has come together like a shaggy mess.
Now using the dough hook attached to the mixer, mix the dough on the lowest speed for 3 minutes. Turn off and make sure that you have fully incorporated the flour. Then knead for 4 more minutes on the lowest speed. The dough should look like a wet ball and should bounce back softly when prodded with your finger.
Brush a large bowl with oil and dump the dough in it. Cover with plastic wrap and let the dough proof at room temperature for 45 minutes. The dough is now ready to be used. The dough can also be stored in an airtight container at least 2 x its size, in the fridge for up to three days. Let it come to room temperature for 30-45 minutes before using.
Scallion Cream Cheese Plugs
Put the cream cheese in a bowl of a stand mixer. Cream it on medium speed. Pour in the reserved bacon fat if using. Scrape down the sides of the bowl. Add the chopped bacon, if using, scallions, sugar and salt. Briefly incorporate.
Scoop the cream cheese onto a quarter sheet pan into 8 even lumps. Freeze until rock hard, about 1-3 hours. Once they are frozen they are ready to be used. You can also put them in an airtight container and keep them frozen for up to 1 month.
Everything Bagel Seasoning Mix
Mix together all ingredients in an airtight container. This mix will last a long time. I use leftovers on scrambled eggs!
How To Assemble Bagel Bombs
Heat the oven to 325. Punch down and flatten dough on a lightly floured counter top. (Christina says to do this on a dry counter top, but I had better success after lightly flouring.) Divide the dough into 8 equal pieces and stretch into a mini pizza shape, about 3 inches wide. Put a frozen cream cheese round in the center of each dough circle. Bring up the edges of each dough circle and pinch to seal so that the cream cheese plug is completely contained. Then gently roll the ball between the palms of your hands to ensure that the bomb has a nice round shape. Place bombs 4 inches apart on a parchment lined baking sheet.
Whisk the egg and water together and brush each dough bomb with a generous egg wash. Sprinkle a heavy coating of the everything bagel mix all over the bagel bombs except for the bottoms.
Bake the bombs for about 30 minutes or until they become golden brown and some start to leak cream cheese through the top. Mine never turned totally golden, though they did explode. You want this to happen! These are best served warm out of the oven or rewarmed. I also flash them in the micro for about 20 seconds and Manservant is very happy. Store in an airtight container but I don't think that will be necessary. These disappear fast!
---
Notes
From Milk Bar
*Doe not include rise time of 45 minutes
Keywords: bagel bombs, best bagels, bagels, christina tosi