A bialy is a round roll, with a crusty exterior and a chewy interior. The center of the bialy is indented and filled with minced onions and poppy seeds.
It is often compared to a bagel, but truly, it is much more than a bagel.
My love affair with the bialy happened many years ago. It began when my Grandma Fanny married her second husband who lived in Detroit.
She moved up there from Danville, Illinois and when visiting would bring us bagels and bialys in heavy brown paper bags that she carried on the airplane.
We always ate the bialys first. Kankakee didn't have anything remotely resembling a deli or a Jewish bakery, so these bialy bagel bags were always a treat.
The truth is though that bialys are still hard to find, and I still consider them a luxury.
However in Scottsdale there is a bagel and bialy bakery that bakes bialys of every variety. When we visit my parents, I have become much like my Grandma Fanny and carry heavy brown bags, laden just with bialys, on the plane back to Denver.
The big difference is that my bialys are stored in big zip lock bags and no one gives me dirty looks for making the plane smell like onions!
What is a bialy?
The bialy is a roll with a BIG history. It isn't just a roll. It is a roll from Bialystok, Poland.
A bialy is a round roll with an indentation that is filled with onions and poppy seeds.
It can be eaten like a roll with butter or it can be sliced like a sandwich through the center and eaten with deli meat such as corned beef or pastrami in the center.
Personally I like my bialy split, buttered, toasted and then slathered with cream cheese. Total, total yumminess.
In 1992 Mimi Sheraton, a former food writer from the New York Times wrote, "The Bialy Eaters" that researched the history of the bialy. The book is about the search for the real bialy.
It is also a journey through history as one learns that during the Holocaust the Jewish residents of Bialystok were reduced from 50,000 residents to 5. No, that's not a typo.
Makes me think twice every time I bite into a chewy bialy. With that in my mind the bialy becomes a sacred object and one that truly has me saying a blessing before each bite.
Bialy vs. Bagel
Of course one is boiled and the other just baked. But the bialy requires more yeast than a bagel which gives it more rise and allows its rim to be slightly soft and puffy.
Bialys are also made without sugar so their crusts are not as golden.
The other big difference with a bialy is that one has a choice to make. Do you want a beautiful dark, golden roll or a white floury, softer roll?
Turns out that the older generation prefers the golden dark roll. I prefer my bialys on the lighter side.
I find I usually freeze a bunch and then toast them before using, in which case they become a bit more golden which is one reason I leave mine on the white side when I bake them.
The best test is to try both and since this recipe makes about 18 bialys you can see which you prefer. Maybe it is worth thinking about what you will be using them for.
How to eat a bialy?
As hot warm bread slathered with butter or to slice for making a sandwich? Toasting is a no no to traditionalists, who prefer them warmed in an oven.
Usually we use our bialys to hold salmon or turkey or corned beef. Really I just love one to hold scallion cream cheese!
Another thing I can tell you is that a bialy fresh out of the oven tastes totally different than one that has sat for an hour.
There is nothing wrong with the one that has sat, and if you want to use it for a sandwich that is the way to go.
Straight out of the oven it is bread. And very good, hot crusty bread which tastes best when smeared with butter that melts over its sides!
Is a bialy a roll?
And calling a bialy a roll is a misnomer. A roll is meant to be sliced whereas a bialy traditionally was bread and served with butter on the top or the bottom-which also meant not destroying the beautiful indentation filled with onions and poppyseeds.
Bialys have also changed in size. It was thought they were larger than the ones you find today.
That is apparently due to the toaster. Bialys are now made to fit this common appliance so most bialys are now 3-4 inches in diameter.
When I run out of bialys it should mean that I take a trip to Scottsdale, which doesn't happen often enough.
When I go to Scottsdale I always go to NY Bagels and Bialys on Scottsdale Road.
It isn't a fancy place but it smells great and has awesome breakfasts. Not to mention its deli and its bakery. Oh, how I wish there was one in Denver.
However since I don't find myself there often enough, I have resorted to baking my own bialys.
If you are used to working with yeast, you'll know that yeast is pretty easy to work with.
It just is a matter of planning your time around the rising of the dough. The dough can do a slow rise overnight or go through three risings on the day you bake them.
Bialys are baked at 450 degrees and if you have a pizza stone, feel free to use it.
The bialy was everyday food to those in Bialystok, Poland but the last time a bialy recipe was baked by a real Bialystokker resident in Bialystok, Poland was in 1941.
The bialy has a bittersweet history, but thank goodness, the recipe lives on. For that I am grateful.
More Bagel Stuff: Bialys are hard to find!
Everything BUT the Bagel Scrambled Eggs
Overnight Everything Lox and Bagels Casserole
Milk Bar's Everything Bagel Bombs
Don't Lose This Recipe: Please Pin and Share and Follow Me!
Print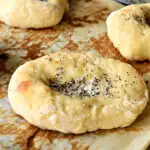 Bialys
Author:

Abbe Odenwalder

Prep Time:

2 hours

Cook Time:

20 Minutes

Total Time:

2 hours 20 minutes

Yield:

1

8

1

x

Category:

Bread

Cuisine:

Jewish
---
Description
A bialy is a round roll, with a crusty exterior and a chewy interior. The center of the bialy is indented and filled with minced onions and poppy seeds.
It is often compared to a bagel, but truly, it is much more than a bagel.
---
5–6 cups bread flour
3 c cold water
2 T kosher salt
1 pkg active dry yeast
1 large sweet onion, chopped finely
2 T of coarse toasted bread crumbs, (I used panko)
3 T of fresh poppy seeds (poppy seeds go rancid very quick so smell them first!)
---
Instructions
Dissolve yeast into 1/2 c cold water. When dissolved stir in the remaining cold water.
In the bowl of a stand mixer combine 5 c of flour and the salt. Using a dough hook, beat in the water containing the yeast. Cold water produces a slow rise.
Slowly beat flour and water, gradually adding more flour as necessary. If the mixture is too sticky, add more flour. A little more water if it is too stiff, but err on the side of stickiness!
Raise the mixer speed to medium and beat only until the mixture holds together, but is still sticky. Gather the dough and place in a clean, large ungreased glass or ceramic bowl. Cover loosely with a clean towel and set in a warm, draft free area. (I often preheat my oven to warm. Then I turn it off and place the dough inside while leaving the oven door cracked open.) At this point if you prefer, you can cover your dough with plastic wrap and place the bowl in the fridge overnight. When you remove it, let it come to room temperature and skip to step #6 and do a light knead until dough is smooth and elastic using more flour as necessary.
Let rise for 3 – 3 1/2 hours or until double in volume. Press the dough with your index finger and if the dough springs back into place than it has risen enough.
Now it is time to knead. You can use the dough hook or use your hands. I use the dough hook for about 10 minutes but be careful not to overheat your motor. Now turn the dough onto a floured board and knead by hand for 5 – 10 minutes or until the dough is smooth and elastic. Work in additional flour as needed, but this may not be necessary.
Shape back into a ball and place back in mixing bowl and cover loosely with a towel. Let rise again, though this time it should only take about 1 1/2 hours. Again make a depression with your finger to see if the dough springs back.
Now it is time to make your poppy seed onion mixture. Into the minced onions, add 1 T of crumbs and set the mixture aside, loosely covered. After about three hours the mixture should have thickened to the texture of loose wet sand. If it is too liquid, add more crumbs a little bit at a time.
Punch down the risen dough. (This is my favorite part!) Divide into 4 portions and roll each of these between the palms of your hands into ropes that are about 2″ in diameter. From each rope, cut or pinch off 3 or 4 pieces. Roll each gently into a ball with lightly floured hands. When all rolls are formed, cover them with a towel and let rest for 45 minutes.
If you have a pizza stone, now is the time to use it. I have a very dark, heavy square baking sheet so I use that to bake my bialys on. Place the oven shelves in the lower third of the oven and preheat to 450 degrees with your baking sheet inside.
Working with well floured hands, lift each round and slip the index and middle fingers of both hands underneath with both thumbs working on top. Press and lightly stretch the center bottom dough, forming a well, but not a hole, and leaving about 1 1/2″ rim of unpressed dough. Or the alternate method which might be easier, is to use a small jelly glass to flatten the center and twist to spread the dough. Use the sides of your hands and shape the rims of the bialys. (These don't have to be pretty!)
Add most of the poppy seeds to the onion and put a teaspoonful into each middle. Brush the tops of the bialys with water and sprinkle with a few more poppy seeds.
Now place the bialys about 1″ apart on parchment paper and then place on the preheated baking surface. Bake 15-20 minutes or until the bialys are as golden brown as you want them. If the bottoms are browning too fast, start in the lower third of the oven and after 10 minutes, slide the sheet onto a shelf in the upper third of the oven. This way the onions won't burn and the bottoms won't become too crisp.
---
Notes
There are three rising periods totalling about 6 hours with the traditional method. This is inactive time.
Keywords: bialy, bialy bagel, bialy recipe, what is a bialy, bialy vs bagel