This brown sugar apple sharlotka recipe is also known as a Russian sponge cake. Easy to make, this is a comforting dessert with a crackly top!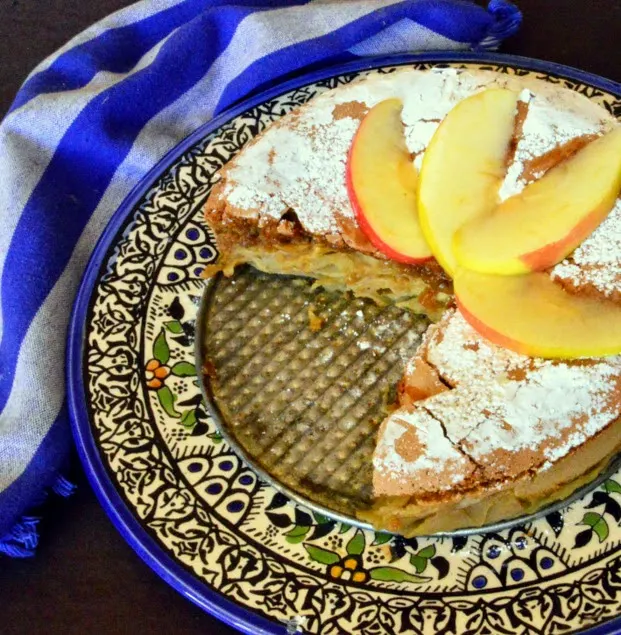 October is here and to me that means apples and pumpkins and lots of leaves to rake!
I've already filled my freezer with tons of applesauce and my fridge is filled with grape, plum and raspberry jams.
I still have to make the last of my oregano and basil into pesto and then I might be ready for the chill of winter. But I'm skipping ahead, aren't I?
Fall is one of my favorite times of year.
It allows me to transition not only physically, but mentally, from a time of relative relaxation (think deck sitting in summer) to an urgent, more demanding season.
I only have to look at the squirrels to know what they are thinking about.
The glory of fall, I believe, is that it allows us to appreciate what is behind us and lets us have some time to get ready for all we still have yet to do.
Enter the apple. After a bumper crop of apples, and crab apples, it has been hard to get them out of my mind.
We've had to rake them from our front yard to keep our yard from smelling like a still.
This however brings every squirrel and rabbit in the neighborhood, right to our front door.
I'm not sure if they get dizzy from eating these apples, but I can tell you that they leave way too many for me to pick up.
I finally had to tell Manservant to stop sorting the good apples from the bad, because the freezer was full!
But back to Whole Foods. Yesterday on a rainy, cold, gray day, I ventured out and filled my senses in their produce department.
Apples of various varieties from Ela Family Farms, a local grower that produces Jonathans, Galas and Honeycrisps, quickly caught my eye.
Other apples of many varieties were also available and all looked so resplendent in shades of green and red, and even yellow.
My guess is that each state in the country has their own regional varieties and it would be fun to hear what you can find that I can't.
Besides all the fresh apples, Whole Foods has a wide array of apple recipes and apple products including their apple pies, caramel apples, apple soap, maple, apple and bacon pizza (YUM!), apple soup and others too numerous to mention!
The timing of this all coincided with my receiving the latest Food and Wine issue that features a sharlotka on the last page of the magazine.
I had never made one before and loved the idea that a cake could have no butter. Who would have thought?
Now the picture I took looks nothing like the one in the magazine, but I'll wager it tastes better!
I chose to substitute in brown sugar because, not only do I love the taste, I also love its caramel qualities.
After tasting a bite, Manservant said that it tastes like a professional made it.
Well, I've spent over thirty some years in the kitchen cooking and baking and cleaning, so I feel that qualifies me as a professional.
I have no clue what he meant by this!
This cake does have a meringue like top with a crisp bite to it, so maybe that's what made him think this.
It is filled with lightly sweetened, tender apples, that contain a hint of cinnamon.
You will think fall when you make this. You will smell fall when you bake this. You will taste fall when you eat this apple sharlotka recipe. Enjoy!
Other Apple Recipes:
German Apple Pancake
Fresh Cranberry and Apple Salad
Halvah Stuffed Baked Apples
Print
Apple Brown Sugar Sharlotka
Author:

Abbe Odenwalder

Prep Time:

20 Minutes

Cook Time:

55 Minutes

Total Time:

1 hour 15 minutes

Yield:

6

Servings

1

x

Category:

Dessert
---
Description
This apple dessert is known as a Russian apple sponge cake. With ts crisp and crackly top, this version is loaded with apples.
---
4 small Granny Smith apples, peeled, cored, and thinly sliced (I used a mandoline)
1 1/2 t fresh lemon juice
1/4 c granulated sugar
1/2 c brown sugar
1/2 c plus 1 T flour
1/4 t cinnamon
A few shavings of nutmeg
Pinch of kosher salt
2 room temperature large eggs
1/2 t almond or vanilla extract
Butter or canola oil for greasing pan
Powdered sugar for dusting
---
Instructions
Preheat oven to 350 with rack in middle position.
Grease the bottom and sides of a 6″ springform pan.
In a large bowl, toss the apple slices with lemon juice and 1 T of sugar and let stand for 15 minutes.
Combine flour, nutmeg, cinnamon and salt in a small bowl.
In an electric mixer beat the eggs, extract and remaining sugar at medium-high speed for 8 – 10 minutes or until the mixture is thick and pale yellow when the beaters are raised. This should look like a thick ribbon falling from the beaters. Gently fold in the dry ingredients with a rubber spatula.
Spread the apples in the prepared pan and pour the batter over the apples. Let stand for 5 minutes so the batter sinks in a bit.
Bake for about an hour or until it is golden and crisp on top and a tester inserted comes out clean. Transfeer pan to a rack and let rest for 15 minutes. Now remove sides and transfer to a platter. Dust with powdered sugar.
---
Keywords: sharlotka recipe, apple sharlotka, apple sharlotka recipe