Kasha Varnishkes are buckwheat groats mixed with bowtie pasta. Add in some mushrooms and truffle oil and these are way better than my mama's!
These really aren't my Mama's kasha varnishkes, because I don't even remember my Mama making kasha varnishkes.
I'm not even sure I knew what kasha varnishkes were when I was growing up. But I know what they are now.
Should I share? I think I will, because I'm guessing not many know.
Kasha varnishkes are buckwheat groats toasted until crunchy, mixed with pretty bow tie noodles and golden caramelized onions or heavenly rich mushrooms. Or both.
They are often served for a typical Shabbat dinner with a roast chicken or brisket.
My mom always made a kugel which means we never ate this growing up. At least that I can remember.
My friend makes this a lot so I finally decided to give it a try.
My in laws liked it and they aren't even Jewish.
I mean they do eat anything I cook, but really these are good. I promise. I mean how can anything with dainty bow tie pasta be bad?
I always wondered how little Jewish women in tiny European shtetls got their hands on bow tie pasta.
And I wonder is bow tie pasta an American thing? Answers, please? Wikipedia really didn't have much.
My guess is that they used traditional egg noodles and mixed those in, but I wasn't there. And I don't know.
And I grew up in a small town where I was never invited to eat kasha varnishkes with anyone.
So say kasha varnishkes out loud. Go ahead. Do it. It makes such a pretty sh sound, doesn't it?
I love these two words. I love to see them written also. I'm a bit odd, I know.
So now that we've covered that, just what makes these kasha varnishkes different than what my mother never made?
Two words. Truffle oil. Not schmaltz. Truffle oil.
This is something that many of you have I bet and never figured out how to use.
Besides popcorn and eggs and French fries, you can safely use it on anything with mushrooms and pasta. I promise.
Kasha is another word for buckwheat groats that have been roasted.
It is also a word for cereal as kasha is a seed and not a grain.
One hundred years ago Russia was the leading producer of buckwheat. It is easily grown without fertilizer and was considered a staple of a peasant's diet.
It came to the US with immigrants and was often used as a filling in cabbage rolls, blintzes, knishes and kreplach.
It is gluten free and low on the glycemic index.Whatever.
You now know that it is fun to say and it is good for you. Plus you can use your truffle oil in this dish, so you know it has to be good.
Whether you came from the Old Country or not, this is a dish that deserves a higher ranking.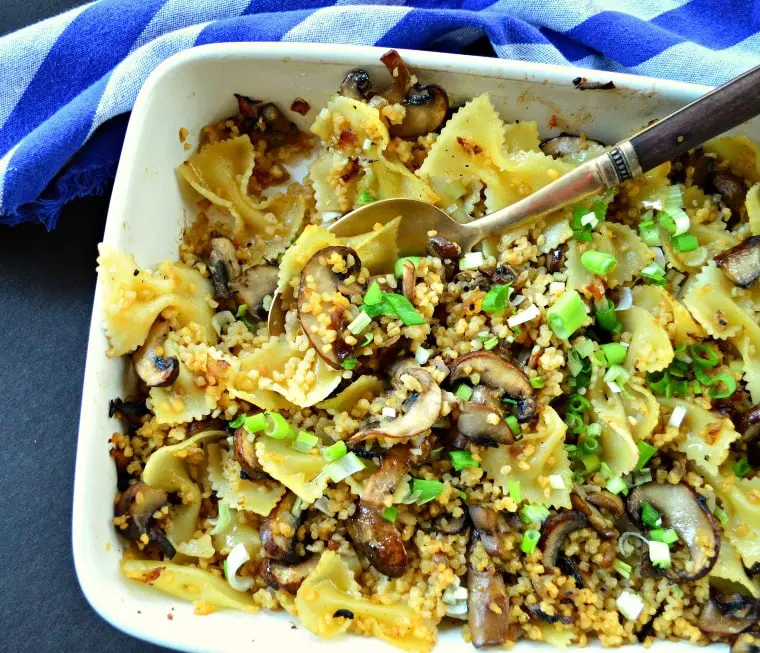 Other great dishes:
Saffron Baked Chicken
Za'atar Chicken Flatbreads
Moroccan Fish with Chickpeas and Saffron Lime Aioli
Salted Butterscotch Chocolate Tart
Print
Not My Mama's Kasha Varnishkes
Author:

Abbe Odenwalder

Prep Time:

30 Minutes

Cook Time:

15 Minutes

Total Time:

45 Minutes

Yield:

4

-

6

Servings

1

x

Category:

Side Dish

Method:

Stove Top/ Baking

Cuisine:

Jewish
---
Description
Kasha Varnishkes are buckwheat groats mixed with bowtie pasta. Add in some mushrooms and truffle oil and these are way better than my mama's!
---
2 T olive oil

4 c sliced mushrooms, all kinds if available

1 c chopped onions

1 T minced garlic

1 T Truffle oil

Salt/Pepper

1 c kasha or roasted buckwheat groats

1 egg

2 c chicken broth (fresh, bouillon or canned low sodium)

2 c bow tie pasta, cooked

1 –2 more T of truffle oil when incorporating mixture

2 Scallions, chopped
---
Instructions
Heat 2 T olive oil in a large skillet. Add onions and cook over medium heat until soft.
Turn heat up to medium high and add sliced mushrooms. Cook until mushrooms release their liquid; about 5 minutes.
Add chopped garlic and stir until all the liquid has evaporated and the mushrooms are turning golden brown; about 7 minutes. Stir in 1 T truffle oil and salt and lots of pepper; at least three or four grinds. Remove from skillet.
Now prepare your kasha. In a medium bowl, mix the dry kasha with the egg until each kernel is coated. (This is done so that your kasha doesn't form a big soggy mess. I've seen crunchy bread crumbs also used, but kasha is better for you!)
Measure your broth into a large glass measuring cup and heat in microwave on high until broth begins to simmer.
While this is heating, place your egg coated kasha into a deep pot and toast over medium heat, turning and breaking up the kasha until the egg begins to dry, and the grains separate, about 3 minutes. You should smell it. It will smell nutty, but don't let it burn. Add the hot broth, then cover and simmer over very low heat until tender and all the liquid is absorbed, about 10 to 20 minutes. Remove from heat.
Meanwhile bring salted water to a boil and cook your bow ties. Cook very al dente because you will be putting this in the oven where it will cook more. Preheat oven to 350.
In a lightly greased, (I used truffle oil) 3 quart shallow casserole, combine the kasha with the drained bow ties and the mushroom mixture. Adjust salt and pepper accordingly. Drizzle with truffle oil and make sure this mixture is moist. You can also use schmaltz or butter. Just remember you want this moist as you don't want a dry kasha. You could also stir in a bit more chicken broth if necessary. Place in oven and heat until hot, about 15 minutes. Garnish with scallions.
---
Keywords: kasha, buckwheat groats, Jewish food, buckwheat
Want to try another dish with kasha? Check out this almond kasha porridge with ginger and pineapple from FoolProof Living. Dr Andrew Weil also talks about kasha here.
Please Pin and Share: