Mandel bread is very similar to Italian biscotti. Usually made with oil, instead of butter and almost always are rolled in cinnamon sugar. Perfect for dunking, Mandel bread is not quite as dry as biscotti which makes them better in my opinion!
Yes, Mandel bread is a type of biscotti and what came first? Italian biscotti or Jewish Mandel Bread? I don't know.
Mandel Bread is not as crisp as biscotti, because of its higher oil content, but is baked in the same way.
First the dough is shaped into a log and baked. Then each log is sliced, rolled in cinnamon sugar, placed cut side down on the baking sheet, then baked for 5 more minutes on each side.
If you want your Mandel bread less dry, then under bake them.
It may take a bit of time, but the best part about Mandel Bread is that they age well.
Well, that is if you can keep them around long enough.
Mandel Bread, translated from Mandelbrot, means almond bread. It was common in Eastern European countries but its precise origin remains unknown.
Not overly sweet; it keeps well; it is perfect with tea and I presume coffee and is easily dunked. A Mandel brot recipe is commonly made with dried fruit and chunks of chocolate and coated in cinnamon sugar.
After serious research, I found that most Mandel bread recipes are very similar. Some are made with butter, but most are made with oil, made to be served with dairy or meat meals.
Some don't have a coating of cinnamon sugar, but in my opinion those are missing something.
There are many versions with various dried fruits and I came up with one using Earl Grey tea, apricots and chunks of chocolate.
I love traditional Mandel bread, but I think the Earl Grey variety could quickly become my new standard!
The nuts in the recipe can be varied to suit your taste. Normally I would have used walnuts, but I was out so I used pecans instead. Almonds would be the most traditional.
Mandel Bread is the perfect cookie for that lazy part of the day when one needs a bit of revival.
I had never made Mandel Bread before last week. It is now on its way to my Zoe who is spending all her free time studying to take her CFA exam. It is meant to revive her when her brain starts falling asleep.
Yes, it travels well. I always picture a shoe box of it sailing along with my Papa and his young family on the great ship Normandy, as they made their journey here in 1938.
I don't know if it did, but it's a good legend, right?
And now my stores of Mandel Bread are seriously depleted. I kept them in a big Zip Lock bag, but it just didn't seem the same.
I need a shoe box for my Mandel Bread. I want them kept like treasure between sheets of waxed paper.
My Omi's Mandel bread were kept in shoe boxes just like hidden treasures.
For some hidden treasures might mean their favorite Jimmy Choo's or their collectible Nike's. Others may keep love letters and memorable post cards. Kids keep their marble collections, Lego's or doll clothes.
But my Omi's shoebox held Mandel bread, laden with cinnamon sugar and stacked between layers of wax paper.
The shoe box was brought out with tea served in tea cups, not mugs; thank you very much.
We quickly passed around the box and grabbed a slice of Jewish biscotti.
I don't remember adoring them as a child, but the adults carefully took their time nibbling their cookie, sipping their tea.
It wasn't until recently when I attended a Bar Mitzvah in Chicago that I was reminded of that Mandel bread. Seeing trays laden with Mandel bread and rugelach reminded me of visits with my grandfather and Omi.
A little Mandel bread reminded me of walking into my Papa's apartment entrance where the numerous smells of everyone's cooking greeted us.
This crispy little cookie reminded me of plastic covered furniture and dining room chairs pulled away from the table, so everyone had a place to sit.
Mandel bread reminded me of family photographs hanging on walls and my Papa always wearing his ribbed white tank t-shirts. I even remember his muscles. My Papa had muscles.
Mandel bread reminded me of Sunday night, when we all went a visiting. I loved Sunday nights.
At the time sometimes it seemed like a chore, but looking back brought up many fond memories in my memory bank.
I'm only sorry that my family has never lived close enough for Sunday night visits. That simple tradition had a way of bringing us together in that tangled knot called family.
Isn't it funny that a simple little cookie could remind me of so many things?
Now it's time for me to find my own shoebox. A shoebox that will hold way more than cookies. Mine will hold a lifetime of memories carefully layered between sheets of wax paper.
Need a Few More?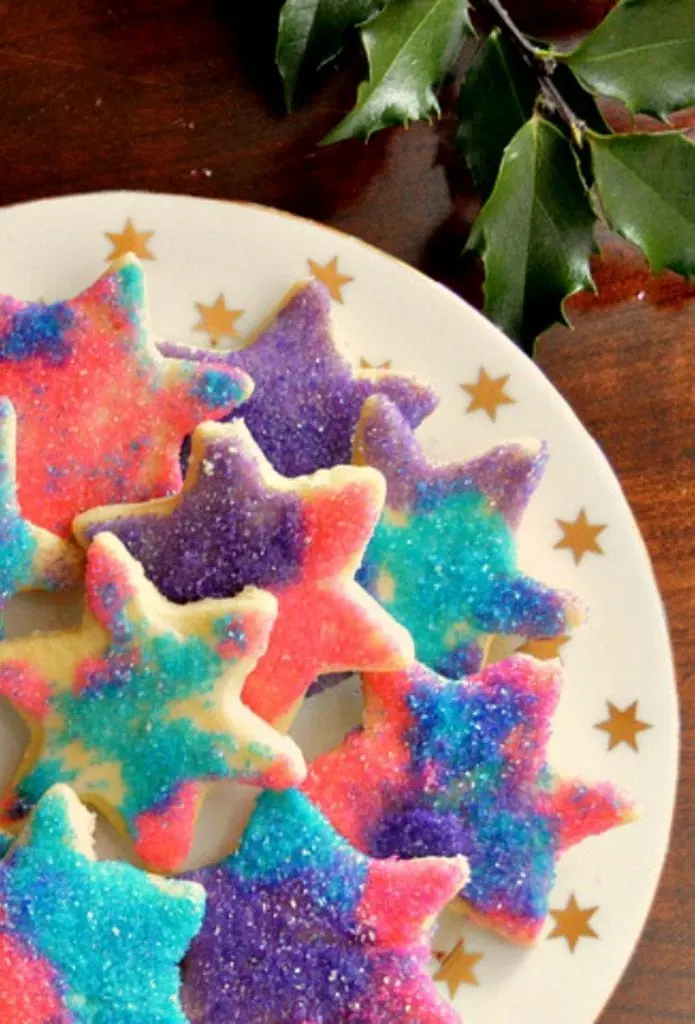 This is an updated post from 2015. I felt like bringing it back!
Print
Mandel Bread: Cinnamon Sugar or Chocolate, Apricot and Earl Grey
Author:

Abbe Odenwalder

Prep Time:

25 Minutes

Cook Time:

55 Minutes

Total Time:

1 1/2 hours

Yield:

48

slices

1

x

Category:

Cookies

Method:

Baking

Cuisine:

Jewish
---
Description
Mandel Bread is really Jewish biscotti. Rolled in cinnamon sugar, this recipe can also be made with Earl Grey tea which makes it perfect for dunking!
---
3 eggs
1 c sugar
1/4 lb melted butter or 1 c oil (I used oil)
1 t vanilla or almond extract
1 Earl Grey tea bag contents (optional)
3 c flour
2 t baking powder
1 c chopped walnuts, pecans or almonds
3/4 c chocolate chips
1/3 c cinnamon chips (if you an find them are also good in cinnamon version)
1/2 c dried apricots cut into small pieces (optional)
For sprinkling:
1 t cinnamon mixed with 1/2 cup of sugar OR
1/2 of contents of an Earl Grey teabag mixed with 1/2 c sugar
---
Instructions
Preheat oven to 350.
Combine eggs and sugar. (A mixer is not needed but be prepared to stir.) Add oil and vanilla and mix well.
Add flour and baking powder. Stir well and add nuts, and chocolate. Dough may be sticky.
At this point I divided my dough in half so that I could make two versions. The first is traditional and you may add cinnamon chips to that. If you want the Earl Grey version, mix in the tea and the apricots.
Now divide dough into 4 pieces. Shape each piece into an 8″ to 10″ loaf about 4″ wide. Place on parchment lined 18″ x 13″ sheet pans and bake for 45 minutes. If you don't have this size you may have to bake these in two batches.
Remove from oven and cut each loaf into about 12 slices. Cover each slice in appropriate sugar. Place on baking sheet cut side down. Bake 5 minutes and remove from oven. Turn over to bake other side for 5 minutes.
Now get your shoe box and store these for your next cup of tea!
---
Keywords: mandel bread, mandel bread recipe, mandelbrot recipe