This babka rugelach cake loaded with cocoa and cardamom is extremely delicious. A pull apart Jewish monkey bread…some might call it.
This babka rugelach cake is totally divine. And totally confusing.
When I first spotted this idea I thought what a great idea for Hanukkah. After all, rugelach is traditionally a cookie made during Hanukkah; though of course, they are great any time of year.
I was never lucky enough to have a rugelach cookie as a child. My mother didn't bake them and there were no Jewish bakeries in Kankakee.
Time have changed and now rugelach can be found everywhere, even at my local grocery. Sometimes they are shaped like mini crescent rolls and sometimes they are just rolled up like strudel.
Either way, they are delicious.
They can be filled with most anything but apricot jam, cinnamon and nuts are quite common, as is the chocolate version. I will testify that all the versions are good, but everyone quickly finds a favorite.
The recipe for rugelach made in the US calls for a dough made of cream cheese as is this one, that I posted years ago.
In Israel, rugelach are made with a yeast dough. These croissant shaped cookies are found in every bakery.
So technicalities aside, either version and variety of rugelach is amazing.
Now to babka. Babka is a yeast bread that is rolled with a chocolate filling. Well, that's the most common. I adore babka.
Babka was another thing that I don't remember eating as a child. I was so deprived! In any case, I've made up for it in my later life.
Well, the babkas also differ in Israel and the US. I prefer the Israeli version that is doused with a sugar syrup upon removal from the hot oven.
But I am not one to turn down the heavy, dense, streusel topped babka that I find here in cardboard sleeves at places like Trader Joe's and Whole Foods.
If I am lucky and in a real Jewish neighborhood I can find a variety of babkas to choose from, but here in Denver we are a bit limited, shall we say?
And then there is the version of babka that I bake, which I originally found in the Jerusalem cookbook called a Krantz cake. It is an incredible recipe and I really need to update it.
For that matter I also bake the streusel topped version that is never turned down either. I need to post that one, but I am falling behind!
So imagine my surprise when looking for a new rugelach variety, that I came across this rugelach cake.
Cake? Rugelach? Wow! This recipe seemed right up my alley, combining two of my favorite food groups.
Billed as a Jewish monkey bread that pulls apart, I figured what better time to try it, when I already have so much to do!
But now I am major league confused. I really think this is a version of Israeli babka that has been shaped into rugelach form.
Yes, one takes this perfect yeast dough and shapes it into little crescent shaped rugelachs. They are then overlapped in a spring form pan and baked.
Full of cocoa and totally gooey, Manservant immediately told me I must give it away, because it is JUST TOO GOOD!
So here I am in a total quandry. Yes, you could pull them apart, but that just seems too messy.
And when you cut a slice it looks like the inside of a babka. So what the heck? Babka or rugelach?
Sometimes some recipes are just confusing when translated and I think this was one of them. In any case, it really doesn't matter.
This babka rugelach cake is to die for and whatever you want to call it is fine with me.
For the future though, I do plan on trying a few new ideas with this dough. Yes, you can fill this with any standard rugelach filling. Apricot jam and cinnamon and nuts…I hear you!
Regarding the use of cardamom. If you are a cardamom lover, this recipe is for you! Rather than sprinkling cardamom on top of the dough and then rolling it, the cardamom is added to the dough which infuses the dough with such amazing flavor.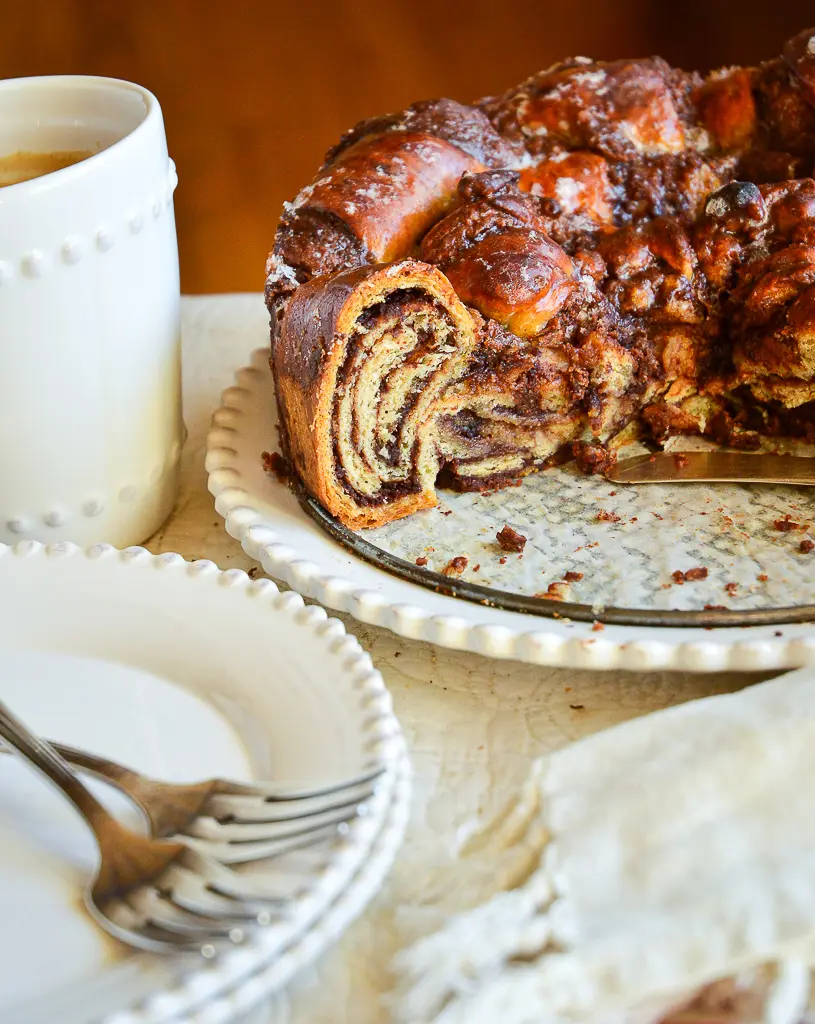 I think I'll try it with the cinnamon in my regular rugelach recipe next time I make them.
In any case, I guess my chili garlic jam savory rugelach with goat's cheese will have to wait until next year. Never tried savory rugelach? You don't know what you are missing!
But then again, you don't want to miss this babka rugelach cake either!
So back to my dilemma? Is this a babka or a rugelach? Is it better with coffee or tea? Is it dessert or breakfast? So many questions!!!!
I'll leave it to you to figure out!
Need Some More?
This post may contain affiliate links. As an Amazon associate I earn from qualifying purchases at no cost to you.
Print
Cocoa Rugelach Cake or Babka?
Author:

Abbe Odenwalder

Prep Time:

45 Minutes

Cook Time:

45 Minutes

Total Time:

90 Minutes*

Yield:

1

9" cake

1

x

Category:

Breakfast/Dessert

Method:

Baking

Cuisine:

American
---
Description
This delicious cake doesn't know if it's a round babka or a giant rugelach. Whatever it it, it sure is good!
---
3 t active dry yeast
1 c whole milk at room temperature
3 1/2 T sugar
1/3 c melted butter
3 – 4 c bread flour
pinch of salt
1 1/2 T cardamom
1/2 T cinnamon
1 egg, plus 1 beaten egg for brushing
Filling
2/3 c softened butter
3/4 c cocoa
1 1/3 c powdered sugar
About 1/2 c cookie crumbs (I used vanilla wafers. Oreos would work. Or your favorite chopped nut.)
Pinch of salt
1 t vanilla
1/2 c Nutella
Sugar Syrup
1 c sugar
1/3 c plus 4 t water
---
Instructions
Place the yeast and room temperature milk in the bowl of a stand mixer fitted with the dough hook and mix well. Add the sugar and melted butter and mix again. (If milk is cold, place in the microwave for about 20 seconds.)
Add salt, cardamom and cinnamon to flour and combine. (In Denver I only used 3 c of flour, NOT 4. )This will depend on how dry it is where you are. You don't want the dough to wet OR to dry. It should be soft and smooth and not stick to your hands OR crumble.
Add the egg and knead until the dough separates from the bowl.
Form dough into a nice ball and place into a greased bowl. Cover, and let rise 30-40 minutes.
While dough is rising, prepare filling. In the mixing bowl place all filling ingredients and mix well using the mixing attachment. Set aside at room temperature until ready to use. The filling should be spreadable with your hands. I used my fingers and it spread really well. Much easier than a utensil. Spreading too cold of a filling with tear the dough and that would not be good.
Line the bottom of a 9″ spring form pan with parchment paper.
Place dough on a lightly floured surface. I just rub the dough into flour on all sides and that is usually enough so it doesn't stick to your counter surface. Roll into a 16 x 16″ square. Spread the filling using your fingers.
Fold the dough into thirds by grabbing the top edge and folding to the middle. Then grab the bottom edge and fold it to the top edge to make a nice rectangle. Roll this into and 8 by 16″ rectangle.
Using a pizza cutter, cut the dough in half lengthwise so you have 2 4 x 16″ rectangles. Now make a notch every 2.5 inches along one side of each strip and use that marking to cut triangles. If you are challenged like me, here is a photo:
Now roll up each triangle into a crescent shape, making sure the tip is underneath. Place each rugelach into pan overlapping on one another.
Cover and let rise for about 60 minutes.
Preheat oven to 350. Brush the rugelach with the beaten egg. Bake 45 minutes or until the inner temperature of the cake measures 190 degrees. Otherwise you may end up with raw dough inside of the cake. (I use an instant read thermometer for this. ) If the cake starts to get too golden, cover with a piece of parchment paper.
While the cake is baking prepare the sugar syrup by placing the sugar and water into a saucepan. Bring to a boil until sugar is dissolved. Set aside until ready to use.
As soon as the cake comes out of the oven, brush with the warm syrup. Use all of it!
Cool before serving.
---
Notes
Adapted from The Nosher.
*Does not include rise times.
Keywords: rugelach, recipe for rugelach, rugelach cookie, rugelach cake